Glamping in the Bay Area, California, is the perfect activity that lets you enjoy the fresh air that you desire with no tent required. Whether you want a once-in-a-lifetime experience in a treehouse, an authentic yurt experience, or have always dreamt of staying in an airstream – there is definitely something for everyone on offer. All provide the opportunity to be at one with nature without leaving all the luxuries of home – with many even offering Wifi! We've narrowed down the top 14 Glamping spots in the Bay Area you need to visit!
LOVE Temple Sanctuary Glamping Treehouses
Representing a sacred union with self and the universe, this unique glamping destination provides the best opportunity to take in the natural beauty you are surrounded by. The winding staircase leads to a comfortable living area, with porthole-style windows providing amazing views over the surrounding woodland.
It also boasts a spacious bedroom with a queen-sized bed as well as a clawfoot bathtub perfect for relaxing in the essential oils and dead sea salts provided. Outside you will find a large saltwater hot tub spa to soak in. Woodland trails and downtown Fairfax are just a short walk away.
1967 Glamping Airstream on the Coast
Is there anything better than drifting off to sleep listening to the waves crashing on the shoreline? We don't think so. This luxury tiny home provides the perfect location to escape everyday life, whilst still remaining connected to the world if you need to work.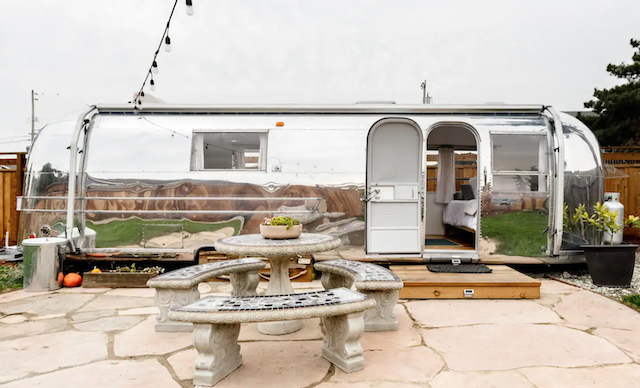 Sleeping 2, this private 4000 squat foot lot is just steps from miles of ocean-view trails. Whilst it may be small, it comes fully equipped with everything you will need during your vacation – including an en suite bathroom, mini-fridge, and smart TV. This aluminum structure has been transformed into a comfortable sanctuary, with light neutral interiors and natural wood flooring.
Mountain Top Glamping Yurt in the Redwoods
Surround by the Redwoods at the top of the Santa Cruz Mountains this peaceful yurt is clean, spacious, and beautifully decorated. Whether you're looking for a place to meditate, read or write the tranquil surroundings make this the ideal place to stay.
You are within walking distance to Mount Madonna Retreat Center, and just 3 miles from Country Park hiking and horseback riding trails – the perfect photo opportunity for budding photographers or for mountain biking. It boasts a comfortable queen-sized bed as well as a spacious living and dining area and a small kitchenette. The eight windows flood the yurt with natural light and allow you to truly indulge yourself in the beauty of the Redwoods scenery.
Private Airstream Coastal Hideaway
Nestled in 7 acres of private land on the coastal cliffs just south of Half Moon Bay, this fully stocked 2020 Airstream provides the perfect base to relax and enjoy the Californian sunshine. With 180 degree views of the Pacific Ocean, you can spend your time taking in the stunning views and breathtaking sunsets. Boasting a queen-sized bed, as well as a separate shower and toilet, hot water, stove, and air conditioning, it has everything you need.
This also includes a kitchen with a refrigerator, sink, and kitchen table that converts into a bed. Outside you will find a propane fire pit and BBQ. WiFi is also available,
Glamping Treehouse in San Jose
Think Tarzan with a rustic charm, this 250 sq ft treehouse overlooks some of Silicon Valley's most beautiful scenery. Nestled between 3 sycamore trees, this treehouse has everything you will need to embark on a glamping adventure.
This includes a fully functioning bathroom, kitchenette with sink, cooking stove, and mini-fridge. Sleeping 4 people in two sleeping lofts, this is the perfect opportunity to explore nature in all its glory. With a custom-made stained glass window and spiral staircase providing easy access up the tree, you can spend your time on the 14 ft deck taking in the views.
Glamping Treehouse In The Sky
Is there a more peaceful place to wake up than among Redwood trees at this forest retreat? Providing the opportunity to hike or mountain bike the world-famous Mount Tamalpais trails, visit downtown Fairfax, head to the beach, or a road trip to San Francisco, there is plenty to do.
Boasting three levels with three guestrooms and private bathrooms, as well as a fully equipped kitchen and comfortable living area. Or if you fancy something out of the ordinary, opt to stay 80 feet high within the redwood trees. Designed to withstand all weathers, this cozy treehouse is accessed via ladder and suspension bridge – a one-of-a-kind experience – with the comforts of home just a stone's throw away.
Treehouse in Vineyard Overlooking Monterey Bay
Surrounded by giant Douglas Fir trees, this treehouse is nestled right on the Lago Lomita Vineyards. Boasting views across the entirety of Monterey Bay this 400 sq. ft treehouse boasts a queen bed as well as fully functioning electricity and Wifi.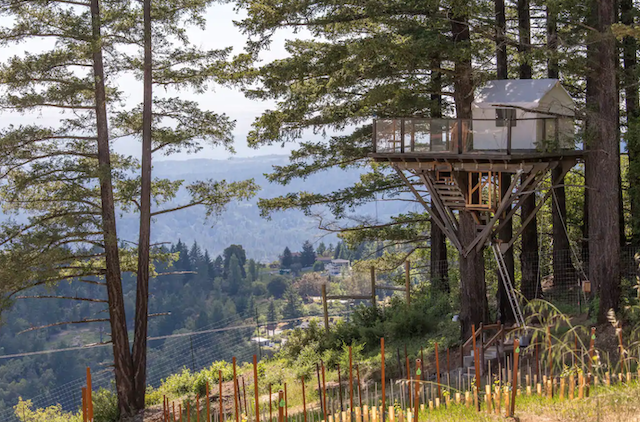 A full bathroom is available just inside the bottom floor of the main house for guests to use. Just half an hour's drive to San Jose, as well as 15 miles to Capitola beach, or an hour from Monterey.
Luxury Treehouse in the Redwoods
Go glamping in this luxury treehouse with a full kitchen, bathroom, and living room with a gas fireplace, WiFi, and TV. The treehouse is built within a grove of redwood trees on our property. There is a private deck outside the front door perfect for enjoying your morning coffee or the evening sunset.
Riverfront Glamping Treehouse
Image Credit: Airbnb

With comfy furnishings, fully equipped kitchen and bathrooms, it has everything you need, including a private, enclosed open-air shower overlooking the river. Various outdoor decks and terraces provide ample opportunity to relax and enjoy the river and its wildlife. This is as well as an outdoor fireplace and BBQ area set inside a Redwood tree ring and access to the river with water tube floats.
24' Yurt in Beautiful Half Acre Garden
Nestled in the Santa Cruz mountains just 4 miles from the beach, 5 miles to Davenport, and 9 miles from Santa Cruz this private yurt is in a prime location. Situated in a beautiful private half-acre garden you get to experience everything Santa Cruz has to offer without the noise, traffic, and bustle of the city. At 450 sq ft, this yurt is extremely spacious and comfortable, with multiple glass windows as well as wooden floors.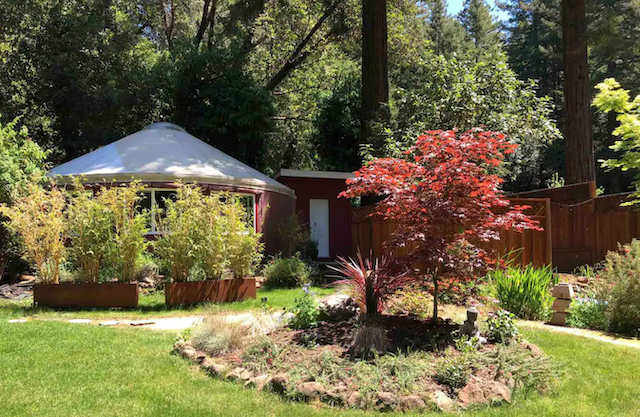 Amenities include a refrigerator, electric kettle, toaster oven, coffee maker as well as dishware. The bathroom is just outside the front door in a fully insulated building. Take the opportunity to relax on the patio and dine al fresco from the BBQ.
Yolo Yurt in Davis, California
Situated on a historic ranch, this private yurt boasts views of wide, open farming fields – the perfect unspoiled view for gorgeous sunsets and stargazing. With a king-sized bed as well as a futon, kitchenette, and indoor bathroom with shower, it provides you everything you need.
If you're after an authentic country experience this is for you, with the opportunity to even meet the horses, hens, goats, and barn cats that also call this working ranch home. Amenities also include a mini-fridge, double hot plate, microwave, heating, and air-conditioning.
Glamping Airstream Vineyard Escape
This Airstream International is located on a 1-acre property in west Santa Rosa, with complete privacy and a vineyard next door. It is fully equipped with a full kitchen complete with a coffee maker as well as a queen-sized bed. Outside there is a raised patio perfect for lounging with Adirondack chairs and a small bistro table for dining al fresco.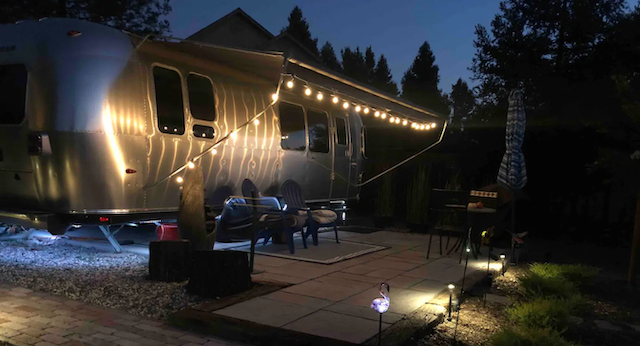 Blankets are also provided so you can enjoy the great outdoors on those cool evenings. High-speed Wifi is available, as well as an outdoor hot tub. It provides a base that is just minutes away from Alexander and Dry Creek Valleys, craft breweries, and wineries.
Soquel Glamping Nestled in the Woods
Nestled in the Soquel mountains, this glamping experience provides a comfortable way to experience the wilderness of California. Located just 10 minutes away from the beach it provides a relaxing destination for beach lovers and hikers alike, with wineries and incredible dining experiences just a short drive away.
Think of a typical camping experience and level it up. The tent boasts both a twin and queen-sized bed inside, perfect for families. It also has BBQs, fire pits, equipment to make smores, Adirondack chairs, and string lights. Combine all of this and it creates a premier location for you to enjoy the views. A separate flushing toilet is also available.
Forest Glamping Near The Beach
Nestled in the Soquel mountains, this glamping spot is still just 10 minutes away from the beach – the best of both worlds. Providing a relaxing and comfortable experience of the wilderness takes the traditional camping experience up a level.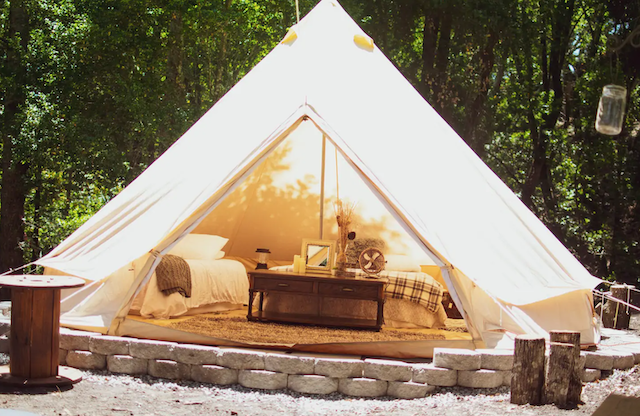 Each glamping tent boasts twin beds as well as a queen-sized bed, perfect for families. This is complemented by the outdoor BBQs, fire pits, smores equipment, and Adirondack chairs. All of this allows you to take in and enjoy the hidden scenery. A flushing camp toilet is available in an enclosed structure.