A cabin in Pigeon Forge doesn't need to break the bank, especially with so many other things to pay for. There are plenty of cabins available for less than $200 a night.
"Almost Camping Too" Cabin
Sleeps: 2
Average Nightly Rate: $89
Average Review: 4.8/5
This cabin is an affordable cabin in Pigeon Forge that is perfect for a couple's getaway or vacation. Located in the peaceful spacious campground surrounded by mountains. The cabin boasts of a real log exterior and an all-wood interior park model.
The paved private road is perfect for those morning and evening walks, you also get to enjoy access to the pool of your chills.
Imagine Romantic Cabin
Sleeps: 4
Average Nightly Rate: $152
Average Review: 4.9/5
"Imagine" cabin is only minutes from Dollywood, Pigeon Forge, golf, and the Great Smokey Mountain National State Park.
Even at a low price you can enjoy a relaxing and beautiful view from your private deck, or snuggle yourself in front of the gas fireplace in the living area, the bedroom features a king-sized bed for your maximum comfort. There is a fully stocked kitchen with a dishwasher, microwave, and two large flat-screen TVs.
Heavenly View Cabin in Pigeon Forge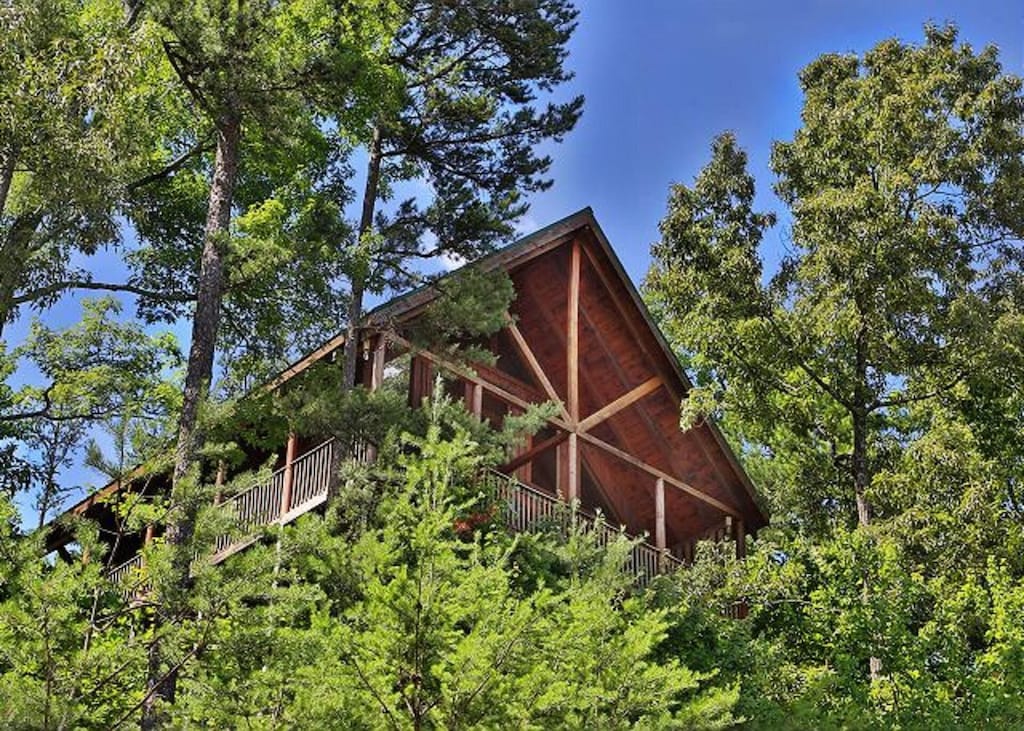 Sleeps: 4
Average Nightly Rate: $137
Average Review: 4.8/5
Located in the beautiful gated community of Sherwood Forest, the Heavenly View Cabin is high enough for you to enjoy the breathtaking view of the forest.
Enjoy the pool table or hot tub, or walk to the resort's outdoor pool to have a nice time swimming. The living room boasts of a fireplace while the bedroom features a Jacuzzi tub, a king-sized bed, a fireplace amongst other amenities for your comfort and convenience.
The heavenly cabin is your one-stop cabin for everything comfortable and more.
Mountain Top Retreat Cabin
Sleeps: 8
Average Nightly Rate: $136
Average Review: 4.8/5
In this affordable two-bedroom cabin in Pigeon Forge, you'll find plenty of fun in the hot tub, pool table, foosball, dartboard, air hockey, and the blackjack/roulette table. It is very affordable for being about to sleep 8 people.
The bedroom boasts of a King-sized bed, 2 queen sleeper sofas, 2 futon mattresses in the loft above the game room, and other amenities for maximum comfort. Enjoy a luxurious cooking experience in the fully stocked kitchen.
Bear Hearts Cabin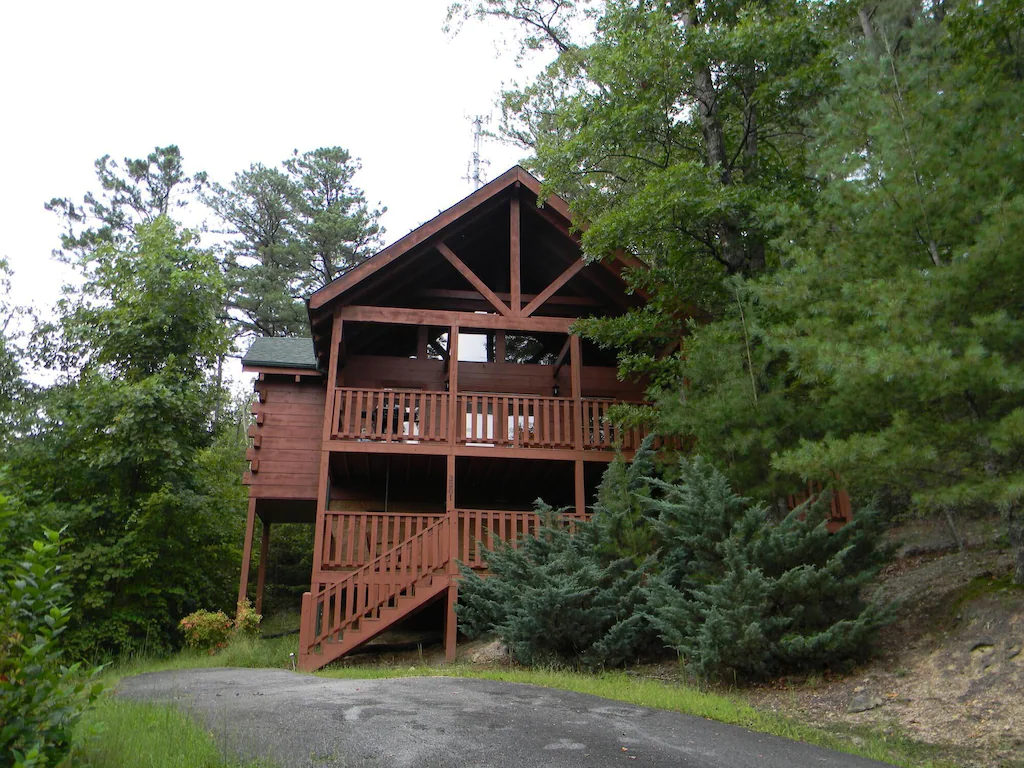 Sleeps: 4
Average Nightly Rate: $98
Average Review: 4.7/5
Bear Hearts is an affordable and cozy 1-Bedroom cabin nestled in a cul-de-sac in Trapper's Ridge Resort. Bear Hearts is private and perfect for honeymoons, anniversaries, or family getaways.
It boasts a fully equipped living room, a fully equipped kitchen, and a large closet that contains a stackable washer and dryer.
Bear Hearts is an incredible, spacious, very unique cabin surrounded by mature trees. You can enjoy the incredible view of the woods either from the porch that is just off the bedroom or from the swings and additional chairs in the outdoor area of the lower level or from the outdoor area o the upper deck.
Cubbie's Cabin
Sleeps: 8
Average Nightly Rate: $175
Average Review: 4.9/5
This cabin is located in the picturesque gated community in Sevierville, Tennessee. You can enjoy a relaxing soak in the hot tub after a busy day of sightseeing or cook dinner outside while relaxing on the porch furniture. It has two bedrooms, six beds, two full baths that are perfect for accommodating up to 8 guests. Cubby's cabin has a keyless entry system, board games, foosball, pool table, and numerous other amenities that you would love on your stay.
Log Cabin With Full Resort Amenities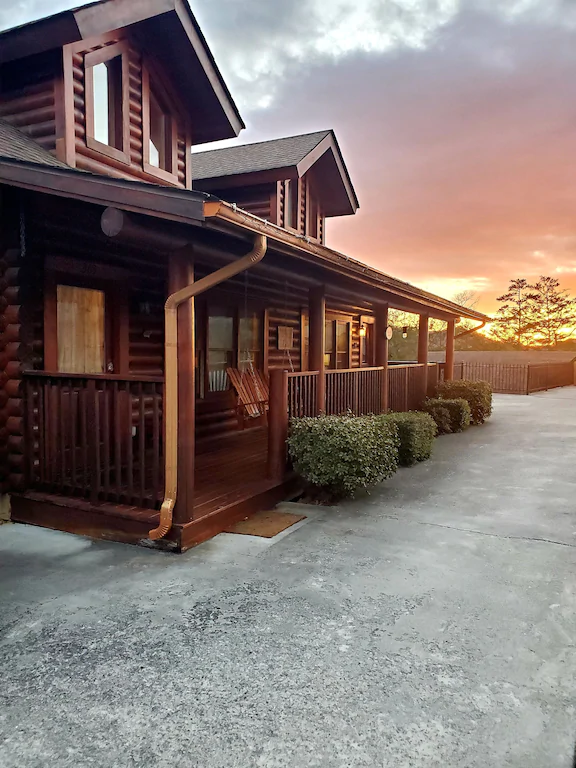 Sleeps: 9
Average Nightly Rate: $175
Average Review: 4.8/5
This 3-level and 2-bedroom cabin is located in Big Bear Resort just half a mile from Pigeon Forge Parkway. The stunning living room is located on the main level while the upstairs level features a master bedroom with a king-size bed.
The lower level boasts of a fireplace, King Sized Bed + Convertible Queen size sofa bed, Cable TV, private bath, jacuzzi tub, kitchenette, and deck with gas grill. You can check in with your pets at an extra $24/night fee. This amazing and kid-friendly cabin promises a relaxing and memorable stay.
Wildfire Cabin at Country Pines Resort
Sleeps: 4
Average Nightly Rate: $139
Average Review: 4.7/5
Wildfire is a cozy 1-bedroom cabin with a loft equipped with 2 queen beds. Built with beautiful Aspen Log furniture, this cabin has a real wood-burning fireplace for the chilly fall & winter nights. The kitchen is fully stocked for all your cooking needs, and there is a charcoal grill right outside.
The Master bedroom boasts of a bath containing a dual-headed walk-in shower and a private hot tub just outside your bedroom door. Enjoy game nights with the available Arcade games in the second bed is upstairs.
Wildfire is the perfect cabin is for couples' getaway or family vacation.
Authentic Cabin in Sky Harbor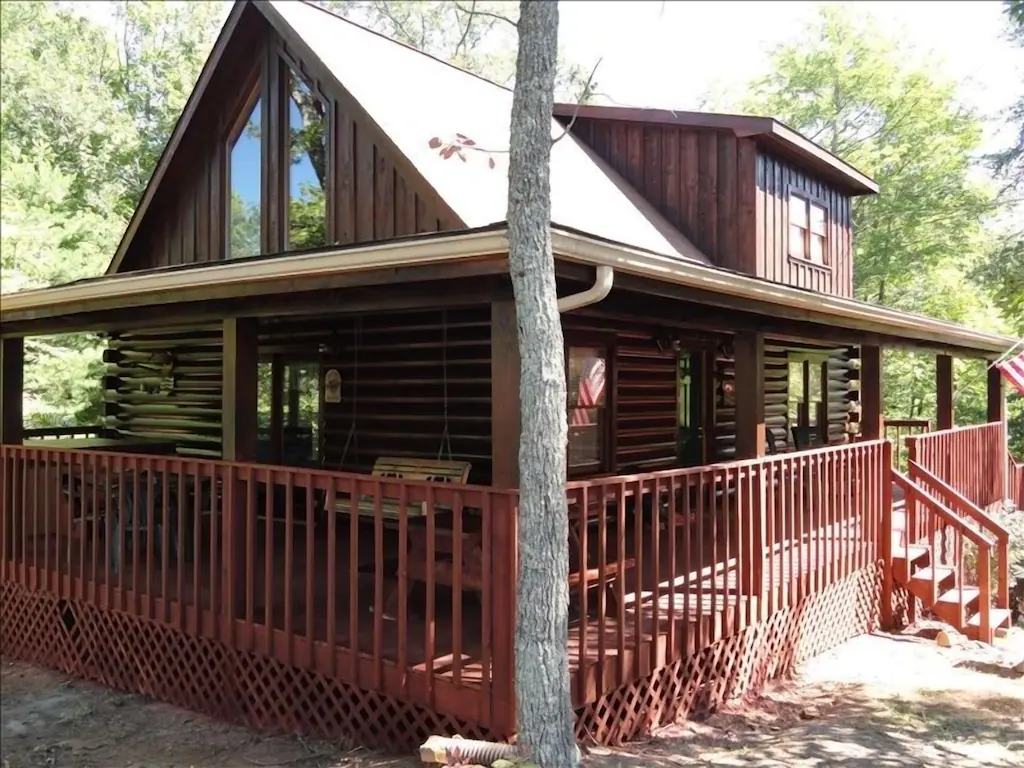 Sleeps: 5
Average Nightly Rate: $115
Average Review: 4.9/5
Located in Sky Harbor between Gatlinburg and Pigeon Forge, this 2-bedroom pet-friendly cabin is located in a peaceful and picturesque setting that will make you relax and enjoy all that the Smokey Mountains have to offer.
The cabin boasts fully equipped bedrooms including a king-sized bed-fitted master bedroom, a fully stocked kitchen for your cooking pleasure, and an outdoor area that features a swing and rocking chairs on the covered porch, a large hot tub, and an outdoor park-style charcoal grill for BBQs and grilling.
"Amazing View" Pigeon Forge Cabin
Sleeps: 8
Average Nightly Rate: $176
Average Review: 4.8/5
"Awesome View" is a 2-bedroom cabin that is built to live up to its name. You can enjoy the awesome view of the Great Smokey Mountains and the surrounding trees either from the bedroom or from the living area.
This cabin is pet-friendly and paved roads and flat driveway makes it cars and bikes friendly, you are certain to enjoy a smooth and bumpy free ride. "Awesome view" features bedrooms that are fully fitted for your convenience, a living area to give you a relaxing stay, and a fully equipped kitchen for your cooking pleasure.
Creekside 1 Bedroom Cabin
Sleeps: 5
Average Nightly Rate: $150
Average Review: 4.9/5
Experience the charm of a farmhouse originally built in 1930 but is now renovated. Located on Walden's Creek, just 5 minutes to Pigeon Forge, this farmhouse is peaceful with plenty of wildlife coming by early in the morning for a drink or a little chitchat with you.
Windows have been added across the back for you to be able to see the view from both the back bedroom and the living/dining area. It feels like you are entering a secret cottage tucked away in the trees and yet, you are only minutes from Pigeon Forge at the Wears Valley/Parkway intersection.