Denver, Colorado, boasts over 14000 acres of parks in the surrounding mountains, and while there are very few cabins actually in Denver, there are plenty within a short drive west of the city.
Rent a cabin and explore the nearby attractions like Red Rocks Amphitheater, Mount Evans highway, and Buffalo Bill's Grave on top of Lookout Mountain. Or perhaps you just want to explore for yourself, visit one of the 90 golf courses or take to the slopes and ski.
With its own buffalo herd located in the mountains and panoramic views, it's no surprise that Denver is extremely popular for nature breaks. That is why we've narrowed down the top 7 cabins that make the perfect base for you to explore Denver, Colorado.
Cabin in Wheat Ridge, Colorado
A charming cabin set within two acres of private land. This newly restored cabin boasts an open floor plan, with an all-inclusive kitchen, recliners, queen-sized bed, and large bathroom. Outside there is a private covered front porch perfect for relaxing on the evenings with a book, with views overlooking the back lawn.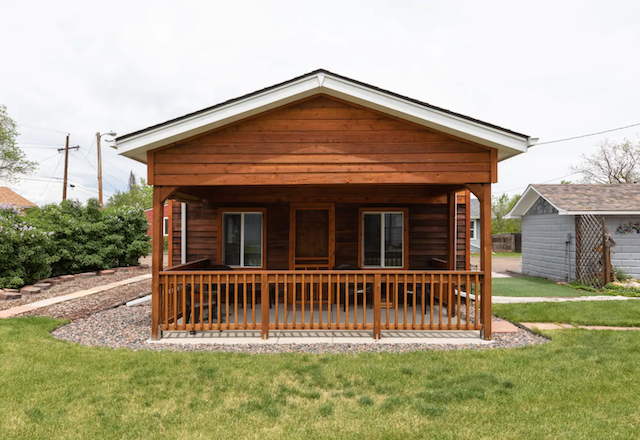 With free parking available it is perfect for those looking for a base to explore the local area and Colorado as a whole. There is easy access to shopping and restaurants in the area in Denver.
Cabins Within 30 minutes of Denver
Escape to Mountain Sky Lodge, Golden, Colorado
With wildlife sightings and spectacular views as soon as you open the front door, this mountaintop retreat provides the perfect base to explore Denver, Colorado. It offers a luxurious king bed, as well as a kitchenette and walkout patios with stunning mountain top views. Guests are provided a continental breakfast including locally made pastries. Outside there is a private hot tub with views to the valley below.
Located in a convenient location for access to Denver, DIA, Boulder and several ski resorts it truly is the quintessential Colorado mountain escape.
Wildmanor Ranch, Morrison, Colorado
This 3-bedroom cabin boasts 11 acres of private land as well as panoramic views over the Rocky Mountains. Escape and enjoy the serenity of a quiet mountain town with everything you need just a short drive away. There is plenty of wildlife to spot, while you meander through the pine and aspen trees or follow the stream. Outside on the deck there is a 6-person hot tub.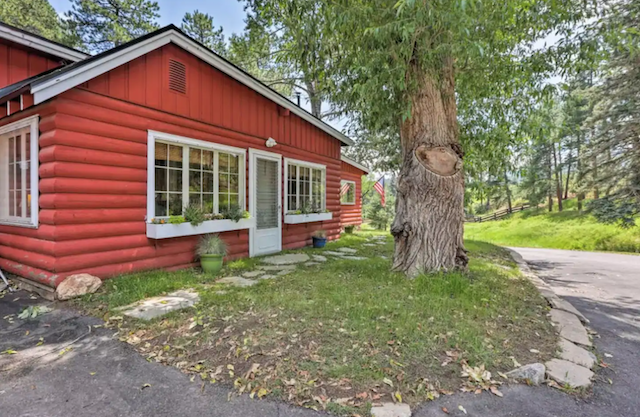 Large windows flood the cabin with natural light and provide views across the breath-taking scenery. Here you will be near world-class hiking, mountain biking, fishing, rafting and kayaking.
Buckhorn Exchange Ranch Cabin, Golden, Colorado
Located in the foothills above Golden, on Lookout Mountain, this log home retreat is perfect for a big family getaway. With 6 bedrooms it offers a variety of sleeping arrangements, as well a fully equipped kitchen and indoor fireplace. Outside there is an expansive backyard, as well as a patio with a BBQ grill perfect for those summer nights.
The Lookout Mountain Nature Reserve, Red Rocks Park, and Amphitheatre, and Buffalo Bills Museum are all close by. This is as well as Mount Vernon Country Club and various ski resorts. Downtown Denver is around 30 minutes away.
Boho Chic Log Cabin with Zipline In Golden, Colorado
If you are looking for a romantic escape spot, the Boho Chic Log is a perfect choice. You will love gazing at the stars through the skylight while hugging your loved one and surrounded by a rustic, bohemian design. From the deck, you can admire the wildlife and enjoy the calmness of the place. You can also find your inner child while playing on the zipline attached to the tree fort.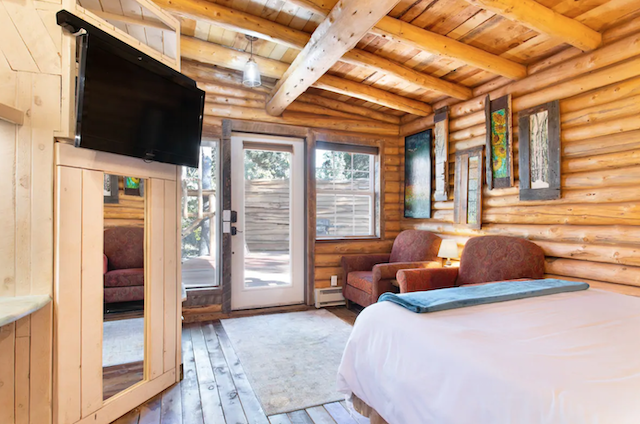 Cabins 45 Minutes From Denver
Remodeled Conifer Cabin With Deck & Mountain Views
With 1,193 square feet of cabin available, this cabin is perfect if you are looking to experience everything the great outdoors has to offer whilst having all your home comforts. Beautiful hardwood floors throughout make way for the wood-burning stove and leather sofas. It also boasts a fully equipped kitchen, comfortable bedrooms as well as a spacious deck with mountain views.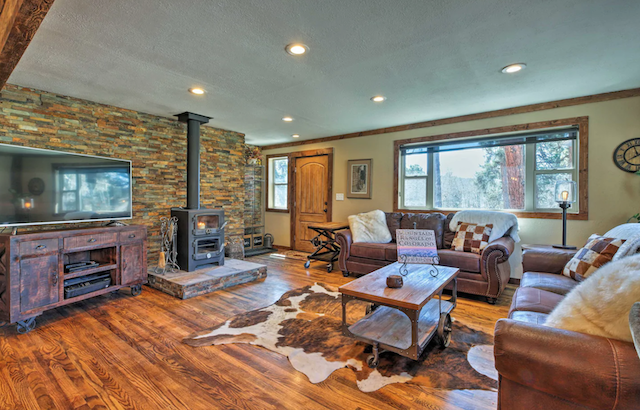 Whether you want to spend your days hiking nearby trails, exploring downtown Denver or panny for gold in Idaho Springs – there is plenty on offer for you to do.
Master Suite at Old Mountain Ranch, Conifer, Colorado
Staying in the master suite of an old 1800's ranch home is quite an experience. This cozy room offers a king-size bed, private bathroom as well as tea and coffee facilities. The front yard boasts a communal socializing area, as well as a large firepit, perfect for enjoying the sunset. This beautiful property has expansive views across the surrounding scenery, however, you are less than half a mile from local grocery stores, restaurants, bars, live music, and shops.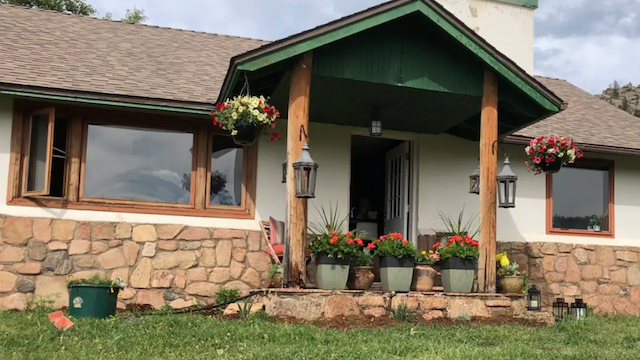 Bridal paths have been cut in the pastures making way for endless strolling and exploring.
Cabin in Evergreen, Colorado
A rustic cabin filled with modern amenities. Sleeping 4, this 2 bedroom cabin boasts an indoor fireplace, fully equipped kitchen, and complimentary breakfast. Outside a patio provides stunning views over the surrounding woodland, as well as sightings of local wildlife.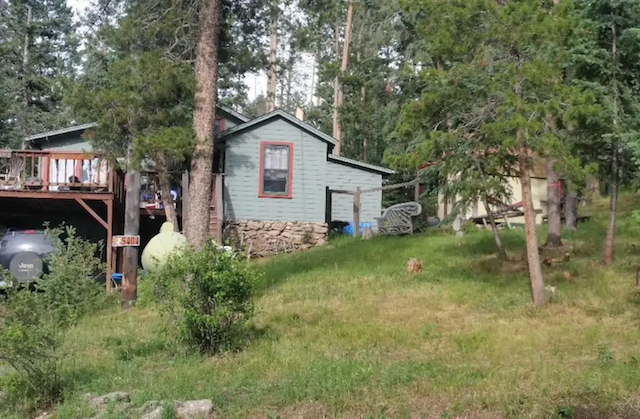 Nestled into the Bear Mountain area, this quaint cabin is just a short drive from downtown Evergreen and Evergreen Lake, where you can ice skate in the winter and paddle board in the summer. Across the street is 350 acres of Denver Mountain, perfect for hiking and mountain biking.
SECLUDED ROMANTIC MOUNTAIN CABIN ON 54 ACRES in BlackHawk, CO
At this stunning one bedroom log cabin, you can make your honeymoon dream of having an entire mountain estate of your own far away from the hustle and bustle of everyday life come true and, you can finally find that paradise you've been seeking.
Situated on 54 acres of private land, you will never want for a beautiful view. With a massive master suite, dozens of windows, a garden with a fire pit, 2 hot tubs (indoor and outdoor), a ski resort only 15 minutes away, and so much more, you may never want to leave.