There are so many reasons to visit Florida from the Orlando theme parks to the beautiful outdoors and beaches.
Between all the exciting attractions you can experience, take some time to enjoy being outside without sacrificing all the amenities of a typical resort with Glamping.
Florida's warm climate makes for good glamping weather most of the year and there are several great Florida glamping resorts. So get ready to pack your bags and head to one of these top glamping accommodations.
Glamping Tents in Florida
When most people think of glamping, a large safari-style tent comes to mind with comfy beds, electricity, and of course, a fire pit.
Glamping Tent at Topsail Preserve State Park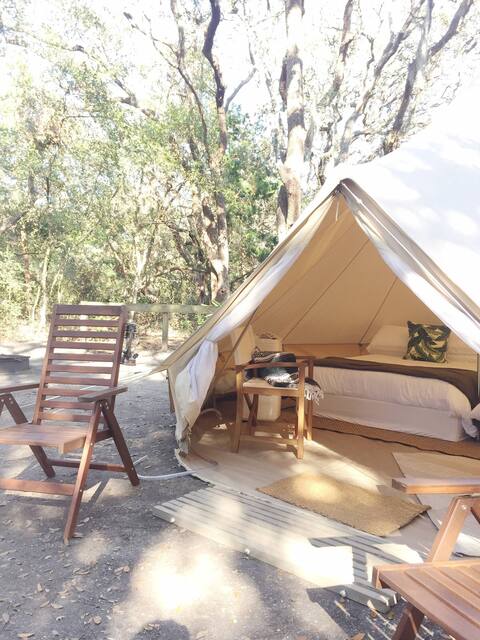 This luxurious 16' bell tent features a full queen bed, indoor and outdoor seating, tables, lighting, and additional kids sleeping arrangements for no extra cost. Topsail Hill provides many opportunities to enjoy the great outdoors. Wander along the quiet white sand beaches, try your hand at fishing in one of the three dune lakes, or go hiking among the pines or wetlands areas. You also have access to a swimming pool and shuffleboard court in the state park.
Luxury Glamping: CareFree Camping at Lake Louisa
Enjoy the comforts of home in the great outdoors at this wonderful glamping location. Your accommodations consist of a 200 square foot bell tent, complete with a queen-sized bed, air conditioner and heater, coffee maker, and interior lighting. Outside, you have a private seating area for grilling, in addition to a fire pit. A bathhouse is within walking distance. Located within Lake Louisa State Park, all of the natural wonders there are at your disposal. Whether you prefer hiking, boating or simply relaxing in your tent, don't miss the chance to experience the perfect getaway.
Your Safari on the Suwannee River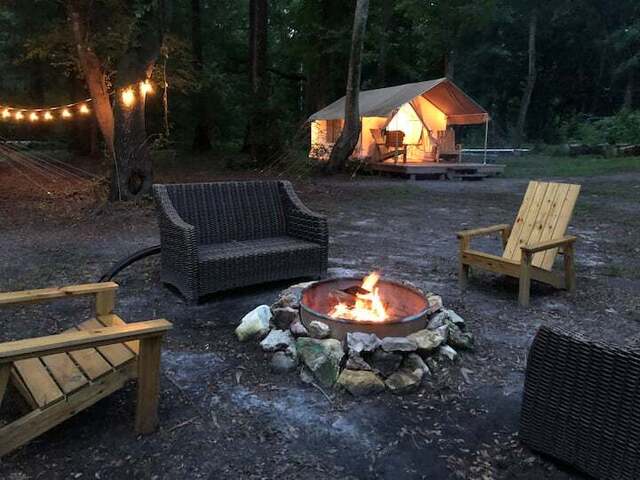 Have the classic camping experience with none of the hassle at this wonderful glamping location. The structure is a large expedition tent on a wood platform, with a queen-sized bed, a full barn-style bathroom, an outdoor cooking area complete with charcoal grill, and a fire pit with seating for your campfire needs. Enjoy the view of the Suwannee River from your private deck. The location is perfect for some river fun, and is in close proximity to a number of parks.
RVs for Glamping in Florida
Add air conditioning, working kitchen and a bathroom within the accommodations and glamping get a little more comfortable. These RVs are a perfect way to enjoy the outdoors while still maintaining a high level of comfort.
1969 Vintage Airstream near The Everglades
If you've been searching for a unique glamping experience, then look no further. Relax in your own vintage trailer, featuring two king beds, two twin beds, a covered porch, and a private outdoor bathroom. Don't be afraid to mingle with the guests of the neighboring trailers. You will be able to make friends at the communal kitchen area or around the grill, go for a swim in the pool, unwind in the hot tub, enjoy a game of horseshoes, or simply watch the stars.
Airstreamin' in St. Augustine Beach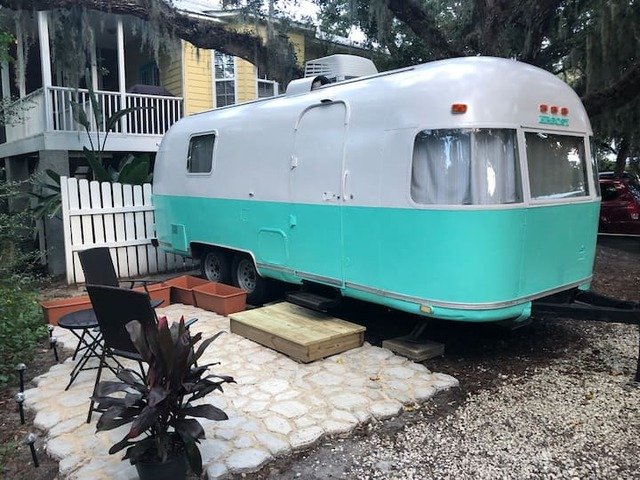 Enjoy a genuine RV experience without the hassle of driving one. This 1977 Airstream Argosy camper provides a full-sized bed, couch, refrigerator, full bathroom and AC. You even have Netflix and Amazon Prime at your disposal, for spending a lazy day indoors. You also have excellent access to the beach and a brand new outdoor shower to wash off the sand. A trip into the downtown area is quick and cheap, and you will be within walking distance of the St. Augustine Amphitheater.
Vintage '71 Airstream – Pool, Spa, Lanai and Beaches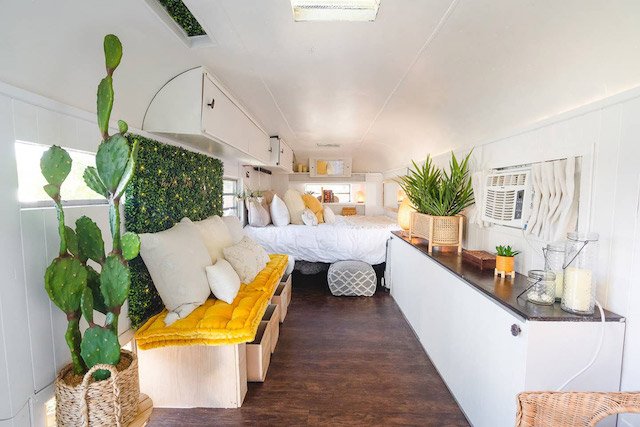 This renovated 1971 Airstream trailer features bright and breezy interior design, complete with a king-sized bed, couch, kitchen with refrigerator, air conditioning, and a projector. Outside you'll find a fire pit and seating for your grilling needs, a hot tub for unwinding after a long day of activities, and a covered pool. You'll be within walking distance of Palma Sola beach and only five miles from the Anna Maria Island beaches. Whether you're looking to relax in privacy or indulge yourself at the beach, this glamping option has you covered.
Glamour camping in the heart of Miami at Titi Wasi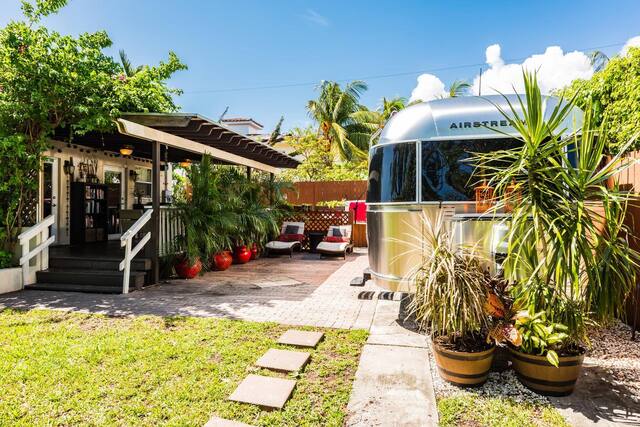 With a classic exterior look and modern, comfortable interior, this trailer is ideal for singles or couples. It features a queen-sized bed, living area with a sofa, kitchen with microwave and oven, full bath, two flat-screen TVs, and a music player with surround sound system. Outside, you can catch some rays on the sunbeds, surrounded by trees. Or you can grill up some food on the barbecue and enjoy some outdoor dining. This cozy glamping option has all the amenities you'll need, the convenience afforded by a big city, and the relaxation you desire, all in one stylish package.
Meet Miss Ruby Lake Glamping – great neighborhood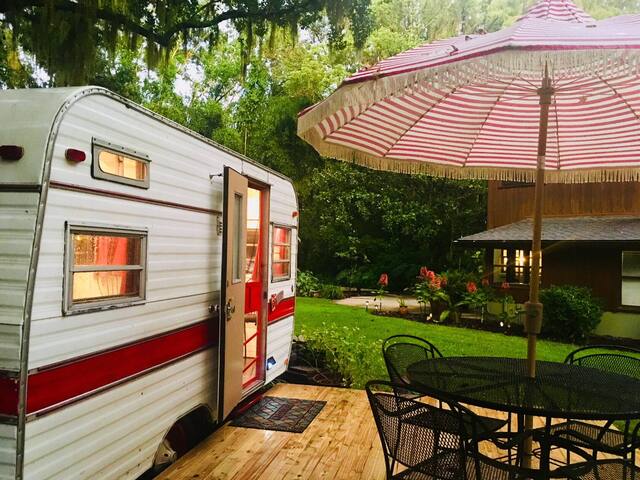 Located on the doorstep of a beautiful lake, this cozy renovated camper makes for an ideal getaway. It features a queen-sized bed, mini-fridge, French press, hot plate, and TV. A private outdoor bathhouse includes an open-air shower, toilet, and sink. A short walk to the lake will give you access to kayaking, hammocks and lounge chairs to relax in and fire pits to grill up your dinner. Enjoy the peace and majesty of nature at this prime glamping destination.
Tiny Homes for Glamping in Florida
Rum Island Cabin on Santa Fe River
Find your peace and quiet in this pleasant little cabin near the Santa Fe River. It features a full-sized bed, kitchen, and bathroom. Watch your animal neighbors from the comfort of the screened porch. Enjoy dinner around the outdoor campfire and dining area. Or make your way to one of the many enticing nearby locations, such as a natural spring for relaxation, a state park for cave diving and snorkeling, or any number of prime wildlife viewing spots.
The Salty Seahorse – Unique Floating Barrel Cabin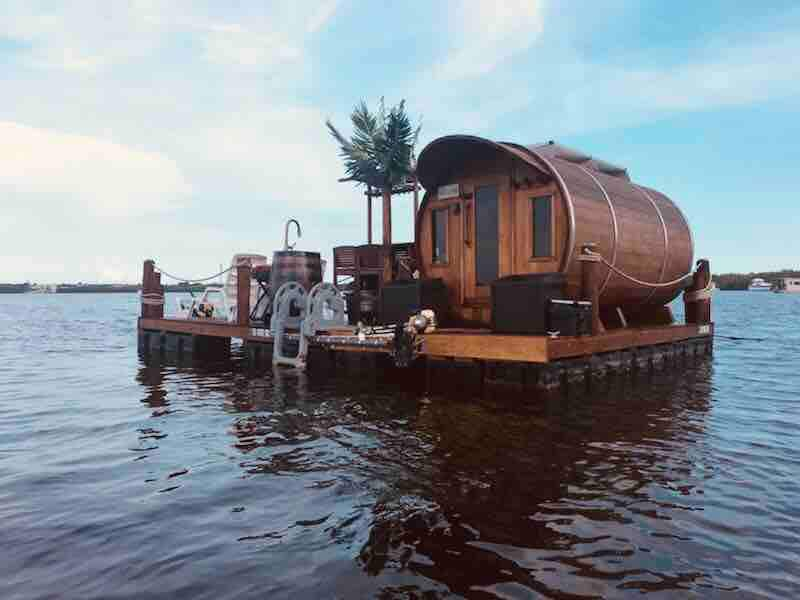 Try something new and exciting at this creatively designed barrel cabin. Paddle your kayak up to this cozy floating home and prepare for a one-of-a-kind experience. The panoramic design of the cabin allows you to watch the passing wildlife during the day and fall asleep beneath the stars at night. Grill up your catch of the day and enjoy your meal at the outdoor patio area. Then you can mix yourself a drink at the onboard tiki bar. The whole experience will be environmentally friendly and endlessly memorable.
The Bermuda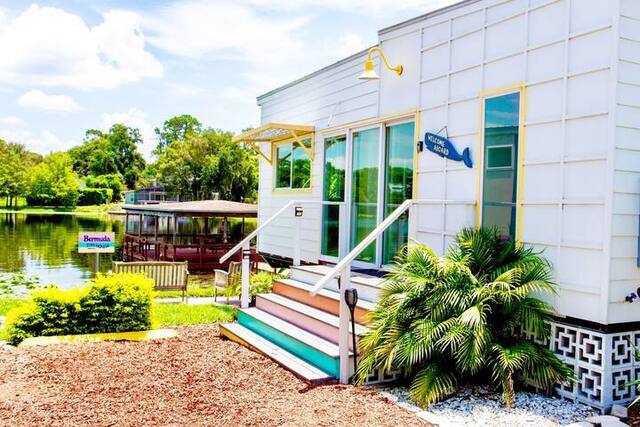 Enjoy the comforts of this tiny home, located next to a beautiful lake. With room for four, a lovely tropical décor, and a full set of amenities—including a kitchen with a stovetop and a large bathroom—you'll have no inconveniences to distract you from your vacation. Take part in the many different activities on the lake, like kayaking, fishing, or paddle-boarding. All the supplies you will need are easily accessible and come included in the price of your stay.
The Ritz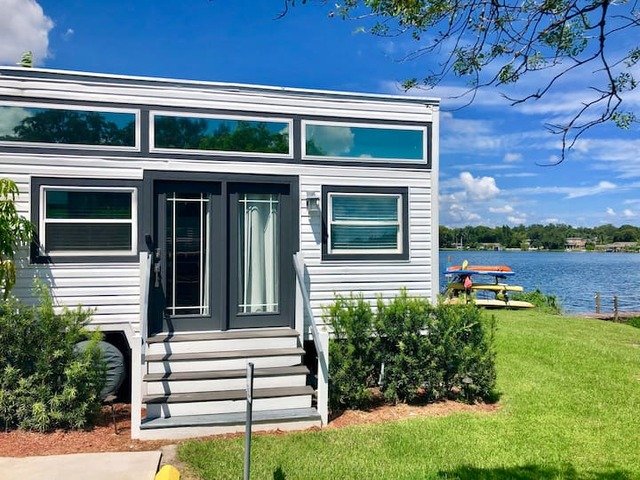 This glamping location is for anyone who wants some big style with their tiny home. The interior has a classy, modern design sense and plenty of space. The loft-style sleeping areas and studio couch can easily accommodate up to 5 people. The spacious kitchen also allows for gourmet home-cooked meals. And right outside your door, you'll have plenty to do on the gorgeous lakefront. Kayaking, paddle-boarding, fishing, and more are all available. Come enjoy a relaxing, luxurious life indoors, and an exciting, fun-filled life outdoors.
Water view cabin on Granddaddy Oak covered farm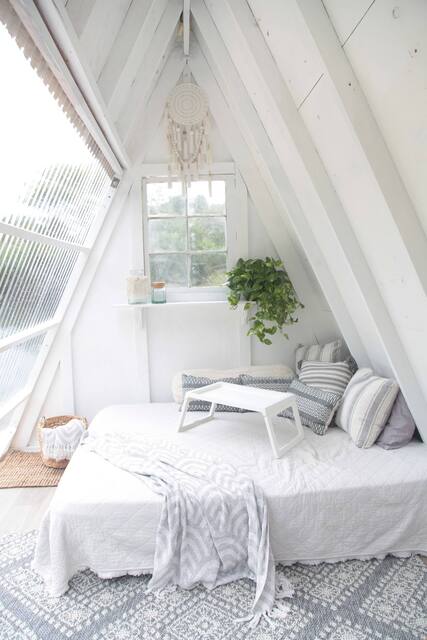 Take in a gorgeous lakeside view in this A-frame style tiny house. The serene, all-white interior exudes a calming atmosphere, and the cabin wall conveniently folds open to allow for an unobstructed view of the surrounding natural beauty. Many animals call this 8-acre farm home, and granddaddy oaks add to the wonderful scenery. Featuring a queen-sized bed, enclosed outdoor shower, fire pit with seating, and a pergola, this cabin has everything you'll need for a relaxing and enjoyable time.
The View – Waterfront Tiny Home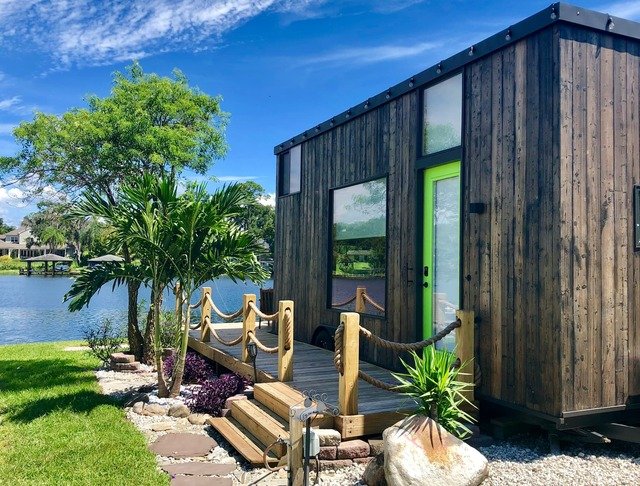 Experience the comfort of modern design with the beauty of nature at this comfy tiny home. Inside you'll find an all-wood interior with two loft-style sleeping areas, a lounge with 50" TV, kitchen, and a full bath. Drink in the lakeside view from the many picture windows, or from outside on your private deck. Easy access to the lake comes with the opportunity for kayaking, fishing, and paddle-boarding. This cabin provides you with everything you need for a fun and relaxing vacation.
Glamping Yurts in Florida
Treehouse at Danville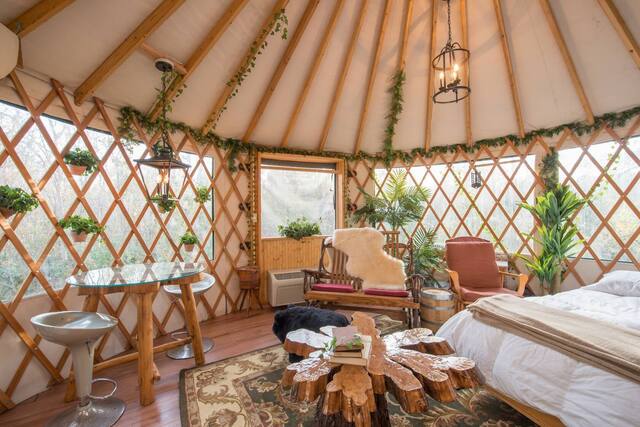 This one-of-a-kind treehouse offers you the chance to experience a luxurious life among the trees. Among its many amenities are an elevator (disguised as a tree trunk) to get you up to the living area, a hot tub, fire pit with seating, an outdoor shower and a tiki hut bar. On the upper level, you'll find a spacious living area with charming natural décor and full bath, a deck with swing and grill, and a panoramic view of the many magnolia and oak trees.
Yurt at Danville. "Most romantic stay ever"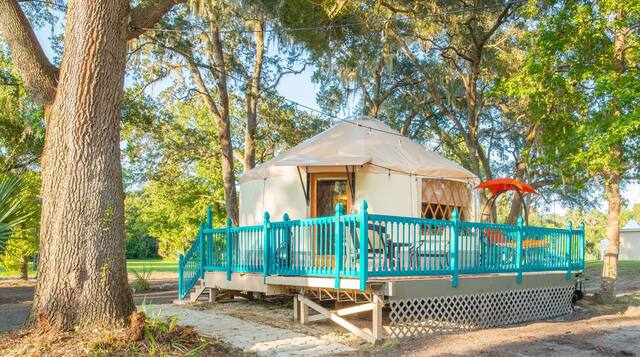 The combination of class, comfort, and beauty makes this glamping location ideal for romantic getaways. Featuring a 21-foot diameter structure, this yurt comes equipped with all the amenities you could want: king-sized bed, full bath, mini kitchen, air conditioning, and flatscreen TV. The skylight and panoramic windows offer a wonderful view of the natural beauty outside. The barbecue grill on the deck and the nearby hammock and swing make the outdoors just as attractive as the interior.
Westgate River Ranch Resort & Rodeo at River Ranch, Florida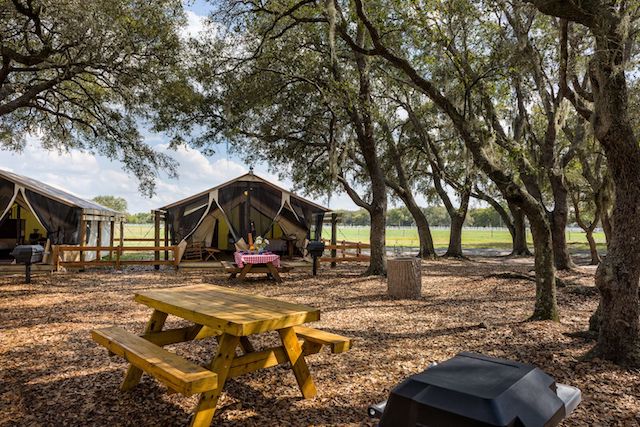 Interested in camping without getting your hands dirty? Then Westgate River Ranch Resort & Rodeo has the perfect tent for you. This 384 square foot of authentic florida styled tent will have you feeling like you just stepped out of a movie. Enjoy the comfort of a personal concierge and freshly delivered coffee every morning to rouse you from the coziness of a king bed protected by mosquito netting on the patio. Book now for an outdoor weekend in style.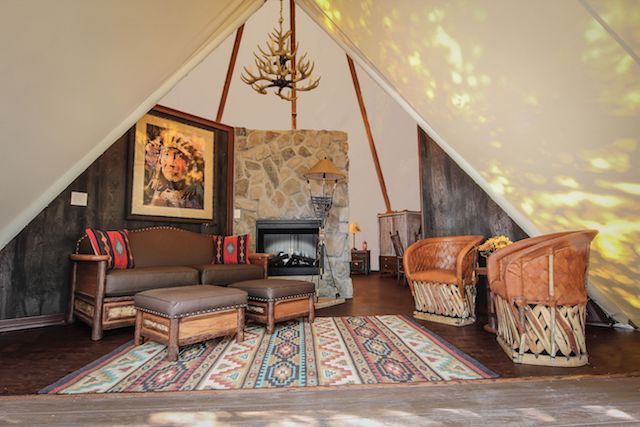 The luxe teepees are an ideal place to reconnect with your spirit animal. The plush king sized bedding and full bathroom with a walk in shower make it perfect for a small family vacation or a little group bonding time over the community fire pit. The tent also features added amenities like air-conditioning, heating, electrical outlets and even a mini refrigerator. With a personal concierge and staff, this resort is guaranteed to deliver an unforgettable experience.
Everglades Glamping Cabins at Ochopee, Florida
Make your adventure to the everglades much more memorable by relaxing in the one of a kind cabin available at the Everglades Adventure Tour. Built for absolute privacy but offering access to the starry midnight sky and a majestic view of the grassy alpines and swamp, you'll feel at home in nature. The thatched roof allows the cabin breathe easily, keeping it well ventilated and cool during the day and at night. The private deck is ideal for a night of star gazing or watching the sunrise.
Fancy Camps at Grayton Beach State Park or Topsail Preserve State Park
You will never have to walk a mile from your tent for the perfect view with Fancy Camps. Your luxury tent can be set up right where you want to ensure all the stars shine directly above you and the sun sets right where you are standing. The features include exterior string lights, area rugs, a heater and air conditioner, and the plushest linens to maximize your camping experience. The quaint canvas bell tent shape makes it so much cozier.
Disney's Fort Wilderness Resort Cabins
Step into the magical world of Disney's Fort Wilderness Resort & Campground with this luxury resort cabin perfect for holidaying with the whole family, including your pets. The timeless rustic appeal of the cabin is only attenuated by the myriad of activities available for the whole family. Featuring musicals, indoor celebrations, pools with waterslides and friendly deer, rabbits and a host of other wildlife, this cabin creates a magical and comfortable experience for everyone.
Jules' Undersea Lodge in Key Largo, Florida
Take it from the red singing crab Sebastian, under the sea is the best place to be. Jules' Undersea Lodge in Key Largo, Florida creates a unique underwater experience. Visit the world's only underwater hotel and stay for a sumptuous lunch after scuba diving 21 feet beneath the shore. Enjoy the tropical view of the mangrove habitat through the round windows and see where the seaweed is always greener for yourself. Go to sleep in absolute comfort with fishes just outside your window!
Rent a Vintage Airstream
For a completely unique Florida experience, Vintage Airstream has perfect mobile cabins for you. So at the beach, by the lake or in the forest, this snug portable cabin can be brought to any location at your discretion. Our Vintage Airstream Rentals come with a plush king-sized bed, a bathroom and a kitchenette. Easily explore different camping spots without having to bother about unloading and setting up. So let silver bullet retreat make your camping experience a lot more convenient and enjoyable.