Whether it's the scenic Smoky Mountains or the numerous activities across the city, Gatlinburg is truly an ideal vacation destination. With its fabulous combination of natural beauty, restaurants, and entertainment options, you'll never run out of things to do or see. To make the most out of your next trip to Gatlinburg, make sure you find the perfect place to stay. This list features the most luxurious cabins that Gatlinburg has to offer. You can't go wrong with any of these breathtaking accommodations.
"Smoky Mountain Views" Cabin
Fun awaits you both indoors and outdoors at this amazing cabin. It provides a wonderful view of the Smoky Mountains from its three decks. Whether you are relaxing on the swing or taking a dip in the hot tub, you won't be wanting for spectacular scenery. Once inside, you'll find a cozy yet luxurious space, filled with amenities and entertainment.
It features 5 bedrooms with adjoining bathrooms, multiple fireplaces, a full kitchen and even a home theater. Finally, if you're cooped up on a rainy day, head to the game room. Challenge your friends to a game of pool, or try out one of the arcade games.
"All About The View" Gatlinburg Cabin
If you want both comfort and convenience during your vacation, this cabin has you covered. A mere 10-minute drive from Gatlinburg, you'll have easy access to all of the entertainment venues and wonderful restaurants it has to offer. The cabin itself is a fantastic 3-story structure overlooking an incredible mountain landscape. You may find yourself spending as much time relaxing inside as exploring outside.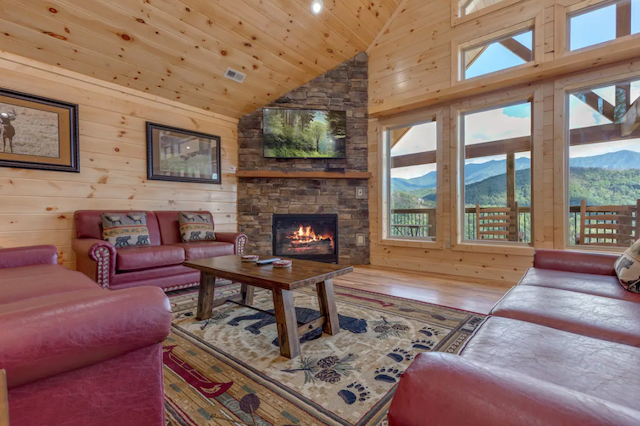 Each of the 6 bedrooms comes complete with a king-sized bed, TV and a private bathroom. You can make use of the cozy lounge surrounding the fireplace. Also, you'll have access to an open kitchen and dining area, plenty of outdoor seating on the 3 decks, and a hot tub.
"1163 The Breezeway" Cabin
This snazzy cabin is brimming with luxuries. Nestled among the trees, there is a lot to love about this cabin. First, you'll be struck by the modern exterior design and homey interior décor. Between the main cabin and the guest house, you'll have room for more than 16 people to join in the fun.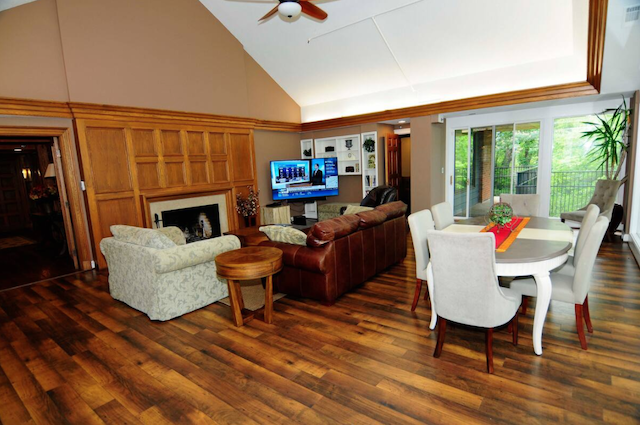 There is also a game room with a ping pong table and arcade games, an indoor sauna, and an indoor stone grill. And to top it all off, the nearby Rocky Top Sports World provides even more attractions for you and the family.
"Mansion in the Sky" Gatlinburg Cabin
Have the experience of a lifetime at this extravagant cabin. At over 7000 square feet, and containing 10 bedrooms, it has room for up to 34 people. Feel free to bring along the whole family—and then some. It features a huge dining hall, a gourmet kitchen, a recreation area with a home theater, and a living room with a fantastic view of the mountains.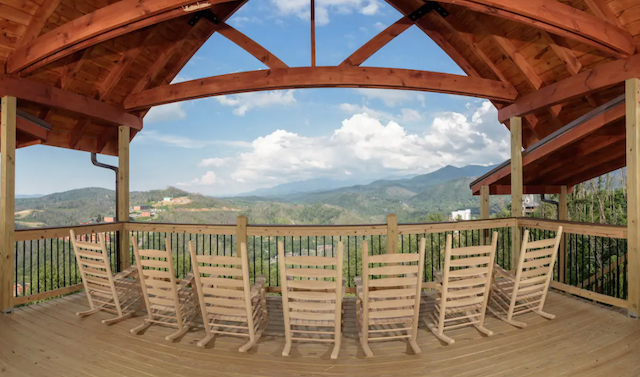 You'll have an even better view of the gorgeous scenery from outside. Relax on one of the many deck areas, or take a dip in the pool. No matter where you are, you'll find entertainment and comfort at this incredible lodge.
Spark Of Life" Gatlinburg Cabin
Find your home away from home at this spectacular cabin. Conveniently located just two miles from downtown Gatlinburg, you'll fall in love with this vacation destination. The rustic interior is both inviting and spacious. Each of the 5 bedrooms is well-appointed with plush beds and woodsy décor, and also comes with an adjoining bath.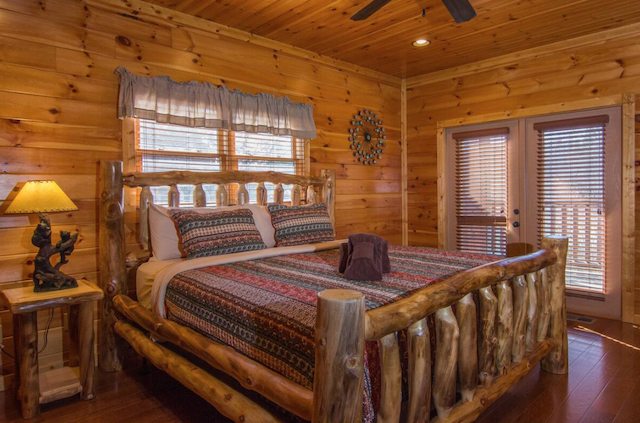 You'll also find a cozy living room, dining and kitchen area, and a game room. The exterior centerpiece is the cascading waterfall just outside your door. Plus, you have a community pool to take advantage of.
"Mountain Haven" Cabin with a View
For fantastic mountain views, this cabin can't be beaten. Overlooking the majestic Mt. Le Conte, you will be awe-struck by the incredible scenery right in your backyard. Whether taking a swing in the hammock or relaxing in the rocking chairs, you will be treated to an unobstructed view of all the splendor of nature. The benefits don't end there, as the interior has plenty of amenities.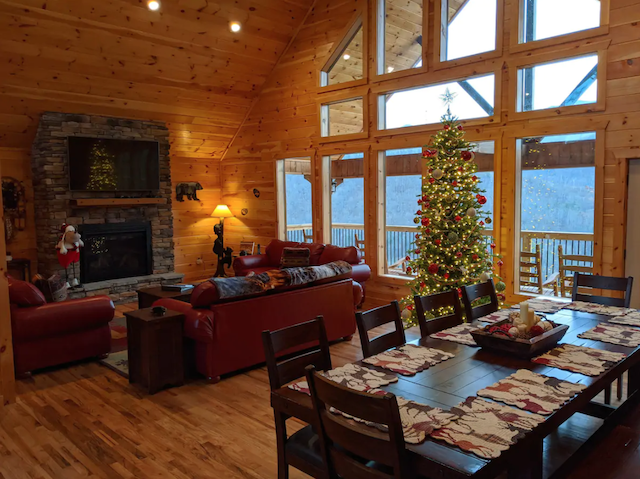 An open dining/kitchen/living area allows for plenty of space while retaining a cozy atmosphere. It also features 6 bedrooms with king-sized beds, a recreation room and a hot tub. Plus, you'll find the cabin decorated differently for every season.
"Smoky Mountain Heaven" Cabins
With its mixture of log cabin aesthetic and modern amenities, this cabin is the ideal retreat. It has a classic design that is carried throughout the cabin, with touches of whimsy and class. While warm and bright, it also maintains the feeling of a secluded log cabin.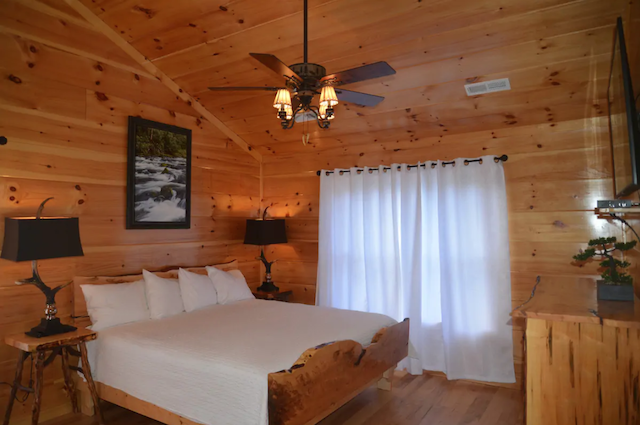 The charming fireplace is surrounded by plush leather couches, and each of the 5 master suites has its own private bath. Also, you'll find a spacious deck with a hot tub, a game room with a poker table, a charcoal grill and many more wonderful aspects.
"Smokey's Lodge" 8 Bedroom Cabin
You can experience a truly magical vacation at this sprawling cabin. It has three floors of rooms, each with the charm and luxury of a modern log cabin. Two massive decks offer spectacular views of the surrounding countryside. A screened porch offers you a comfortable spot to watch the sunrise (or sunset) over the mountains.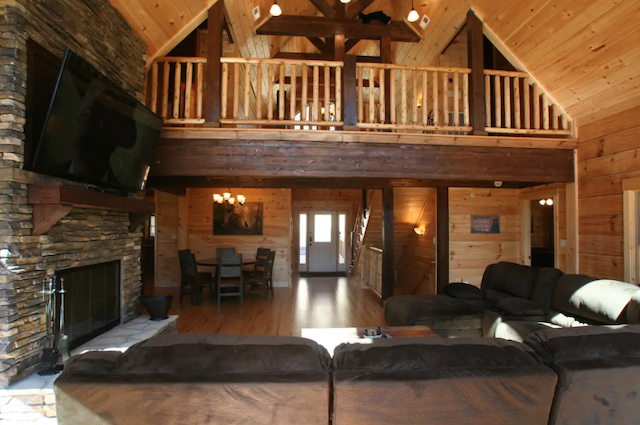 With 8 bedrooms and room for more than 16 guests, you can bring along the whole family. It also features a full kitchen and dining area, a plush living room with a fireplace, and a game room with a pool table.
Majestic Mtn Getaway: Game Room, Decks & Hot Tub! – Houses for Rent in Gatl
The soaring architecture of this cabin will take your breath away. And that's before you even see what waits inside. The huge wrap-around deck gives you a panoramic view of the Smoky Mountains. Additionally, the great room has a fantastic set of floor-to-ceiling windows, perfect for gazing at the scenery.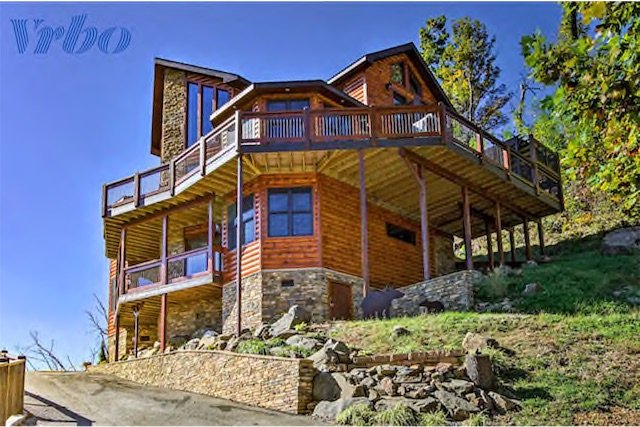 The wood-and-stone interior evokes a warm and welcoming atmosphere. Head down to the game room to shoot some pool, or mix up a drink at the wet bar. Each of the 5 bedrooms has an en suite bathroom, and the accommodations can provide for up to 12 people.
"The Roost" Cabin
This cabin truly lives up to its namesake. You'll feel on top of the world at this spectacular mountaintop destination. The elegant interior combines rustic touches with bright, spacious design sense. The open concept kitchen, dining, and living area will soon feel like home.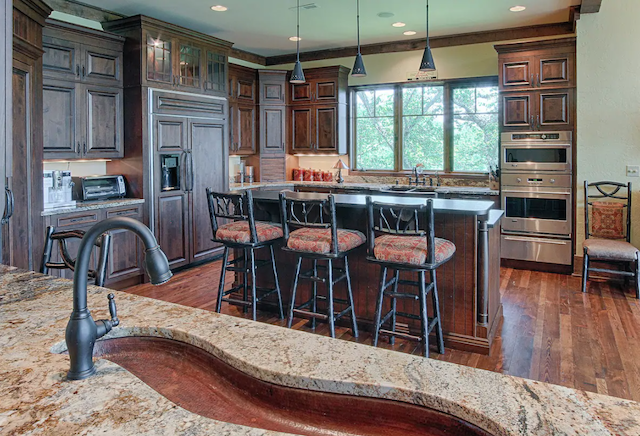 The seating area features a fireplace and huge windows for incredible views. Also, each of the 5 bedrooms has its own en suite bathroom. If you prefer to be closer to nature, a screened-in outdoor seating/dining area is at your disposal, complete with grill and an outdoor fireplace.
"Rainwater Falls" Mountain Home
Charm and class are in abundance at this wonderful cabin. Perched above downtown Gatlinburg, you'll have convenient access to all its attractions. The cabin has a fantastic overlook of the scenery, both the city and the surrounding countryside. You can take it all in from the hot tub, or while grilling up some food.
Another fun feature is the heated indoor pool, complete with a waterfall and a bay door to let nature come to you. Other amenities include a recreation room, full kitchen and dining area, and two king sized beds.
Brand New 6 Bedroom Luxury Cabin in Gatlinburg
Go above and beyond for your next vacation by booking this awesome cabin. Situated between Gatlinburg and Pigeon Forge, you can experience both to your heart's content, then return to the comforts of this lovely cabin. The indoor heated pool is the perfect place to take a dip and unwind after a long day.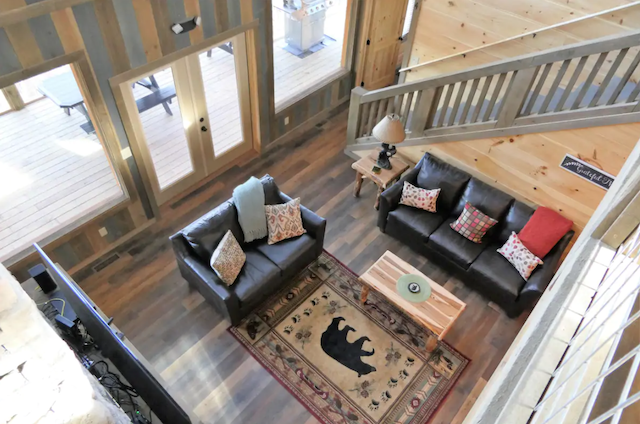 Then, you could retire to the game room and challenge the high score of the arcade games available. Or if you prefer, you can simply cozy up next to the fireplace with a cup of coffee and a good book. With sleeping arrangements for up to 18 people, everyone will be able to find something to enjoy here.
Luxury Cabin with Amaxing Views
With 3 floors of luxury at your fingertips, you may never want to leave this unbelievable cabin. You'll find something to enjoy on every level. First, the spacious home theater is big enough to seat 22 people. Then, make your way up to the main floor, where the high ceilings and large windows allow for lots of natural light and wonderful views.
You'll also find a fully equipped kitchen, lush living area and plenty of seating for everyone. Each of the incredible 12 bedrooms has a king-sized bed. Plus, the wrap-around deck has room for relaxing or taking in the sights. Whether indoors or outdoors, you'll be over the moon when you visit this cabin.
"Summit Castle" Luxury Cabin
You'll feel like royalty at this incredible cabin. With 6 bedrooms and accommodations for up to 24 guests, there really is no end to the luxuries here. The distinctive stone turret and log cabin construction are immediately eye-catching. The outdoor firepit is a great place to gather the family for some smores or stargazing.
Inside, the living room has huge vaulted ceilings and large windows for soaking up the wonderful view. Additionally, you'll find a game room, barn-style home theater, cozy fireplace and a full-service kitchen. Don't miss out on a chance to experience this amazing cabin.