Iceland offers plenty of great glamping sites, as well as varied landscapes and adventures. Both the southern and northern regions of Iceland offer different experiences, from the famous Northern Lights to impressive volcanoes.
If you want to feel the immersion in nature of camping, but the thought of staying in a tent is dissuading, then glamping in Iceland is the solution. Get the best of both worlds; a total connection to the natural world around you, as well as a comfy bed and a room over your head – it can be as rustic or as glamorous as you like!
Glamping Yurt Outside Akureyri
The private location of this Mongolian yurt has stunning views of a mammoth mountain, and across the fjord. You'd also be in prime position for watching the Northern Lights meander through the unpolluted skies.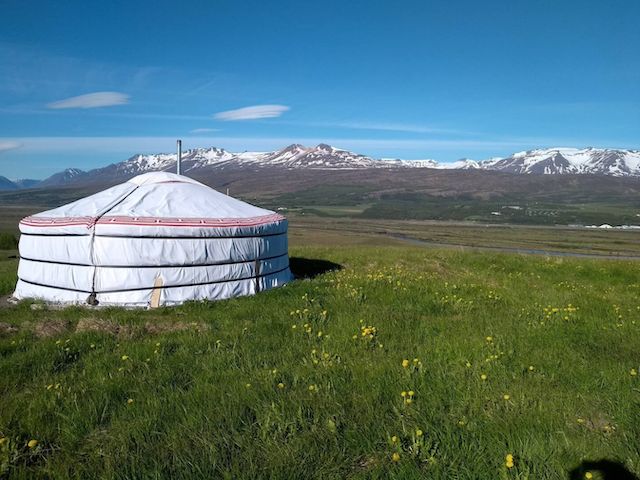 The traditional yurt structure is maintained, with a queen, a double, and a single bed sharing the cozy space together. The wood stove in the yurt doubles as a fireplace to warm up on cooler nights. Mountain hikes are easily accessed, and if in season, you can go berry or mushroom picking.
Cute Glamping Cottage on a Small Farm
A super alternative way to embrace the elements is in one of the 'sleeping barrels' at this lodge. The barrels are cozy yet also offer all the modern amenities you could need for a comfortable stay.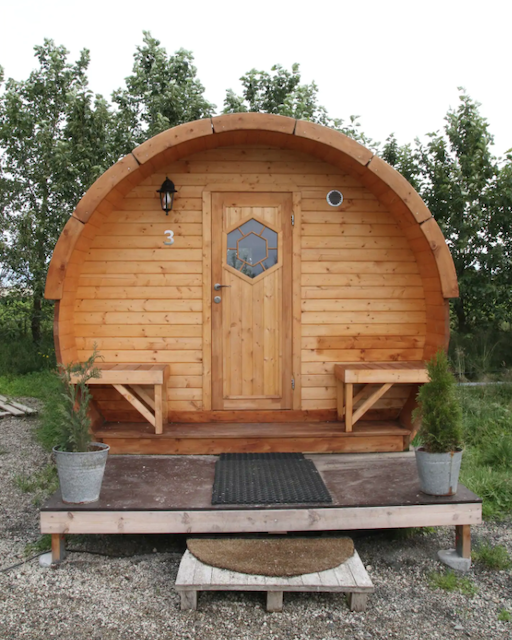 There are a spacious living and kitchen area shared with other guests. A tempting hot tub is on the property for you to enjoy a soothing time as a pair – the barrels each hold two single beds. The farm is a perfect place for relaxation and is also home to a variety of animals.
Glamping Cottage in Golden Circle
The Móabakki cottage, which has been described as magical, is simultaneously in the middle of nowhere and close to the action – for example, a soothing spa and geothermal pools.
There are wonderful views over Hekla volcano and big lakes such as Laugarvatn and Apavatn from the comfortable cabin, which has one queen bedroom as well as the space to form a double sofa bed in the living area. An additional kitchen area and bathroom complete the cabin. This comfortable, compact, and secluded cabin and the awesome views that it boasts form a real home-away-from-home.
Camp Boutique Glamping Tent in Árnessýs
These luxury tents sit on land that once used to be a part of a generational working farm, and are the products of a recent redevelopment. Each decorated in a unique style, the tents are sophisticated, romantic, and private.
They are also spacious, with enough room for a seating area as well as the large beds inside the boutique tent. If sleeping al fresco (with a boutique tent to help) doesn't immerse you in Icelandic nature enough, the tents are within short walking distance of a black beach. Not only is this a decidedly elite way to experience Iceland, but it is also a truly unique one.
Charming Rural Glamping Cabin
Compact, comfortable, and contemporary, this glamping tiny house in Iceland is perfect for a couple's getaway, or simply some time out from daily life. The cabin overlooks the fjord opposite Akureyri, and the wrap-around deck means you can catch excellent vistas around the clock.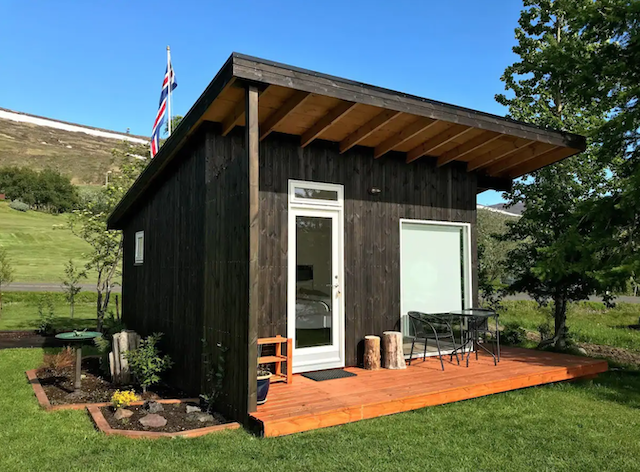 There's also an outdoor shower for a natural scrub. Inside, a kitchenette has everything you could need for an intimate hideaway with a loved one, and the bedroom – featuring a queen bed – is a welcome treat for the night.
Glamping Tent With Lake View
Wake up to the song of the local birdlife at the edge of the Skjálfandafljót river that runs past this luxury tent that you call home in Iceland. With heating systems and full furnishing, this is a prime example of glamping at its finest.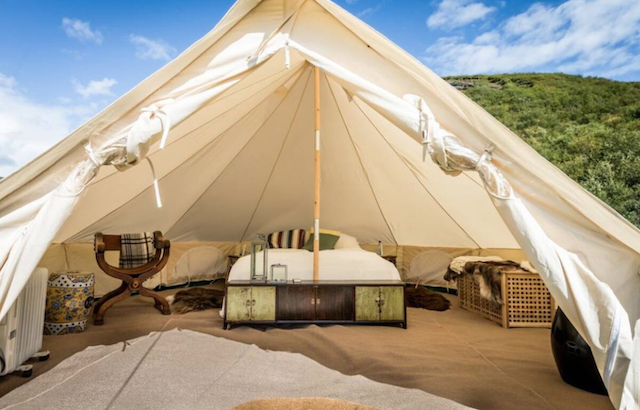 Differently-sized tents either cater to two or four people and provide a truly exclusive experience of the Icelandic wilds. Glamping here is perfect for immersion in nature and unique perspectives, all while offering a totally luxurious home base. The tented structure of the rooms brings a sense of old-school adventure while benefitting from all the new-school amenities!
Afternoon Glamping Cottages Near Hekla
The cozy yet sophisticated cottage is reminiscent of a modern studio apartment, with fresh interiors. Southern Iceland is exhibited at its finest when you look outside to see the breathtaking view, which may well include the Northern Lights in the winter months, for which you have a front-row seat.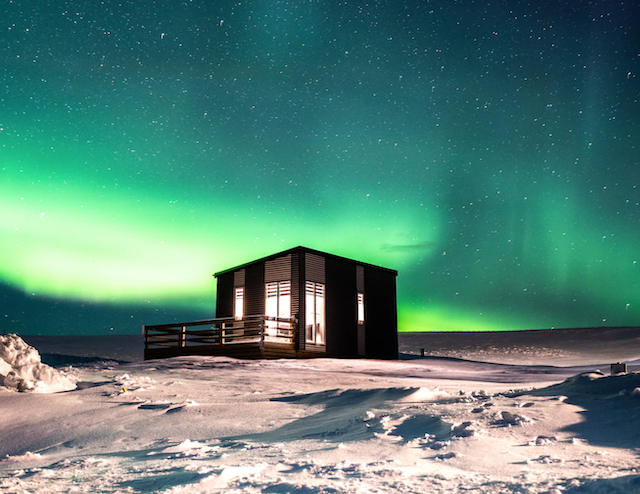 The two sizeable armchairs make for quiet evenings in, and a fully-equipped kitchenette is in place for all you'd need. Despite feeling isolated in the wilderness, the cabin is only a short drive away from the local town, where you can find boutique shops and tasty eateries.
Cozy Glamping Cottage on a Horse Farm in Iceland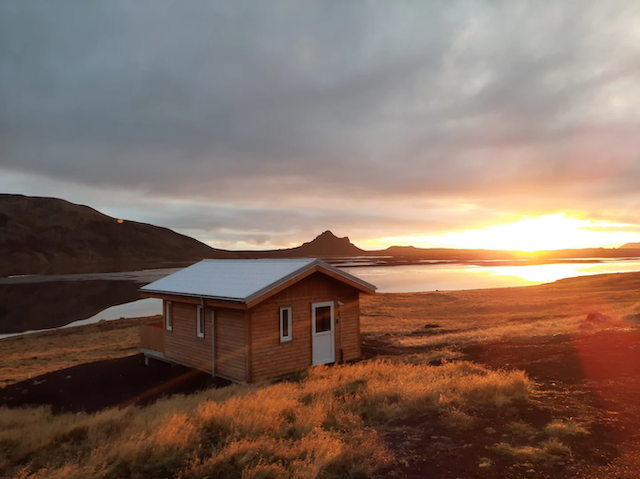 This glamping cottage is a comfortable and beautifully placed home-away-from-home all year round. In the summer, rolling fields and rocky mountains form a dramatic backdrop, with the snowy season bringing a winter wonderland. Inside, an inviting bed and a well-equipped kitchen for any culinary desires can be found, with a hot tub in place for spectacular sunsets and quiet evenings under the stars – and potentially watching the jaw-dropping Northern Lights!
Glamping Cottage On Family-owned Horse Farm
Paying homage to traditional, classic horse farms, this charmingly rustic cabin is hand-decorated and predominantly carries a horse theme. The cabin is aimed to cater to two people, but there is an opportunity for up to four adults to stay.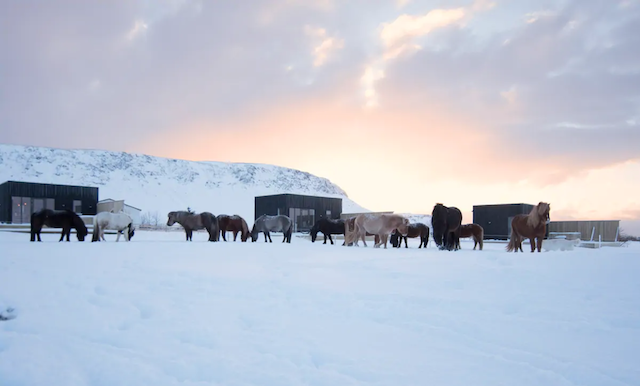 The horses on the farm saunter past the cabin's windows regularly and are also very welcome to visits to the stables and fields. Private riding tours are available to get into the character of life on the farm.
Glamping Cottage On A Farm
Swap the city lights for the Northern Lights at Nónsteinn, where not only can you relax and unwind in a peaceful location like no other, but you can also embark on adventures such as exploring lava fields and whale watching with ease.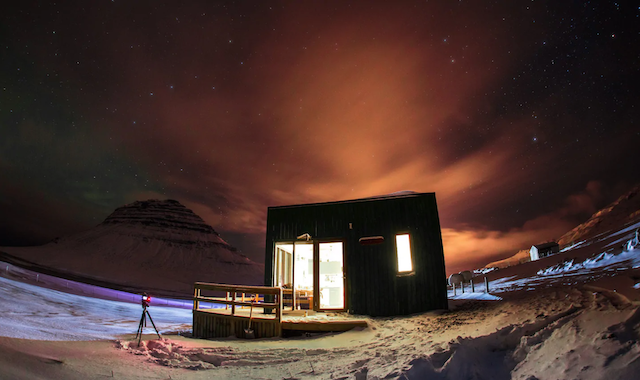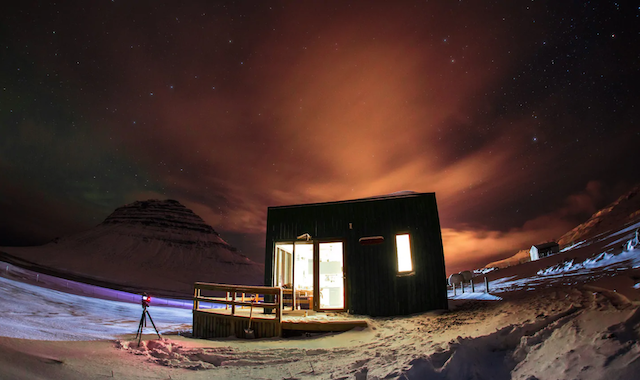 There is one comfortable queen bed, as well as a kitchen equipped with all you could need for rustling up a delicious meal. Large sliding glass doors face the bed, meaning you can soak up the magic of the Icelandic night sky from the comfort of your bed.