Islas del Rosario – Photo by Ben Bowes
If you want a place for your next vacation where you can relax and have a break from life stress, then this is for you! The Rosario Islands are an archipelago of 27 spectacular and coral islands. The white sandy beaches of the islands and the crystal-clear blue water will definitely take you to another place. The islands are also considered part of the national park that is protected by Colombia's national park system for its unique coral reefs and marine organisms. The best time to visit is during the dry season from December to March.
How to get to the Rosario Islands
The Rosario islands are located very near the coast of Cartagena, Colombia, you can get there by a speed boat with just an hour. Ferries are also a way to get there but they can be more expensive and a bit crowded.
You can also reach the Islands as part of a day trip from Cartagena or as part of a scuba diving class, but I recommend staying at least one night on one of the islands since the day tours feel rushed.  Another option is an all-day Catamaran tour or hiring a boat to take you our to the Islands and sleep on the boat or on a secluded beach overnight.
Things to do at The Rosario Islands
Go Snorkeling
Many people love to go there to have the unforgettable experience of snorkeling in its clear blue waters. The islands are home to more than 1300 species of marine organisms and amazing coral reefs. The view underwater is very picturesque, don't forget your waterproof camera and goggles to have a spectacular and unforgettable experience.
Go Diving
There are also many spots for diving, whether you are a beginner or an expert, you will find your place! The diving centers also will offer you a certificate and the diving tools you need. Get ready for an amazing experience where you will discover the different kind of underwater species from a coral reef, lobsters to crabs and starfish.
Relax on the Beach
Not only that, but also the beaches are the best place to relax and have a sunbath in this peaceful and serene paradise. You can also visit the Enchanted lagoon that is open for swimming and is special for having bioluminescent plankton which is very rare and glows in the dark lighting up the water to give a magical view.
Eat Like a Local
Besides the activities and the very fine beaches, the islands also have many amazing restaurants where you will be able to try their delicious local food and the special seafood dishes.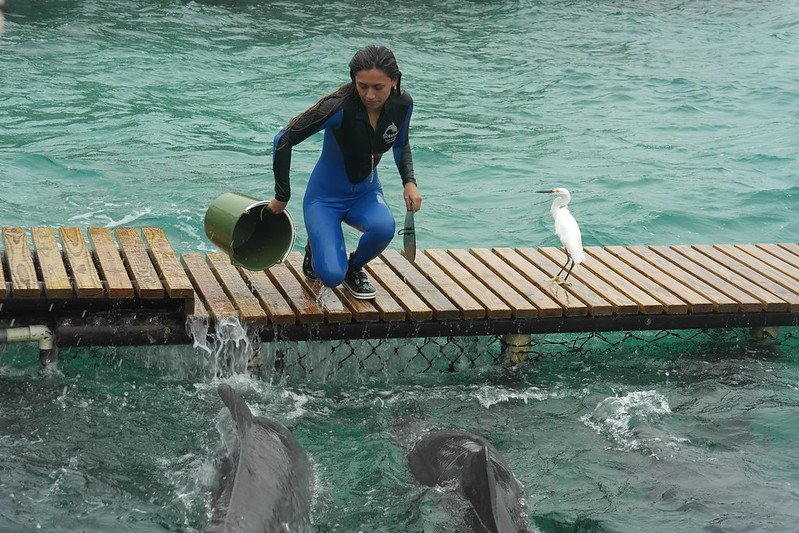 Visit the Aquarium
Don't miss visiting the Isla Rosario's Oceanario Aquarium. This place is a house for various species like dolphins, fish, sharks and many other marine organisms. It is located in Isla San Martin de Pajarales that is considered a top tourist attraction.
Which Islands to Visit
Isla Rosario
Most tours make a brief stop on the Isla Rosario to visit the Oceanario Aquarium. Travelers give this aquarium far from rave reviews and the entrance price is almost never included in your tour so be prepared. The aquarium is small and geared towards conversation rather than entertainment and there is a dolphin show.
Isla Grande
The Isla Grande island is the largest island and one of the best islands of the Rosario islands. Besides having great beaches with crystal clear water and perfect white sands for sunbathing. The island also has a spectacular mangrove forest along the river that gives it a very special view. This made the island a perfect place for kayaking. So, if you are an adventurous person and looking to have some great fun time with your family or friends, this place is for you!
Isla Majagua
This island is so special for having the San Pedro de Majagua Hotel. This hotel is perfect for those who want to spend their honeymoon in a peaceful and quiet place. The hotel is decorated with local designs making it seem like a love nest which is very romantic! The beach is also very beautiful for its white warm sands and amazing clear water.
Pirate Islands
The pirate islands or "Isla del Pirata" is another island for those who are interested to know more about Colombia's history and culture. The island's name is named after its use by the Caribbean pirates. It is also perfect for families as the kids will have so much fun building sandcastles in its amazing sands.
Isla Fuerte
This island is very small compared to other islands. The best thing about it is that it is still not discovered by many people, yet it is one of the best islands of the Rosario islands. You can walk around the whole island in five or six hours or rent a mountain bike. You will have an amazing experience exploring the mangrove forests with the rare trees like the La Bonga tree and the iconic Walking Tree in addition to the beautiful birds. You may also be lucky enough to spot sloths!