Oregon contains all the best natural features of the Pacific Northwest region. Its majestic mountains, lush forests and spectacular rivers are not to be missed. If you've been searching for a glamping destination, Oregon has many wonderful things to offer you. Of course, no glamping trip is complete with awesome accommodations. From tiny homes to rustic yurts and more, this list will help you find precisely what you want for your next Oregon glamping getaway.
Tiny House In The Countryside – Cabins for Rent in Medford, Oregon, United Stat
Come experience the quaint charms of this lovely tiny house. Set before a beautiful countryside view, this tiny house comes equipped with everything you'll need for a pleasant stay. The lofted double bed is comfy and there is an additional sleeper sofa as well.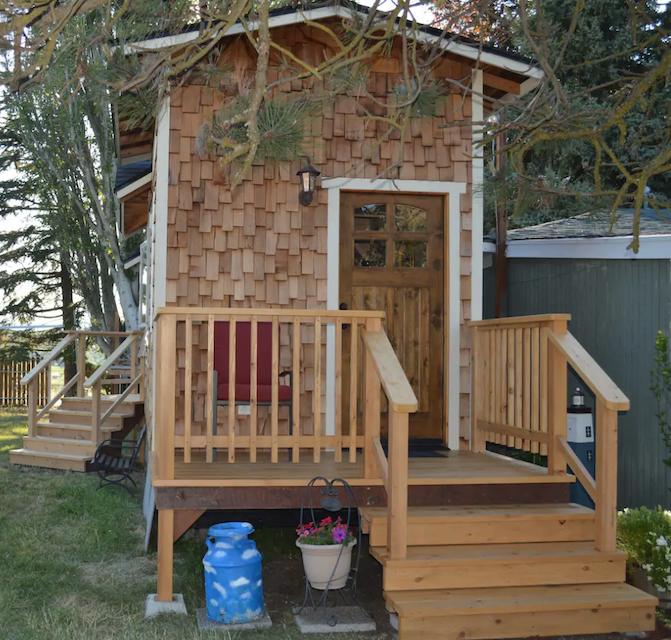 The breakfast nook looks out onto the peaceful property. And you'll even have an outdoor seating area for watching the sunrise or stargazing. Other amenities include a full bath and a mini-fridge.
The Canvas Castle at Domke Farms
Surrounded by towering cedar trees and sprawling farmland, you can feel the embrace of nature at this fantastic glamping destination. This luxury tent is spacious and comfortable, featuring a plush queen-sized bed, a seating area and a charming lighting set-up.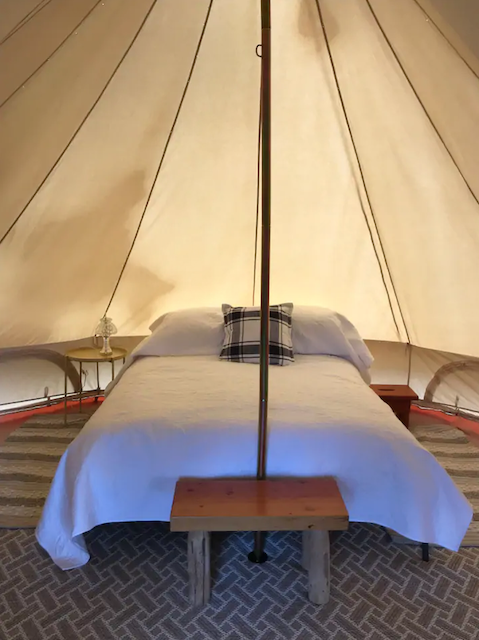 A half bath sits just a short distance away, and a separate open-air bath has both a shower and a bathtub for having a soak under the trees. At the end of the day, you can grill up a meal at the barbecue station, or gather around the fire pit for smores.
Tiny House On Wheels Farm Stay
Say hello to the animals at this amazing tiny house. Situated on a serene hillside next to a working farm, you'll have fantastic views right outside your window. In addition, you'll have the company of pigs, emu, and more. Once you've seen the sights and animals, the cabin provides a spacious and cheerful space to relax in.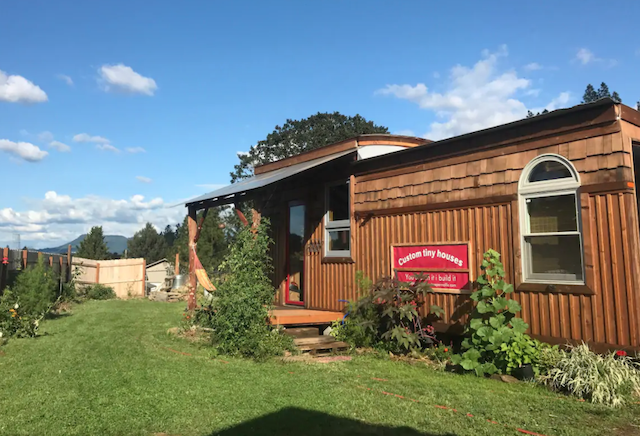 The eclectic décor is a mix of rustic delight and modern chic. There is both a queen and a single bed for use, as well as a full kitchen and bath and a lounge area. Outside, you can go for a swing in the hammock or enjoy some outdoor dining.
Private Cabin on Seasonal Creek
For the best combination of rustic style and intimate comforts, this glamping cabin has you covered. Tucked away among the trees on a 360-acre farm, you can indulge in the peace and quiet you desire for a weekend getaway. Out on the private deck, you can relax and take in the view, or use the fully stocked outdoor kitchen to cook in the fresh air. Then head to the pond-side gazebo for even more spectacular views.
Inside, the accommodations are comfy and welcoming. The cabin features a queen-sized bed, a cozy love seat looking out onto the trees, and plenty of natural light.
Off-the-Grid Retro Airstream at Pholia Goat Farm
This snazzy glamping RV provides a truly unique glamping experience. Located on a working goat farm, you'll be able to walk, play with and even milk the friendly goats. After you've had lots of fun exploring the farm, the renovated Airstream camper is the perfect place to relax and recharge.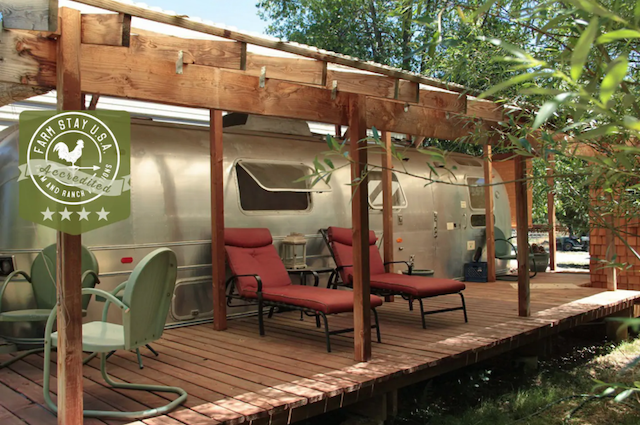 Outside, a spacious covered deck features plenty of seating. The interior is bright and cheery, with a distinctly retro flair. You'll have access to a well-appointed queen bed, a kitchen, a dinette, and a lounge area.
Elegant Tiny Home on a Farm in Eagle Creek, Oregon,
True to its name, this tiny house is packed full of elegant touches. You'll find yourself on a 10-acre horse farm, with views of both animals and the majesty of nearby Mt. Hood. The lovely interior design will give you a sense of peace and serenity.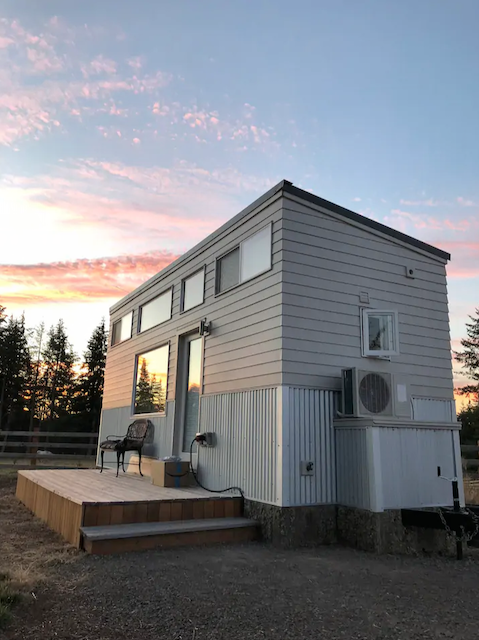 There is plenty of room as well, with both a queen-sized bed and a lofted double bed, a full bath, and a kitchen. Outside, you can enjoy a glass of wine and watch the sunset from the porch, or cozy up next to the firepit with a cup of hot cocoa.
Hillside Hideaway Cabin Retreat
Soak up the beauty of nature from this charming tiny cabin. Nestled next to a pond, you'll have wide-open spaces, wonderful views, and all the peace and quiet you desire for your getaway. You can wander the area, spot the grazing cattle, or even head to the nearby creek.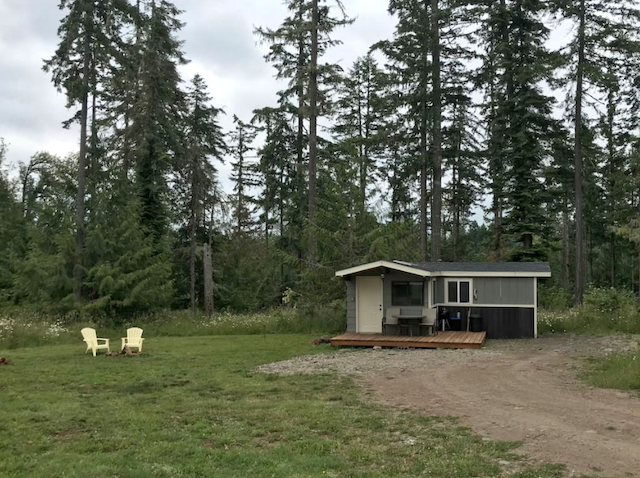 The cabin itself is intimate and comfortable, providing you with all the amenities you need. It features a full kitchen and bath, queen-sized bed, and a sofa sleeper. Don't miss out on a chance to experience all this awesome cabin has to offer.
Enchanting A-Frame
This wonderful A-frame cabin will immediately put a smile on your face. Conveniently located just a short distance from both Baker City and Anthony Lakes Ski Resort, you'll be able to partake in many fun activities all around the area. Enjoy the sights and sounds of nature right outside your door. A pleasant creek runs nearby, and the trees tower majestically above.
The cabin itself exudes a homey atmosphere. A spiral staircase leads you to the lofted sleeping area, and the stone fireplace is ideal for snuggling up to on a winter night.
Little Red Caboose with a View
For something a little different, try out this amazing and unique cabin. This completely renovated railroad caboose is both charming and comfortable. It has been retrofitted with a private deck area for relaxing outdoors. Inside, the queen bed is plush and comfy, and a double bed is also available via a ladder.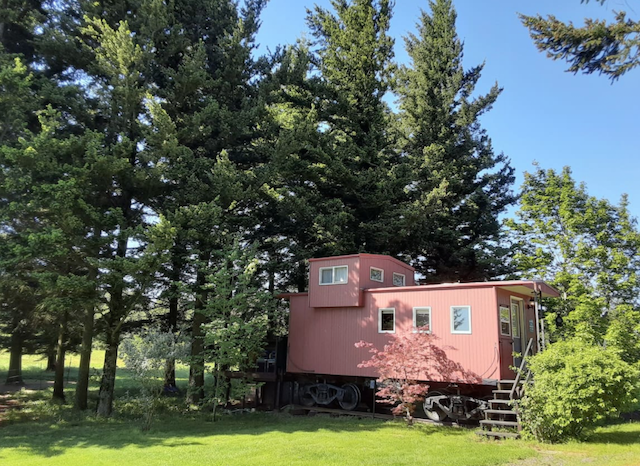 Other amenities include a full kitchen and bath, and a picnic area. Its location on the Columbia River Gorge makes for some spectacular views, and traversing the surrounding countryside is a treat.
Gorge Yurt Getaway
Take your glamping adventure to the next level at this gorgeous yurt. Situated in the Columbia River Gorge, you'll be surrounded by amazing views and plenty of places to explore. The yurt is a wonderful combination of luxury and rustic style.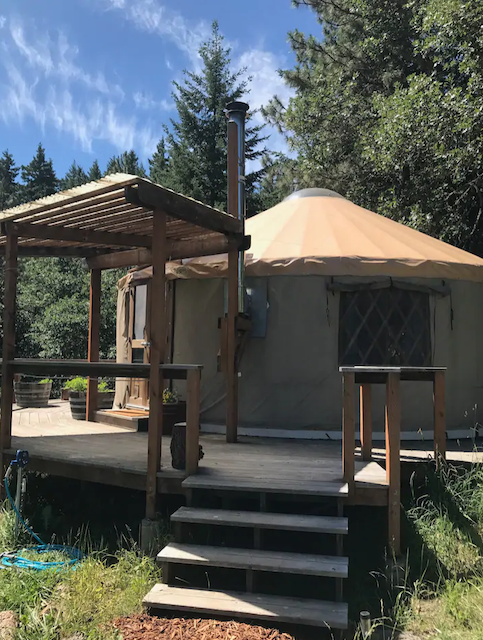 The open floorplan offers an airy, welcoming feel to indulge in. The amenities include a kitchen, wood-burning stove, a queen-sized bed, and an outdoor shower. The sprawling, wrap-around deck is the perfect place to catch a sunrise or go stargazing.
Shortbus at Corbett Farm with Peacocks & Ponies
This awesome glamping shortbus is sure to inject some fun into your glamping experience. Converted from a bus, this cozy destination is ideal for anyone seeking a memorable getaway. The bright and colorful interior is as comfy as it is charming.
You'll find a queen-sized bed, lounge/dining area, complimentary tea service, and more. As a bonus, the many inhabitants of the farm will be around to greet you, including horses, peacocks, and geese.
The Yurt on Eagleview in Gold Beach
Anyone searching for breathtaking views and top-notch accommodations need to look no further than this incredible glamping yurt. Perched on the mountainside above Rogue River, you may spend as much time out on the deck as inside. With soaring mountains, winding rivers, and a wide-open country before you, the view is certainly one to remember.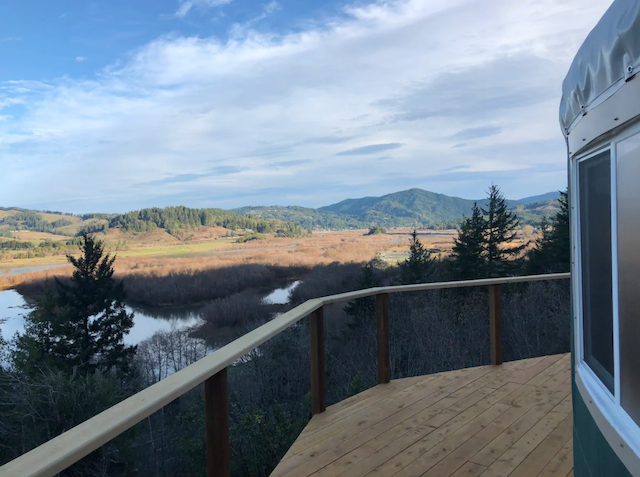 The yurt is equally impressive. It features a fully stocked kitchen, spacious and luxurious bathroom, a comfy queen-sized bed, and lots of natural light.