When it comes to finding the ideal glamping destination, the Sooner state has something for everyone. With wide open plains, majestic mountain ranges, rushing rivers, and more, you won't run out of places to visit. Whether you're looking to fish the day away on a peaceful lake, hike a mountain trail or just enjoy the scenery, this list of glamping accommodations will provide you with the perfect home base for your adventures. Read on to find the glamping spot that fits your needs.
Ole Farm Cabin for Glamping
Soak in the gorgeous Oklahoma scenery at this cozy cabin. Located on a 160-acre cattle farm, you'll have a wonderful view of the Wichita Mountains right outside your window. You can relax on the covered porch while grilling up some food or watching the sunset.
Inside, all the usual amenities are at your disposal. The homey atmosphere is warm and welcoming. Features include a plush bed, cooktop stove, full bath, and more. Make your next Oklahoma glamping trip one to remember at this lovely cabin.
Cozy Country Cottage in Claremore
You'll feel right at home when you visit this delightful cottage. Conveniently located within driving distance of Tulsa, this wonderful glamping destination is perfect for a peaceful getaway. Neighboring a horse pasture, you'll find wide-open views and friendly animal companions, in addition to all the wonderful amenities.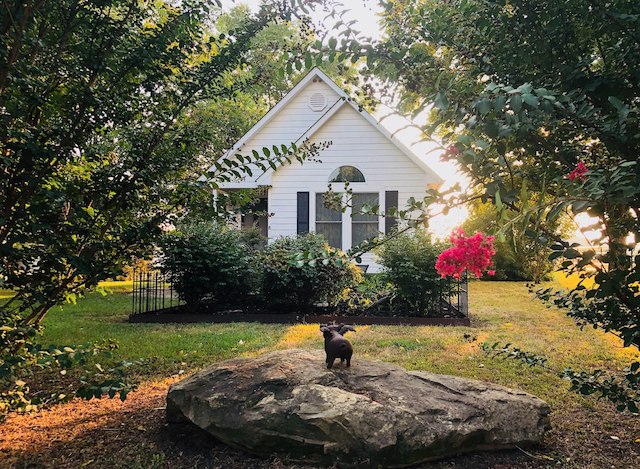 The interior exudes a rustic, farmhouse charm, while still maintaining all the modern necessities. You'll have access to a queen-sized bed, full kitchen and bath, a beautiful gazebo and a fire pit.
The Cottage at The Lodge at Taylor Ranch
The Cottage at The Lodge at Taylor Ranch will provide you with the ideal combination of comfort and adventure. Situated on a sprawling ranch, there is plenty to see and do. You can wander the property and take in the sights, try your hand at fishing, or challenge your partner to a game of Disc Golf. Additionally, there are many hiking trails in the surrounding area.
The cottage itself has a bright interior with a studio-style floorplan. You'll have a full kitchen and bath, dining nook and double bed at your disposal. Outside, there are several seating areas, including a covered front porch, and an outdoor dining area with a nearby fire pit.
Dos Equis Ranch Lake Cabin
Come enjoy the splendor of nature at the Dos Equis Ranch Lake Cabin. Nestled next to a placid lake, you won't be wanting for outdoor activities when visiting this glamping spot. With over 900 acres of amazing landscape to explore, you'll be able to hike, fish, go horseback riding and so much more. And of course, if you're in the mood for a little relaxation, this cabin has you covered.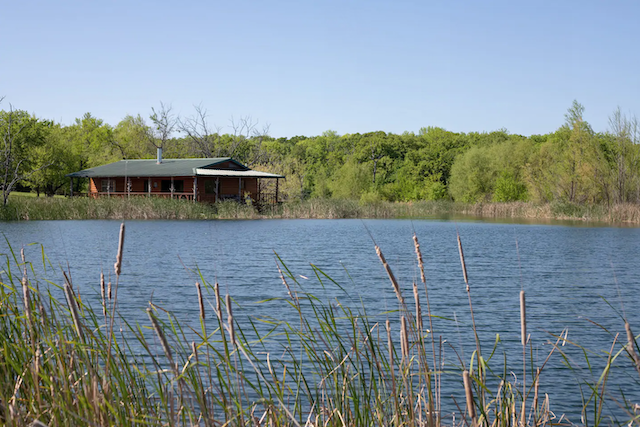 The splendid stone porch features a fire pit, outdoor dining area and a private dock. Inside, you'll find plush leather couches, sleeping arrangements for up to 6 guests, and a stone fireplace.
Cozy Cabin on Private Lake
For a peaceful getaway that doesn't skimp on the luxuries, this lakeside cabin fits the bill. The woodsy décor and homey feel will put a smile on your face the moment you walk in the door. It sleeps up to 5 guests, so you can bring the family along for the fun.
Have a swing on the front porch while taking in a gorgeous sunrise, or cook up a meal at the outdoor cooking station. You'll also be able to swim, fish or go for a paddleboat ride on the lake. You can even book horseback riding lessons.
Serenity Acres Sanctuary Glamping Cabin
Luxury and rustic charm combine for a fantastic glamping experience at this Serenity Acres Sanctuary Glamping Cabin. For the steamy hot days, take a dip in the pool. Makes smores at the fire pit and watch the stars come out. There's even a covered porch with a dining area and a hot tub.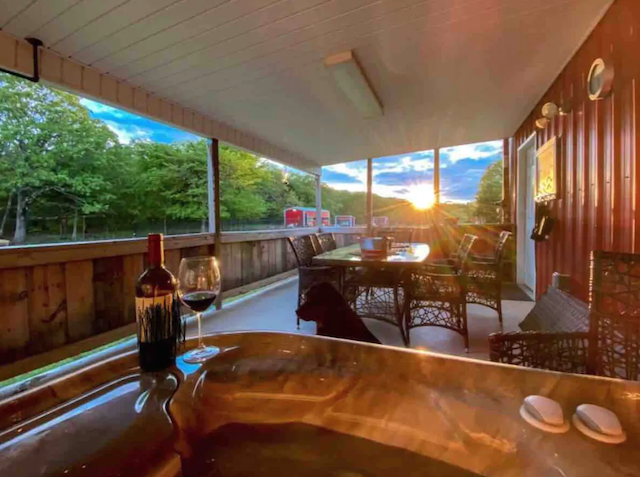 Inside, the cabin can accommodate up to 6 guests, and features all the amenities you require. In addition, there are lots of outdoor activities to partake in, such a catch-and-release fishing pond, trails for hiking, a playground for the kids and so much more.
Bear Cabin in Talihina, Oklahoma
Let the bears welcome you into the Bear Cabin in Talihina. Tucked away among the trees, you'll have a terrific view of the Kiamichi Mountain range. The cozy interior features charming bear décor throughout. The queen-sized log bed is both comfortable and stylish, and the in-wall fireplace is ideal for winter nights.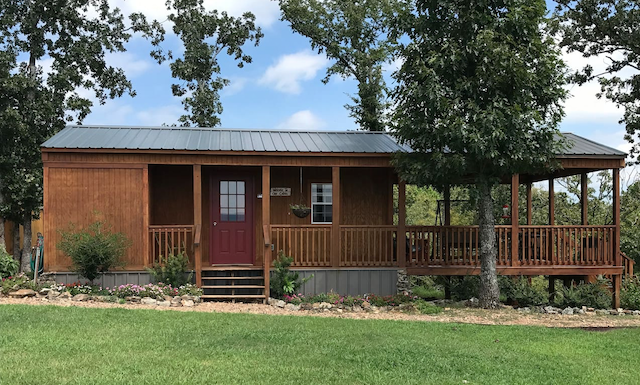 Outside, you'll find a covered porch with seating and a swing, as well as a nearby bass pond for fishing. To top it all off, the property is conveniently located near Lake Sardis and Talimena State Park.
Elevated family Treehouse Cabin with Lake Views
Find a room with a view at this spectacular treehouse cabin. Perched above scenic Eufaula Lake, you'll have a luxurious home amid the trees. Inside, you'll find a mix of chic modern design and unique décor, with the reclaimed wood and tin flourishes.
The two floors feature a spacious living/dining/kitchen area, two queen beds and plenty of natural light. Outside, you can grill up a meal and enjoy some outdoor dining on the patio. You won't soon forget your trip to this awesome treehouse cabin.
Fisherman Cabin
Live out your fisherman dreams at this lovely tiny house-style cabin. Cozy and welcoming, the interior maintains the fishing theme throughout with charming décor that is sure to make you smile. Amenities include a comfy queen-sized bed, kitchenette and full bath.
The covered porch is ideal for relaxing and taking in the scenery. And of course, it wouldn't be a fisherman's cabin without fishing. Head down to the pond and spend your day in peace and quiet.
Romantic Treehouse Amongst Oaks
This incredible treehouse offers unbeatable views, endless luxury, and an experience to remember. Situated above Lake Eufaula, you might spend more time gazing at the scenery than anything else. The deck is the perfect place to take in the beauty of the countryside, and you can even grill up your meals and enjoy them outdoors.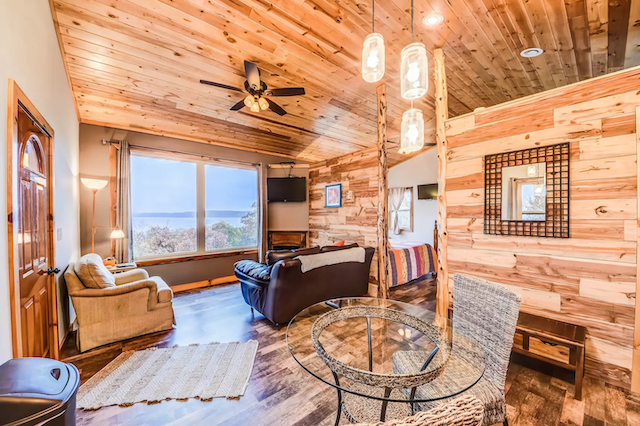 Inside, you'll find a bright, airy atmosphere that is instantly enchanting. The open floorplan living, dining and kitchen area is both spacious and comfortable. There's even a jacuzzi tub for relaxing in after a long day of fun.
Lovely Private Cottage
You'll find yourself in a garden paradise when you come to this beautiful cottage. Surrounded by trees, flowers, and plants of all shapes and sizes, the relaxing atmosphere will put you at ease, both indoors and out. The lovely stone patio features a fire pit and lots of shade from the trees overhead.
Go for a dip in the private hot tub, or relax under the umbrella on your porch. Inside, you'll have access to a mini kitchen, comfy double bed, a full bath, and more.