As one of the most scenic locations in Ohio, Hocking Hills is a popular destination for outdoorsmen, tourists, and even just those looking for a weekend escape from the daily grind. With such memorable locations as Old Man's Cave, it's no wonder people flock to Hocking Hills. If you want to experience the wonderful scenery and interesting locations in Hocking Hills, be sure to choose accommodations that will match up your ideal vacation. Read on to find the perfect Hocking Hills cabin on Airbnb for you.
Maplewood Cabin
The Maplewood cabin provides spacious and comfortable accommodation for your next Hocking Hills excursion. With its bright, welcoming interior, you'll feel right at home the moment you walk in the door. You'll have three comfy queen beds at your disposal, in addition to the open kitchen, dining and living area, complete with a fireplace to cozy up next to.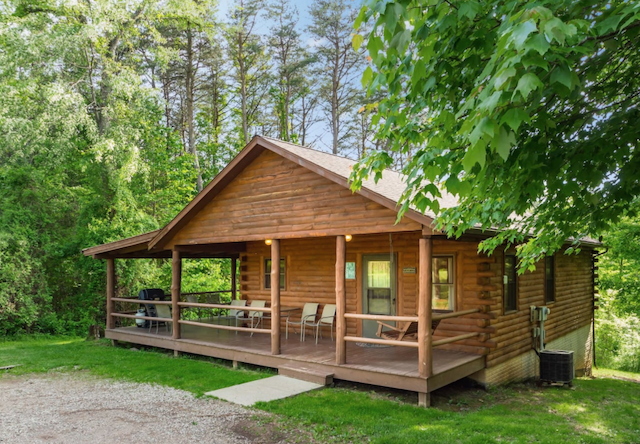 The large, wrap-around porch is ideal for outdoor dining, including a seating area and grill. At the end of the day at this Airbnb, you can slip into the hot tub and unwind.
Old Man's Cave Cabin
Bring nature to your doorstep at the Old Man's Cave cabin Airbnb. Nestled among the trees in Hocking State Forest, you'll have easy access to a number of popular destinations, including Old Man's Cave. With its A-frame design and homey interior, you'll be able to relax and recharge after a long day of exploring the great outdoors.
With room for up to 12 guests, you can bring the whole family along for the fun. Outside, you can gather around the fire pit for smores and stargazing. Or, head to the sunroom for games or settle down with a good book.
Moore Hollow Cabin
For the perfect combination of rustic flair and modern design sense, the Moore Hollow Cabin has you covered. Surrounded by trees, you'll have all the peace and seclusion you desire for your Hocking Hills getaway. The covered porch features plenty of seating, a picnic table at the back, and a grill. Additionally, you'll find a hot tub and a fire pit for your use.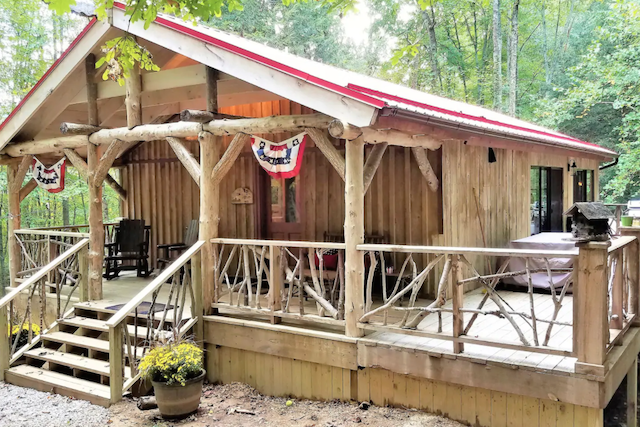 Inside, the mix of woodsy décor and chic touches work to create a stunning atmosphere. The log beds are plush and comfy, and the granite-and-chrome kitchen comes fully stocked.
Dogwood Manor
Experience a little luxury with your nature outing at Dogwood Manor cabin. Located within walking distance of Old Man's Cave, you'll have plenty to do and see while staying at this incredible cabin. It features 8 bedrooms and sleeping arrangements for up to 20 guests. The spacious kitchen and dining area are ideal for meals with the family.
You'll also find well-appointed lounge areas, and outdoor fireplace with comfy seating, a game room, and even a theater room. With so many amenities at your fingertips, you may spend more time indoors than outdoors.
Stillwater Lodge Cabin
Bring the whole family along for an adventure at the Stillwater Lodge Cabin. Situated within the Cedar Grove Retreat, it features a vast array of amenities, in addition to all the amazing destinations in the vicinity. After you've spent the day exploring all that Hocking Hills has to offer, you'll be glad to have such a spectacular lodge to come home to.
It sleeps up to 19 people, with rooms fit for both adults and kids. It also has a spacious kitchen and dining area, comfy lounge, a wrap-around deck with outdoor seating, and a hot tub.
Hidden Lake Lodge
Spend your next Hocking Hills outing in style at this wonderful lodge. With 3 levels of decks, you may spend as much time outdoors as indoors while staying here. There is ample seating, as well as a hot tub, so you can soak up the view in comfort. There is even a private dock at the nearby lake, where you can try your hand at catch-and-release fishing.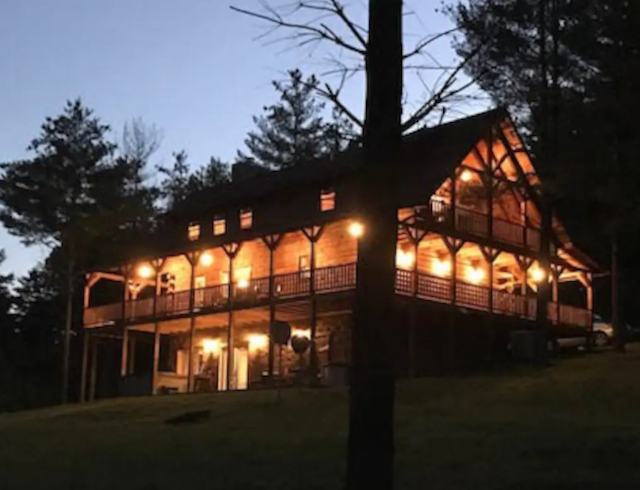 Inside, the open floorplan kitchen/dining/living area is ideal for family gatherings, with enough room for everyone to come and enjoy the warm atmosphere.
Eagle Ridge Cabin
Tucked away on the hillside of Eagle Ridge, this cabin will enchant you at first sight. Its high ceilings and large windows give it an open and airy feeling, while its studio-style layout creates a sense of intimacy and comfort.
The great room features a dining area, electric fireplace, sofa and single bed. A lofted sleeping area offers a queen-sized bed as well. Outside, the spacious deck is the ideal place to go stargazing with a cup of coffee. Or, you could head down to the fire pit for smores and stories.
The Madison Cabin
This fantastic cabin offers everything you could want in a getaway destination. Its beautiful interior contains all of the modern luxuries you expect, with a fully stocked kitchen, two full baths, and three bedrooms. In addition, you'll find such wonderful features as a theater room, outdoor hot tub, and a covered porch.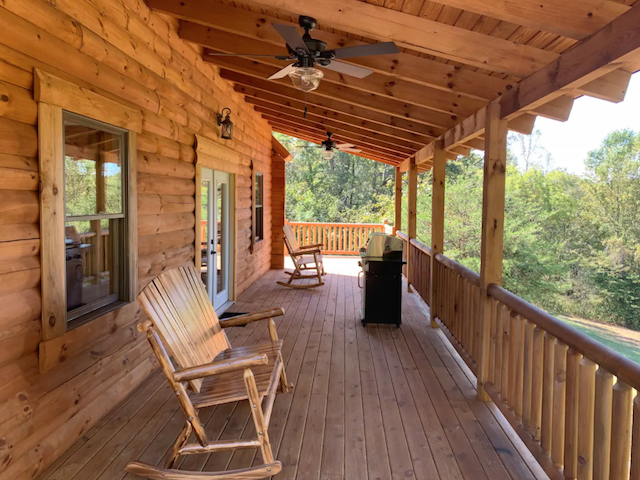 All this, and you'll have easy access to the many wonderful activities available at Hocking Hills state park. Make your next weekend retreat one remember when you stay at this lovely cabin.
Hocking Hills Haven Cabin
Journey to a place of rustic charm when you come to this magical cabin. Nestled in the forest, you'll be able to find the peace and quiet you desire for your Hocking Hills excursion. The interior is a splendid mix of log cabin aesthetic with modern design sense.
There will be lots of space for everyone to enjoy this amazing cabin, with room for up to 10 guests. It also features an open kitchen and dining area, as well as a hot tub for unwinding in after a day of fun.
Premium Cabin Next to Old Man's Cave
Indulge in the grandeur of this incredible cabin. Located on 5 acres of private land, you'll have much to do and explore around the area. In addition, its only one mile away from Old Man's Cave. The cabin is a wonderful sight itself, with lots of deck space for enjoying the outdoors, and a lush interior.
The spacious dining and living area features a stone fireplace to cozy up to on winter nights. There's even an 8-person hot tub for your enjoyment.