Mohican State Park is one of the highlights of any trip to Ohio. At over 1000 acres, it offers plenty to see and do. Whether you enjoy hiking, canoeing, or simply enjoying the flora and fauna, there is no end to the enjoyment you'll find in the park's many natural wonders. To make the most out of your trip to the park, make sure you've got the right accommodations. This list contains some of the best cabins within easy distance of Mohican State Park, making them perfect for your next Ohio outing.
Quiet Cabin On 60 Secluded Acres
For anyone seeking some peace and solitude on their next getaway, this lovely cabin has everything you could want and more. Located on 60 acres of serene, wooded land, you'll have all the rest and relaxation you desire right at your fingertips. The cabin features a cozy interior with a studio-style layout. There's room enough for 6 guests, so you can bring the whole family along for the trip.
Outside, the amenities are just as impressive, with a hammock, a picnic table, and even a private little beach area on the nearby pond.
Secluded Country Cabin
With a fantastic combination of comfort and convenience, you may not want your vacation to end when you visit this amazing cabin. Located next to a number of trails, as well as Mohican State Park, you'll never run out of things to do, places to go and sights to see.
The cabin has a number of wonderful features, including a fire pit, covered porch with grill and seating, and a nearby pond for fishing. Inside, the bright, welcoming atmosphere is a joy, and it comes fully equipped with a queen-sized bed, kitchen, bath, and a fireplace.
Scotch Pine Cabin
You'll be charmed the moment you walk into this amazing cabin. With its high, vaulted ceiling and large windows, there's lots of natural light to brighten up your day. Follow the spiral staircase up to the well-appointed master bedroom, or hang out in the living room. Wherever you go, you're sure to find comfort and relaxation.
Outside, the spacious deck is the ideal place to take in the scenery. Then, you can gather around the fire pit or do a little stargazing.
Private Cabin Adjacent to Mohican State Forest
This fantastic cabin sits right on the doorstep of Mohican State Park, making it the perfect home base for your adventures in the park. With such activities as canoeing and hiking, there's plenty of fun to be had in the area. The cabin has a wonderful loft design, with a comfy queen bed and a spacious living area.
You can take your meals outside on the deck for a little dining under the stars. Then, when you've had your rest, you can head right back out to enjoy all the wonders the state park has to offer.
Cabin in the woods near Mohican State Park
Find your home away from home at this charming cabin. Its woodsy décor will instantly put a smile on your face. With two queen beds and a double bed, there's plenty of room for everyone. Additionally, you'll find a fully stocked kitchen, dining, and living areas.
Outside, there's lots of space for relaxing on the porch, in addition to a hot tub. Head a short distance to the pond and let the serene view wash over you. All this, and you'll also have 12 acres of private land to wander.
Pine View Meadows Cabin
Take your vacation to the next level at this splendid cabin. The wide-open area surrounding the cabin makes for a wonderful backdrop to rest and recharge. Additionally, there are a number of popular destinations and activities within easy distance of the cabin. Whether you're interested in skiing, hiking, horseback riding or canoeing, there's something for everyone.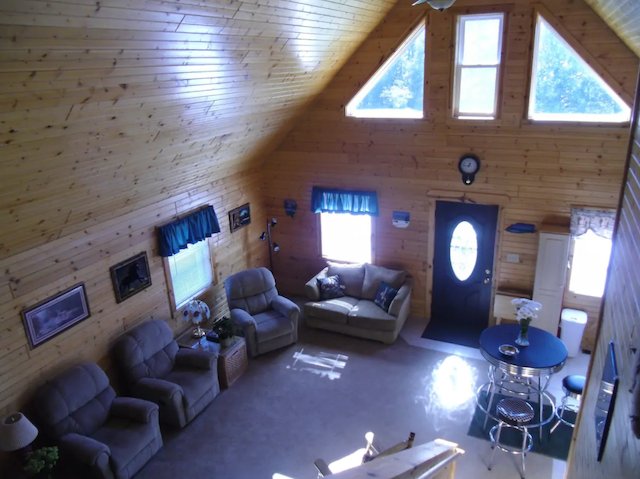 The homey interior exudes a welcoming atmosphere. With room for up to 5 guests, a full kitchen and bath and a cozy living area, you'll have everything you need and more.
The Tranquil Treehouse Cabin
True to its name, this wonderful cabin will bring you tranquility when you visit. Its intimate yet comfortable design is perfect for a couple's weekend getaway. Bond over a meal in the cozy dining area, or put up your feet and relax together in the comfy living room.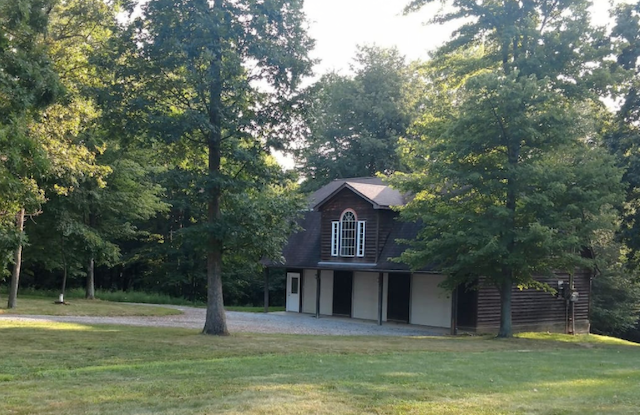 The back deck is a great place to take in the view of the nearby forest. Additionally, there are plenty of nearby attractions to keep you busy, such as biking, canoeing, many restaurants and even wineries to visit.
Honey Pine Lodge Cabin
This incredible cabin creates a stunning blend of rustic log cabin style and modern luxury. Conveniently located near shopping, hunting, and other stores, you'll never be wanting for anything when you visit. The cabin features three rooms for rent, with the Bear Room containing a comfy double bed, perfect for a romantic weekend.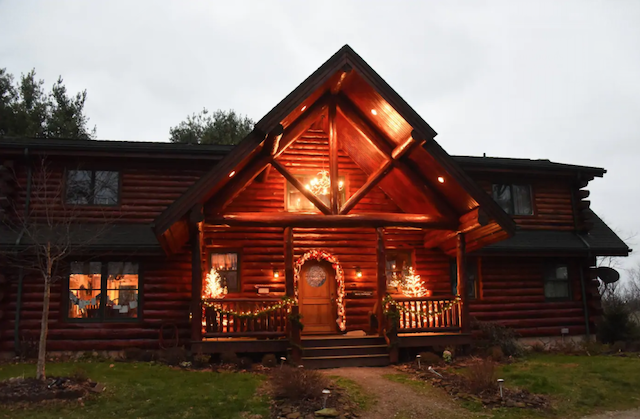 The property has many other awesome amenities, including an outdoor fireplace and cooking station, a movie room, an outdoor pavilion with a projector, and even a peaceful little koi pond.
Mohican Log Heaven Cabin
Indulge in the serenity and relaxation of this fantastic cabin. The surrounding countryside is as peaceful as it is beautiful. Sit out on the covered porch and take in the scenery in comfort. The cabin comes fully equipped with all the amenities you require. The three bedrooms are cozy and stocked with two queen beds and a pair of single beds.
It also features two baths, a fully stocked kitchen, a spacious dining area and so much more. Make memories that will last a lifetime at this awesome cabin.
Babble Brook Lodge and Private Pond
With so many amazing features, this great cabin may keep you so entertained you won't want to leave. Settled next to a large pond, you'll have access to fishing, as well as 12 acres of land to explore. Inside, you'll find a warm and inviting aura that immediately puts you at ease.
The open floorplan of the living and dining area allows for everyone in the family to enjoy the area. With sleeping arrangements for over 16 people, you won't have any trouble bringing along all your friends or family members. It also features a pool table and bar.
Blue Spruce Cabin
For some truly incredible outdoor entertainment, this cabin will provide you with everything you desire. Located just off a wonderful biking and hiking trail, you can have all the fun among nature you want with zero hassle.
The three bedrooms feature plush beds waiting to help you rest and recharge for your next adventure. It also features a full kitchen, a spacious living area, and a picnic area on the front lawn.