Colorado is one of the best destinations for nature lovers. Ten national parks, hot springs, and varied wildlife are the perfect reasons to visit this state. Each season has something to offer. Dunes, high peaks, emerald forests, and the red rocks of the Grand Canyon – Colorado has it all! It is one of the most varied landscapes in the entire world.
There is nothing better than waking up in the middle of the wilderness. Here are the top-rated cabins in Colorado available on Airbnb that connect style with comfort.
One Bedroom Cabins in Colorado
Modern ranch cabin at the base of the mountains!
Wake up and step out on to the beautiful porch to savor the fresh morning air and enjoy a spectacular view of the mountains at this one-bedroom modern cabin. A beautifully designed exterior harmonizes with modern, yet cozy interior decorations. A romantic swing in one of the terraces can lull you into peaceful rest while looking at the mountain. The kitchen and living room structure is a perfect place to enjoy meals and rest after a day of intense hiking.
It is a great place not only for holiday escapes but also for a special occasion – an event pavilion that can be rented together with a whole property is a perfect place for a rustic wedding or family party.
SECLUDED ROMANTIC MOUNTAIN CABIN ON 54 ACRES in BlackHawk, CO
At this stunning one bedroom log cabin, you can make your honeymoon dream of having an entire mountain estate of your own far away from the hustle and bustle of everyday life come true and, you can finally find that paradise you've been seeking.
Situated on 54 acres of private land, you will never want for a beautiful view. With a massive master suite, dozens of windows, a garden with a fire pit, 2 hot tubs (indoor and outdoor), a ski resort only 15 minutes away, and so much more, you may never want to leave.
Nederland Mountain Retreat
Immerse yourself in the stillness of the meadow and the surrounding woods while staying in this little yet spacious and bright one-bedroom cabin. This location is perfect for couples and families with one or two kids. You can enjoy nature and be isolated from the hustle and bustle of everyday life, while still being close to the Nederland (10 minutes' drive) and Rocky Mountain National Park (an hour away).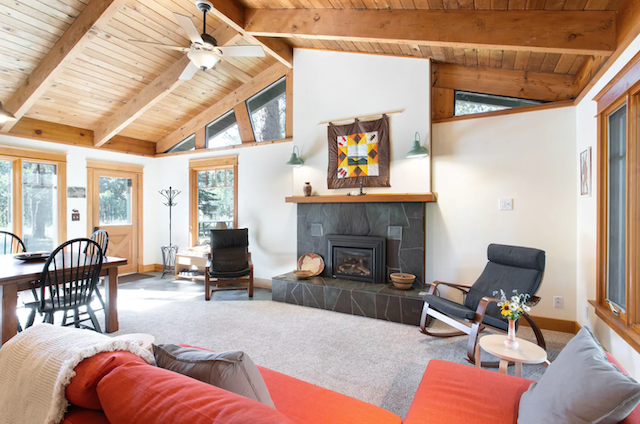 HOLLOWAY CABIN ON CREEK & PRIVATE HOT-SPRINGS – NEAR BUENA VISTA
In for an intimate, cozy experience? This historic Holloway cabin is nestled off the highway in the heart of rocky mountains and is a few miles outside the town of Buena Vista. Expect an ambiance of serenity while you take a dip into its handcrafted hot spring under the night starry sky.
A combination of both rustic and modern, this cabin is fully-equipped with appliances and your essentials—not to mention the cool outdoor Bluetooth-enabled speakers and led lights you can enjoy while having a conversation on the deck.
Boho Chic Log Cabin with Zipline In Golden, Colorado
If you are looking for a romantic escape spot, the Boho Chic Log is a perfect choice. You will love gazing at the stars through the skylight while hugging your loved one and surrounded by a rustic, bohemian design. From the deck, you can admire the wildlife and enjoy the calmness of the place. You can also find your inner child while playing on the zipline attached to the tree fort.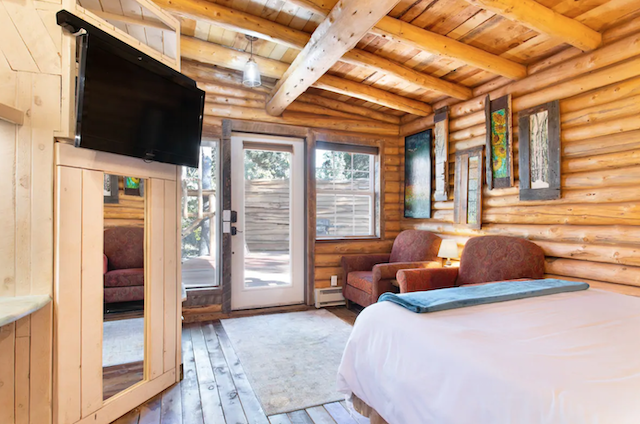 Rock Rest Eco-Cabin Near Colorado Springs
Enjoy modern comfort with rustic vibes. This cottage was built in 2018 with the thought to be eco-friendly. Immerse yourself in the nature that surrounds you, respecting it at the same time by enjoying the sustainable technologies of Rock Rest Eco Cabin. Morning coffee or a glass of wine will definitely be a whole new experience on the big swing bed located on the spacious porch.
Lil Lincoln
This spot is not only in a dream location but also has a cool history. Lil Lincoln cabin was located in the Western Slope of Colorado until 1965. The local doctor moved his practice to Woodland Park and, as he needed a nurse, he asked his attendant to join him. She agreed but had just one condition: Lil Lincoln was coming with her.
Thanks to this woman, you can now enjoy this tiny but comfortable cabin with your friends or family. The cottage has a studio interior and can host up to four people. From the terrace and surrounding area, you can enjoy the view of the North Slope of Pikes Peak.
Two Bedroom Cabins in Colorado
New Cabin on the River In Black Hawk
This is a perfect place to enjoy your vacation. This modern building with outstanding interior design is very spacious and has two terraces from which you can enjoy a stunning view of the mountains and forest. The fully equipped kitchen and spacious living room will make you enjoy your stay.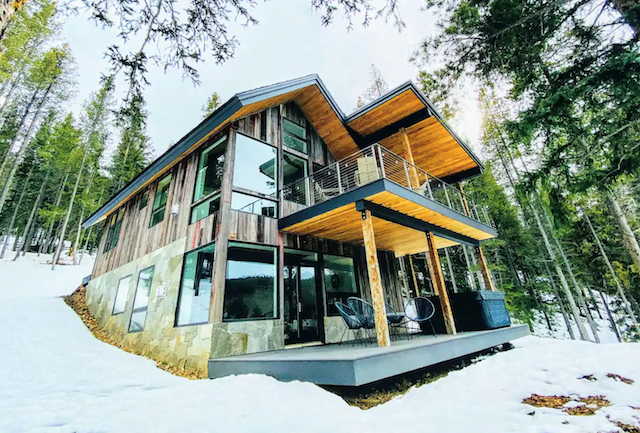 You can visit this place at any time of the year. During autumn and wintertime, two gas fireplaces and floor heating will warm you up. You can chill out while watching Netflix or playing Xbox. Jump into the jacuzzi located on the lower floor veranda and relax listening to the birds singing.
Mountain Paradise Cabin In Woodland Park
Hide in this spacious cabin with a rustic interior. It is a perfect place for a family or a group of friends as the Mountain Paradise Cabin can host up to six guests. The rustic decoration of the rooms will make you feel like you're home. The small balcony located in the front of the upper floor is the perfect spot to relax with a cup of coffee and inhale the fresh air.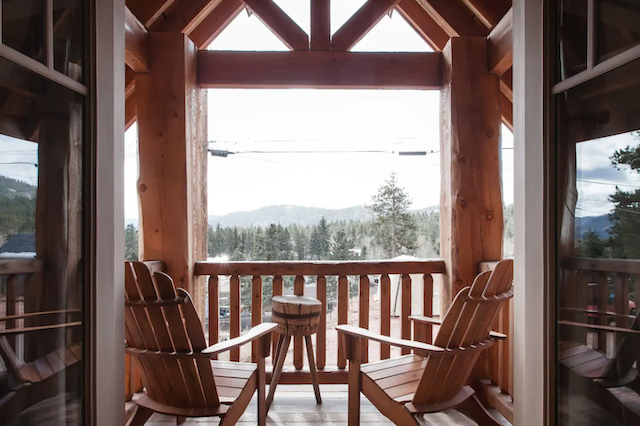 The balcony on the back of the cabin is more spacious, with comfortable armchairs in which you can sink while looking at the mountains. Enjoy your meals in a spacious dining room with an overview of the mountain. Straight from the main door, you can get to Woodland Park's main street where you can find places with delicious food.
Peaceful Cabin on 35 Acres Near NoRthern Border of Colorado
Runaway from the modern world and find rest in this cabin located in a secluded part of Colorado. This charming cabin has two bedrooms and can host up to eight guests. Be sure to store enough food before coming here as the nearest grocery store is 45 minutes away. The rustic interior makes this place very cozy. In the cabin, there is one bathroom with a unique and stylish old bathtub.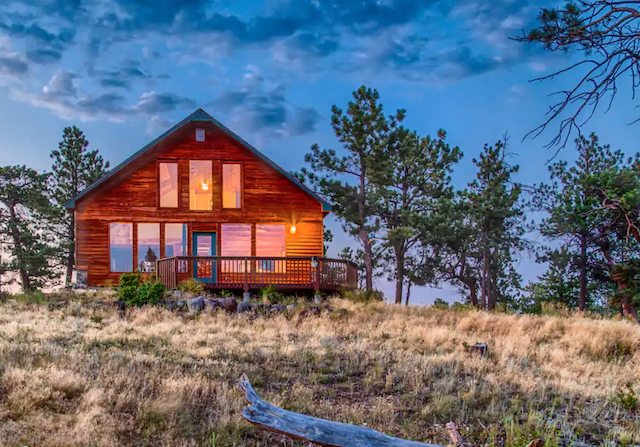 After an active day or when it's rainy, you can enjoy numerous boardgames. Your stay in the Peaceful Cabin will be fulfilled with stargazing during clear nights and a campfire.
Cabin with Mountain Views in Florissa, Near Colorado Springs
Tucked between trees, this A-frame cabin is a perfect location for those who seek natural peace with the comfort of big spaces. Enjoy your morning coffee on the main deck and admire the stars from the upper floor balcony. Groove wood that decorates the interior makes this place very cozy and familiar. The long farmhouse table will make your meals a unique, home-like experience.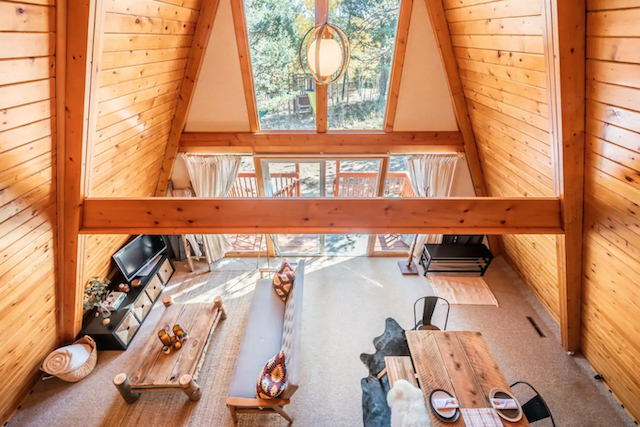 In this cabin, you will feel like you left the world far behind you, while at the same time enjoying the closeness of all the worthwhile spots such as Mueller State Park, Colorado Wolf, and Wildlife Center, and the Florissant Fossil Beds.
MERRIFIELD CABIN ON CREEK & PRIVATE HOT-SPRINGS
Perfect for any a romantic getaway, the 2 bedroom cabin is nice to retreat away from your busy life located next door to the Holloway cabin.
Have the best intimate experience with the cabin's modern design: a comfy smoke shack with built-in sound system and a TV, 2 fully-equipped kitchen and dining area, 2 lounging areas with firepits (inside and outdoor), and a hot spring tub to keep you feeling warm and cozy under the night sky. Enjoy all these outstanding amenities in a private, secluded area.
The Ridge- Best Views iN Pagosa Springs, Colorado
Surround yourself with a breathtaking view! Located on a hill, the Ridge is a unique modern cabin. Its spacious, two-level, open interior with tall windows genuinely makes it the home with the best views in Pagosa. You can enjoy the view without worrying about your privacy as it is the only accommodation within 72 acres. As it has one private and one three-bed bedroom, it is a convenient place for couples with kids or a group of friends.
Log Cabin on the River In Black Hawk, Colorado
Find inner peace while listening to the hum of the river. Located in the woods and surrounded by mountains, Log Cabin has a spacious living area with a well-equipped kitchen. Two private bedrooms with bathrooms give total comfort. You can admire nature from a terrace with garden furniture or the hot tub situated on the lower level. If you want to immerse yourself at the moment, the spacious lawn in front of the house is a perfect spot to meditate, practice yoga, or play with your friends.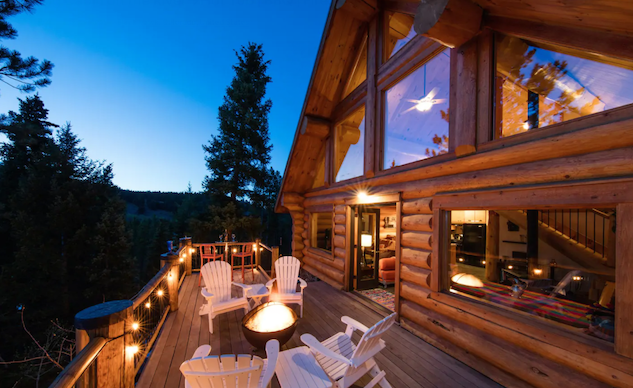 3 Bedroom Cabins in Colorado
Outdoor Adventurer's Paradise in Woodland Park
Spoil yourself with this romantic, spacious, and comfortable property. This cottage is a perfect place to stay while you are exploring nature with family or a group of friends. This three-bedroom and three-bathroom cabin will give you a feeling of privacy. It is in a great location that allows you to enjoy outdoor activities such as bike riding or a walk through the Catamount Reservoir trailhead that is minutes away.
Enjoy relaxing bubbles in a hot jacuzzi or warm up by the fireplace. Here you can forget about reality, as call services are limited. Low-speed wi-fi is available.
The spacious living room is the perfect place for games, all night chatting or reading books while being curled up in a comfortable armchair and warmed up by the fireplace. While enjoying an outdoor space with picnic tables, you can be lucky and see elk, moose, or deer passing by the property.
Riverside Cabin In Estes Park
Immerse into the beauty of the forest and relax in this beautiful wooden cabin. Three private bedrooms, two bathrooms, a fully equipped kitchen, and a spacious outside area makes this place perfect for holidays with friends. If you are looking for extra relaxation, you can jump into the hot tub or sit by the nearby bank of the river. All of this connected with stunning interior design will make you want to stay here forever.
4+ Bedroom Cabins For Larger Groups
Villa Meadow Drive Cabin in Vail
This chalet provides an experience unlike any other. Nestled next to a lovely creek, you'll have the unforgettable scenery of Vail at your doorstep. You'll find almost as much luxury outside as inside. The outdoor seating area features a fireplace and grilling station. You'll also have a covered hot tub to relax in after a long day of exploring.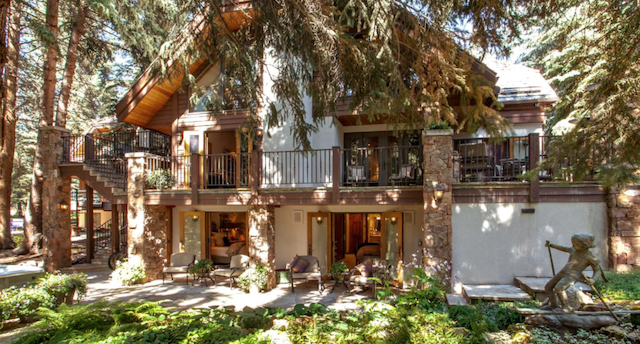 Once inside, the bright and homey design will provide an air of comfort. With 4 bedrooms—each with an en suite bathroom—there is plenty of room. Other amenities include a full kitchen and dining area, a game room, and even your own exercise equipment.
Aspen Falls Cabin in Estes Park
You'll feel like royalty at this sprawling, multi-cabin property. Spread across 30 acres of land within sight of Rocky Mountain National Park, this incredible retreat provides an experience like no other. Dotted across the gorgeous and rocky terrain, you'll have access to the main house, four additional cabins, a hot tub, a fire pit and your own personal waterfall.
The main house features a stunning wood-and-stone design scheme, with lots of windows for plenty of natural light. All of the cabins include comfy sleeping arrangements and plenty of amenities, and with accommodations for up to 28 people, the whole family can enjoy this amazing destination.
Grand Lake Log Cabin
Situated on the Colorado River, this peaceful and charming cabin offers you the chance for a truly relaxing getaway. This lovely log cabin has its own stretch of private beach along the Colorado River. You can take the opportunity to enjoy the sights and sounds of the river. Whether out on the deck around the fire pit or wandering along the shore, the view will be nothing short of amazing.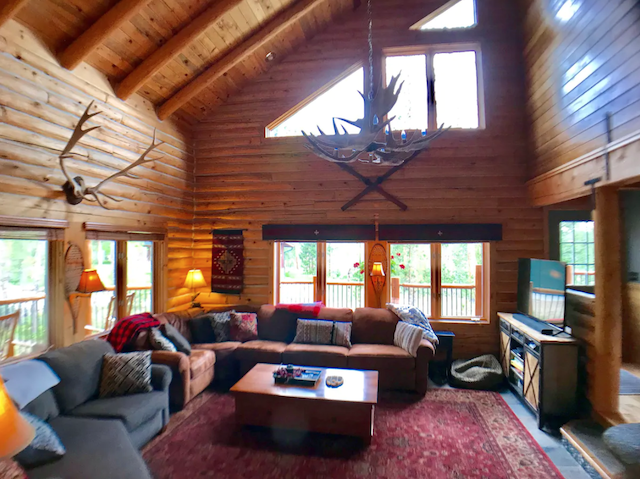 The cabin itself has a warm, woodsy atmosphere. With 6 bedrooms, an attached rec room, comfy lounge, two fully-stocked kitchens, and even a volleyball court, you'll never run out of things to do.