Whether you're bringing the whole family or just enjoying time away with your loved one, these luxury cabins showcase everything there is to love about vacationing in Colorado.
If you've never experienced the wonder and fun that Colorado has to offer, you owe it to yourself to make your next vacation a Colorado vacation. From spectacular mountains for skiing to placid lakes for relaxing (and everything in between), you really can't go wrong.
Villa Meadow Drive – Luxury Vail Cabin
This chalet provides an experience unlike any other. Nestled next to a lovely creek, you'll have the unforgettable scenery of Vail at your doorstep. You'll find almost as much luxury outside as inside. The outdoor seating area features a fireplace and grilling station. You'll also have a covered hot tub to relax in after a long day of exploring.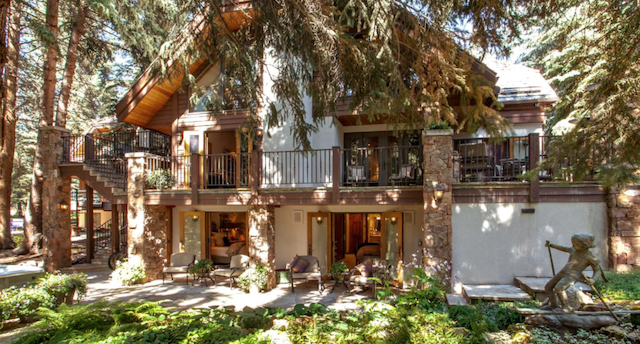 Once inside, the bright and homey design will provide an air of comfort. With 4 bedrooms—each with an en suite bathroom—there is plenty of room. Other amenities include a full kitchen and dining area, a game room, and even your own exercise equipment.
Cypress Mountain – Luxury Breckenridge Cabin
Make your vacation a magical one at this incredible luxury cabin. Tucked away within the forests of Breckenridge, you'll find endless comfort and charm. The wood-and-stone design is immediately eye-catching, and the luxurious interior retains that natural feel. With room for 14 and plenty of plush beds, the whole family will be able to enjoy their time here.
The outdoors will be just as enjoyable, with a hot tub, a grill and seating for some dining among the trees. You can even book extra services, such as a chef or a spa treatment.
Aspen Falls – Estes Park Luxury Cabin
You'll feel like royalty at this sprawling, multi-cabin property. Spread across 30 acres of land within sight of Rocky Mountain National Park, this incredible retreat provides an experience like no other. Dotted across the gorgeous and rocky terrain, you'll have access to the main house, four additional cabins, a hot tub, a fire pit and your own personal waterfall.
The main house features a stunning wood-and-stone design scheme, with lots of windows for plenty of natural light. All of the cabins include comfy sleeping arrangements and plenty of amenities, and with accommodations for up to 28 people, the whole family can enjoy this amazing destination.
Serenity Lodge at Ruby Ranch – Silverthorne, Colorado
Indulge in the unique luxuries provided by this awesome lodge. Situated next to the Mesa Cortina hiking trail, you'll have plenty of comforts to return to after your outdoor excursions. The floor to ceiling windows gives the main hall a bright and open feeling, which is extended throughout the entire cabin.
Some of the most interesting aspects of the cabin include a teppanyaki grill, an exercise room with workout equipment and a 21-person, private movie theater with reclining seats. Outside, you'll find a beautiful stone patio, two koi ponds, and a fire pit.
Doss Manor – Breckenridge Luxury Cabin
If you're looking for a modern take on the classic cabin, this luxury villa is for you. With its soaring windows and ultra-modern construction, this jaw-dropping villa will impress at first sight. The interior is equally impressive, with its classy color schemes and décor. Enjoy the comforts of the open yet cozy living area, complete with a fireplace.
Make the most of mealtimes in the spacious kitchen and dining area, or take to the outdoors around the fire pit. Each of the lush bedrooms has its own en suite bathroom, and the multiple decks allow for spectacular views of the surrounding woodlands.
Snowmass Village Luxury Cabin
With unbelievable mountain views from every angle, this luxury cabin is a real dream come true. Only a 5-minute drive to Snowmass, you'll be able to drink in the beautiful scenery no matter where you are in this amazing chalet.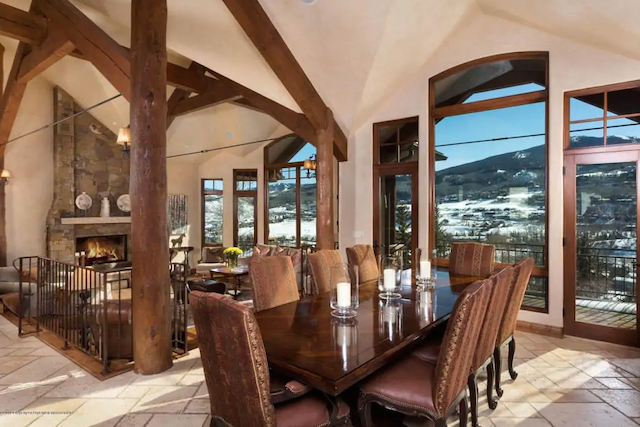 Among the many amenities, you'll find are a home theater, full kitchen and dining area, three fireplaces, four bedrooms (each with an en suite bathroom), and a hot tub. Whether you plan to take advantage of the nearby ski slopes, or merely take in the incredible views, your vacation will be truly unforgettable at this amazing cabin.
Luxury Winter Park Mountain Home
For a mountain vacation destination that will leave you smiling, this chalet can't be beaten. Featuring ski-in/ski-out access, this cabin is perfect for anyone looking to hit the slopes. After a long day of skiing, it will welcome you home with countless luxuries. You can unwind in the hot tub, overlooking a view of the sparkling natural scenery. Or, you can recharge with a hearty meal, cooked in the gourmet kitchen.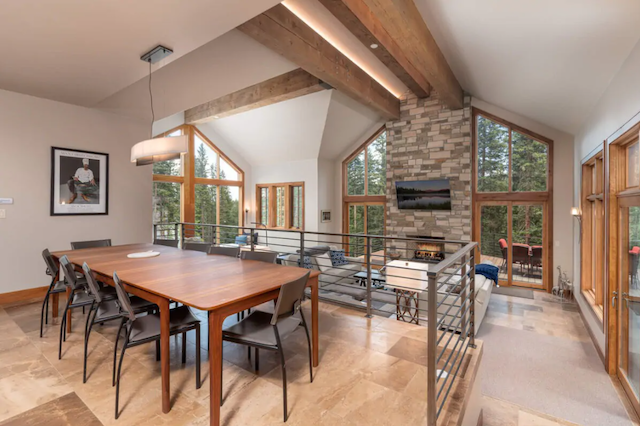 Gather the family around the fireplace for some relaxation, or retire to one of the four well-appointed bedrooms, and watch the sunset from a private balcony.
Estes Park Lakefront Cabin
For picturesque views and endless luxuries, this cabin can't be beaten. With the spectacular Lake Estes right outside your door (and the huge floor to ceiling windows), no matter where you go in this cabin, you'll have a postcard-worthy view.
The interior is bright and airy, with high ceilings and lots of natural light. You'll have access to a 25-foot tall fireplace in the living area, a full kitchen, two master suites, and an outdoor area featuring a barbecue grill and a 6-person jacuzzi.
Grand Lake Luxury Log Cabin
Situated on the Colorado River, this peaceful and charming cabin offers you the chance for a truly relaxing getaway. This lovely log cabin has its own stretch of private beach along the Colorado River. You can take the opportunity to enjoy the sights and sounds of the river. Whether out on the deck around the fire pit or wandering along the shore, the view will be nothing short of amazing.
The cabin itself has a warm, woodsy atmosphere. With 6 bedrooms, an attached rec room, comfy lounge, two fully-stocked kitchens, and even a volleyball court, you'll never run out of things to do.
Evergreen Colorado Luxury Cabin
Tucked away amid the trees, this majestic mountain retreat is exactly what you've been searching for. Its towering windows and ample deck space make for fantastic views, no matter where you might be. The interior décor is filled with rustic charm, while the amenities provide all the luxuries you'd expect.
Features include 5 cozy bedrooms, a game room, a pub-style bar and an outdoor grill. Whether you're wandering the forests or relaxing at the chalet, you'll see the best of what Colorado has to offer.
Lake Estes Colorado Cabin
Relax in style at this snazzy mountain retreat. Settled amid jaw-dropping mountain views, this cabin gives you plenty of opportunities for incredible sight-seeing and picture taking. As it is just a short distance from Lake Estes, you'll also have a fantastic view of the water. The cabin itself is an incredible 1,500 square feet of elegance and charm.
With room for up to 8 guests, you'll be able to enjoy the amenities of this cabin with the whole family. Features include a stone fireplace, a full kitchen, and floor to ceiling windows. Outside, you'll also find another fireplace, a BBQ grill, and a luxurious 7-person jacuzzi.
Luxury Lakefront Cabin with Dock
This lakeside cabin is the perfect place to find the peace and tranquility you've been looking for. Perched right on the edge of Grand Lake, you'll be able to drink in the splendor of the scenery from your own private pier. Then, you can retreat to the nearby fire pit to grill up some smores while you watch the sunset.
The interior of the cabin has a charming nautical theme, carried throughout the décor. You'll have access to a spacious kitchen and dining area, a cozy lounge with an electric stove fireplace, and sleeping arrangements for up to 6 guests.
Luxury Paradise Cabin
Getaway from it all and escape to this dreamy cabin. Nestled among the mountains of Crested Butte, you may spend more time drooling over the view than skiing. The classic log cabin style exterior hides a bright and modern interior. The four bedrooms feature plenty of comfy sleeping accommodations, and two loft areas accessible by charming spiral staircases.
You'll also find a fully stocked kitchen, a fireplace and luxurious bathrooms at your disposal. After a long day of outdoor fun, relax around the outdoor firepit and watch the sun sink below the mountains.