If you're searching for a weekend getaway or vacation that can provide all the natural wonder and beauty you desire, look no further than Brown County, Indiana. Located in the town of Nashville, you'll find such wonderful destinations as Brown County State Park, Hoosier National Forest, and more. Of course, no vacation is complete with awesome accommodations. Airbnb is full of amazing cabins perfect for a getaway in Indiana. Here are the best cabins available for your next Brown County outing.
The Kelly Reed Cabin
Experience an authentic log cabin getaway at this magical Brown County destination. At 150 years old, this cabin has all the rustic charm you desire, while its renovated design and modern amenities make it as comfortable as a 5-star hotel. It features three cozy bedrooms, an open dining and living area, a classic clawfoot soaker tub and more.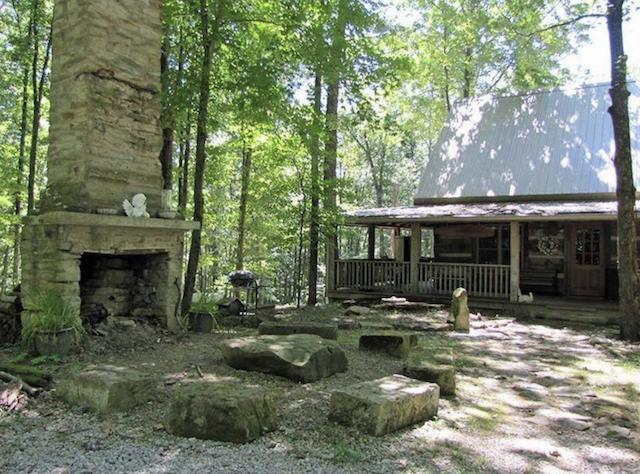 Outside, the spacious covered porch is ideal for relaxing, and the massive outdoor fireplace is perfect for gathering around with the family.
Blue Bird Log Cabin
Find your home away from home at this stunning cabin. Nestled next to a private pond, this cabin is as beautiful as the scenery that surrounds it. The massive covered porch offers plenty of seating, outdoor dining, and even a fireplace to cozy up next to. An additional screened-in porch is available just off the master bedroom.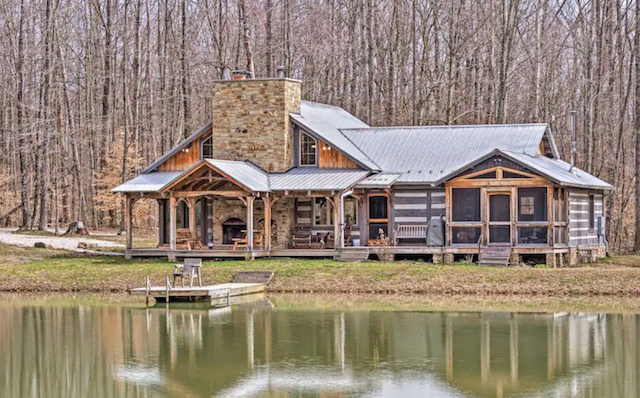 Inside, the grandeur of the cabin truly comes alive. A spacious great room offers you a comfortable living area with a huge stone fireplace, as well as a modern kitchen and dining area. The master bedroom features a plush king-sized bed, and additional sleeping arrangements can be found in the loft.
Big Sky Cabin – Cabins for Rent in Nashville, Indiana, United States
Add some luxury to your vacation at this incredible cabin. At 4400 square feet, you'll have all the space you need to relax and enjoy yourself. The amenities are nearly endless at this wonderful cabin. You'll find four well-appointed bedrooms, three full baths, a game room and a lofted sitting area.
In addition, there is plenty of comfort to be found outdoors as well. You'll have access to a covered front porch, and two rear deck areas with lots of seating. There's even an outdoor play area for the kids to enjoy.
Grandma Barnes Cabin
Indulge in the peace and serenity afforded by the Grandma Barnes cabin. Tucked away among the trees, this secluded spot will provide you with an incredible place to escape to, away from the daily grind. Inside, the warm, homey atmosphere is immediately welcoming.
The spacious living room is great for gathering the whole family together. It also features a full kitchen and bath. Outside, put up your feet and relax on the screened-in porch, or head to the back patio to grill up some food for an outdoor dining experience.
Creekside Log Cabin
Bring the splendor of nature to your doorstep at this creekside log cabin. Situated next to a softly burbling creek and surrounded by trees, you'll be at the heart of natural beauty from the moment you step outside. Enjoy the wonderful view from the hot tub, or gather around the fire pit for s'mores and stargazing.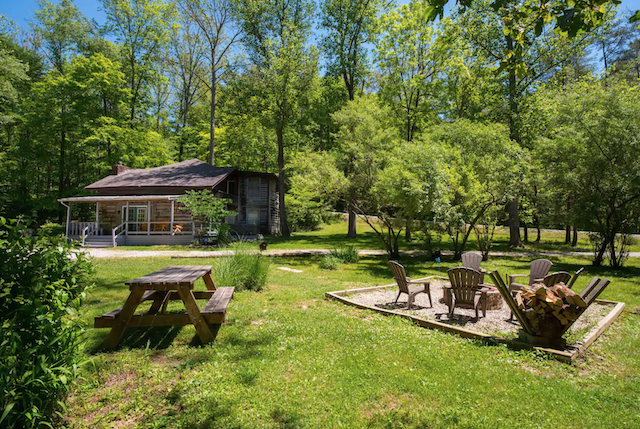 Inside, the modern amenities blend perfectly with the rustic style and décor. The comfort and convenience of the kitchen, bath and bedrooms are accentuated by the authentic log cabin construction.
Eagles Nest Lodge Cabin
After visiting this jaw-dropping lodge, you may not want your vacation to end. Conveniently located within driving distance of Indianapolis, Columbus and Nashville, you'll never run out of things to do or see while staying here. The cabin itself will leave you astounded from the moment you set eyes on it.
With accommodations for up to 10 guests, you can bring the whole family along for the fun. At your disposal are 5 king beds, a spacious living room with gas log fireplace, two hot tubs, multiple spacious decks and even a private pond.
Sweet and Secluded "Back To Nature" Log Home Cabin
The "Back To Nature" cabin will provide you with everything you need for a perfect vacation. Perched on a hillside overlooking the trees, you'll have an amazing backdrop for your Brown County retreat. Its bright, airy interior is as relaxing as it is enticing, with floor-to-ceiling windows allowing for lots of natural light.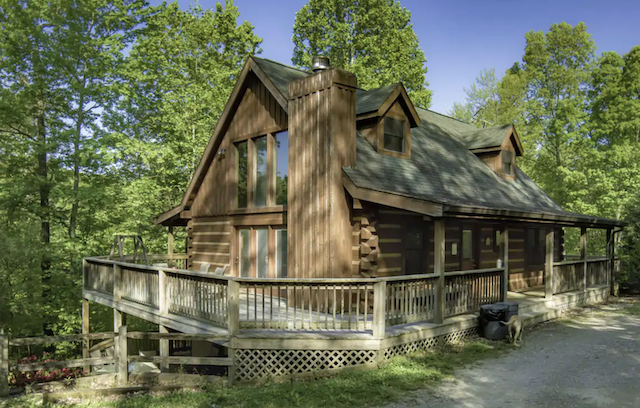 You'll have access to three king beds, an open dining and living area, a large wrap-around deck, and a hot tub. Don't miss out on a chance to make lifelong memories at this awesome cabin.
A 150 year old real log cabin with a claw foot tub!
This enchanting cabin will bring history to life in a memorable fashion. You'll find it secluded among pine trees near Nashville. At 150 years old, it maintains an air of undeniable rustic charm. Outside, the covered porch gives you a wonderful view of the surrounding natural beauty. Relax on the porch swing, or take a walk through the forest.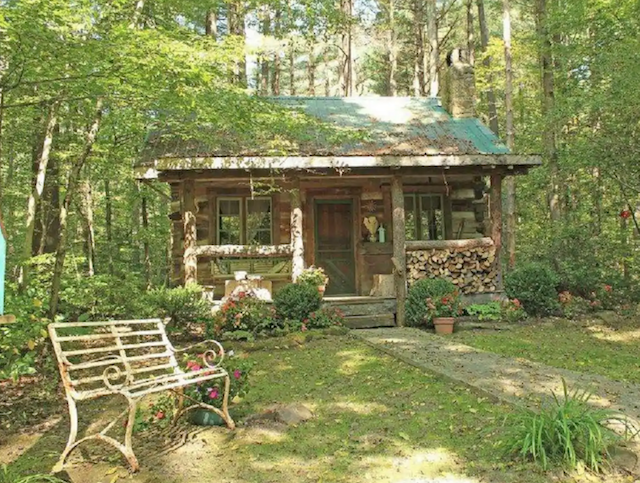 Inside, lovely modern amenities mixed with classic touches and unique, artistic flair. Features include a clawfoot tub, an open kitchen and dining area, and a stone fireplace.
The Goat Conspiracy Cabin
Say hello to the goats at this luxurious farm-side cabin. Settled next to a lovely pond, you'll have friendly animal neighbors to meet. The wide-open countryside is a sight to behold, and the cabin features plenty of windows to let the view in.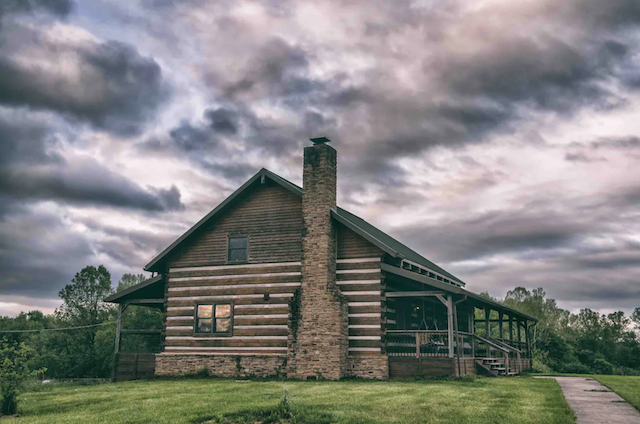 The elegant interior has a plethora of chic décor and comfortable amenities. The spacious master suite contains a full bath with a jacuzzi tub and a king-sized bed. You'll also find a second king-sized bed, a second full bath, additional sleeping arrangements in the loft, and a fully stocked kitchen.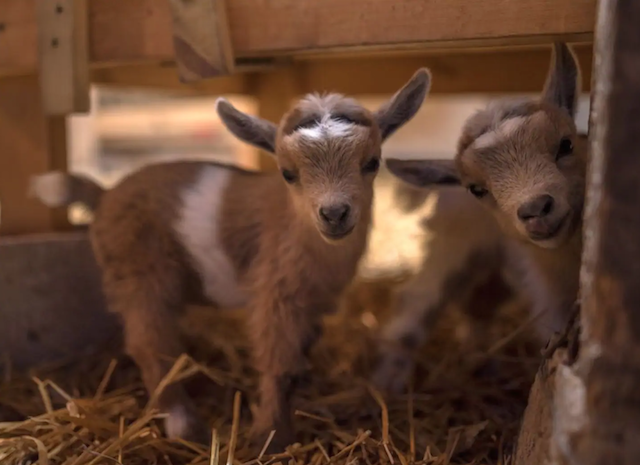 Brown County Cabin With An Amazing View
You'll feel on top of the world when you visit this amazing cabin. Perched on a hilltop above the trees, it provides for some truly memorable views. You may spend more time out on the deck admiring the scenery than indoors enjoying the many amenities.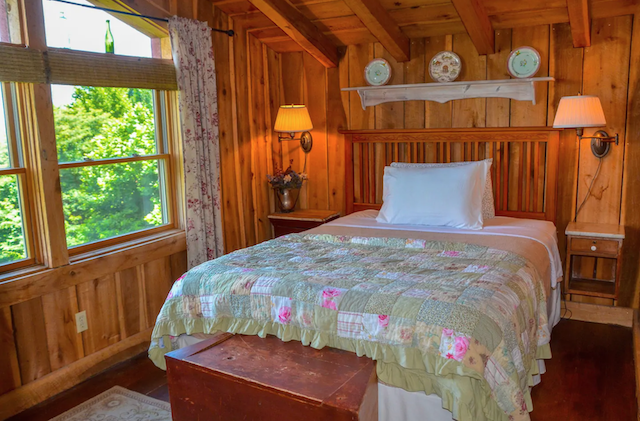 There you'll find accommodations for up to four guests, a cozy stone fireplace, a spa tub, and lots of woodsy décors. Whether you're relaxing in a rocking chair on the front porch, snuggled up in the living room, or sipping coffee on the deck, you'll find comfort and convenience all around you.
Cabin on Private 12 Acre Lake & Island
There is no shortage of outdoor fun to be found at this incredible cabin. With a 12-acre lake right on your doorstep, you're free to play and explore to your heart's content. Whether you prefer kayaking, canoeing, fishing or simply enjoying the view, there's plenty of enjoyment to be had. The large stone patio is perfect for gathering the family together and even features an outdoor fireplace.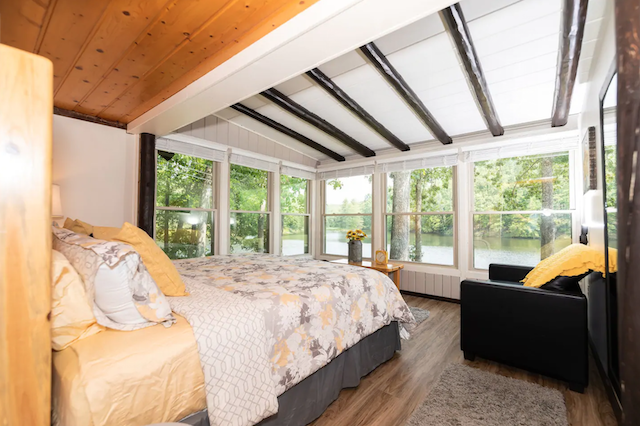 Inside, the warm and inviting atmosphere will immediately catch your attention. From the lush living room to the comfy bedrooms, you'll instantly feel relaxed.