There is nothing quite like the Texas countryside. Some of the most stunning landscapes in the country can only be seen when you visit the Lone Star state. Whether you're a seasoned outdoorsman or simply looking to enjoy a weekend away from the stresses of normal life, Texas can provide you with a plethora of incredible destinations to choose from. For your next Texas vacation, make sure you book the best accommodations possible. This list of AirBnB cabins has everything from classic farmhouses to palatial lodges. If you've dreamed of staying there, you can find it here.
Dub's Barn on Small Homestead on Airbnb
Charm and comfort combine perfectly at Dub's Burn Cabin. Situated on 5 acres of private land, you'll have all the wonderful scenery (and some friendly animal neighbors) to enjoy. The barn-style construction of the cabin is instantly eye-catching. Its bright and welcoming interior is delightful, with many rustic flourishes amid the modern amenities.
You'll find a plush king-sized bed, an open living and dining area, a loft and a full bath. Such wonderful touches as sliding barn doors on the bedroom and a spacious front porch make for memorable elements that will put a smile on your face.
Adorable Cabin on 10 Private Acres With a Hot Tub
Nestled among the trees, this secluded cabin is just what you need to get the peace and quiet you desire. Conveniently located within driving distance of Austin, this wonderful cabin offers you a chance to truly get away from it all.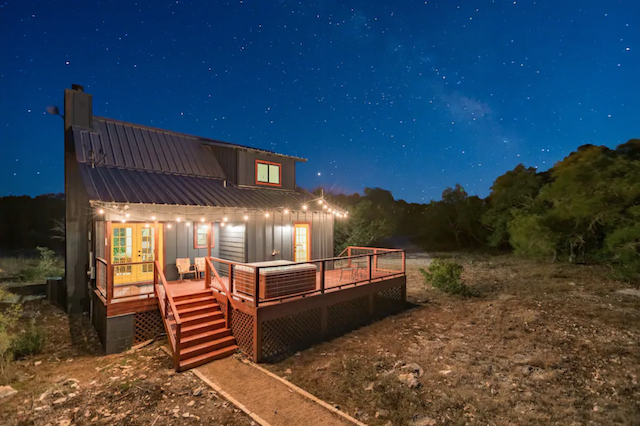 The warm, inviting interior features top-of-the-line amenities, including two queen beds and en suite bathrooms, a chic living room with a stone fireplace and a rustic farmhouse-style dining area. Outside, you can slip into the hot tub with a glass of wine, sit out on the porch for some stargazing, or gather around the fire pit for smores.
Naturalist Boudoir Too Airbnb Cabin
For a truly magical couple's retreat, this unique and secluded cabin on Airbnb is simply the best. Hidden among the gorgeous natural wonder of Big Thicket, you and your special someone will have the experience to remember. The cabin has many unique features. Its studio-style design allows for lots of room and a bright, airy atmosphere, with lots of natural light.
From the hanging queen bed to the rock tub, you'll adore every fantastical touch. Outside, you'll also have access to a hot tub, outdoor shower, a peaceful patio area and a view unlike any other.
Masters Lake Cabin in Boerne, Texas
This amazing lakeside Airbnb cabin is truly a sight to behold. With the gorgeous Master Lake right off the back porch, you'll have many wonderful activities at your disposal. Take part in some fun on the lake, or simply relax on the porch and take in the view. Inside, there are a plethora of wonderful amenities waiting for you.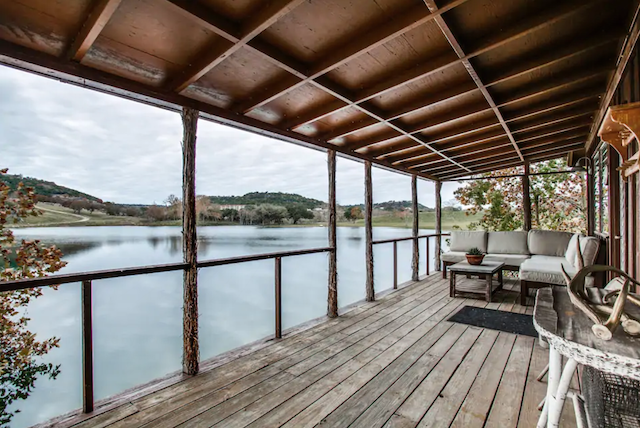 The open living, dining and kitchen area offers plenty of space, with plush couches and a full kitchen. There is even a fireplace to cozy up next to. The bedroom features distinctive stone décor and a king-sized bed. Additionally, you can make use of the covered picnic area or fire pit for outdoor meals.
¡Club Alegria! Rustic Cabins in San Marcos, Texas
This enchanting getaway is the perfect destination for a couple's retreat. Surrounded by a splendid garden, you and your loved one will find yourselves in a magical paradise that feels like your own little world. The colorful décor gives a cheerful atmosphere throughout.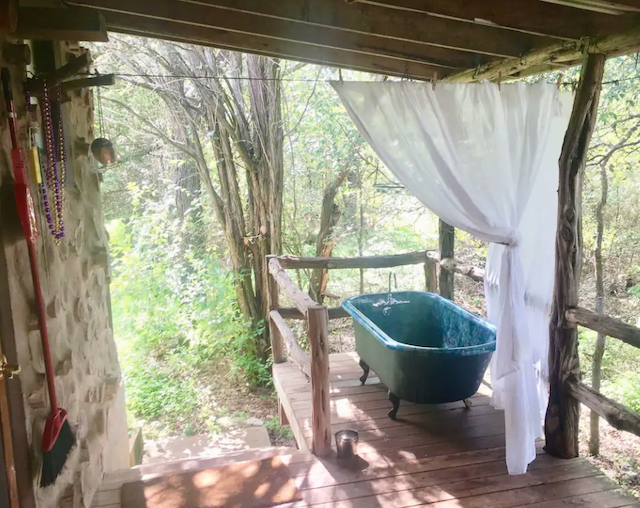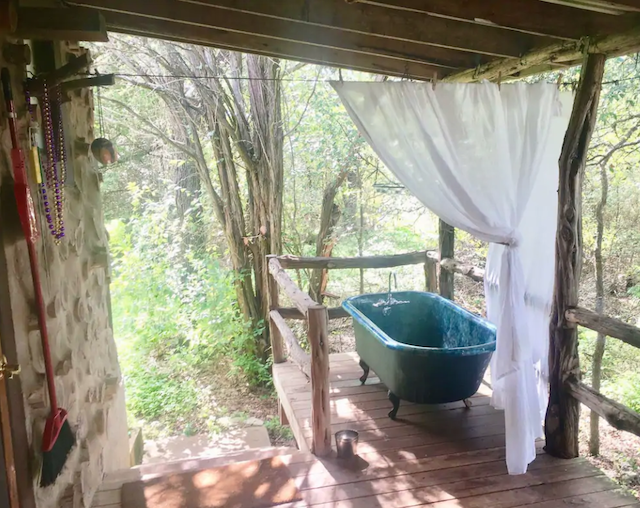 Outside, you have access to a spacious covered porch, an outdoor soaking tub and a swing. Inside, the open floorplan offers plenty of room to move about in the kitchen and living areas. And to top it all off, you're only minutes away from San Marcos, and just a bit further to San Antonio and Austin.
The Sweet Serengeti Cabin in Blanco, Texas
Let the animals welcome you to the Sweet Serengeti Cabin. Settled on a sprawling 40-acre ranch, you'll have zebras, ostriches, and other exotic animals for neighbors. The surrounding countryside is as beautiful as it is intriguing, with a wonderful pond right beside the cabin. Gather the family at the gazebo or hang out on the porch and enjoy the view.
Inside, you'll experience a wonderful, relaxing atmosphere. With its eclectic style and plentiful amenities, you can enjoy your vacation to the fullest. With room for up to 6 guests, a full kitchen, and an outdoor tub, you won't want for anything during your stay here.
Cypress Creek Retreat Cabin Near Hamilton Pool
Let the beauty of nature wash over you at this secluded creek-side cabin. The spacious wrap-around patio features ample room and seating. From there, you can make your way down to a viewing deck overlooking beautiful Cypress Creek.
Once inside, the views are rarely obscured with plenty of large windows to observe trees and animals. The bright decor will cheer you up, and all of the necessities—including 2 bedrooms, a full bath, kitchen, and open living area—insure that your stay will be both comfortable and romantic.
Dilly Dally Cabin in Granbury
Indulge in some authentic southern hospitality when you visit this delightful cabin. With countless vintage flourishes throughout the cabin, you'll be able to enjoy the homey atmosphere, without missing out on any of the modern conveniences.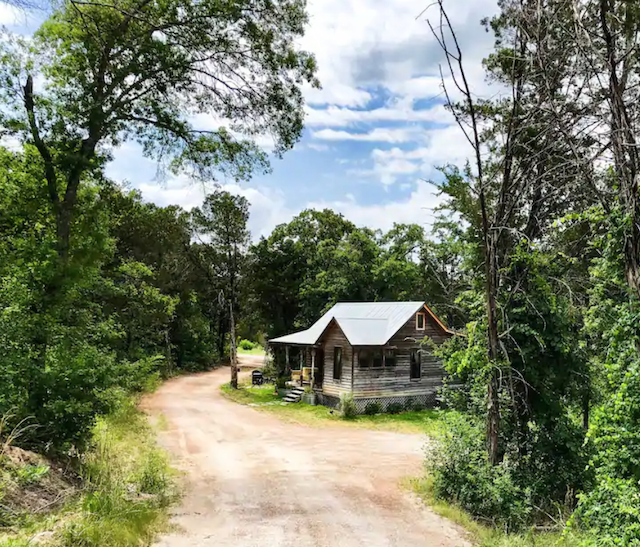 The open living room/bedroom features a king-sized bed, two lounge chairs, and a fireplace. The kitchen comes fully equipped, and the bathroom has a stunning stone-walled shower. The reading loft is the perfect place to curl up with a good book. Outside, you can rock the day away on the antique glider, or head around to the back porch for a dip in the hot tub.
THE NEST by Skybox Cabins in Glen Rose, Texas
For one of the most unique experiences you'll find on Airbnb, look no further than this one-of-a-kind treehouse cabin. Filled with whimsical touches and unforgettable architecture, you'll be awestruck from the moment you lay eyes on it. From your vantage point up among the treetops, you'll have a true birds-eye view of the scenery.
Its fantastical style is carried throughout the interior and exterior. The bedroom features a plush queen-sized bed and direct access to the patio, which makes for a perfect place for stargazing. Don't miss out on a chance to experience everything this amazing cabin has to offer.
Little Ponderosa River Retreat on the Guadalupe
The Little Ponderosa River Cabin offers endless activities, amenities, and comforts. With the Guadalupe River right at your fingertips, you'll have easy access to a number of fun watersports. Whether you prefer kayaking, fishing, tubing, or just dipping your toes in the water, this is the spot for you.
After a day of fun on the river, you can relax out on the sprawling deck. It's also a great place for an outdoor meal. Inside, there are sleeping arrangements for up to 11 guests, so the whole family can come along. Additionally, you'll find a spacious kitchen and dining area, a comfy living room and two full baths.
Vesper View Airbnb Cabin in Wimberley, Texas
A wonderful combination of elegance and chic design sense awaits you at this stunning lodge. Prepare for absolutely gorgeous views of the countryside during your stay. The covered porch offers you a chance to sit back in comfort and take in a Texas sunset. Once the stars are out, you can gather around the fire pit and enjoy the night sky.
Inside, you'll have all the amenities you desire and plenty of space to boot. The open floorplan of the kitchen, dining, and living area allows for everyone to come together and enjoy meals or leisure time. With room for 10 guests and 2 well-appointed baths, you won't be wanting for anything when you visit Vesper View.
The Lost Maples River Lodge Cabin
Bring the splendor of nature to your doorstep at the Lost Maples River Lodge Cabin. With the Sabinal River right outside your window, you can enjoy the serenity it provides, in addition to all the fun activities available to you. You'll even have your own private dock to access the river from or to relax on and take in the view.
Retire to the covered deck and find comfort in the plush seating area, or enjoy dinner under the stars. Inside, you can snuggle up next to the fireplace on a winter night. The dining area is spacious and the kitchen comes fully stocked for all your cooking needs. Other amenities include three queen beds, two full baths, and a fire pit.
Lake House Cabin With Dock & Firepit
This incredible lakefront property is a true home away from home. You'll have the main cabin, in addition to a guest house, situated right on the banks of Buchanan Lake. A private dock awaits you, and you can even bring your own boat (or rent one).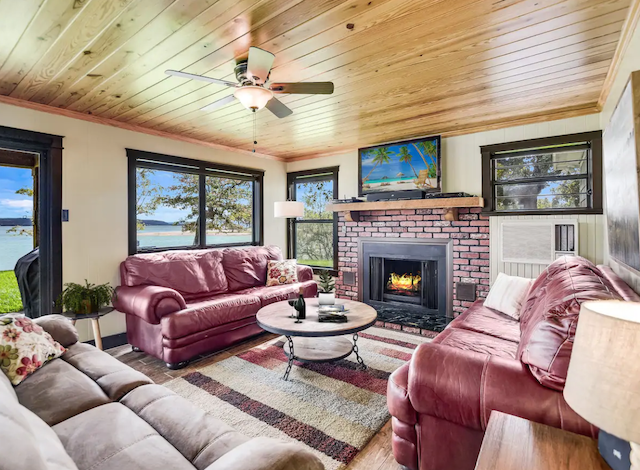 The covered porch is the ideal place to grill up a meal. Or you can head to the smokehouse for some authentic Texas barbecue. The main cabin features two bedrooms, a cozy living room with a fireplace, and a full kitchen and bath. The guest house has an additional bedroom, living room, and kitchenette.
Riverfront Cabin with Firepit in Wimberley Texas
Make your next Texas getaway one to remember at this incredible riverfront Airbnb cabin. Settled next to the Blanco River, the crystal-clear running waters will serenade you and provide an unbeatable view. You and the family can hang out around the fire pit after enjoying everything the surrounding countryside has to offer.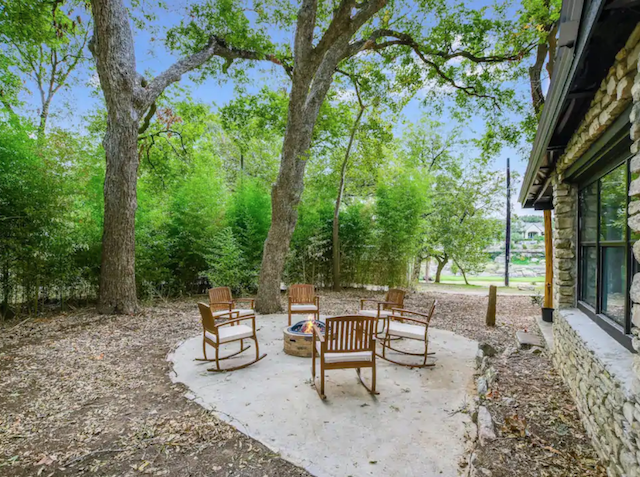 The accommodations are top-notch, with a bright, inviting atmosphere and just the right amount of slick modern flair. Sleeping arrangements are available for up to 9 guests, in addition to an open kitchen, dining and living room area, two full baths and many more amenities.