The natural wonders of Montana must be seen to be believed—it is a magical place unlike anywhere else in the country. The grandeur of the mountains, the wide expanses of untouched land, and more make for one of the most unforgettable vacation destinations. And of course, easy access to Yellowstone National Park is a treat that should not be discounted.
If you're seeking the perfect ranch or cabin for your next Montana outing, these AirBnB cabins can provide you with the best accommodations in the state. Read on to make sure your next Montana adventure is one you won't soon forget.
Beautiful lakefront cabin Near Glacier National Park
This gorgeous lakeside cabin is the perfect family getaway destination. Featuring an authentic log cabin design, it exudes rustic charm, while maintaining all the modern amenities you desire. With four bedrooms and room for up to 8 guests, there is plenty of room for everyone.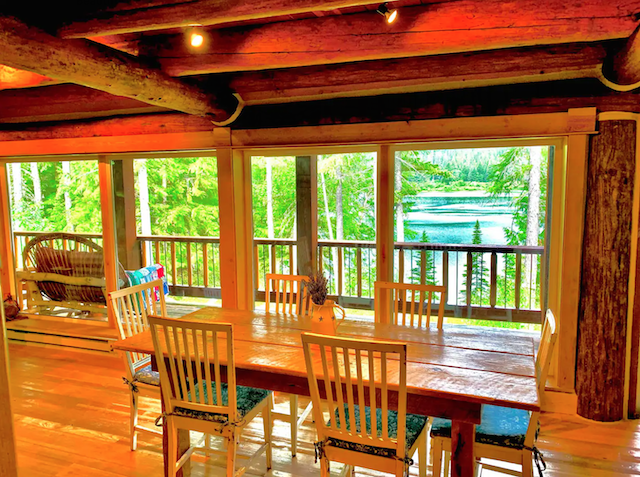 You'll enjoy discovering all the nooks, crannies, and secluded areas to relax and enjoy the view from the many large windows. And what a view it is, with the scenic Spoon Lake right outside your door. Go for a swing in the hammock, grill up some food out on the patio, or head down to the private dock for some fun in the water.
Sourdough Ranch Black Bear Cottage in Bozeman, Montana
You'll have a smile on your face from the moment you lay eyes on the Sourdough Ranch Black Bear Cottage. Located just minutes outside of downtown Bozeman, you'll have all the convenience you need, in addition to the peace and quiet you desire. The warm, inviting interior is cozy yet spacious, with an open floorplan living, kitchen, and dining area, two bedrooms, and two full baths.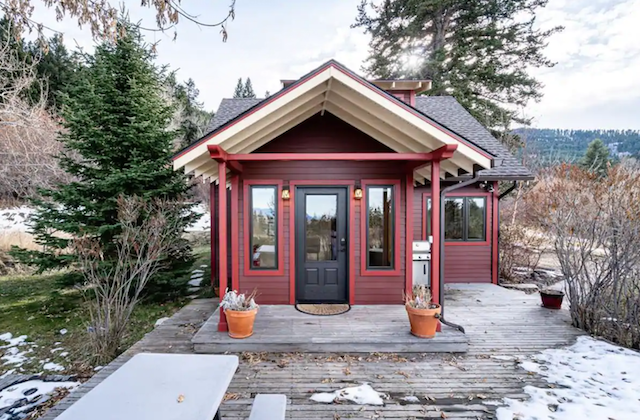 Outside, the ample seating on the patio is great for outdoor dining or stargazing. And of course, the surrounding countryside is beautiful to behold from any angle.
4 Bedroom Cabin Near Yellowstone
For anyone looking to make Yellowstone National Park a part of their itinerary, this wonderful lodge makes an ideal home base. Located just a short distance from the park, you'll be able to explore all that Yellowstone has to offer and return to the comforts of this cabin to refresh and recharge. Easy access to the Yellowstone River will also make the fisherman in the family happy.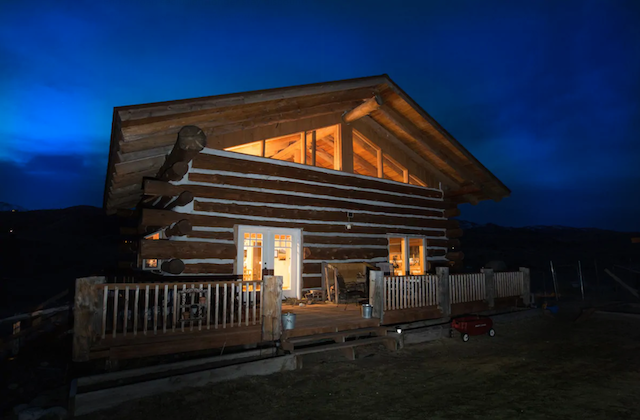 The cabin itself features a large wraparound deck, from which you can take in the unbelievable view of the mountains. The other amenities are also top-notch, with a spacious kitchen and dining area, room for up to 10 guests, 3.5 baths and so much more.
Carsey-K Ranch in Emigrant, Montana
With the mountain backdrop and endless valley laid out before you, anywhere you look from Carsey-K Ranch will be an unforgettable sight. Sit out on the upper or lower deck and let the splendor of the Montana scenery wash over you. You can grill up some food or take in a spectacular sunrise over the mountains.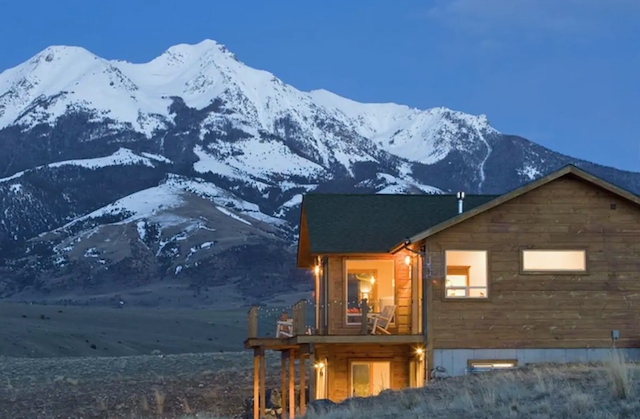 The bright and spacious interior is ideal for families or groups. You'll have four well-appointed bedrooms to choose from, a fully equipped kitchen, a family room, and even a game room.
3 Bedroom Log Cabin Retreat on Flathead Lake
Find your home away from home at this charming cabin. Perched on a hillside above Flathead Lake, the picturesque views right outside your window are absolutely jaw-dropping. The property has a wide variety of amenities for your use. The two decks give you plenty of room to relax and take in the scenery.
The main cabin features two bedrooms with king-sized beds, an open dining and living area, and wide windows for lots of natural light. You'll also have access to an apartment above the garage, a studio building, and more.
Yipei-acres Cabin Near Columbia Falls
An amazing combination of convenience and rustic style awaits you at this cabin at Yipei-acres. With 25 acres of land to explore and many nearby attractions, you'll have plenty to see and do. Glacier Park and Whitefish Mountain Resort are only minutes away, and the surrounding countryside is filled with flora and fauna to discover.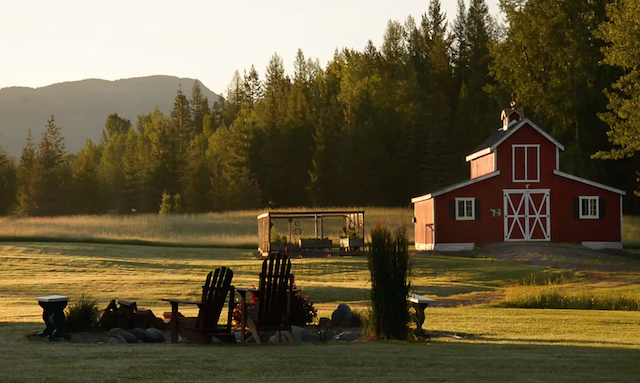 When you've had your fun exploring, kick up your feet next to the fire pit for smores, or head inside to see all the amenities within. The woodsy décor is immediately eye-catching, and you'll have plenty of comfortable spaces, including two plush bedrooms, a cozy living room with a wood-burning stove, and a covered porch.
3 Bedroom Charming Cabin With Hot Tub in Bozeman
Let the wonder of Montana's natural beauty wash over you at this amazing cabin. The nearby creek will make any fisherman happy. Additionally, the nearby hiking trails will give you plenty of opportunities for adventures. The cabin's slick stone patio will make outdoor meals very appealing, or you can unwind in the hot tub.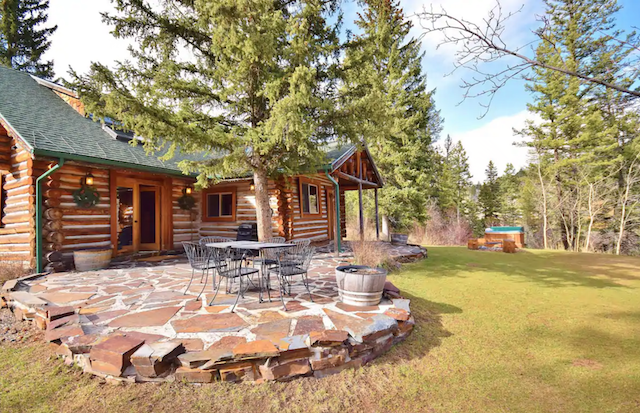 Inside, the living room is cozy and features plenty of seating. Additionally, you'll find two comfortable bedrooms, two full baths, and so much more. Don't miss out on a chance to stay at this awesome AirBnB cabin.
Luxurious Hideaway Cabin on Beaverhead River
Situated on the banks of Beaverhead River, this lovely bunkhouse is a fisherman's dream come true. You'll find some of the best trout fishing in the country here, in addition to the peace and serenity that comes with this riverside cabin. After you've had your fill of fishing, head inside to recharge for another day of fun.
The master bedroom contains a king-sized bed, in addition to two single beds in the second bedroom. Rustic décor and slick, modern flourishes blend nicely, creating a welcoming atmosphere. Take a seat at the breakfast bar, cozy up in the living room, or snap some pictures from the covered porch.
Astrid – A 3 Bedroom Montana Log Cabin in Columbia
Astrid is truly a sight to behold. With its vaulted roof and floor-to-ceiling windows, you'll have plenty of room and a view of a lifetime. The open living and dining room looks out onto the forest below, making every meal-time a wondrous occasion. The view from the loft area is equally beautiful.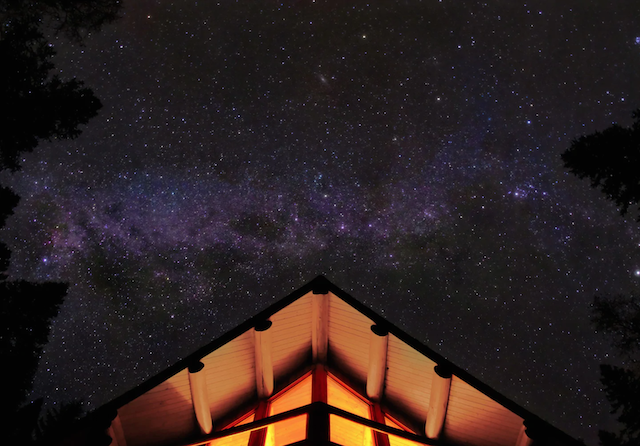 Every room in the cabin, from the three well-appointed bedrooms to the kitchen, gives you an opportunity to enjoy the scenery. You'll have many amenities outside as well, include a large deck, a fire pit a nearby creek, and easy access to nearby Glacier National Park.
New Modern Lakefront Cabin
Inject a little luxury into your next Montana getaway at this spectacular cabin. Situated right next door to the fantastic Georgetown Lake, you'll have an utterly unforgettable view from every angle. From the soaring trees surrounding the property to the misty mountains in the distance, you'll feel like you're living in a postcard every moment.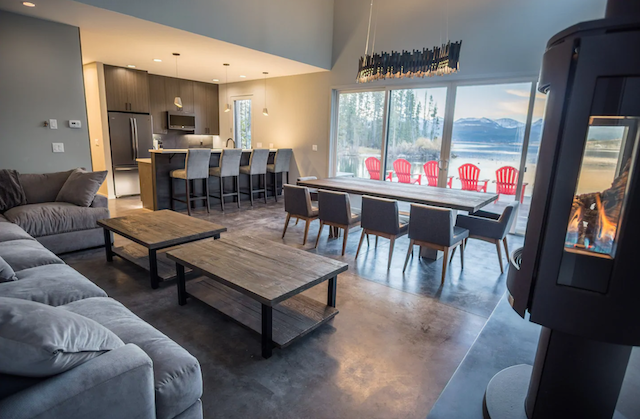 The cabin features a chic, modern design sense that contrasts beautifully with the natural setting. It has room for up to 13 guests, and includes an open floorplan kitchen/dining/living area, a lofted seating and entertainment area, three full baths and so much more.
Elegant Mountain Cabin Getaway with Hot Tub
This charming cabin is sequestered at the foothills of the Crazy Mountains. With over 160 acres of gorgeous land to explore, you can experience endless excitement when you visit here. At the end of the day, you can slip into the hot tub and let the amazing sunset soothe you as well.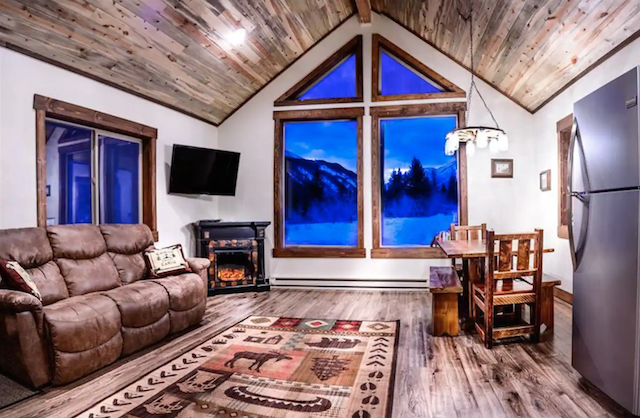 Inside, the rustic décor touches add to the charm of the cabin. The living room features floor-to-ceiling windows for more wonderful views, and you'll additionally find two well-appointed bedrooms, a full kitchen and bath and a loft.
Virginia City Homestead 2 Bedroom Cabin
Travel back in time and experience true frontier living when you visit this incredible cabin. This homesteader's cabin was originally built in the 1880s, and retains the classic feel of such cabins. The quaint interior includes a cozy living area with homey touches, such as a stocked bookshelf and a wood-burning stove fireplace.
The kitchen features a lovely breakfast bar, and there are four comfy beds to choose from. In addition, you'll have access to lots of great hiking trails, and the interesting attractions available in the ghost town of Virginia City.
3 Arrows Luxury Cabin in Whitefish, Montana
Make the most of your Montana excursion at this modern masterpiece of a cabin. Conveniently located within a short drive of Whitefish, there are many trails and places to explore all around this awesome cabin. Take in the serene forest from the covered front porch, or head inside for a multitude of modern comforts.
The unique design sense is immediately eye-catching, with a number of interesting features. A rolling garage door allows access to the porch from the bar-style kitchen. The loft area has ample sleeping arrangements, and you'll even find a soaker tub for relaxing after a long day of adventuring.
Beautiful Log Cabin Overlooking Flathead Lake
Inside, the spacious yet homey cabin is perfect for a cold evening. With two plush bedrooms, two full baths, a fully stocked kitchen, and more, you'll never be wanting for anything during your stay.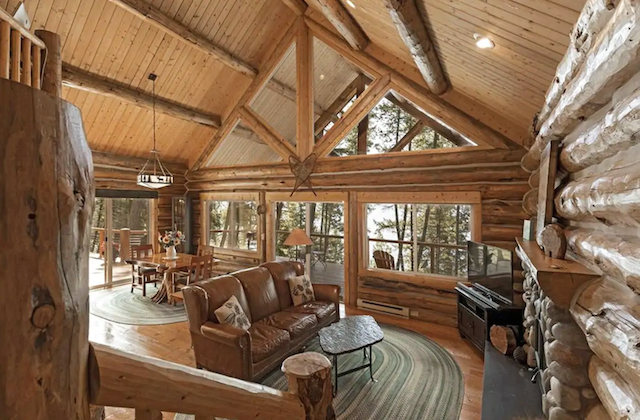 Ross Creek Cabin in Belgrade, Montana
Rustic style meets modern comforts in this one-of-a-kind cabin. Situated among open plains laid out before the mountains, you'll feel like a true master of the wilderness. One of several cabins on the property, it will feel like a community all your own, with a shared fire pit, hot tub, and paths weaving through lovely gardens surrounding the cabins.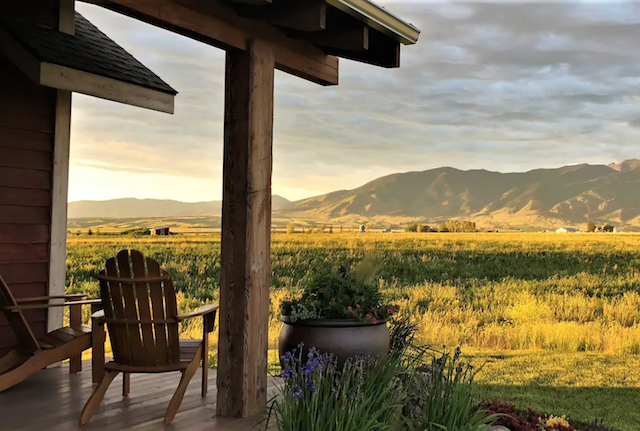 Inside, you'll find all the amenities you require, including a king-sized bed, bright and spacious dining and living area, and lots of natural light.
Modern Tiny House Cabin in Lakeside
You'll find plenty of happiness in this wonderful tiny house. Its chic, contemporary design makes it a real gem of AirBnB cabins. The covered porch is an excellent place to kick back and let the amazing scenery wash over you.
Inside, the slick chrome and marble design flourishes will make you feel like you're staying at a 5-star hotel. It also features plenty of windows for letting nature come to you, a wood-burning stove fireplace, a queen-sized bed and more.
Buck Ridge Log Cabin Surrounded by Wild Game
The wildlife will greet you at this wonderful log cabin. Secluded among the trees, you'll have deer, wild turkeys, and more right outside your window. After the showcase of nature's beauty, you can turn your attention to the many comforts provided by this cabin.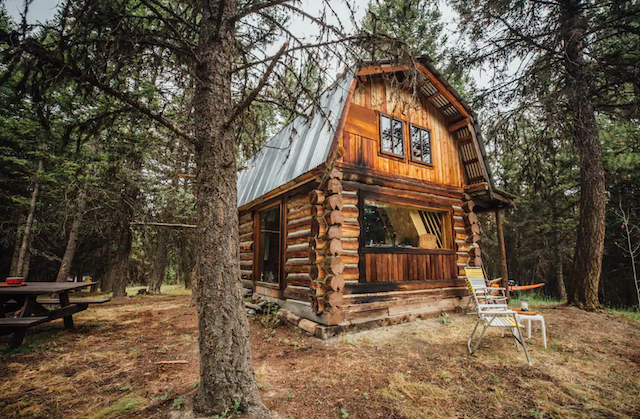 The warm, inviting interior creates a soothing atmosphere. You'll find a lofted queen bed, a living room with a large picture window, an outdoor grilling station, and a fire pit. In addition, there are many attractions nearby, including Rogers Lake and several horse-riding trails.
One Bedroom Cabin on Woods Bay With Private Beach
For your next romantic outing, this cabin will provide you and your special someone with everything you need and more. Situated on your own private beach, there are many unique touches that make this a real couple's paradise.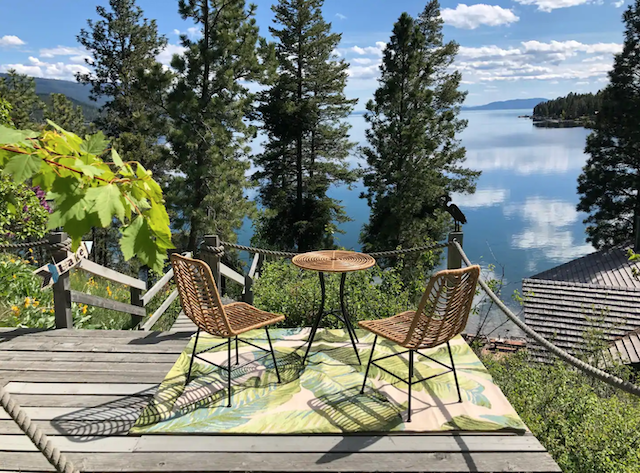 A lovely nautical theme runs throughout, and you'll have plenty of places to relax with your loved one. Head out onto the deck overlooking the water, hop in the swing or just kick back on the couch. You'll also have lots of fun activities available in Woods Bay, including kayaking.
Calowahcan Cabin in Ronan, Montana
The humble exterior of the Calowahcan cabin hides its amazing and luxurious interior. You'll find so many incredible amenities, you may never want to leave. Take a dip in the soaker tub after a long day of enjoying the natural wonders of Montana.
Take a nap in the elegant living room, or retire to your queen-sized bed for a good night's sleep. All this, and you'll have plenty of natural light and a view to remember from the many large windows around the cabin. Outside, the covered porch area is great for stargazing or taking in the sunrise over the mountains with a nice cup of coffee.
Yellowstone Homestead Cabin in Livingston, Montana
Insure that your next Yellowstone excursion is as amazing as possible by staying at this awesome cabin. Conveniently located near the park, hiking trails, and Chico Hot Springs, there's lots to see and do around the area.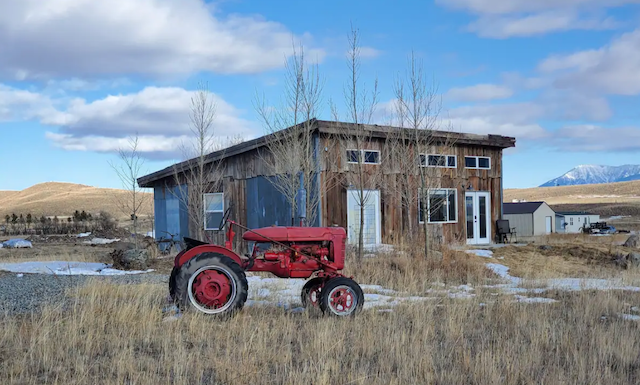 A well-stocked kitchen, two well-appointed bedrooms, wonderful rustic décor and more await you within. Take in the wonderful view from the porch, or the comfort of the living room with the wide windows. This cabin experienced is not to be missed.