The great state of Texas provides a wonderful backdrop for any glamping vacation. While Texas may be And no great glamping trip is complete without top-notch accommodations. This list features some of the absolute best cabins, treehouses and tiny homes that AirBnB has to offer. If you're looking to make your next Texas glamping trip one to remember, these cabins are what you've been searching for.
Wow! "That 70s Tow" Glamper and Spa Tiny Home
Have yourself a groovy glamping experience at this awesome tiny house. Conveniently located in central Fort Worth, you'll find colorful and comfortable accommodations with everything you need. The 70's inspired décor will put a smile on your face, and it comes fully equipped with a full bath, king-sized bed and countless amenities.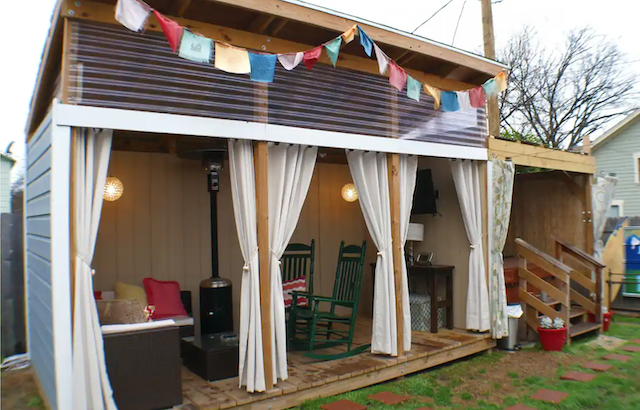 Outside, you'll have a covered porch (complete with an outdoor fireplace) to kick back on, as well as your own private hot tub.
1920's Vintage Caboose on Lake Limestone
For a truly unique glamping destination, check out this amazing renovated 1920s caboose. Full of classic charm and modern amenities, you'll be swept off your feet by the wonderful atmosphere here. It features a comfy queen-sized bed, a full kitchen, living room and a fireplace.
Outside, you'll have access to a spacious patio to take in the sunsets, and a firepit to gather around in the evening. There's even boat access on the lake next to the property. This is a true gem among all AirBnB accommodations.
The Hummingbird's Haven on Wild Currant Farm
Come enjoy the quaint charms of this lovely tiny house. Situated on sprawling farmland, there is plenty to explore in the area. Once you've had your fill of outdoor adventures, retreat to the comforts provided by this wonderful cabin. Its arched design and hummingbird décor make for a beautiful home away from home.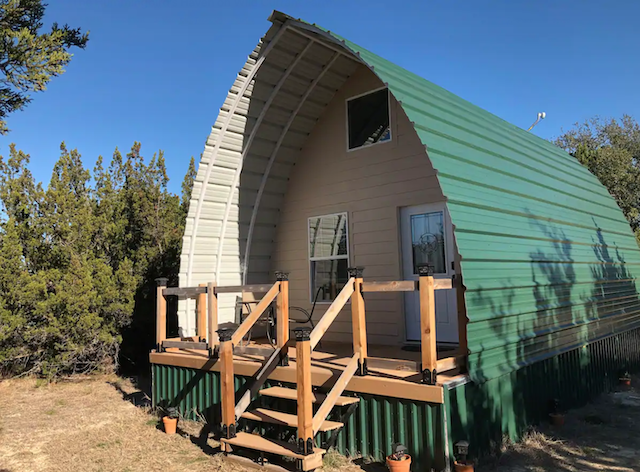 Inside, you'll find a well-appointed queen bed, a sofa, dining area and a kitchenette. Sit out on the patio for some stargazing, wander the property to spot the local wildlife, or simply relax and enjoy a little alone time.
Hill Country Glamping Spirit Dome Guadalupe River
If you're looking for something a little bit different for your next glamping excursion, look no further than this dome glamping home. Nestled among the beautiful scenery along the Guadalupe River, you'll have the splendor of nature right outside your door.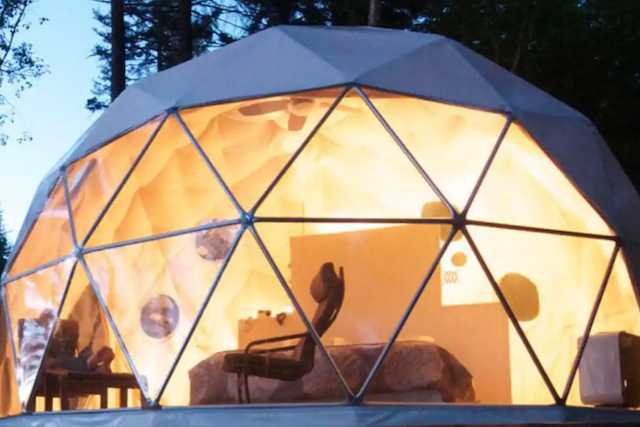 From the comfort of the plush interior, you'll be able to observe the curious wildlife passing by. At night, you can lay awake in bed and watch the night sky through the star window. With the Guadalupe River right next door, you'll never want for something to do.
Viewpoint Treehouse at Grandview Treetops
Experience life among the trees at this spectacular treehouse. Secluded among the treetops of Grandview, you'll be at one with nature in sheer comfort. The bright, serene interior features a lush queen-sized bed, a luxurious bathroom and floor-to-ceiling windows to allow for lots of natural light.
The roof-top patio area is ideal for taking in the view while you relax. Additionally, you can take advantage of the surrounding parks, trails and other natural wonders.
Redstar Cabin
Get away from it all at this lovely studio-style cabin. Conveniently located just 40 minutes from Dallas, this cozy waterfront property contains all the comforts and amenities you require. The loft contains a comfy queen-sized bed, accessible via ladder.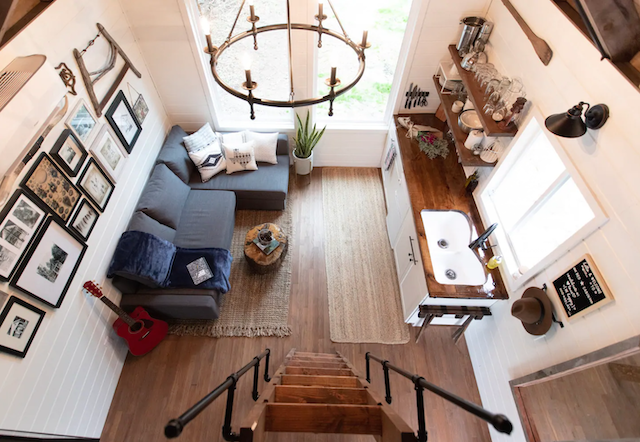 The living room/kitchen features a spacious couch, plenty of cooking supplies and a wonderful view of the lake out back. Try your hand at fishing, relax next to the water or go out and explore the surrounding countryside.
Madrona Ranch Casita
Find your home away from home at this incredible lakeside cabin. The warm and inviting interior will instantly put you at ease. Two well-appointed king beds await you, in addition to a full bath, a dining area and more. Large windows line the front of the cabin, giving you a wonderful view of the surrounding countryside.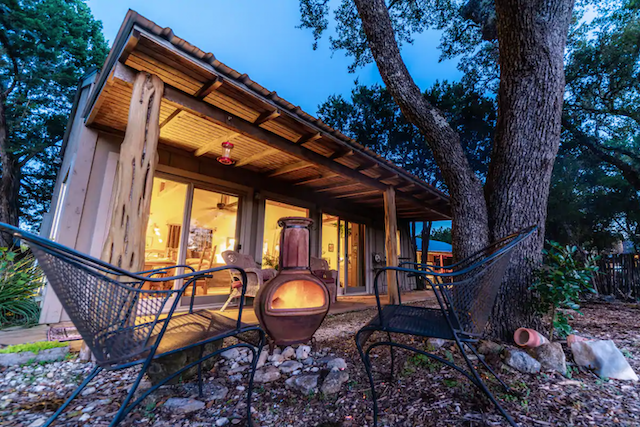 Outside, you can relax next to the outdoor fireplace, cuddle up on the swing bench, or head down to the lake and the beautiful serenity of it all soothe you.
1959 Airstream Nostalgic Getaway
This awesome, fully renovated Airstream trailer provides an experience that is not to be missed. Filled with charming, vintage décor, you'll feel like you've stepped back in time when you step inside. It features a multitude of modern comforts, including a plush double bed, diner-style seating area and a kitchenette.
Additionally, there is an outdoor grilling station at your disposal, as well as a hot tub and private pool. At the end of the day, you can put up your feet next to the fire pit and watch the stars come out.
The Patio House: Hill Country Casita
Add a little extravagance to your next glamping vacation at this amazing tiny house. Specially designed as a couple's getaway, it features a number of romantic flourishes that will take your breath away. The spacious patio has plenty of room for dining, relaxing, and taking in the view.
The luxurious interior will make you feel like you're staying in a 5-star hotel. It also includes a detached full bath, a fire pit and your own personal splash pool.
Southern Dream Luxury Treehouse
Bring the beauty of nature to your doorstep at this jaw-dropping treehouse. Nestled among the trees and neighboring a scenic pond, this cabin will make you forget your troubles the moment you lay eyes on it. Large floor-to-ceiling windows allow you to gaze out onto the wonderful scenery.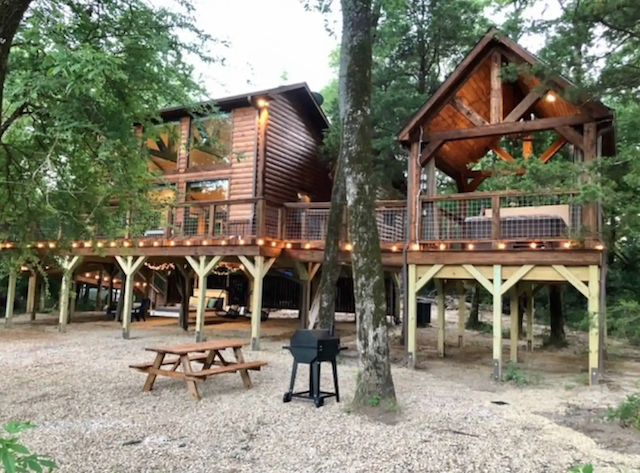 The mix of rustic décor and modern design sense is a joy to experience. Additionally, you'll find a hot tub out in the gazebo, a fire pit and a swinging queen-sized bed under the patio.
Sycamore Treehouse at HoneyTree Farm in Fredericksburg
You'll feel like royalty at this magical treehouse retreat. Perched above the Palo Alto creek, you'll have a one of a kind view of the surrounding Texas countryside. From sunrise to sunset, you won't want to miss out on a single moment. You can take in the incredible view from the comfort of the living room, with its wall of windows allowing for tons of natural light as well.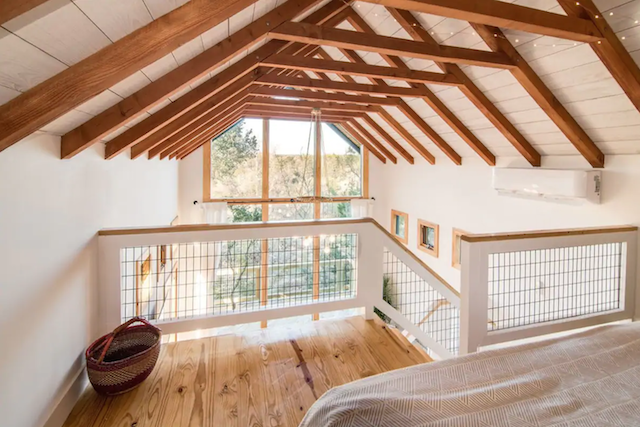 The bright, calming interior creates an ideal atmosphere for rest and relaxation. Additional features include a lofted king-sized bed, full kitchen and a soaker tub.
Cozy Cabin in The Woods at Bluegill Lake Cabins
At this wonderful cabin, you can have a true frontier experience without skimping on any of the modern luxuries you desire. Try your hand at fishing in one of the five catch-and-release ponds, or jump in for a swim. After a long day of fun in the sun, you can slip into the hot tub and unwind, then grill up some food under the stars.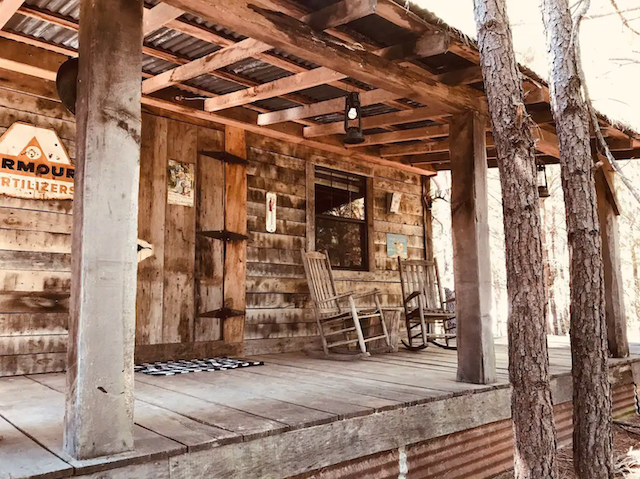 Inside, the cozy, studio-style accommodations are perfect for recharging. You'll find a king bed, two lofted single beds, a full bath and more.
THE TOWER (LA TOUR) by Skybox Cabins in Glen Rose
For something a little bit different on your next glamping outing, come visit this stylish, modern cabin. At the end of a scenic rock path, you'll find a magical place that lives up to its name. Surrounded by beautiful flora and fauna, you'll never run out of things to see or do here. Inside, the chic décor and comfy accommodations make for a truly relaxing atmosphere.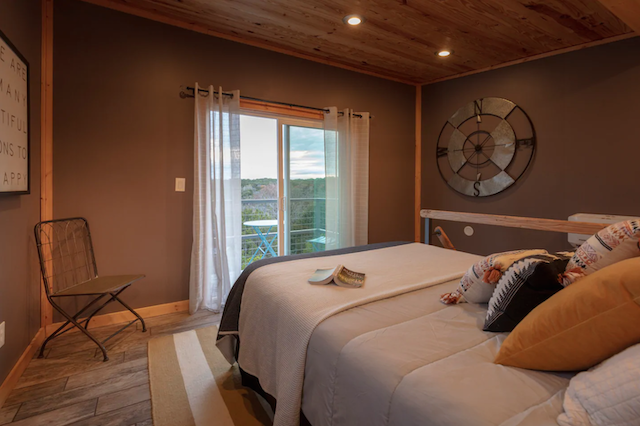 You'll find a plush queen-sized bed, a cozy lounge area, a breakfast nook and more. Whether taking in the view from the balcony or wandering the countryside, this AirBnB destination is not to be missed.
The Glass House: Hill Country Tiny Home Escape
Experience big excitement at this spectacular tiny house. Tucked away on a sprawling 72-acre ranch, the wide-open landscape offers unbelievable views no matter what time of day. The unique construction of the cabin offers you a chance to relax both indoors and out. Wide, floor-to-ceiling windows line the cabin, providing lots of natural light and wonderful views.
If you prefer a little fresh air, roll the lovely queen-sized bed outside onto the patio and sleep under the stars. Additionally, you'll have access to a fire pit, a personal pool and more.
Grey Forest Vineyard Cabin
Discover the elegance and style of this amazing getaway. Conveniently located just outside of San Antonio, you'll find yourself in a magical destination. Surrounded by a lush garden, you can wander the property and be instantly relaxed. Check out the koi pond, kick up your feet on the sprawling deck, or head over to the shared pool.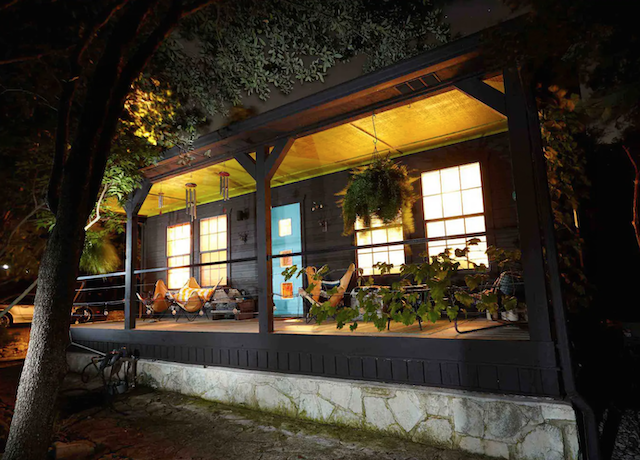 Inside, the eclectic décor and modern design sense are immediately eye-catching. Features include a spacious living room, full kitchen and a queen-sized bed.
Dripping Springs Yurt In The Trees
Let the natural wonders of the Texas countryside wash over you at this stunning yurt. Settled on a raised deck among the trees, you'll have incredible views no matter where you look. The nearby creek is another beautiful natural feature.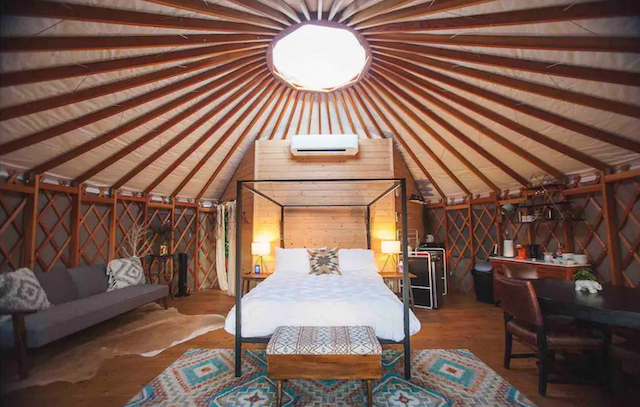 The space itself is of an open design, offering both space and comfort. It features a queen-sized bed with skylight dome overhead, a full bath, kitchenette and dining area. The southwest-inspired décor and natural colors create a wonderful, welcoming atmosphere.
Ryders Treehouse in Baird, Texas
You'll feel on top of the world when you stay at this amazing treehouse cabin. With spacious areas both up in the trees and on the ground, you'll never run out of places to relax. At ground level, the yard has a swinging bench, a fire pit and a screened cooking area for some outdoor dining.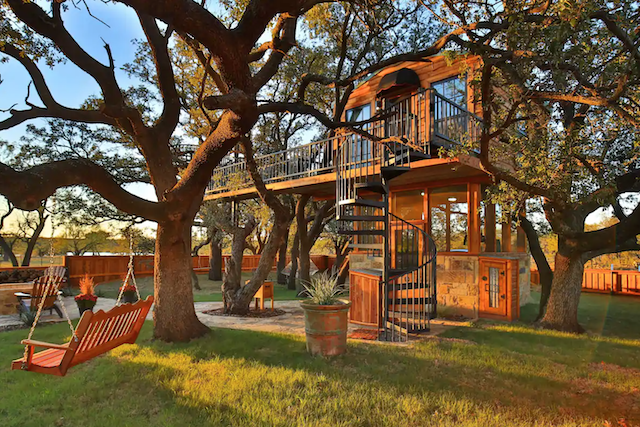 Take the spiral staircase up to the cabin and let the incredible view take your breath away. Many nooks and crannies await your discovery. When it's time to hit the hay, snuggle up on the comfy double bed, or fall asleep under the stars in the outdoor hammock.
The Tiny Farmhouse in Texas Hill Country
This charming tiny house has everything you need to make your next glamping trip a resounding success. The bright, soothing interior is as inviting as it is comfortable. A well-appointed queen-sized bed awaits you, in addition to a kitchenette, full bath and large windows to gaze out at the gorgeous sunsets.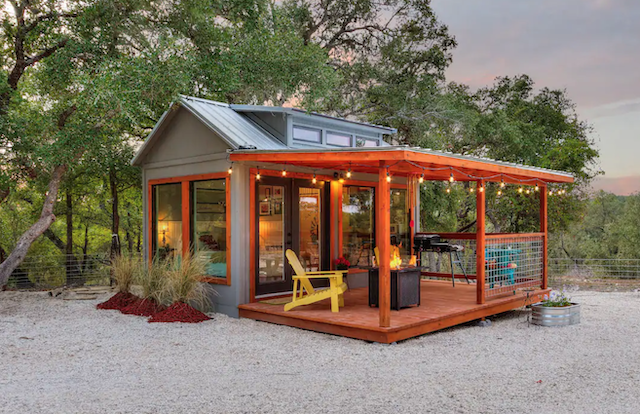 Kick back on the covered porch, or go for a swing in the hammock. This awesome property even includes your own personal trough pool for taking a dip on hot summer days.
La Petite: a Tiny House Tucked in Nature with Hot Tub
This sleek, modern cabin comes fully equipped with everything you need for the perfect glamping experience. The interior features a wonderful mix of chic chrome and rustic flourishes. The lofted king bed is spacious and comfy, and all the amenities are top of the line.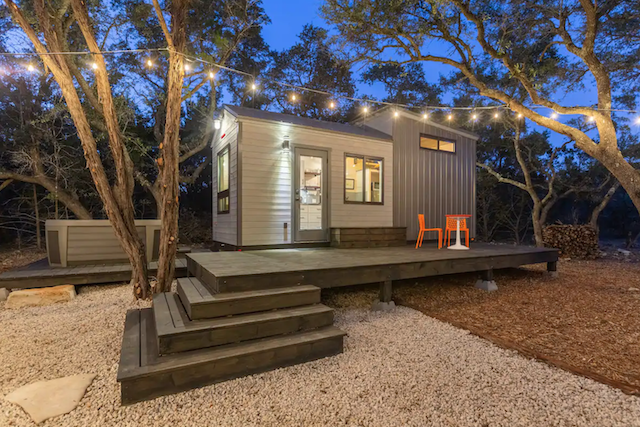 Outside, you'll find even more things to like, including a private hot tub, grill and two swinging hammock chairs. For the ultimate combination of luxury and peace, this tiny house is one of the best that AirBnB has to offer.
THE HIVE by Skybox Cabins
Mixing incredible architecture with unbeatable comfort, this awesome A-frame treehouse is the ideal getaway destination. Built around living trees, you'll feel right at home in this amazing cabin. The spacious deck has room for relaxing or dining, and even includes a suspended hammock bed.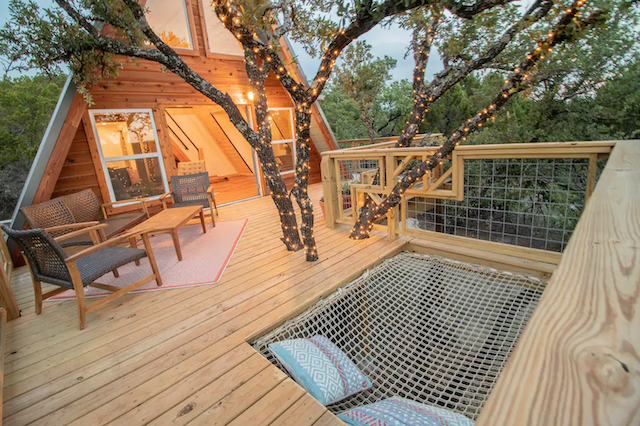 Inside, you'll have access to a cozy living room, lofted bedroom with queen-sized bed, a full bath and a kitchenette. This is a one of a kind experience that you don't want to miss out on.