Tennessee is a perfect place for natural escapes and adventurous vacations. You can hike through the Great Smoky Mountains, enjoy numerous waterfalls, or immerse in rich forests.
In one of her songs, Dolly Parton sang: "In my Tennessee mountain home…life is as peaceful as a baby's sigh". The best way to experience the natural beauty of Dolly Parton's home state is to stay in one of the stunning cabins situated in the woods or on the hills with a spectacular view on the splendid valleys
Central Tennessee Cabins
Scandinavian Style Cabin with 11 Acres of Private Area
This Scandinavian style cabin is a perfect choice for those who love seclusion. With a private area of 11 acres and no neighbors, it is a wonderful choice for a weekend escape or a long-term holiday stay.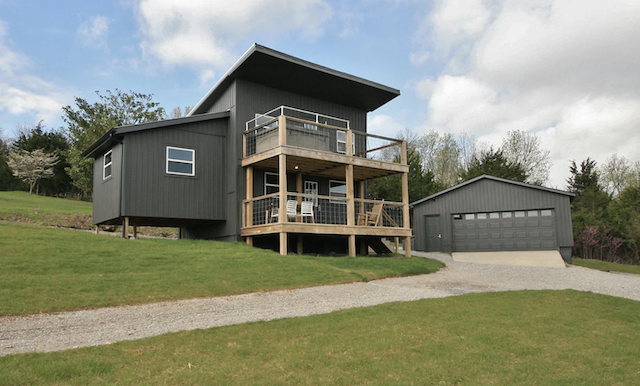 A modern interior with two bedrooms and a spacious living room can host up to six guests. On a rainy day or a lazy afternoon, you can enjoy a game room located in the garage, right next to the cabin.
River Cabin Near the Downtown Side of Lookout
Is there any better accommodation to enjoy the nature of the national park in than a cozy and comfortable cabin? This tiny home is in a perfect location. It has quick access to the downtown area and is a stone's throw from the TN River.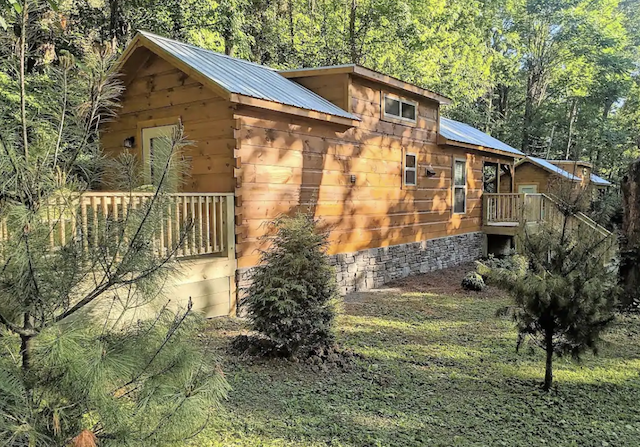 The River cabin can host up to four guests. It has a fully equipped kitchen that opens onto a spacious living room. There is one master bedroom with a queen-size bed and a loft with two twin beds, so it is a perfect spot for parents with two kids or a group of friends. A hot tub and deep swim spa located on the back deck are excellent spots to relax and fully enjoy the sounds of nature.
Tennessee Retreat Log Cabin Near Dale Hollow Lake
If you want to enjoy a weekend escape in style, this cabin is a perfect choice. Located in the hills of the Eastern Highland Rim, it has Wi-Fi and cable TV, so you don't have to resign from the convenience of technology while resting in nature.
The kitchen, dining room, and living room are one large area where guests can spend time together. Savor your morning coffee on the back porch from which you can admire acres of woods, and if you need a bit of peaceful solitude, enjoy rocking chairs on the front porch.
Blue Ivy: Modern Mountain Gem
Blue Ivy, from the outside, looks like a cottage from a tale, but inside it's a different story. A modern, bright interior with carefully planned details is proof that comfort and style go well together. You can enjoy the tree that surrounds this cabin and admire the beautiful view of the town lights from the deck.
Blue Ivy is a perfect spot for romantic gateways, where you can rest with your loved one after hiking in the mountains, or simply experience the natural surroundings. An open living space with a comfortable sofa and electric fireplace gives some extra comfort during rainy days.
Sunrise Mountain Cabin in Altamont
Enjoy the spectacular view of the valley while staying in this adorable cabin with your family. You can use a fully-equipped kitchen and enjoy the living room with comfortable couches and a TV. You can use the shower and flush toilet in the outhouse.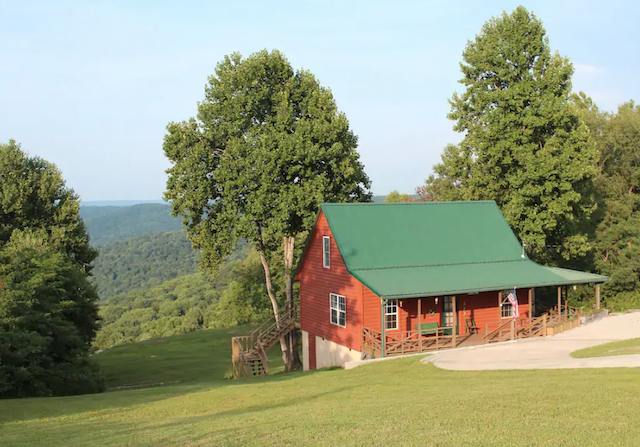 If the back deck is not enough for you, you can cherish the sunrises from the cliffside deck equipped with comfortable garden chairs. The best thing is that you are just a few miles away from Tennessee's spectacular waterfalls.
Peaceful Hills Lodge
This cabin is a perfect escape spot for those who enjoy a serene environment. It is located on a private area of 97 acres where you can appreciate nature with a graceful spring-fed stream. Peaceful Hills Lodge is a perfect place for families and group of friends as it can host up to nine people and has two bathrooms.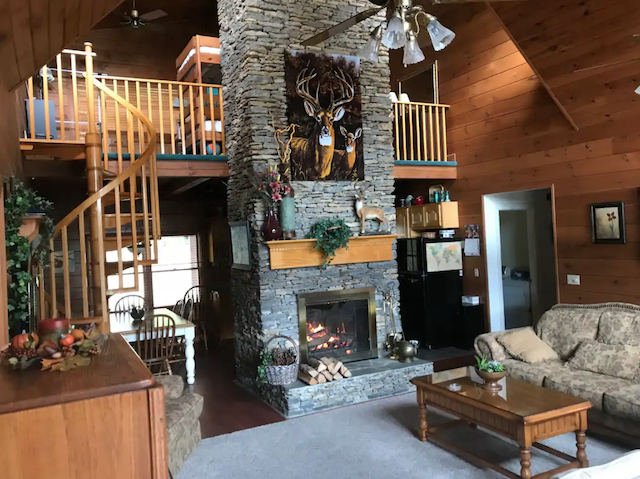 This cottage has a spacious, high-ceiling living room with big windows through which you can admire hills and the sun setting behind them. There is nothing better than stargazing from the comfort of an armchair, with the warmth of the fireplace.
Tennessee Cabins In Gatlinburg
New 3 Bedroom Cabin Near Gatlinburg
This new cabin has 3-bedrooms with unobstructed views of the Smokies and convenience to downtown Gatlinburg which is just 1.5 miles away. The amenities include Wi-Fi, large screen TVs, indoor fireplace, washer and dryer, hot tub, pool, free parking, fully stocked kitchen, BBQ grill, and patio. If your group is bigger, you can make more reservations at the Leaf & Vine lodge which is next door.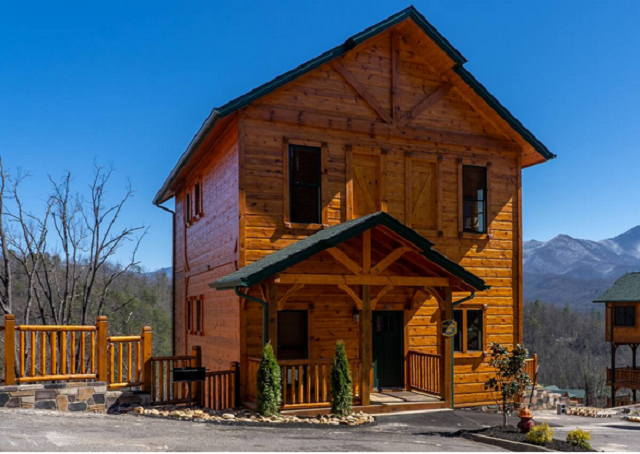 Mountain Soul Cabins
The Mountain Soul cabin is without a doubt one of the most remarkable cabins you will ever spend your time in. It is a 2-bedroom cabin with 2 beds located in the Smoky Mountains and at the top of the Kings Ridge mountain, this brand new cabin constructed in 2018 puts you in the center of the action and offers breathtaking views. The amenities include Wi-Fi, cable TV, indoor fireplace, washer and dryer, hot tub, full kitchen, balcony, and BBQ grill. The Mountain Soul is a place of relaxation and beauty.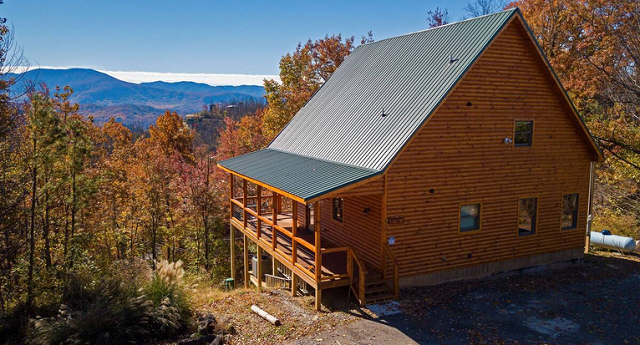 "Beartastic Memories" Gatlinburg Cabin
This is a compact one-bedroom cabin located less than 5 minutes from downtown Gatlinburg. It is tucked away in a quiet street in a wooded setting and offers everything you need for a memorable visit to the Smoky Mountains. The cabin amenities include a hot tub, jetted Jacuzzi tub in the bedroom, cable TV, Wi-Fi, and indoor fireplace. With a capacity of up to 4 guests, this is a perfect cabin if you are interested in the downtown attractions and the Great Smoky Mountain National Park.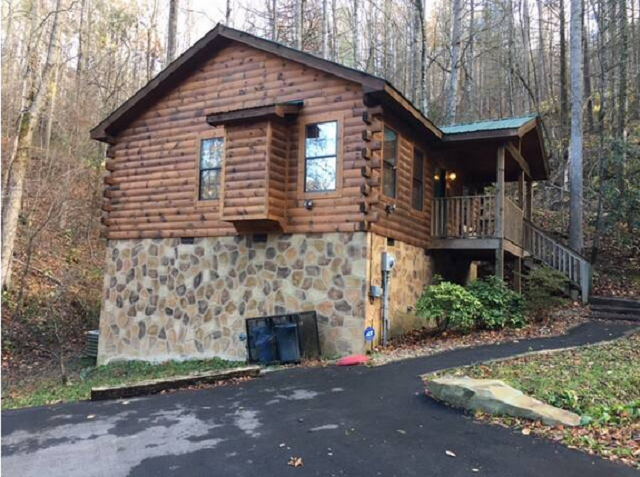 "The Lookout Loft" Modern Cabin with Views
The Lookout Loft is a new luxurious cabin with sweeping mountain views. The cabin has 3 bedrooms and is located 3 miles from downtown Gatlinburg. The Lookout Loft cabin is a cozy place for family and friends to gather for lasting memories of the Smoky Mountains. You will notice large windows offering amazing views of the mountains around.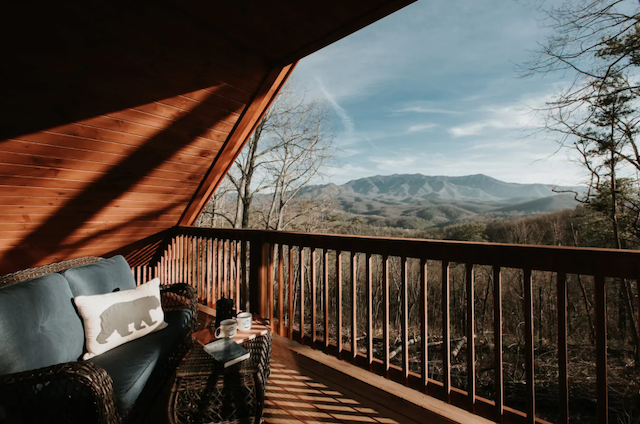 Cabin with Hot Tub on Roaring Fork
Relax in your hot tub as you listen to the rushing water of the mighty Roaring Fork. The Roaring Fork River Chalet sits on the Roaring Fork in Gatlinburg. It has 3 bedrooms and is just 0.9 miles from downtown Gatlinburg. This is the perfect place to unwind after a busy day exploring The Great Smoky Mountains National Park. To book this cabin you must be over the age of 25.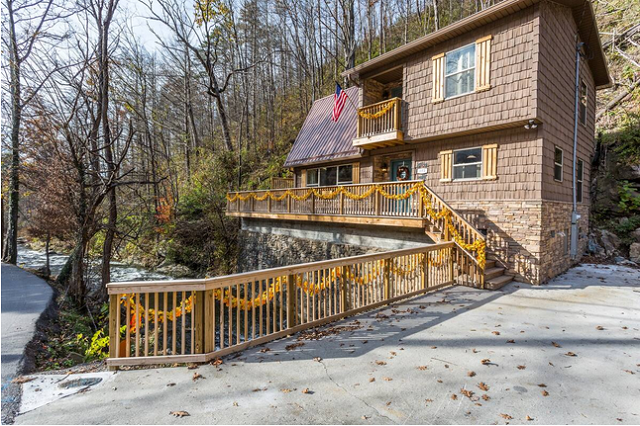 Black Bear Falls Cabin with HotTub
"Peace of Mind" cabin is an amazing 2-bedroom cabin with 3 beds is located in the Black Bear Falls Resort. The 2 story cabin has a jetted tub in the master bathroom and the hot tub outside provides amazing views. The cabin is situated to guarantee the privacy and has a great Wi-Fi and Grocery & Restaurant delivery service. This is a perfect cabin for a family or group of 6.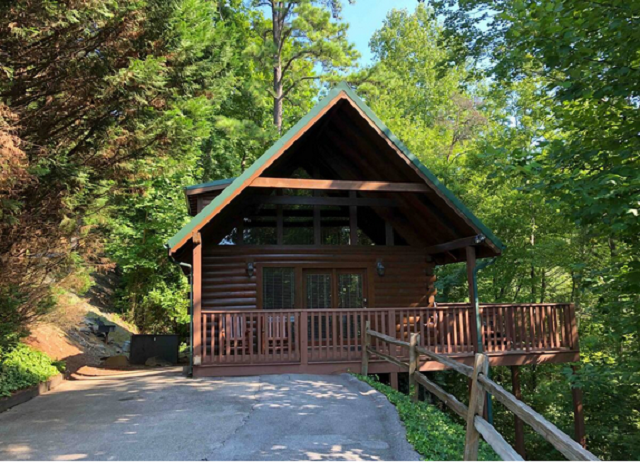 Pigeon Forge Cabins
"Tennessee Dreams" 2 Bedroom Cabin
If you've been searching for a cabin with both charm and extravagance, this one is for you. The interior exudes a warm, homey atmosphere, allowing you to relax in comfort from the moment you step in the door. The two cozy bedrooms feature a king-sized bed for mom and dad, and a bunk bed for the kids.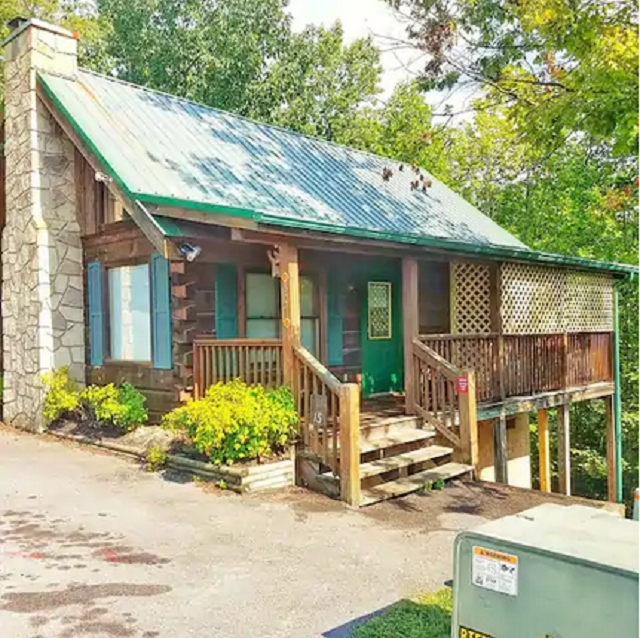 You can snuggle up next to the fireplace, or head outside for a dip in the hot tub. Finally, you'll also have access to a pool, perfect for fun under the sun.
"Moon Shadow" Cabin Minutes to Pigeon Forge Attractions
This intimate yet spacious cabin is ideal for a romantic weekend getaway. You'll have an authentic log cabin experience, without missing out on any modern comforts. The vaulted ceilings and open living/kitchen/dining area create a welcoming atmosphere. Additionally, you'll find a king-sized bed and a jacuzzi tub in the master bedroom.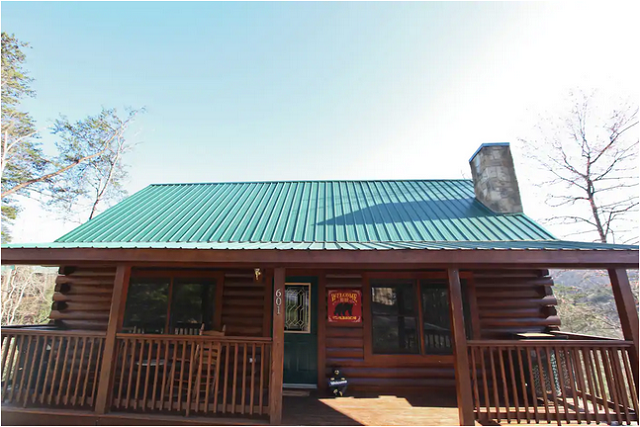 Outside, hop in the hot tub to unwind or head to the pool instead. And of course, you'll have easy access to all that Pigeon Forge has to offer.
"Autumn Breeze" Cabin
Make your next Pigeon Forge vacation an unforgettable one at this magical cabin. A lovely garden surrounds the front porch, where you can relax on the swing and let the peace and calm wash over you. Inside, you'll find a comfy aura with lots of woodsy décor.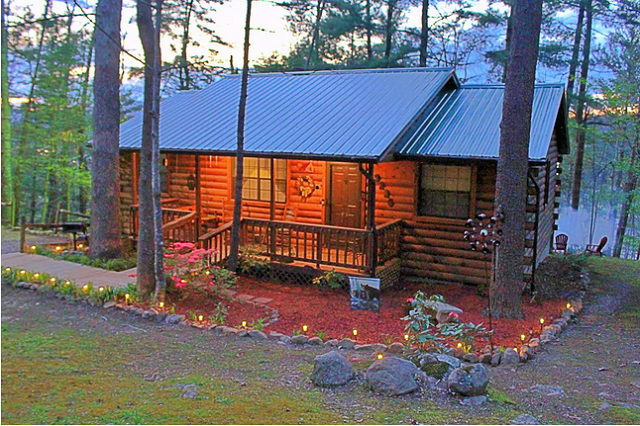 The open dining and living area provides plenty of space for the whole family. Both the bedrooms feature king-sized beds, jacuzzi tubs and full baths. After you've had a full day of exploring Pigeon Forge, you can gather around the firepit for smores under the stars.
Crimson Moon Lodge – 2 Bedroom Rustic Cabin
Indulge in the splendor of the Smoky Mountains at this luxurious cabin. Three floors of comfort not only offer you plenty of room and amenities, but also spectacular views. The living and dining room, in particular, features floor-to-ceiling windows for a great view and lots of natural light.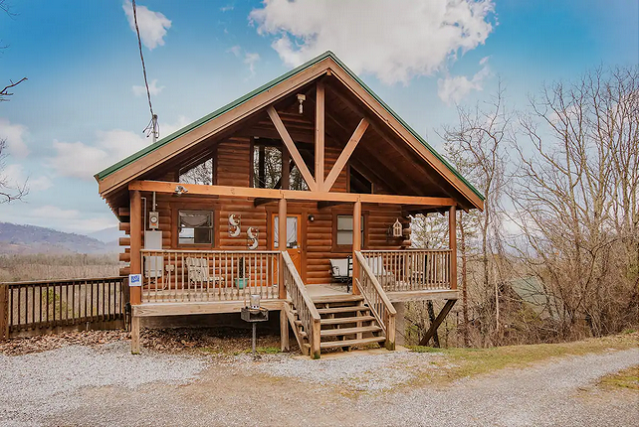 It also features two king-sized beds, jacuzzi tubs in each bedroom, and a pool table. Outside, you can relax in the swing or in the hot tub, all while taking in the grandeur of the mountain scenery surrounding you.
"Hooked On The River" Pigeon Forge Cabin
Enjoy all that this beautiful riverside cabin has to offer. Situated on the banks of the Little Pigeon River, you'll be able to take part in many fun activities. Try your hand at fishing, go for a splash or hop in the hammock, and take in the sights and sounds of the river. Gather the family around the firepit or enjoy an outdoor meal at the picnic table.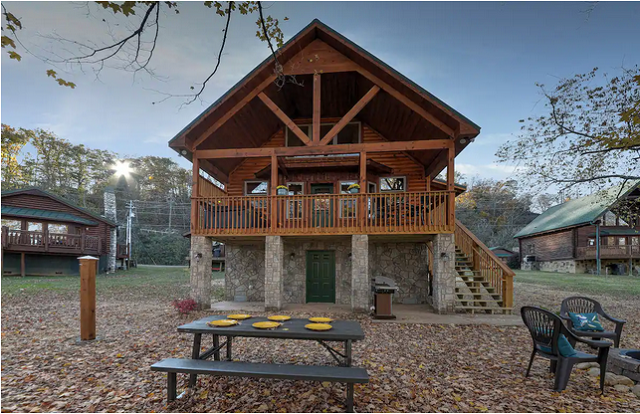 Inside, the bright, airy atmosphere will put a smile on your face. You'll have access to a spacious living area, full kitchen, and sleeping arrangements for up to 6 guests.
"Charming Haven" Cabin
True to its name, this amazing cabin will be your haven, away from the hustle and bustle of everyday life. The cozy interior features a wonderful, open floor plan, with a game room, living area, and kitchen.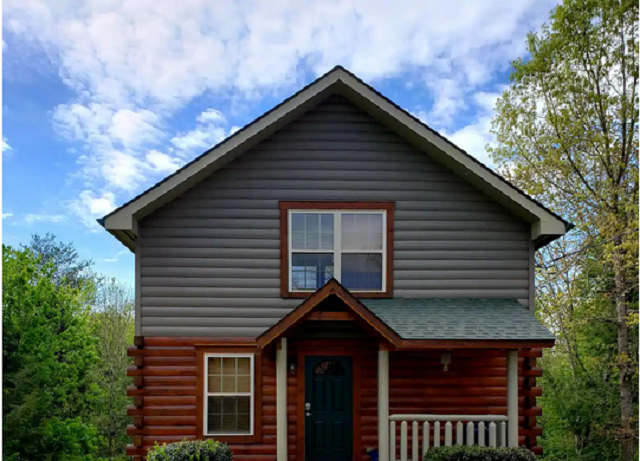 Then, make your way up to the lofted bedroom, where you'll find a plush king-sized bed and a romantic, heart-shaped jacuzzi tub. If you prefer to take in the view while relaxing, you can head outside to the hot tub, or cuddle up on the glider and watch a sunset.
"Charming Haven" Cabin
Find your home away from home at this incredible cabin. Conveniently located to many nearby Pigeon Forge attractions, you'll have plenty to explore and enjoy while staying here. The cabin itself features accommodations for up to 6 guests. The cozy interior mixes rustic décor with luxurious flair, including comfy leather couches in the living room, a fully stocked kitchen, and a hot tub.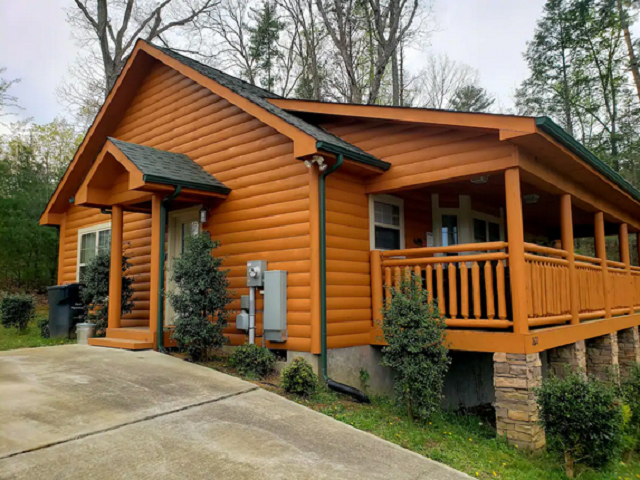 Additionally, you'll have an electric fireplace, an arcade table, and a jacuzzi at your disposal. Don't miss out on a chance to experience all this wonderful cabin has to offer.
Crystal View 2 Bedroom Cabin
For your next couple's weekend, this cabin will provide you and your loved one with everything you need and more. With a fantastic view overlooking the majestic Smoky Mountains, you may spend as much time out on the deck as inside. You can take in the scenery from the comfort of the rocking chairs, or while soaking in the hot tub.
Then, once inside, you can utilize all the various amenities of the cabin. You'll have a jacuzzi tub in the master bedroom, a sleek, modern kitchen, and even a game room, complete with foosball and pool tables.