Whether you are planning a trip as a couple or with the whole family, the stunning Yosemite Park is a fantastic idea. With gracious waterfalls and impressive canyons, towering redwood trees, and many natural wonders, Yosemite offers the ideal scenario to take a break from the bustle of your city and the daily routine.
Besides admiring the stunning natural scenery, while soaking in the peaceful atmosphere of the Sierra Nevada Mountains and adventuring into mountain biking, fishing, or hiking, you can also spot diverse native wildlife around every corner of this breathtaking park.
And, to completely reconnect with Mother Nature, ditch the hotel for a glamping adventure. With some excellent accommodation options, glamping in the beautiful Yosemite Park is now a bucket list experience for many. To help you plan your adventurous escapade, here are some of the best glamping spots in Yosemite.
Glamping in Tiny Homes
Solo travelers and romantic couples who love simplicity and nature can enjoy Yosemite from the comfort of their tiny vacation homes. There are some fantastic options available on Airbnb, and they promise a memorable, simple stay in the middle of nature.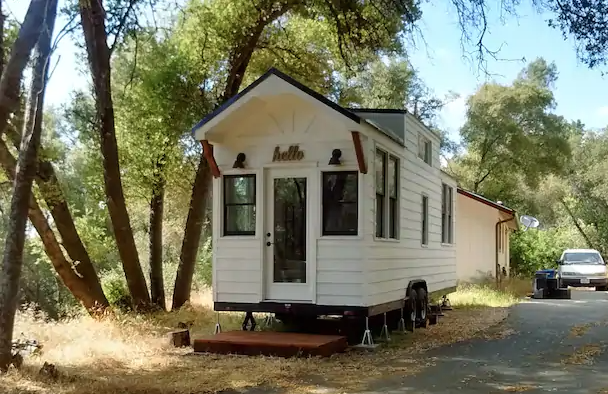 Only 30 minutes from the South entrance of Yosemite, in the delightful town of Oakhurst, you can find, a gorgeous minimalist tiny house parked right next to the owners' house, where they live with two rescue llamas. With a well-equipped bathroom and a warm bedroom featuring a comfortable queen bed, the house is a statement of simplicity, offering guests the necessary basics, all in great comfort.
Created to be enjoyed as a quiet retreat spot while exploring the impressive surroundings, the Bass Lake tiny house supports three charities, as 5% of the proceeds from the listing go to Thistle Farms, Equal Justice Initiative, and Charity Waters.
Another adorable micro cabin, perfect for solo travelers or couples, can be found in the Western Sierra foothills, 20 miles from the Yosemite Park South Gate. Among the amenities, you will enjoy climate control, a perfect queen bed, and a mini-fridge. While there are no cooking facilities or other amenities available for larger cabins, and the park restrooms are a short walk away, this tiny accommodation is a great option for people who love nature and want to get close to its wonders.
RV Glamping at Yosemite
If spending your vacation in a tiny home is not your cup of tea, maybe stepping back in time and enjoying the simple life of a travel trailer is. Luckily, Airbnb hosts a few great RV Glamping options.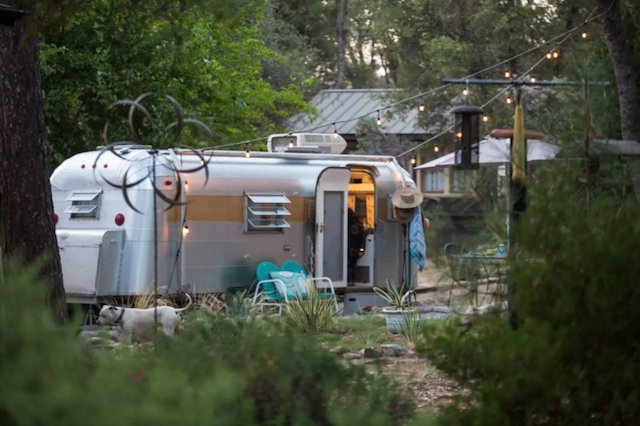 The 24-foot Silver Streak Vintage Sabre travel trailer is located two miles from the town of Oakhurst, the gorgeous gateway to Yosemite National Park. The trailer sits among tall pines and oaks, on a private, fenced 2.5-acre wonderland, only 30 minutes from the park's south gate and the Giant Sequoia.
A kitchen table that converts to a double bed, a well-equipped bathroom, and a gravel deck with propane grill just outside, are some of the trailer's amenities guests love. Also, the RV is surrounded by walking paths, a meditation garden, a queen-sized outdoor bed under the oaks, and much more.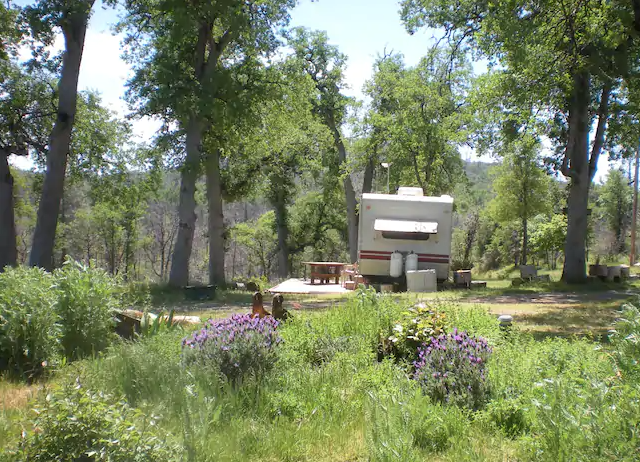 Located in Sierra Ranch, 35 miles from the opening of Yosemite Park, in a peaceful and rural area, another welcoming camp trailer awaits nature lovers and romantic couples. Running warm water, outside propane grill, and a solar shower, are some of the amenities of this cool RV that promise to make your stay cozy and comfortable. Also, keep in mind that it is tiny, but it hosts four people if you are very good friends.
If vintage is your cup of tea, look no further than this 1998 Airstream, a 28-foot Excella, located 20 miles from the South Gate of Yosemite National Park, in a gorgeous wooded neighborhood, bordering the Sierra National Forest.
With an interior that has all of the amenities of a home, on a smaller scale, of course, the Airstream promises you the most comfortable stay. And with the outdoor area so fancy that it looks like a lovely private yard, with an outdoor gas BBQ, a fire pit, and a comfortable hammock, the 1998 Airstream provides a memorable glampground.
Meanwhile, animal lovers who want to experience farm life can enjoy glamping with the goats at Tattered Farms, a 20-acre working goat milk soap farm, nestled in the oak trees of Madera County foothills, very close to Yosemite and Bass Lake.
The 30 foot RV with two slide outs is fully equipped, has a gorgeous outside area, and spectacular views, and it is surrounded by dairy Doats, Boer goats, cows, chickens, horses, and a mini horse named Dixie.
AutoCamp Yosemite is another great RV glamping options, located just a 3-hour drive from San Francisco, California. Offering travelers amazing design-forward accommodations in nature, AutoCamp Yosemite exists to inspire a deep connection with each other and nature through memorable outdoor experiences. Fully appointed AutoCamp Suites, luxurious canvas tents, thoughtful accessible units all with plush, modern interiors, and many other surprises are waiting for you at this perfect glamping spot.
Cozy Yosemite Cabins
If you love nature, but you are also fond of the comfort of your own home, maybe staying in a warm cabin while exploring Yosemite is a good idea.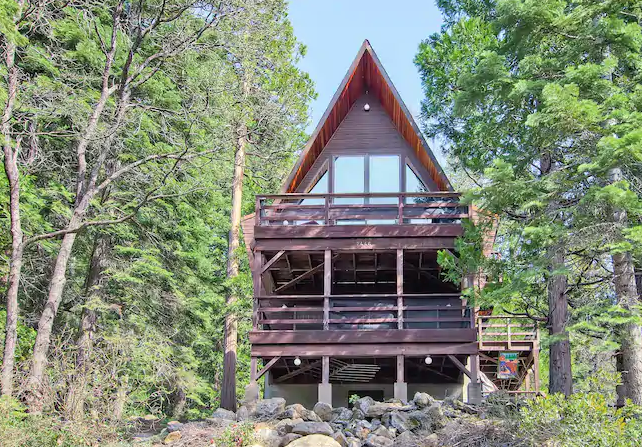 Yosemite's Stoneoaks Cabin, an A-frame mountain home hand-built in the late 70s, welcomes up to eight guests with 2,100 square feet on three levels, three bedrooms, three bathrooms, a small but fully equipped kitchen, and a large dining table for gatherings.
The interior of this delightful cabin is all wood, reflecting the warmth and rustic vibe of the Yosemite experience. Meanwhile, magnificent views offer a memorable daytime panorama of the Sierras and unforgettable sunset landscapes.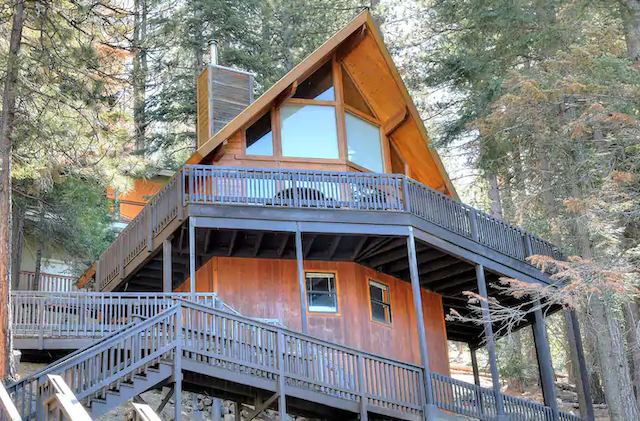 Featuring excellent views and a fantastic location, nestled high in the treetops overlooking Yosemite National Park, the lovely treetop cabin welcomes you with two bedrooms and three bathrooms, a fully equipped kitchen, and incredible mountain and sunset views. It undoubtedly makes a great base while you explore the jaw-dropping Yosemite Park.
Also promising less hustle and bustle, the idyllic Yosemite RV Resort is a camping getaway that welcomes guests with peace, relaxation, and breathtaking acres of rolling hills, oaks, manzanitas, cascading waterfalls, a large pool, horseshoe pits, and many surprises. The resort offers unparalleled sites for both the modern and traditional camper. So, tents, yurts, cottages, and RVs are waiting for you at Yosemite RV Resort.
Unique Glamping Accommodations
Whether you are planning your honeymoon or the yearly romantic getaway, a unique accommodation can enhance your whole experience. If, for instance, you are looking for a secluded property, where you can enjoy each other's company in peace, Yosemite Shuteye promises the most private, romantic escapade.
Sitting under a canopy of black oak and ponderosa pine, the comfy, sparkling clean, and artsy yurt is connected by cedar decking to a hand-hewn cookhouse with an airy bath and a fully equipped kitchen. Complete comfort, romance, wildlife at your door, the fresh mountain breeze, and Yosemite Park just around the corner, are some of the things you can enjoy while staying at the gorgeous Shuteye yurt.
Yosemite Pines RV Resort is another great choice for travelers who seek less usual places to stay. Located almost 22 miles from the west entrance of Yosemite National Park, this stunning rustic resort welcomes guests with charming woodsy log cabins, retro trailers, and romantic yurts. Among the amenities, you will find a barbecue and picnic area, an outdoor pool, laundry facilities, as well as a general store and a deli.
Known as Half Dome Village between 2016 and 2019, Curry Village or Camp Curry is another unique accommodation in the Yosemite Park option. Located in a superb spot, right below Half Dome and Glacier Point, Curry Village features cozy cabins, quirky canvas tent cabins, as well as standard hostel rooms, promising to satisfy the desires of all kinds of travelers.