There are few places as stunningly beautiful in their natural scenery as Scotland. With rugged shorelines, wide-open expanses, soaring mountains, and placid lakes, this country is truly an explorer's paradise. But just because you want to experience nature and see the sights, doesn't mean you have to sacrifice the luxuries and modern conveniences you've come to know and love. When it comes to combining the splendor of nature with the comforts of modern society, this list of Scotland glamping locations includes only the best of the best.
The Little Skye Bothy
Take in the majesty of Scotland's mountains and lakes at this cozy glamping pod. The pod-like structure offers a unique take on the tiny home model. The wide, circular front door offers a wonderful view out onto the nearby lake and the mountains in the distance. Watch the sunset from the porch, enjoy the sunrise from the comfy double bed or just lounge on the sofa. You'll also have access to a full bathroom and kitchenette space.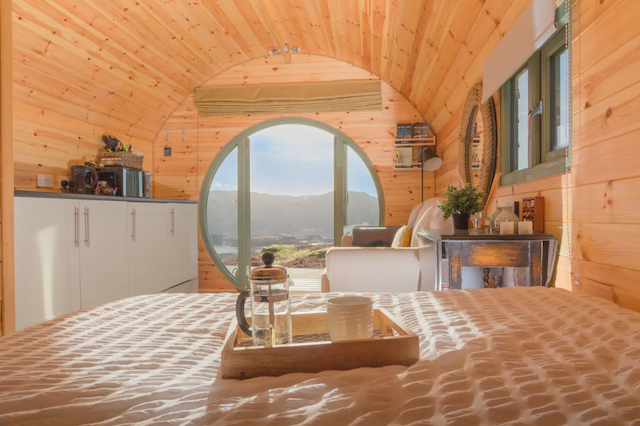 Blue Moon Glamping Studio In Skye
With an unbeatable view, this studio-style cabin offers an experience that is not to be missed. Settled on a ridge above the water, you may be too distracted by the fantastic scenery to do anything else. The accommodations are top-notch, featuring bright and modern interior design and wide windows, giving unobscured views. You'll also find a king-sized bed, full bath with walk-in shower, kitchen, and even a wood-burning stove for chilly nights.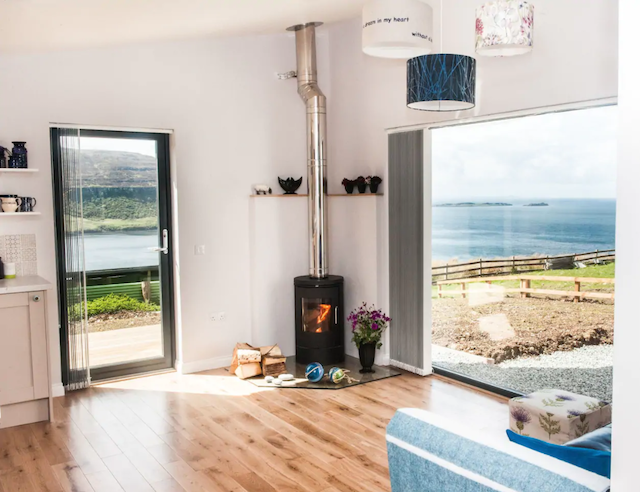 Weaver's Cottage Beach Getaway
Let the sight and sound of the waves soothe you at this charming glamping beachfront cottage. Its classic, quaint design hides a cheerful and spacious interior. You'll find a cozy sitting area with a wood-burning stove, a fully stocked kitchen ready to go, and a loft-style sleeping area with a plush king-sized bed. Outside, you'll have a private patio with seating and a picnic table, so you can enjoy your meals with a side helping of gorgeous scenery.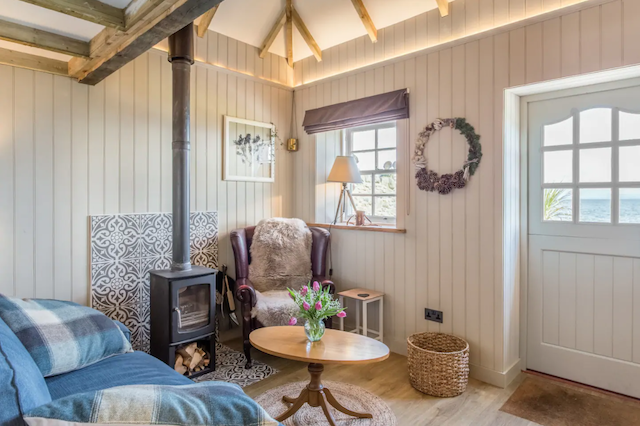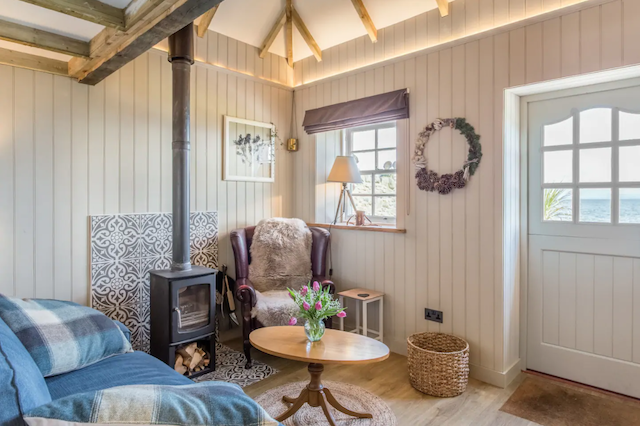 Unique and Secluded AirShip with Breathtaking Highland Views
Take to the skies without ever leaving the ground in this one-of-a-kind glamping airship. Its creative airship design will immediately catch your eye. The steel-and-wood interior is both sleek and welcoming. The living room area features an all-glass nook that truly makes you feel like a pilot. You'll also have all the amenities you need at hand, including a kitchen, full bathroom, lounge area, queen-sized bed with porthole windows, and a private deck for watching the sunset over the lake.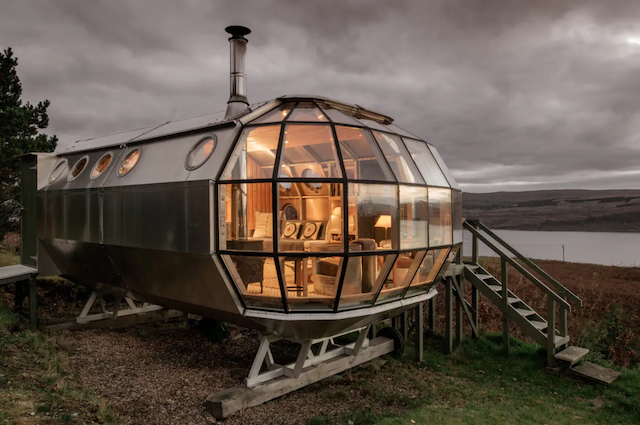 Luxury Lakeside Glamping Pod With Hot Tub
Live big in this tiny house-style glamping pod. Situated among tranquil fishing ponds, you'll be instantly charmed by this wonderful cabin. Though small, you'll have all the space and amenities you require. The living room has a comfy couch and tall ceilings. A lofted bedroom features a king-sized bed. You'll also have access to a full bathroom, kitchen, and a hot tub. Let the clean, airy décor and peaceful view relax you at this lovely glamping destination.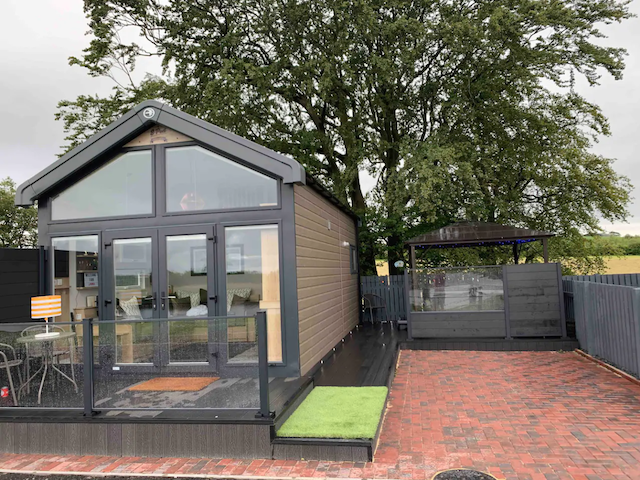 Luxury Glamping Pod Near Fort William
This intimate glamping pod offers a cozy experience with a splash of extravagance. Its compact, curved roof design and garden-side location make for a quaint first impression, but don't let that fool you. Once inside, you'll find all the comforts you require. The bright wood interior is contrasted nicely with splashes of royal purple accents. You'll have access to a double bed, kitchenette with microwave, fridge, and kettle, as well as a full bathroom and a lounge area. Outside, enjoy the beautiful garden view or head out to explore all that the Highlands of Scotland has to offer.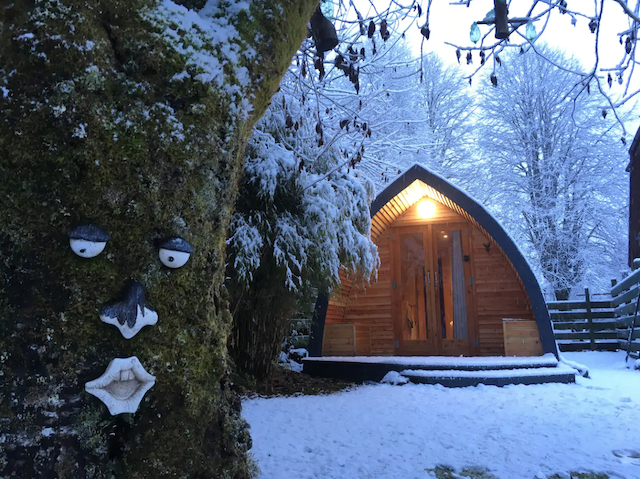 Loch Tay Hidden Garden Glamping Pods
Nestled away among a sea of flowers, these lovely glamping pods are exactly what you need for a peaceful getaway. Their charming design offers plenty of comfort and convenience. Outside, you'll be able to wander among the gardens, taking in the colorful flowers and the fresh air. Inside, all the features you desire are at your disposal. A comfy double bed, a seating area with striking red-and-white décor, a full bathroom, and a kitchenette with fridge, toaster, and kettle.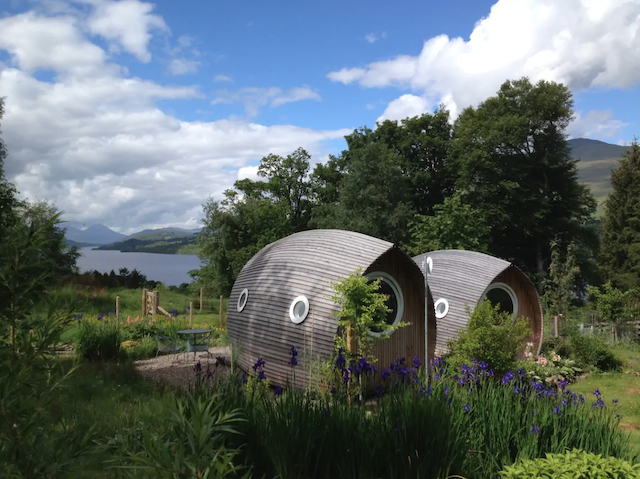 Hobbit Hideaway Glamping Earth Homes
For a magical and environmentally friendly getaway, this glamping spot can't be beaten. True to its namesake, this unique cabin features a design based on all-natural materials, utilizing as many green-friendly methods as possible. While its exterior may be charming, the interior is like walking into a dream. The décor and open layout offer a fantastic atmosphere, and the accommodations are equally wonderful, including a double bed and bunk beds, full kitchen, bathroom, and a cozy sofa nook next to the wood-burning stove.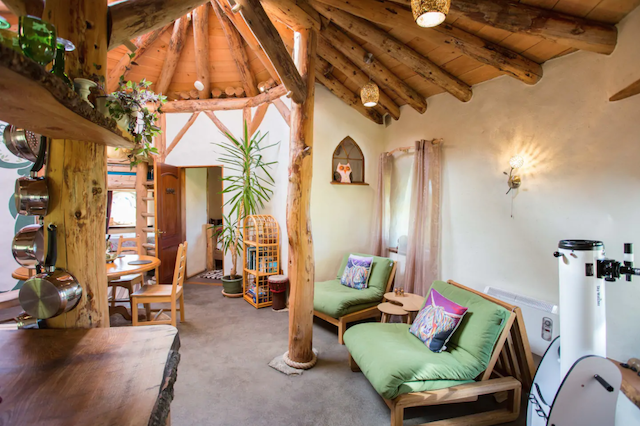 Lochside Glamping Goundhouse
If you're looking for glamping in Scotland with a view, this cabin has you covered. This roundhouse is tucked away next to a gorgeous lake, and the panoramic windows offer unobstructed views of the surrounding countryside. Watch the sunset and wake to the sunrise without missing a single second of the spectacular scenery. The accommodations include a kitchen, full bath, sofa/double bed, and a dining area. For comfort and serenity—both inside and outside—pay this amazing glamping location a visit.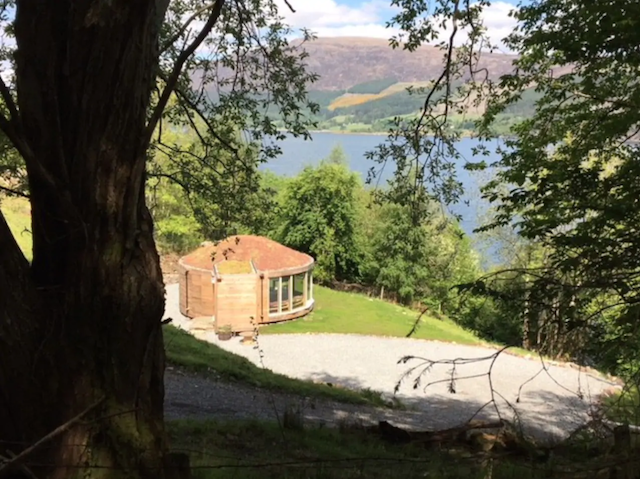 The Shepherdess's Bothy
Feel free to bring your furry friend along for the glamping trip to this lovely seaside cottage. Perched above the Aberdeenshire coastline, you'll have an unbelievable view of the sea from the floor to ceiling window in the sitting area. A lofted king-sized bed offers unsurpassed comfort. You'll also have access to a kitchenette and a full bathroom. Enjoy the scenery, wander the coastline with your four-legged companion, and maybe catch sight of some seals at this terrific cabin.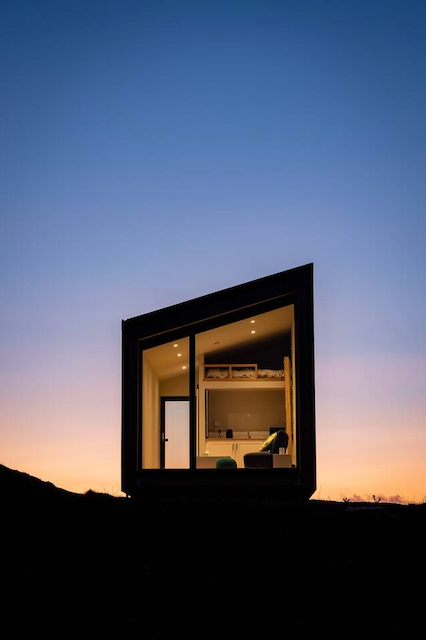 Lazybed Cabin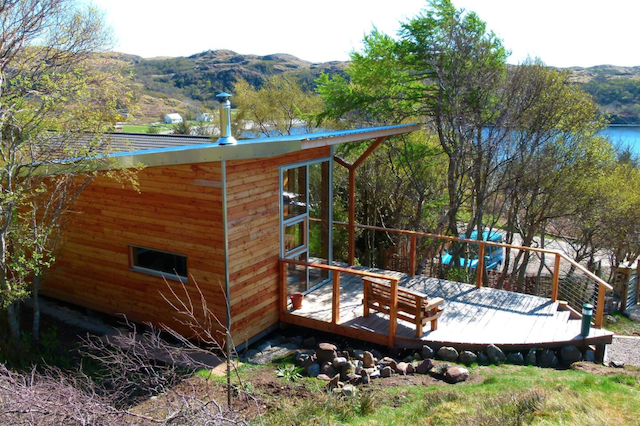 This intimate tiny house will provide all the comfort and seclusion you want on your Scotland glamping vacation. With a spacious deck, wide front windows, and a striking sloped roof design, you'll feel like you're staying in a cabin twice as big. A cozy sitting area, sleek kitchen, full bathroom, and a king-sized bed complete the impressive accommodations. Whether you're looking for adventure out in the Scottish wilderness, or simply seeking some peace and quiet, this cabin is the choice for you.
Cairn Glamping Pod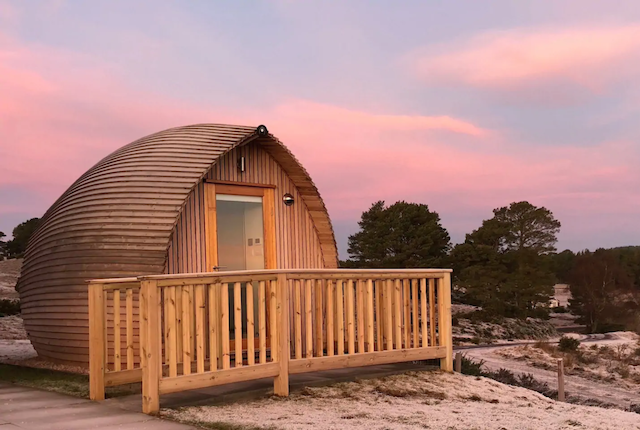 Find your home away from home at this wonderful glamping pod. Its convenient location makes exploring the Scottish Highlands a breeze, encouraging you to see all that this beautiful country has to offer. The accommodations include a convertible 2 twin/double bed, full bathroom with underfloor heating, kitchenette with microwave, fridge, and kettle, and even an outdoor gas barbecue. Enjoy the view, head out into nature, or simply relax at this lovely cabin.
Glamping Yurt in Stunning Highland Setting.
Let nature come to you in this enchanting yurt. Set in the middle of a lovely garden, you'll also be just a short distance from Loch Earn, where swimming and paddleboarding in the calm waters are highly encouraged. The yurt itself is cozy and colorful, with a splendid natural design sense and bright décor. It features a comfy bed and sitting area, wood-burning stove, and a domed rooftop window for gazing at the stars as you lay in bed.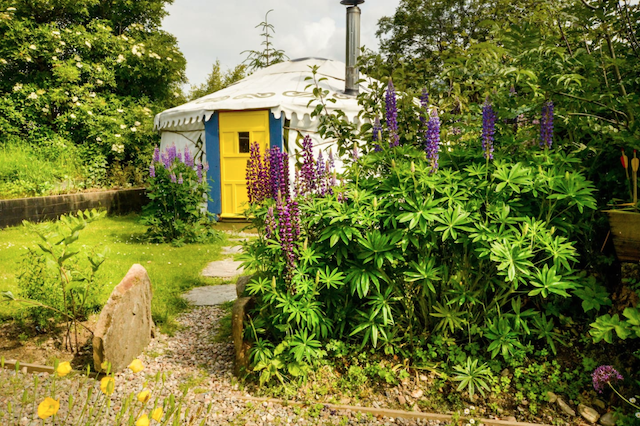 The Lily Pod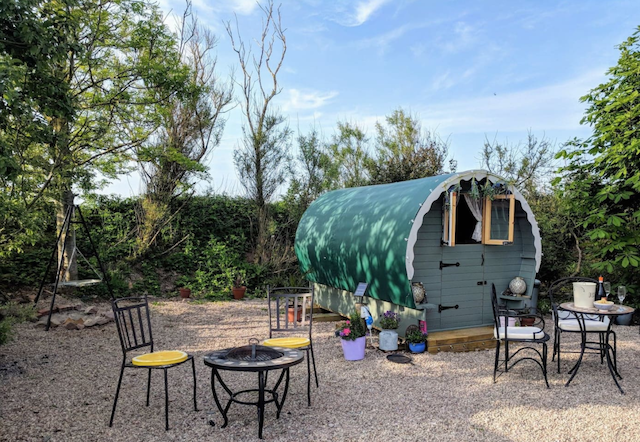 Three is always better than one at this trio of accommodations. Featuring two glamping pods and a renovated summer house, you'll have all the amenities you need for your vacation. The pods have a charming and rustic design that will put a smile on your face. The sleeping pod includes a double bed and a small kitchenette corner. The second pod features a full bathroom. And finally, a renovated summer house has a full kitchen for all your cooking needs.
Cosy Country Cabin Near Edinburgh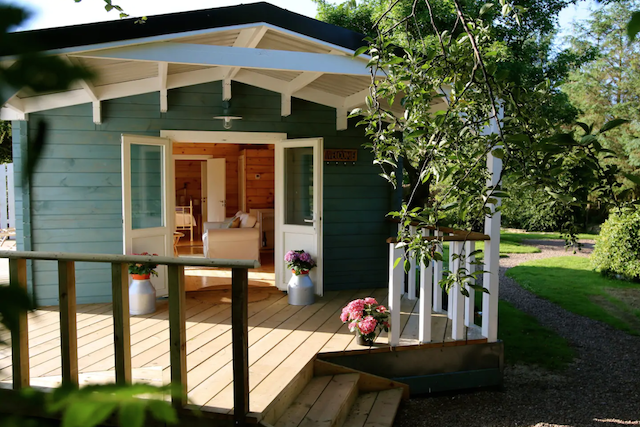 Make friends with the horses at this incredible cabin. Settled next to some friendly four-legged neighbors, you'll find both comfort and elegance. The wrap-around deck offers plenty of seating and a view of the surrounding countryside. Inside, the spacious living and kitchen area is lit with ample natural light from the large windows. The bedroom is lush and features a bright and airy design sense. You'll also find an en suite bathroom and an "upcycled" 70's television.
Luxury Lakeside Glamping Pod With Hot Tub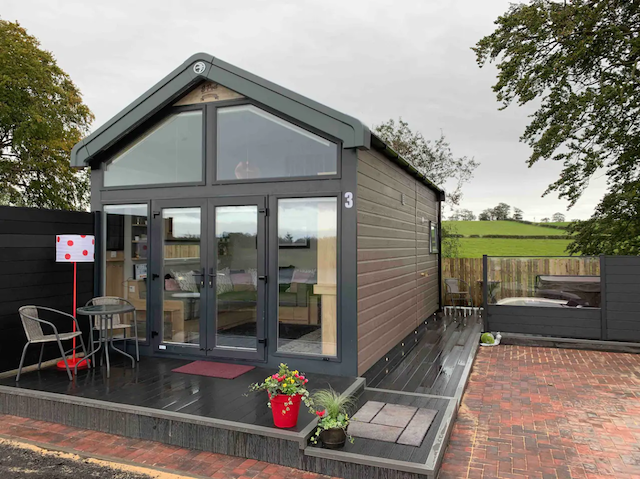 You'll find both class and convenience at this pod-style glamping spot. It features a well-appointed seating area, lofted sleeping area with wide windows and a king-sized bed, a full kitchen, a fireplace, and a full bathroom. You can relax in the hot tub after a full day of exploring Scotland, snuggle up with a good book on the spacious sofa, or sit out on the deck and watch the stars at night.