With such attractions as Dollywood and the Smoky Mountain Opry, Pigeon Forge is a vacation destination that is not to be missed. And for the nature-lovers out there, of course, there is plenty of outdoor fun to be had as well. If you're thinking about making Pigeon Forge your next family retreat or couple's getaway, these cabins will turn a great vacation into an unforgettable one.
"Tennessee Dreams" 2 Bedroom Cabin
If you've been searching for a cabin with both charm and extravagance, this one is for you. The interior exudes a warm, homey atmosphere, allowing you to relax in comfort from the moment you step in the door. The two cozy bedrooms feature a king-sized bed for mom and dad, and a bunk bed for the kids.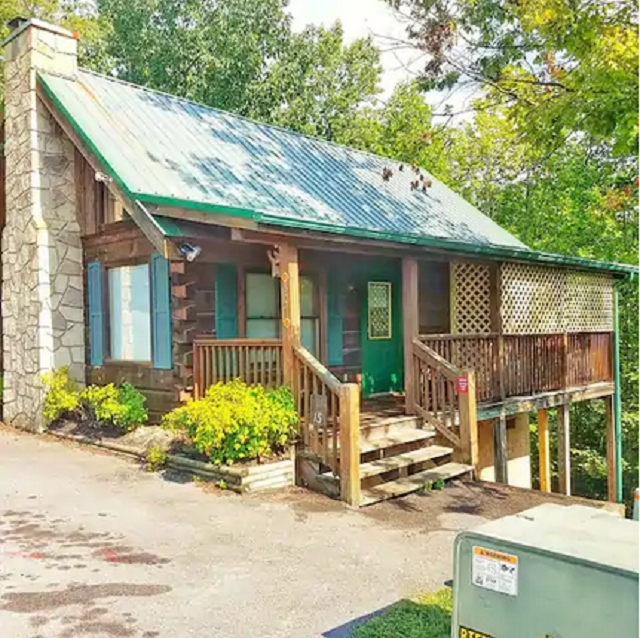 You can snuggle up next to the fireplace, or head outside for a dip in the hot tub. Finally, you'll also have access to a pool, perfect for fun under the sun.
"Moon Shadow" Cabin Minutes to Pigeon Forge Attractions
This intimate yet spacious cabin is ideal for a romantic weekend getaway. You'll have an authentic log cabin experience, without missing out on any modern comforts. The vaulted ceilings and open living/kitchen/dining area create a welcoming atmosphere. Additionally, you'll find a king-sized bed and a jacuzzi tub in the master bedroom.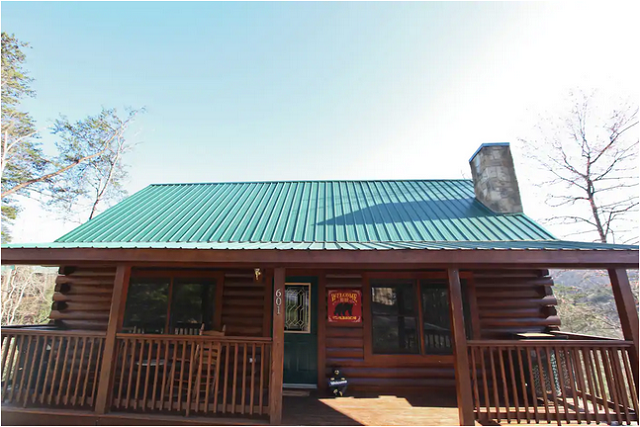 Outside, hop in the hot tub to unwind or head to the pool instead. And of course, you'll have easy access to all that Pigeon Forge has to offer.
"Autumn Breeze" Cabin
Make your next Pigeon Forge vacation an unforgettable one at this magical cabin. A lovely garden surrounds the front porch, where you can relax on the swing and let the peace and calm wash over you. Inside, you'll find a comfy aura with lots of woodsy décor.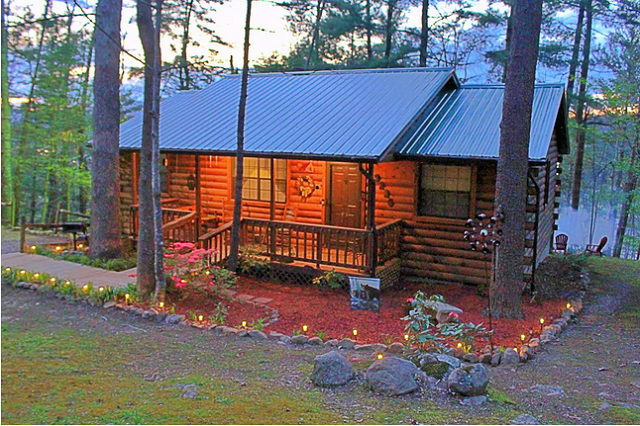 The open dining and living area provides plenty of space for the whole family. Both the bedrooms feature king-sized beds, jacuzzi tubs and full baths. After you've had a full day of exploring Pigeon Forge, you can gather around the firepit for smores under the stars.
Crimson Moon Lodge – 2 Bedroom Rustic Cabin
Indulge in the splendor of the Smoky Mountains at this luxurious cabin. Three floors of comfort not only offer you plenty of room and amenities, but also spectacular views. The living and dining room, in particular, features floor-to-ceiling windows for a great view and lots of natural light.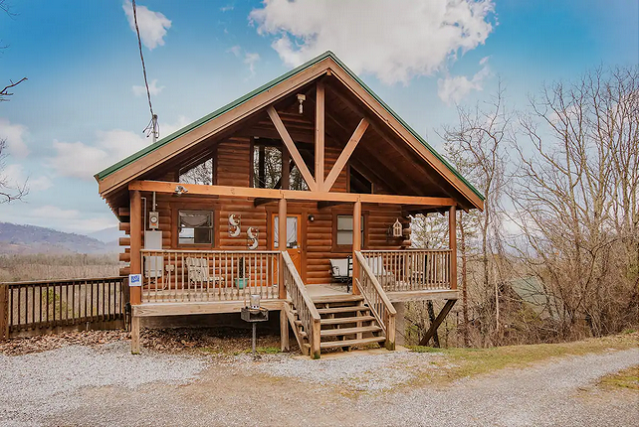 It also features two king-sized beds, jacuzzi tubs in each bedroom, and a pool table. Outside, you can relax in the swing or in the hot tub, all while taking in the grandeur of the mountain scenery surrounding you.
"Hooked On The River" Pigeon Forge Cabin
Enjoy all that this beautiful riverside cabin has to offer. Situated on the banks of the Little Pigeon River, you'll be able to take part in many fun activities. Try your hand at fishing, go for a splash or hop in the hammock, and take in the sights and sounds of the river. Gather the family around the firepit or enjoy an outdoor meal at the picnic table.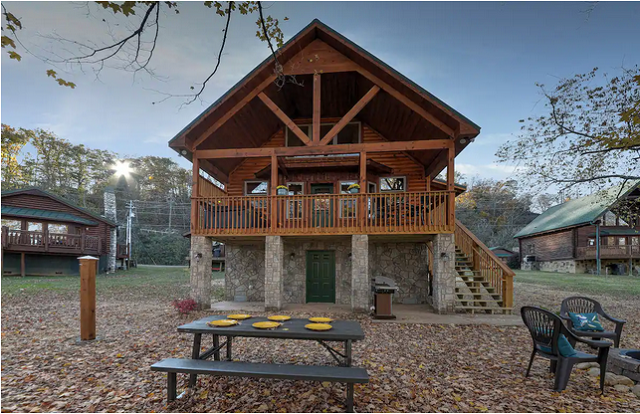 Inside, the bright, airy atmosphere will put a smile on your face. You'll have access to a spacious living area, full kitchen, and sleeping arrangements for up to 6 guests.
"Charming Haven" Cabin
True to its name, this amazing cabin will be your haven, away from the hustle and bustle of everyday life. The cozy interior features a wonderful, open floor plan, with a game room, living area, and kitchen.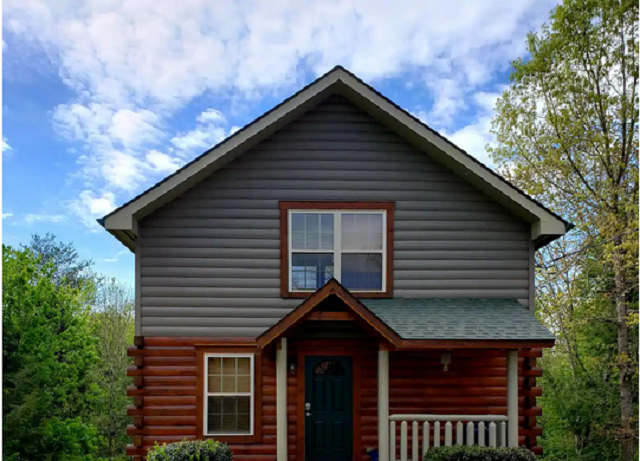 Then, make your way up to the lofted bedroom, where you'll find a plush king-sized bed and a romantic, heart-shaped jacuzzi tub. If you prefer to take in the view while relaxing, you can head outside to the hot tub, or cuddle up on the glider and watch a sunset.
"Charming Haven" Cabin
Find your home away from home at this incredible cabin. Conveniently located to many nearby Pigeon Forge attractions, you'll have plenty to explore and enjoy while staying here. The cabin itself features accommodations for up to 6 guests. The cozy interior mixes rustic décor with luxurious flair, including comfy leather couches in the living room, a fully stocked kitchen, and a hot tub.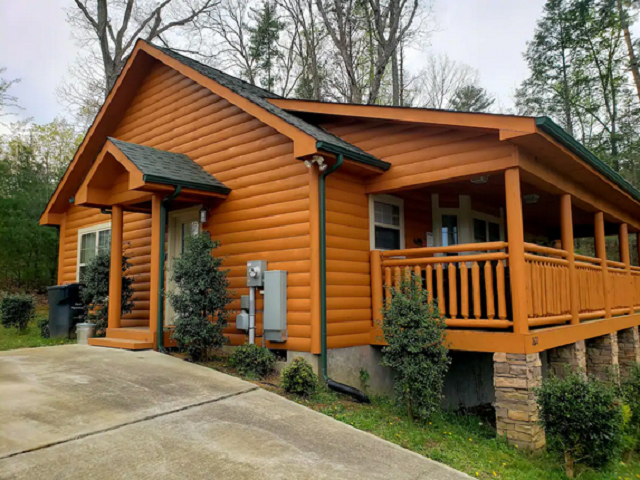 Additionally, you'll have an electric fireplace, an arcade table, and a jacuzzi at your disposal. Don't miss out on a chance to experience all this wonderful cabin has to offer.
Crystal View 2 Bedroom Cabin
For your next couple's weekend, this cabin will provide you and your loved one with everything you need and more. With a fantastic view overlooking the majestic Smoky Mountains, you may spend as much time out on the deck as inside. You can take in the scenery from the comfort of the rocking chairs, or while soaking in the hot tub.
Then, once inside, you can utilize all the various amenities of the cabin. You'll have a jacuzzi tub in the master bedroom, a sleek, modern kitchen, and even a game room, complete with foosball and pool tables.
1 Bedroom Cabin in Bear Creek Crossing Resort
Entertainment and comfort combine to make this cabin a one-of-a-kind experience. Nestled next to a serene creek, you'll have the beauty of nature at your doorstep and the enjoyment of Pigeon Forge just minutes away. Inside, you'll love the rustic style and modern amenities.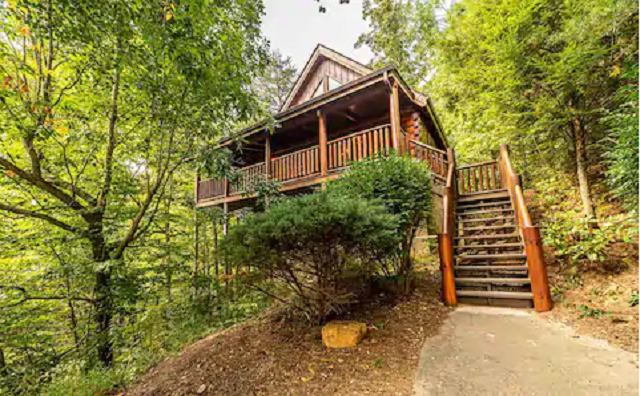 The open concept living/dining/kitchen area makes for a very cozy atmosphere. The master bedroom comes complete with a king-sized bed and its own fireplace. Once you've had your fill exploring Dollywood, come back to the endless relaxation available at this splendid cabin.
1 Bedroom Pigeon Forge Cabin With Hot Tub
Tucked away amid the trees, this secluded cabin is a wonderful destination for you and your special someone. Let the peace and quiet of the forest envelop you. Take in the view from the ample seating or the hot tub on the back porch. The quaint interior features touch of modern style amid the rustic décor.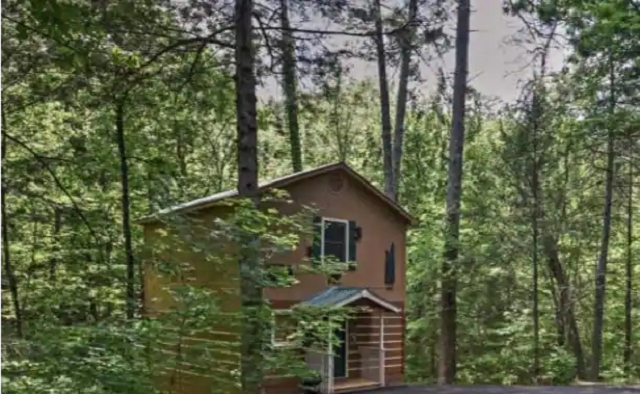 The master bedroom includes a well-appointed king-sized bed, a jacuzzi tub and even a pool table. Snuggle up next to the fireplace with a glass of wine, or cook your partner a romantic meal in the snazzy kitchen.
"Bear Bottoms" One Bedroom Cabin
The bears will welcome you home to this charming cabin. Filled with bear-themed décor, this lovely, three-floor cabin offers you a fantastic view of the Smoky Mountains. Amenities include two plush, queen-sized beds, a full kitchen, a comfy living area, and an arcade cabinet.
Two nearby community swimming pools are available for use as well. Whether you're looking to enjoy all of Pigeon Forge's many attractions, or simply want a place to kick back and enjoy the scenery, this cabin has you covered.
Studio Cabin with Hot Tub
Make some memories with your loved one at this romantic cabin. With its convenient yet secluded location, you won't have to skimp on the comforts while enjoying the peace and solitude you desire. The studio-style layout of the cabin is perfect for a couple's weekend getaway.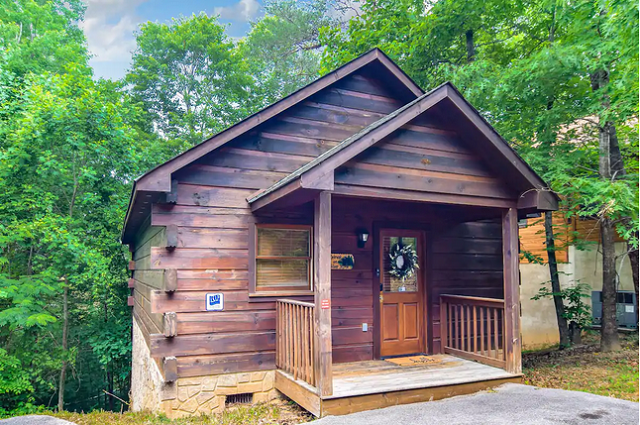 It features a lovely fireplace surrounded by leather couches, a king-sized bed, a full kitchen and dining area, and a jacuzzi tub. High ceilings and large windows let nature come to you, in addition to all the natural light.
"Buck Wild" 1 Bedroom Cabin
For a chic, modern take on the classic cabin, this amazing Pigeon Forge destination can't be beaten. Snazzy touches of décor mesh beautifully with the rustic elements, creating a bright and relaxing atmosphere. The open floor plan allows easy access to the lush living area, kitchen, and dining areas.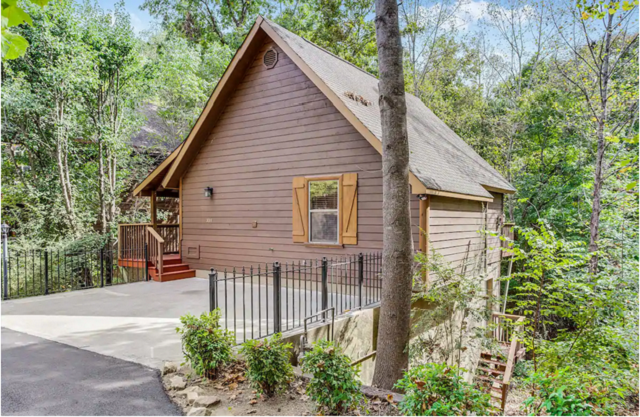 Outside, there is plenty of seating, giving you a chance to soak up the sun and enjoy the wonders of nature surrounding you. And of course, you'll be able to experience all the fun to be had at Pigeon Forge or nearby
1 Bedroom Cabin Close To Dollywood
This superb cabin will turn your Pigeon Forge vacation into a truly special experience. Nestled among greenery, you'll feel at ease here. The interior is warm and inviting and features all the comforts you'd expect. The king-sized bed is plush, the couches are luxurious, and the kitchen is fully stocked.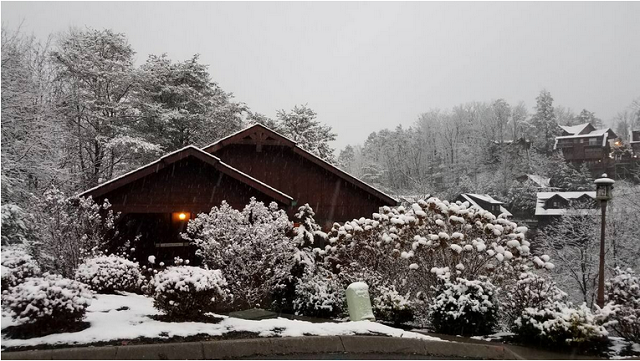 Additionally, you'll have a private hot tub on the back porch, and a nearby community pool for use as well. If you've been searching for a getaway location that will fulfill your every need, you won't have to look any further than this awesome cabin.
Cozy One Bedroom Cabin With Hot Tub & View
Drink in the awe-inspiring scenery from this fantastic cabin. Perched above a splendid view of the Smoky Mountains, you may spend more time rocking away on your back porch than exploring Pigeon Forge. Once you've had your fill of sightseeing, you can relax in the hot tub, or head inside to experience the wonderful amenities.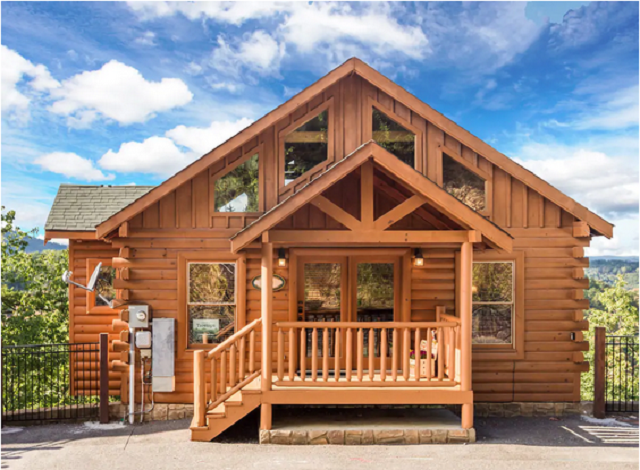 A pleasant electric fireplace is perfect for cozying up to in any season. The king-sized bed is comfy and ideal for sinking into after a long day of fun. Additionally, you'll have access to a jacuzzi tub, full kitchen and dining area, and all the attractions of Pigeon Forge.
Striking 2 Bedroom Cabin with a Hot Tub and Mountain Views
Let all your stress and worry melt away when you visit this jaw-dropping cabin. Floor-to-ceiling windows and high ceilings allow for tons of natural light and splendid views of the surrounding countryside. Two king-sized beds await you after your adventures outdoors.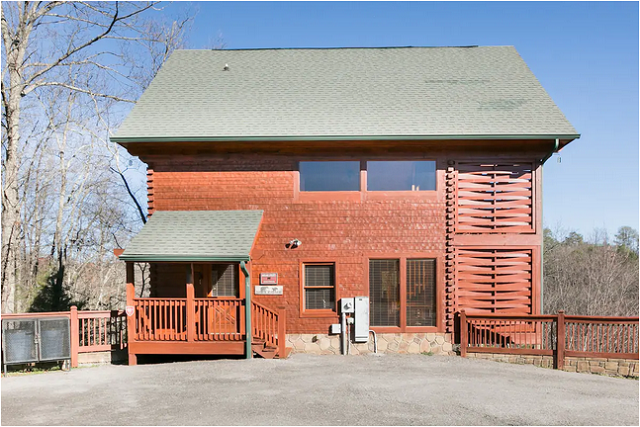 Take the lovely spiral staircase up to the recreation room, where you can challenge your friends, family or loved one to a game of pool. Outside on the deck, you can take in the scenery from the hot tub, or while relaxing with a cup of coffee to watch the stars come out.
Things to do in Pigeon Forge
At Pigeon Forge, there is fun to be had for the whole family. For those who love the outdoors, embark on an adventure through the Smoky Mountains and enjoy a picnic from up high. If altitude isn't for you, there are beautiful parks around the city to be explored. To get that blood pumping, try out white-water rafting. Kids will love a family trip to the mini-golf course or racing their parents around a go-kart track. Simply strolling along the Parkway will bring even more opportunities for fun. Take a trip to Dollywood or Dollywood Splash, which has roller coasters that the whole family can enjoy, all against the beautiful backdrop of the Smoky Mountains.
When you are done running around town and ready to relax, head back to your cabin to enjoy your hot tub, play fun games or to roast marshmallows in the fireplace or fire pit.
When to visit Pigeon Forge
Tucked in the heart of Tennessee between the Smoky Mountains, the weather in Pigeon Forge changes year round, but anytime is a good time to visit. Each season brings its own attractions, so depending on what you want to get out of your trip, follow the seasonal changes.
Spring is when the wildflowers come out, and features a lot of local annual events. The Parkway is pumping in the summer months, with street attractions to explore with the sun on your face. For the best of the best in Smoky Mountain tours, visit Pigeon Forge in the fall when the reds and golds of fall start to show. The theatres in Pigeon Forge are specially packed in the winter months, with lots of fun holiday events also being held at this time.