Broken Bow is a beautiful destination perfect for an escape to nature. Beavers Bend provides tons of options for outdoor activities like fishing, boating, hiking, and horseback riding. Staying at one of the cabins in Broken Bow allows you to be immersed in nature while still in comfortable accommodations. Here are 30 of the top cabins in Beavers Bend State Park of any size.
Affordable Cabins Under $200/Night
Rekindle Log Cabin Next to Ouachita Forest
Rekindle Log Cabin is located on a private 2-acre lot that is backed up to the Ouachita National Forest, you will get your fill of nature. Broken Bow Lake is also extremely close; as is Beavers Bend State Park and Grateful Head Pizza. With free Wi-Fi, family board games, Roku TV, and a DVD player, you can spend lazy days lounging indoors then stargaze at night outdoors around the firepit.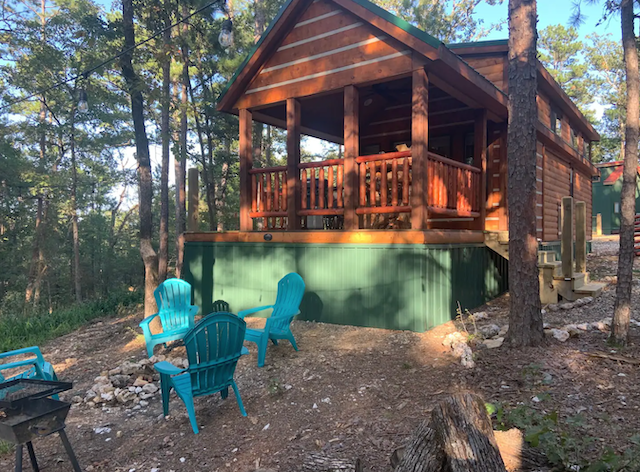 Rekindle Log Cabin is a platinum tiny house that has room to sleep 4 people. A fully stocked kitchen with full-size appliances makes sure you can enjoy your favorite meals any time.
Travelin Light Cabin with Hot Tub
Travelin' Light is the perfect spot for a small family because it's a spacious studio with a loft. A spacious king bed sits downstairs while two separate twin beds await you upstairs in the loft. Up there, you can also watch TV from above or play games as you lounge on the bean bags.
The kitchen is fully stocked with a glass cooktop oven and an automatic ice maker so you can dine comfortably on a variety of meals of your choosing. There is also a spacious hot tub as well as an outdoor TV that you can enjoy while grilling dinner and make the most of whichever space you prefer; be it indoors or outdoors.
Cloud 9 Luxury Couples Cabin Near Broken Bow Lake
Cloud 9 couples cabin sits near Broken Bow Lake and is the perfect spot to connect with nature and spend time with a loved one. Enjoy the complimentary bottle of wine when you arrive and relax with a shower then dry off with a towel from the heated towel rack.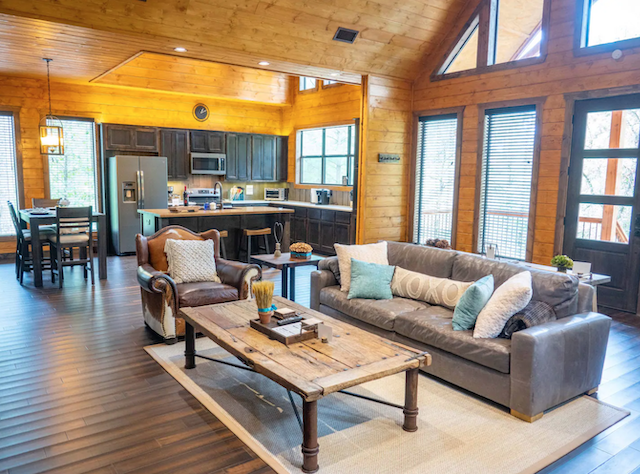 A freestanding tub, tall vaulted ceilings, large windows, and a full kitchen create the perfect romantic ambiance indoors if you choose to lounge all day. Venture outside to enjoy nature and relax in the covered hot tub after a trip to the lake. Fall in love with the beautiful surroundings and each other in this gorgeous space.
Studio Cabins for Couples
The "Oh, Dear" Broken Bow Cabin
This luxurious honeymoon suite style cabin is in the Kaniatobe Trails Area with a king-size bed and sleeper sofa. A small fee enables you to bring two pets along and order a celebration package including wine, flowers, and chocolate with advance notice.
Enjoy some entertainment in front of the large stone fireplace or the large TV over it or relax outside in front of the gas fireplace. You can also end the day by spending an evening in the hot tub after spending a day enjoying Blue Rooster, The Grateful Head, Girls Gone Wine, or any other nearby place you might choose to visit.
Charming Broken Bow Studio Cabin with Jacuzzi
This charming space aptly named the Love Nest on the Pond allows pets at a small fee so the whole family will be together if you like. Enjoy the views of the pond and fish right off your deck at this perfect spot that is secluded behind 80-foot pine trees.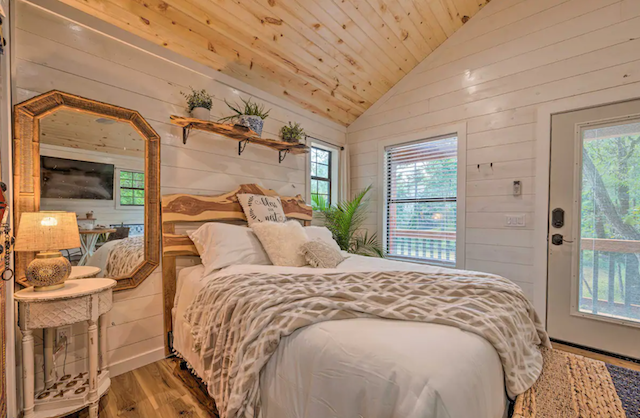 The soaring wood ceilings and heart-shaped jacuzzi provide comfort and the well-equipped kitchen grants you meal convenience beyond compare. Just a few minutes from restaurants, shopping, and Broken Bow Lake, you will be spoilt for choice at all the activities you can take part in while here.
New Honeymoon Cabin With Hot Tub in Broken Bow, Oklahoma
This romantic cabin is an ideal combination of intimate charm and rustic flair. Its studio-style floorplan is cozy yet surprisingly spacious, with high ceilings and lots of natural light. A lovely double-sided fireplace is the centerpiece of this cabin. It also features a plush king-sized bed and a full kitchen and bath with a soaking tub.
Also, you'll have access to an outdoor hot tub, porch swing, and grill. The outdoors will be just as luxurious as the indoors at this awesome cabin. Finally, the nearby attractions of Broken Bow Lake and Beavers Bend State Park offer plenty of opportunities for exploring.
First Kiss Luxury Couples Cabin With Hot Tub in Broken Bow, Oklahoma
Whether it's your honeymoon or your 50th, this cabin will make your next one unforgettable. Its bright, modern design is ideal for a romantic retreat. High ceilings and classy décor provide a wonderful atmosphere for you and your loved one.
The open kitchen/dining/living area is both spacious and comfortable. The bedroom features a soaker tub, situated next to a cozy fireplace. Outside, you'll find a lush sitting and dining area, outdoor fireplace and a hot tub. All of this, with a view of the quiet forest just behind the cabin.
1 Bedroom Broken Bow Cabins
New Modern & Rustic Cabin With Magnificent Sunrise Mountain Views
This modern cabin mixed with rustic touches is a brand new space minute away from Beavers Bend State Park that provides the perfect luxury getaway spot with views of Ouachita Forest and the Kiamichi Mountains. The gorgeous fully fitted and stocked kitchen will give you the opportunity to make your own meals and beverages to enjoy in front of the floor-to-ceiling fireplace or one of the two Smart TVs.
Relax on the large deck in the hot tub or around the fireplace then relax in the Adirondack chairs while toasting marshmallows at the fire pit. If you want the perfect romantic getaway spot, this cabin will afford you convenience and luxury to last your memories for a long time to come.
Stunning 24 Karat Cabin in Broken Bow
This stunning cabin boasts over 1200 square feet of beautiful decor and modern amenities. Walk into the bathroom for a rainfall/waterfall shower experience then access the back deck to relax at the bistro table provided. With enough room for 4 people indoors, the outdoors is also very large with over 1 acre that you have access to.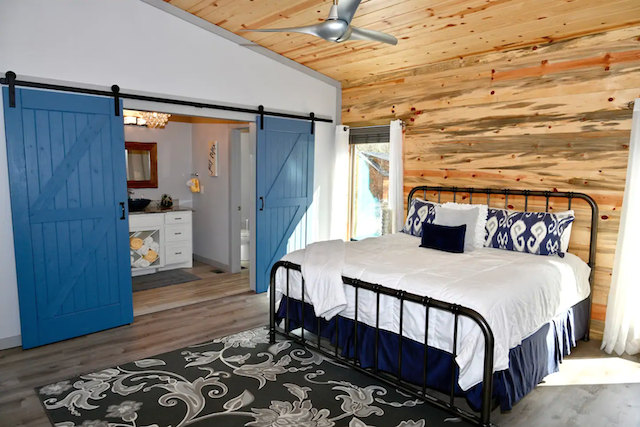 You can bring up to two dogs as long as they are under 75lbs and you will pay $50 for each so you get to spend the holiday as a full family. Relax in the hot tubs in the evening while you gaze up at the stars or prepare to roast marshmallows around the circle fire pit on the gravel yard to end the day on a wholesome note!
Luxury Strawberry Creek Cabin
This amazing vacation spot is sure to help you spark up the romance if you are coming with someone special. Located in Hochatown, you will enjoy the King-sized master ensuite bedroom, tall ceilings, beautiful windows, and a relaxing hot tub from which you can take in gorgeous views of a seasonal creek.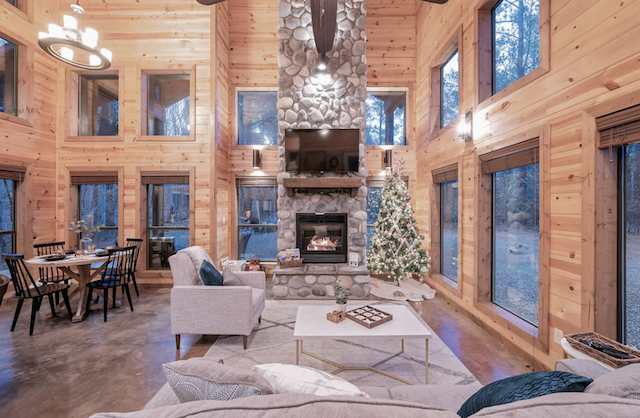 You can grill some delicacies on the porch or roast s'mores while sharing stories around the large fire pit. If you would like to check your emails or even do some work, use the high-speed internet to connect. Get washing done in the full-sized washer and dryer so that you have enough time left over to lounge in front of the 55-inch HD Smart TV.
Broken Bow Couples' Cabin With Hot Tub
Experience life among the trees at this amazing cabin. Secluded within the forests of Broken Bow, this cabin is a nature-lovers dream. The elevated deck makes for an ideal viewing spot. You can kick up your feet in the seating area, unwind in the hot tub after a day of adventuring, or grill up some food.
Then, when you've had your fill of the outdoors, the comforts inside await you. The kitchen contains all the modern details you need, and the king-sized bed is plush and perfect for a good night's sleep.
Birdhouse Luxury Couple`s Cabin With Hot Tub
For something a little more unique, this cabin offers a wonderful experience. Its unique angled architecture is immediately eye-catching. Inside, the vaulted ceilings and contemporary style create a welcoming atmosphere. You and your special someone can cozy up to the fireplace for a romantic evening, then have breakfast at the chic dining island in the kitchen.
With a combination of comfort and sleek décor, this cabin really has the best of all worlds. Other amenities include a king-sized bed, full bath and an outdoor fireplace. You won't be disappointed if you make this your next couple's getaway destination.
Magnolia Retreat Cabin in Broken Bow
Your romantic retreat should be an experience to remember, and this cabin can provide you with exactly that. Its many luxuries and cheerful interior are exactly what you need for a couple's weekend. Outside, you'll have a fire pit to make smores under the stars, and a large porch to relax on while taking in the view.
A covered porch area allows the outdoors to come indoors. It features a hot tub and a fireplace. Then, once inside, the bright atmosphere and rustic touches will charm you and your loved one. The open kitchen/dining/living area is spacious and modern, and the master bedroom features a full bath with spa tub.
2 Bedroom Broken Bow Cabins
Serene Cabin in Broken Bow, Oklahoma
If you've been looking for an authentic log cabin experience that doesn't skimp on the luxuries, look no further. Settled among the Ouachita Mountains, this gorgeous cabin offers all the modern amenities you expect for a romantic getaway, along with the beauty of nature right outside your window.
The large, wrap-around deck is the perfect place to take in the scenery. You can even take a dip in the hot tub while enjoying the view. Inside, you'll find an open and airy design that maintains the rustic charm you'd expect. You'll have both a king and a queen-sized bed, a full kitchen/dining/living area, and two full baths.
Modern Kamorebi Cabin with Hot Tub
You will love everything about Kamorebi if you enjoy great scenery be it spring or winter. The 3.5 wooded acres give the origins of its Japanese name which translates to 'sunlight through the trees'. Indoors, tall windows, high ceilings, sliding doors, and open concept living, dining, and kitchen spaces come together to create the best home away from home.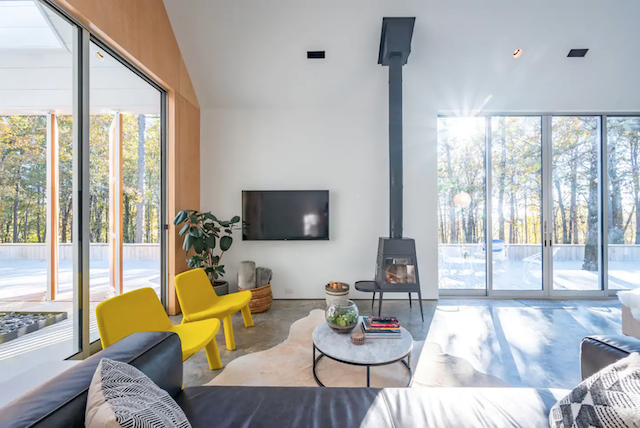 Out on the deck, a brand new round BullFrog hot tub and gas grill await so you can lounge around the property after an eventful day of hiking in the trails or fun at Broken Bow Lake so come on over and have a great vacation!
Blackberry Creek Cabin With 2 Master Suites
Blackberry Creek Cabin sits on 1.2 acres and can host up to 8 guests with 2 bedrooms and a sofa that converts to a queen sleeper. For work, you will have access to high-speed internet and a small work desk in the corner of the living room while for play, there is a 65-inch 4K UHD Smart TV where you can enjoy a family movie.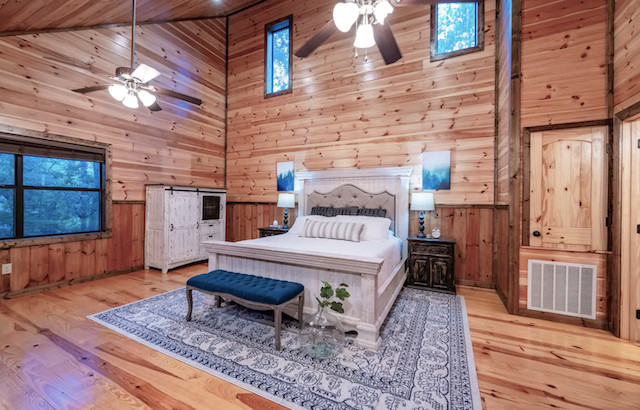 The highlight is probably the large hot tub on the huge deck that's surrounded by tall pines. Whether you are a couple or a family, you'll enjoy the amenities and spacious indoors as well as the airy and scenic outdoors. The lake provides endless more options of activities for you so whatever you decide to do whether lazy around or stay active, you will create great memories.
Out of the Blue Cabin With Hot Tub & Fire Pit
This lovely cabin; formerly Cabin Aroha, is great for both couples and families. The beautiful scenes and spaces provide for amazing romantic memories to be made by couples while the amenities and activities available create a great environment for families.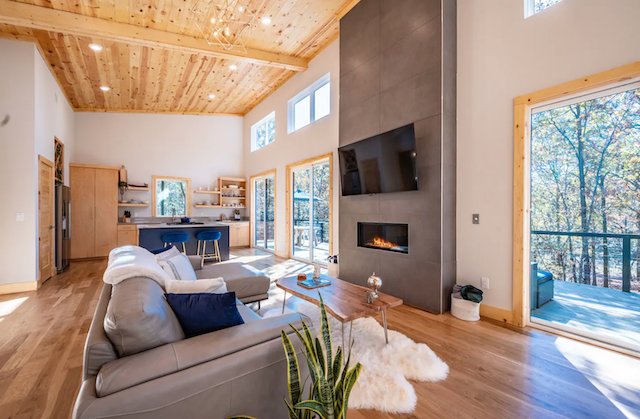 Immaculate and beautifully designed, this cabins' interiors are as lovely as the exteriors. For a $50 fee, you can bring up to two dogs of 30 lb max and enjoy the space with your furry best friends abound. Cozy up by the fire after a day of hiking on the trail whatever the season and make your vacation worth every second!
3 Bedroom Broken Bow Cabins
Viewtopia Broken Bow Cabin With Breathtaking Lake Views
Viewtopia will afford you the best lake views in Broken Bow as it sits on top of one of Beavers Bend Parks' highest points. A wrap-around porch and lake views from every room mean that no one will feel shortchanged in any way. Games in the basement area and a 55" TV ensure wholesome entertainment for the family.
Peaceful decks with 3 porch swings and a hammock as well as plenty of seating area enable everyone to spend quality time outdoors. Enjoy the scenery as you soak in the 5-6 person hot tub or roast s'mores around the fire pit. Hike in any of the trails available and enjoy the views as well as the rush and you will definitely want to come to visit again after your stay.
3 Bedroom Shadow Dancer Cabin
The 2 stories of the Shadow Dancer cabin will give you the family vacation or romantic getaway you want. Near Broken Bow Lake and Beavers Bend State Park, there is plenty of both fun and romantic activities for everyone. Indoors, modern fittings, and decoration will make sure you're comfortable. A 55-inch TV and games provide entertainment for all ages while 2 King Master Bedrooms and a third bedroom in the loft provide enough sleeping space for guests.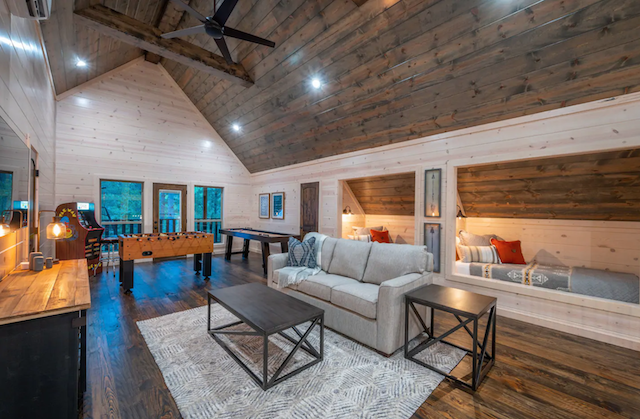 Outdoors, rockers, a gas log fireplace, gas grill, and hot tub provide for some lovely moments for you. There is firewood for the fire pit and a seasonal creek that runs behind the property so you are totally set up to have a great time.
Secluded Pet-Friendly A Frame Cabin
The California Dreaming cabin is a modern, secluded cabin that will provide you with a once-in-a-lifetime vacation. This A-frame cabin sits on 3 acres and is surrounded by pines and hardwoods and while it is private, it's close to Broken Bow Lake, restaurant, and other attractions.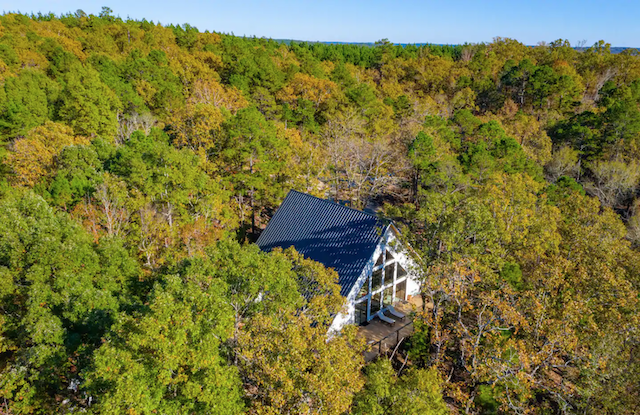 Ceiling-length windows and a large western deck that features a fireplace and Nordic hot tub give you the opportunity to enjoy some truly amazing views. Bring that special someone or even your family for a relaxing time that will refresh as well as entertain you all-you won't want to leave!
Brand New Mountain Luxury Cabin The Sleeps 16
Sat atop a hill in the exclusive Cordillera Mountain view in Broken Bow is this luxury cabin overlooking the Ouachita National Forest and Beaver Bend State Park treetops. The cabin has large windows and a balcony that provides a gorgeous panoramic view of the park and Broken Bow Lake.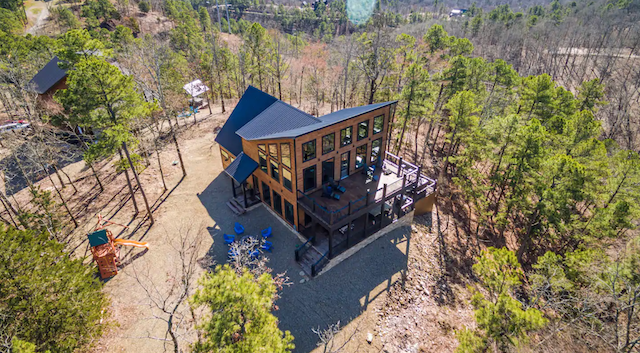 There are lots of indoor activities including table games like Pool, Ping pong & Foosball, cornhole, board games, and a retro video arcade with over 3000 games. There are two large porches and a hot tub as well. This cabin is spacious and can comfortably host up to 16 people so your search for a great getaway spot ends here!
Large Cabins For Families
Authentic Barnwood Cabin With Game Room & Large Deck
Hidden in the woods of Broken Bow, Hochatown, lies a cabin of a thousand stories. The antique barn wood and hand-hewn beams milled by craftsmen over 150 years ago still stand today. Surrounded by towering pines and hardwoods, the cabin is located on 2.5 acres. With 4 bedrooms and a total of 7 beds, this ultra-modern cabin can host a maximum of 11 people.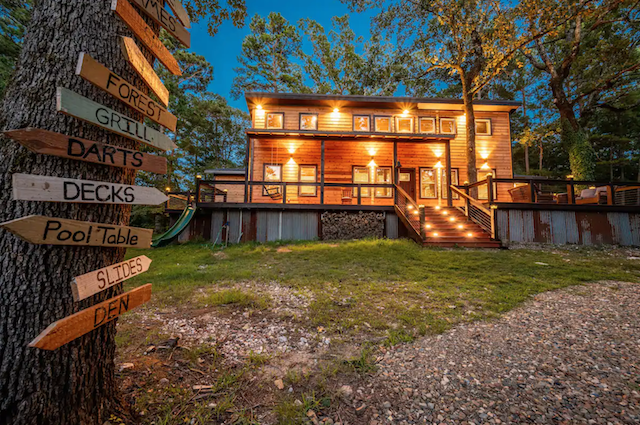 A detached game room for our guests has a range of Table games including foosball, a full-size pool table, a dartboard, a corn hole, and many more. The large back deck has a hot tub where you can relax after a long day of fun activities. There's also a fire pit with readily available wood and a large propane/charcoal/smoker grill for some barbecue. Come unwind and enjoy a perfect getaway here where modern meets nature.
Amazing Creekside Luxury Cabin
This incredible cabin provides you with the perfect mix of rustic charm and luxurious amenities. Nestled along a lovely creek, the combination of surrounding natural scenery and nearby conveniences means you can have your peace and quiet and still enjoy all that Broken Bow has to offer.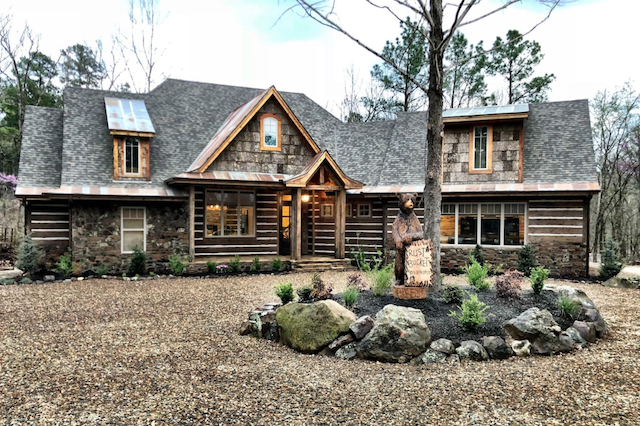 Inside, the woodsy décor combines wonderfully with spacious and comfortable accommodations. It features 6 bedrooms, 4.5 baths, a full-service kitchen, a massive fireside dining area, a game room and so much more. In addition, you can also take advantage of additional services, such as a private chef or masseuse.
Way More Ramblin' Luxury Cabin
Take your vacation to the next level at this jaw-dropping luxury cabin. You'll be neighbors with majestic pine trees and fantastic natural scenery. Drink it all in from the wrap-around porch, while gathered around the fire pit, or from the hot tub. And you won't miss out on the view from inside either, as the spacious living area offers large windows to look out from.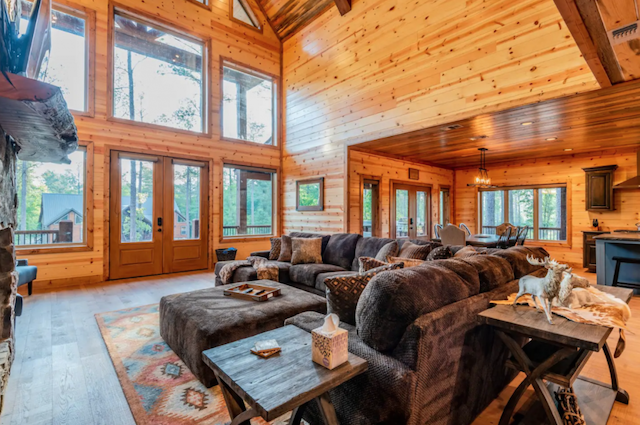 With 4 bedrooms, 3.5 baths, and multiple entertainment areas, you'll have both comfort and convenience at your fingertips.
Kiamichi Tranquil Lake & Pines Mountain Cabin
Treat yourself to an unforgettable experience at this amazing lakeside cabin. Nestled in between a scenic forest and a beautiful lake, this palatial lodge makes for an ideal getaway destination. Try your hand at fishing or simply take in the magnificent view at the lake, or go exploring in the nearby woodlands. Around the cabin, you'll find an outdoor cooking and dining area, a fire pit, a covered porch, and a hot tub. But once you're inside, you may not want to leave.
The interior sports a homey all-wood look. 6 massive bedrooms, full kitchen and dining, lounge, game room, floor-to-ceiling fireplace—and that's only scratching the surface of what this incredible cabin has to offer.
Modern Farmhouse Cabin
This grand farmhouse-style cabin provides the ideal escape from everyday life, with its combination of beautiful natural scenery and slick modern design sense.
Situated near a tranquil pond, you'll find a variety of outdoor features, including a covered lounge area with comfy seating, a grill and dining table, and swing. Inside, the striking green and white décor will immediately catch your eye. The vaulted ceilings, luxurious bedrooms and bathrooms, and opulent lighting truly make this a private mansion all your own.
"All Spruced Up" Luxury Cabin
For anyone looking to spend a wonderful time amid the beauty of nature, this cabin is for you. Surrounded by its namesake spruce trees, you won't be left wanting for anything at this fantastic vacation destination. A lush, covered outdoor lounge area offers a fantastic view in absolute comfort. You'll also have access to a fire pit and outdoor dining area.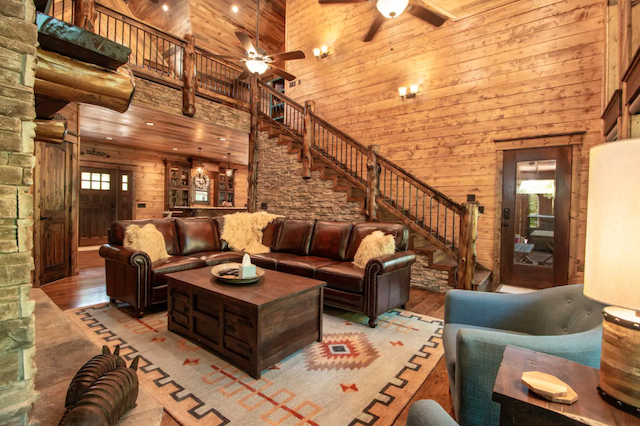 The luxury doesn't end once inside, as each king bedroom features a decadent private bathroom. Whether you're inside enjoying the game room, relaxing in the spacious living area, or outside among nature, you'll have the time of your life at this spectacular cabin.
Eagle's Point Cabin
Make some unforgettable memories at this fantastic luxury cabin. Perched above the winding Mountain Fork River, you'll have a truly spectacular view from the back porch, allowing you to eat or relax within sight of the amazing scenery. The peaked ceiling and large windows allow for natural light and unobstructed views from within.
You'll also have access to a spacious kitchen and dining area, wet bar, lounge and game room, and accommodations for 16 or more. Don't miss out on a chance to experience everything this incredible cabin has to offer.