For all the adventure seekers out there, the lovely Black Hills are a wonderful place to explore the great outdoors and let your inner you run free. Located just off the Great Plains of North America, Black Hills is one of the most toured places in the South Dakota region.
Most travelers are really keen to come and visit this glorious place owing to the beautiful accommodation around. We have decided to give you our list of the absolute Best Cabins found in and around the Black Hills to make your stay here even more spectacular!
The Dog Friendly Deer Woods Cabin
Kicking off our list we have the absolutely amazing Deer Wood cabin which is located in the beautiful city of Custer. As the name suggests, this area is mostly visited by a number of people because of the stunning sightings of deer as well as the wild turkeys.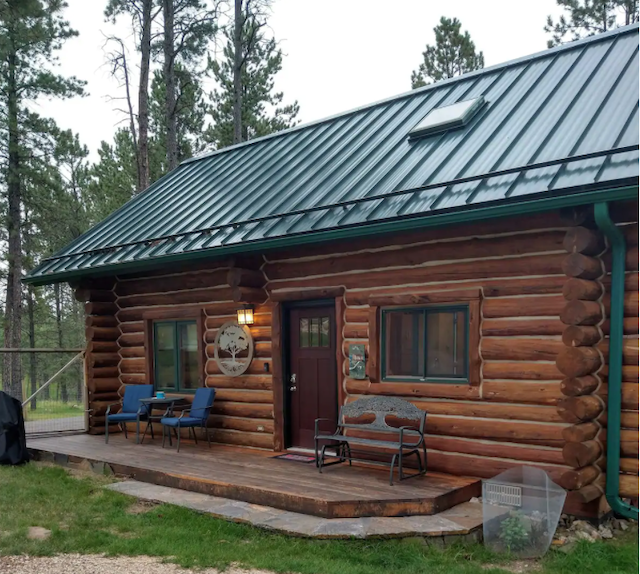 The cabin is also finished off in a rich wood which firmly resonates with the amazing interior. From the wonderful 5 acres of pure pine surrounding the property to in-house amenities which include a full kitchen, air conditioning, central heating, Wi-Fi and many others, it's difficult not to fall-in-love with this cabin. Those with dogs are free to bring their furry pals along as this cabin is dog-friendly!
Peaceful & Private Cabin on 15 Acres
Moving on from Custer to Nemo, we have one of the most secluded regions in the Black Hills sitting on a 15-acre piece of land with a little Elk creek running through it. This cabin is the best of both worlds as it combines luxury and comfort to provide a 5-star experience whilst exploring the awesome sceneries of the wild.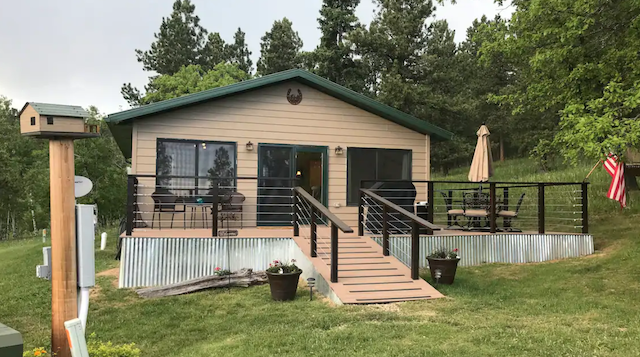 The cabin has been renovated to give it a more vibrant atmosphere and has also been fitted with modern amenities including BBQ grill, patio, Wi-Fi, basic essentials as well other perks!
Granite Reef Cabin in Custer, South Dakota
Custer is home to many cabins but none are as spectacular as the Granite Reef cabin which is a work of art. Aside from the beautiful outdoors, this property has one of the most stunning cabin structures around boasting a large window wall facing north. Apart from that, the building is equipped with lavish aspen and pine furniture as well as animal rugs and mounts.
The area is really pretty considering the attention paid to detail in decorating the place to give it that wildlife experience. Visitors can also expect some comforts which include internet, grill and other day-to-day amenities. Those who are lucky can also catch a glimpse of foxes, chipmunks and white tail deer!
Sentinel Pines Cabins in Hill City, South Dakota
We slightly move upwards towards the oldest city in Pennington County, Hill City which is primarily a quiet town due to the low population. However, despite this, it still has one of the latest cabins to be constructed and the property is pretty amazing, to say the least.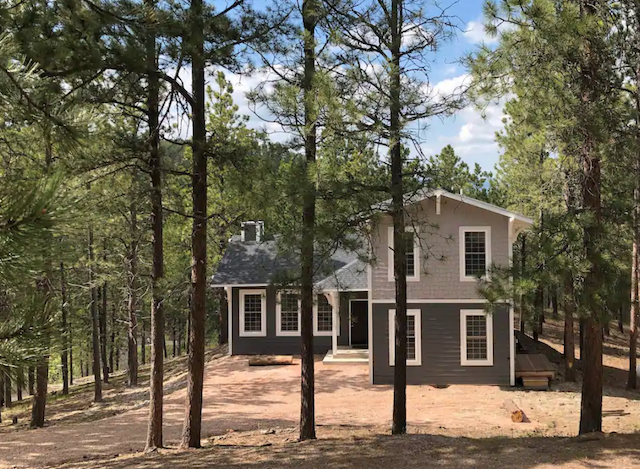 From a dazzling white aesthetic inside the cabin to the amazing views granted by the area, this is one place you should definitely visit. The cabin is also fitted with modern conveniences such as a dedicated workspace, TV, well-prepared kitchen among many more!
Cozy Studio Cabin in the Heart of the Black Hills
Five miles from Custer is a wondrous cabin that has received pretty good reviews due to the overall enchantment of the surrounding area.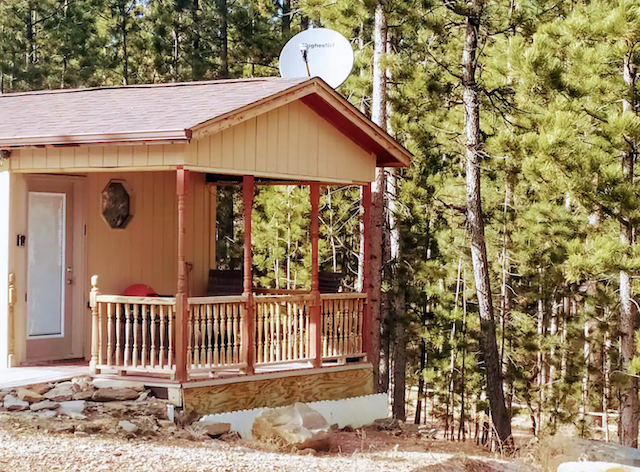 This cozy cabin is fitted with a nice simple interior with amenities including bed linens, shampoo, extra pillows, kitchen utilities and TV among other wonderful features. If you are able to book yourself here, you will also be happy to know that this property is in close proximity to outing spots such as Mt Rushmore, Crazy Horse and Custer State Park.
Log Cabin on Kara Creek
Did you know that the Black Hills extends into the neighboring State of Wyoming? Most people are unaware of this and it is largely speculated that the mountain range belongs to South Dakota but this is not entirely accurate. However, for those wishing to pop by Sundance, we are happy to let you know that we got an excellent cabin for you!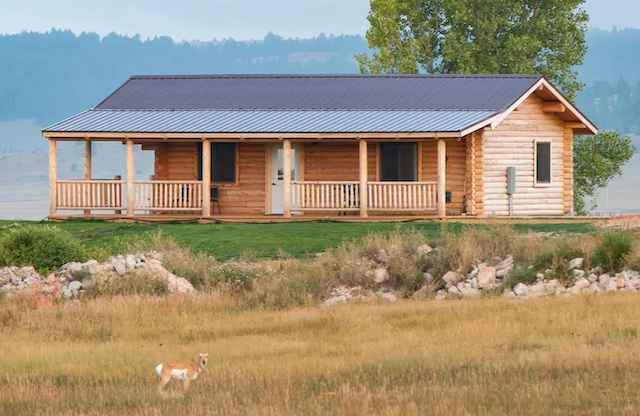 Found in the close vicinity of Black Hills is a log cabin on the popular Kara Creek. The cabin is graced with air conditioning, fast internet connection, an indoor fireplace as well as a glorious wood finishing inside and out. Whilst there, you can also enjoy hiking or fishing either in the Kara Creek or the 11-acre pond.
Black Hills Cabin 2 Miles to Terry Peak Mountain
Moving on with our top picks, we decided to include one of the most visited areas in all of Black Hills, Lead, which also encompasses this spectacular cabin just off the prominent Terry Peak Ski resort. Despite the area being largely popular among skiers, the area also offers stunning views from the high altitude as well as nature hikes!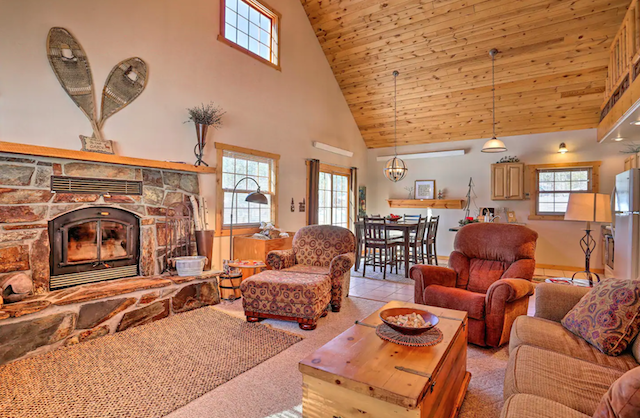 The cabin is very spacious and very compact with all necessary essentials included. A few amenities worth mentioning include a charcoal grill, well-stuffed kitchen with all the little bells and whistles and free parking on the premises.
The Cornerstone Cabin
Attention all thrill-seekers, this cabin is for you! If you are looking for an authentic outdoor experience, then look no further, Cornerstone Cabin has got you catered for. From the gorgeous mix of rocks and wood within the cabin to the great outdoors offering scenic views of the Black Hills, it's obviously one of the top choices for most of the travelers visiting Deadwood here in South Dakota.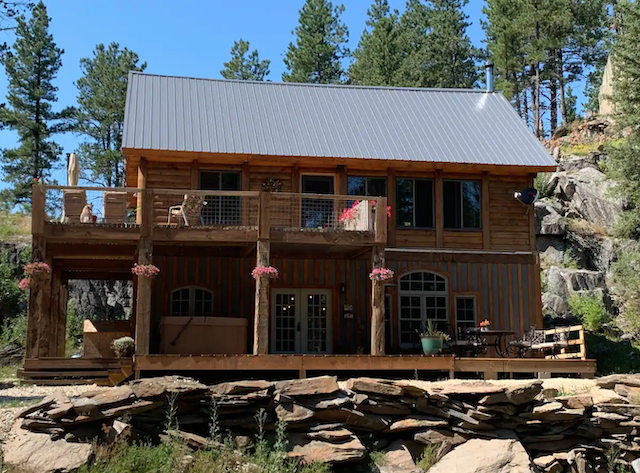 Having 5-acres all to yourself is truly remarkable considering how much space you have to explore the beautiful region. The 2-storey cabin is seated on a nice rocky platform giving-off that explorer vibe. It also includes basic essentials and a few other perks like a hot tub!
Seldom Inn Guest House
Seldom Inn Guest House cabin is located in the central Black Hills close to Mt Rushmore, Crazy Horse, and Deadwood. The cabin is surrounded by ponderosa pines and sheer rock cliffs where often eagles soar, this spot is truly a bit of heaven on earth.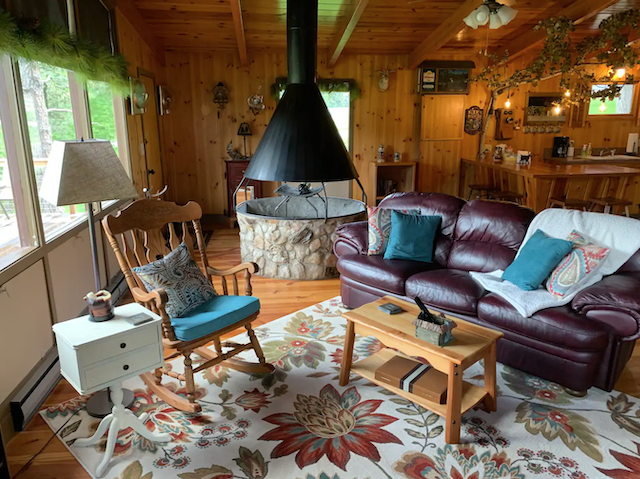 Inside you will find a beautifully furnished, fully equipped respite. The entire 1-room, 700 square foot cabin includes a full kitchen, washer, and dryer, full bath with shower, satellite television, Pandora, internet, fireplace, and barbecue.
Secluded Coyote Ridge Lodge
Spearfish is home to the Coyote Ridge Lodge which is situated on a primarily secluded land seating on 10 acres of Ponderosa pine forest. This unique property also comes with an exquisite mix of brick and wood in the interior aesthetic as well as comforts ranging from air conditioning, Wi-Fi, cable TV to an indoor fireplace among many others.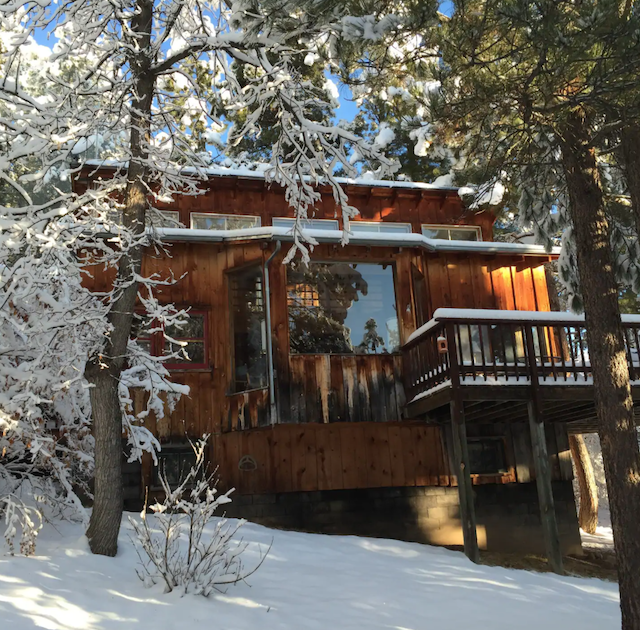 During the morning you can drink your cup of joe whilst admiring the beautiful outdoors on the top deck or have a picnic by the creek, the choices are truly endless!
'Deep Snow' Lead Cabin 700' to Terry Peak Ski Area
We end-off this list with one of the most popular cabins in the Black Hills. According to booking numbers, this is one of the top-rated cabins in Lead as it is located just a short distance away from the famous Terry Peak Ski resort.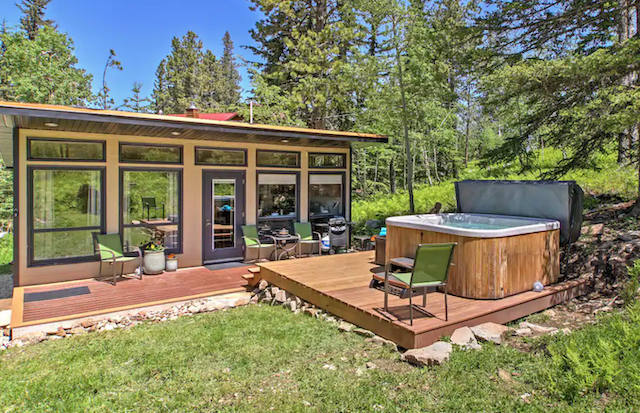 The cabin itself is not lacking in feats either as it is a mix of both modern and rustic styles which are greatly hammered upon by the lavish interior as well as the beautiful mountain views outside. Visitors can also expect to enjoy the hot tub, grill as well as other in-house luxuries at this paradise in the mountains!
Modern A-Frame With Hot Tub
For those seeking to escape the hectic town life opting for a more relaxing and free environment then this Cabin has got what you need. Located in Lead, this cabin is a true masterpiece considering the architectural marvel it is being A-shaped. The design is also complemented by the lavish interior inside, together with the in-house amenities which include a bathtub, heating, smoke alarm, TV, washer, and dryer among others.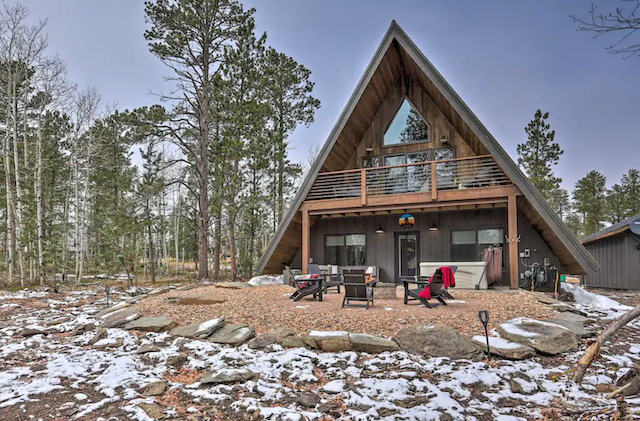 The area also has great hiking and bike trails together with ATVs for even more fun whilst exploring the area!
Squirrel Hill Cabin With Hot Tub & Gameroom in Black Hills
Before we finish off our Best Cabins in the Black Hills, we would also like to include the Squirrel Cabin in Black Hawk on this list majorly due to the fact that it has something for the whole family.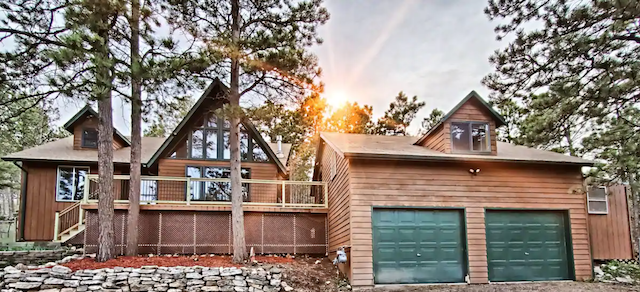 With the cabin being so well equipped from game rooms which include booths with table and board games to the endless entertainment including a 55inch Roku HDTV with Netflix as well as a PlayStation console, it is quite a bargain to stay at this property which also has extra amenities like a hot tub, grill among others.