Texas is full of fun cabins and dude ranches for perfect weekend getaways. Whether looking for a trip to Texas Hill County or a quick escape from Houston or Dallas, you can find amazing cabin rentals with luxury amenities. Here are the top 10 reviewed luxury cabins on Airbnb.
Riverfront Cabin with Firepit in Wimberley
Located adjacent to the bank of Downtown Wimberley's Blanco River is the newly revamped and contemporary cabin, Samatanga. The riverine views don't go wasted; the front porch is perfect for river-gazing, and the fire pit is an inviting end to an evening.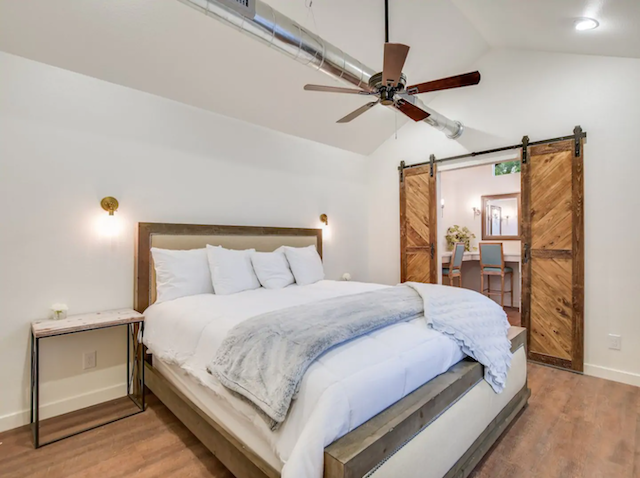 Inside, there is a king bedroom, a queen bedroom, one room with a bunk bed and mattress, and the open-plan living space is equipped with a sofa bed. The rustic feel of making s'mores around the fire pit blends perfectly with the modern interior of the cabin, creating a great getaway.
Rustic Charming Cabin on Cedar Creek Lake
This charming cabin can comfortably fit 20 people, with one king bedroom, four queens, two doubles, a room with two single beds, a sofa bed, and two bunk beds, as well as a sofa bed in the living area. The impressive size of the house makes it a perfect choice for group getaways.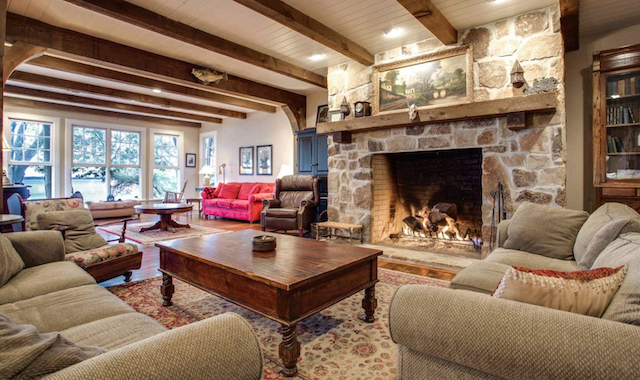 The sunrises and sunsets behind the Cedar Creek Lake are spectacular, and the house lies on the banks. The house presents a classic interior with modern tweaks and has a comfortable living area, as well as a fully-stocked kitchen.
Pecan Springs Farm Long Home in Ingram
This charming two-story log home dates back to 1852 – with contemporary amenities and interiors – and is such a beautiful antique that it has made an appearance on television. Pecan Springs Farm has one king bedroom, two queens, and a single – plenty of room for all the family.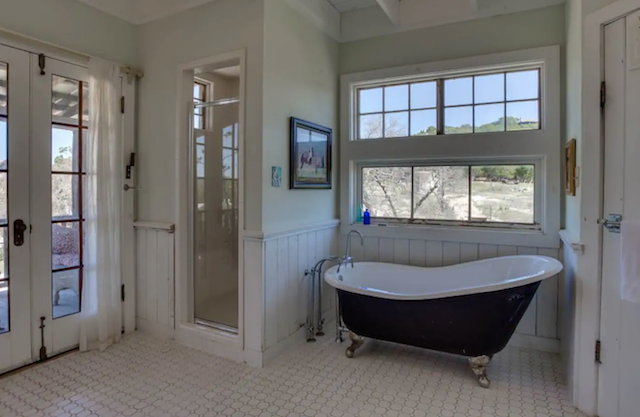 The front porch is sizeable and boasts lovely views of the rolling countryside. A perfectly equipped kitchen leads to a dining area that looks over the stable.
Lake Travis Luxury Cabin at the Hollows
Just outside of Austin, on the banks of a glassy lake, this luxury cabin provides a modern take on classic cabin living. The cabin uses wood and natural resources throughout to emphasize a sense of rustic luxury, as well as boasting a magnificent view over Lake Travis.
There is a king bedroom, a bedroom with one queen bed and one single, a queen bedroom, and an additional sofa bed. This cabin is able to hold 10 people and is an excellent choice for a group trip.
West Sandy Creek Winery Forest View Log Cabin
On a ranch that lies right next to Sam Houston National Forest, including the West Sandy Creek Winery, this luxurious cabin takes its place. As well as the National Forest, your other neighbors will be zebra, zebronky, camel, and more.
The first is a king bedroom, with two queen rooms in addition to a spacious kitchen, which is fully equipped. The star of the show is the lofty deck at the back of the cabin, which boasts unbelievable views.
Waterfront Lake Bridgeport Haven w/ Boat Slip
This stunning two-story cabin home does not just overlook the gently lapping Lake Bridgeport, but also has a private dock for embarking on a fishing trip surrounded by the waters. The extended patio – and the lavish fire pit – boast views fit to be on a postcard, and the interior of the property matches the exterior's beauty.
Each of the bedrooms (two queens, one bedroom with one queen and one single, and one room with six single beds) are tastefully decorated but maintain the famous comfortable cabin aesthetic. The large cabin is perfect for a group getaway where serenity is on the cards.
Log Cabin Home w/ Lake Access & Private Boat Ramp
The Sunny Oaks cabin has a private boat ramp leading to a cove on the Colorado River Arm of Lake LBJ, and also happens to be a space that manages to be a fantastic blend of classic and contemporary.
There are two queen bedrooms, and one room with two queens and two singles, as well as a living area including a pool table, and a full kitchen. Equipment for water sports is provided, and to top it all off, there is a hot tub for relaxing evenings.
Cabin in the Woods on Lake Texoma
Lake Texoma is a hotspot for water sports, fishing, and swimming; this newly renovated cabin is in very close proximity to and boasts fantastic views of the lake.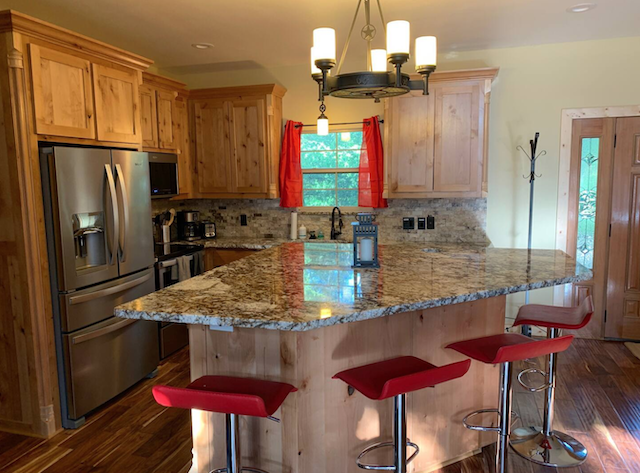 There is one king bedroom, one with a queen and a single, one double, and a bunk bedroom. The wooden interior brings a comfortable feel to the bright space. The kitchen is fitted with all amenities, and the stone fire pit can act as a second kitchen – if s'mores are on the menu!
Luxury Cabin Near Lake Tawakoni on 126 Lush Acres
This cabin is an architect's contemporary dream, with neutral tones playing with natural light to create a spacious, modern space. There is one king bedroom, one queen, one double, and one with four singles.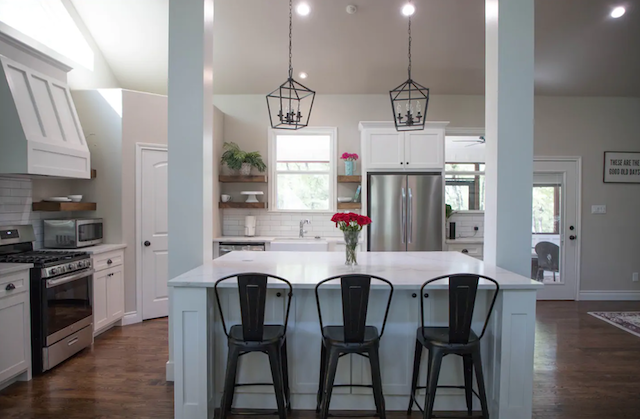 The beautiful property is minutes from Lake Tawakoni but also homes three stocked ponds of its own. There are many trails on the land that you can walk or ride on a horse – and the two majestic horses on-site are curious and very friendly.
The Wildflower Ranch Cabin Near Houston
For a family or group trip, the Wildflower Ranch cabin is an excellent choice with its large size and modern amenities. Bedrooms vary from a king room to a room with one queen bed, one double, one single, and one air mattress – the beautifully designed home can accommodate 16 guests.
Different areas of the property flow seamlessly into another, such as the comfortable living area that leads to the back porch complete with a grill.
The Grand Chateau at Cedar Cove Ranch
High ceilings, large windows with natural light flooding in, and easy access to a lake to swim, play, or fish in making this cabin a wonderful escape in a serene setting. The house is made up of one king bedroom, two queens, and two rooms holding two double beds and six singles respectively.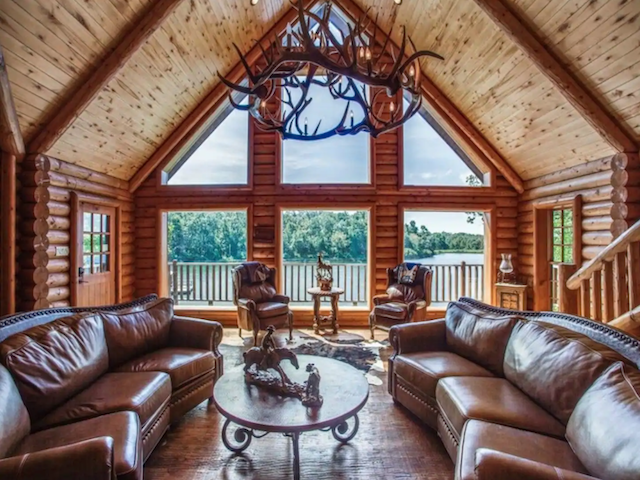 A huge game room accompanies a kitchen with everything you could need for a hearty meal. Special packages with activities can also be arranged. This cabin was even featured on TV as a 'must-go' in the area!