Stay in a cozy cabin in Berlin, Ohio when you make your way to Ohio's Amish Country. Berlin and the surrounding area give you small town charm, plenty of fresh air and natural beauty. Here are the best reviewed cabins in Berlin.
Sugar Maple Cabin with Hot Tub
This rustic Sugar Maple Cabin is a walking distance from downtown Berlin. The two-bedroom, standalone log cabin features a king-size bed, a jetted tub inside, and a hot tub outside for four people. So, come in a small group—maybe two couples—and have the time of your lives.
Relax in the plush interiors of this decently-sized, beautifully furnished cabin. The cabin features a fully functional kitchen where you can cook if you're in the mood for it. Or head to one of the many restaurants that are a short distance away to sample some of the local fares. 
This cabin answers your need to get away from your daily life's stresses. 
Apple Blossom Secluded Cabin Getaway with Hot Tub
A quaint country-style cottage right out of a holiday movie, this 1 bedroom, 1 bath cabin is perfect for couples. The cabin is located at the end of a lane and surrounded by tall pines so you get all the privacy you need while relaxing in the welcoming vibe of the surrounding countryside.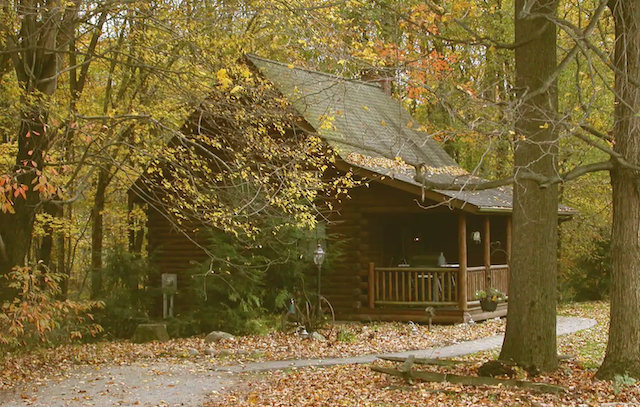 With a full kitchen, a hot tub, a jacuzzi, and a cozy well-furnished room, this charming cottage is the perfect retreat for a quick romantic getaway. Take in the sights as you relax in the hot tub on the deck with a glass of wine and enjoy the soft breeze that wafts in from the wooded creek bank nearby.
Hummingbird Haven Luxury Cabin in Berlin, Ohio
This three bedrooms, two bathrooms, a two-story log cabin in Berlin, Ohio, is more than comfortable for up to 8 guests. Well designed, well furnished, and well lit up this spacious 1100 sq. ft. cabin affords you all the comforts of home while you are on a sojourn away from home.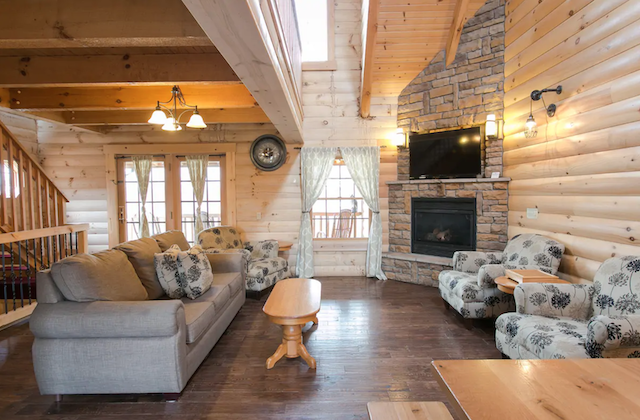 The scene-stealer in the living room is the gas fireplace enclosed in a handmade stone hearth that goes all the way up to the ceiling. Take a nap by the fireside or relax with a glass of wine and a book in hand or enjoy watching your favorite
Blue Jay's Nest Luxury Cabin
Life slows down once you enter this spacious cabin located on a secluded stretch of road. With two plush bedrooms, two bathrooms, and four queen-sized beds, this luxurious cabin can accommodate a group of eight comfortably. 
You can hang out on the porch on the rocking chairs, grilling hot dogs on the charcoal grill. Or, you can read a book by the fire in the living room.  The lowest level boasts of a pool table and a jacuzzi tub. There are plenty of options for adventure as well. So, you can be sure to enjoy a great stay.
Scotch Pine Cabin Near Amish Country
A five-minute drive from downtown Millersburg, this compact log cabin is right off the bike trail. The newly decorated lodge has all the provisions that make it right for a relaxing stay in the woods.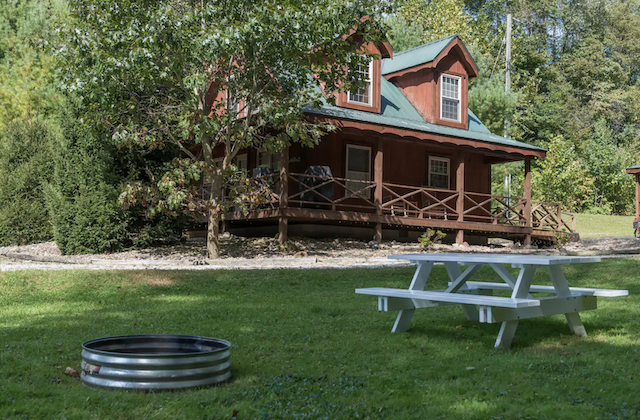 With 2 bedrooms, 2 bathrooms and three beds, this cozy log cabin is great for a small family or a group of six.
Once you've had your fill of the outdoors, relax by the firepit outside or curl up on the sofa-cum-bed in the living room to watch your favorite show or a movie on Netflix.
The cabin is well-lit, and all its windows give you a beautiful view of the outdoors. 
1 Bedroom Cayo Cabin
Centrally located yet away from most of the hustle and bustle, this cozy 1 bedroom, 1 bath cabin is great for a weekend getaway for two, with all the amenities you need for a pleasant stay.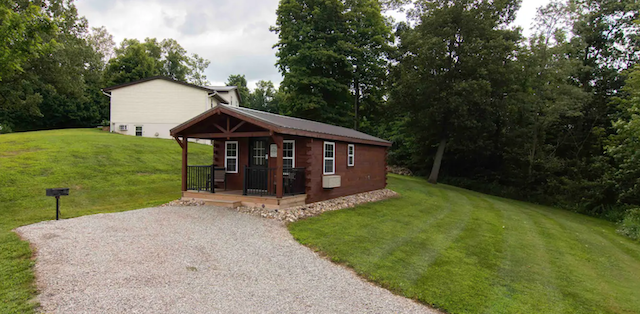 What's best is that the cabin is conveniently located to all the local tourist spots. You're merely five minutes away from Millersburg and Berlin.
The kitchen boasts of a refrigerator, a stove, basic seasonings, and all the paraphernalia required for cooking. There's also an outdoor grill if you're in the mood for a barbeque.
Modern Cabin in Amish Country
This cabin looks like any other traditional cabin from the outside. But you get a modern feel as soon as you step inside. Whitewashed walls add a touch of class and elegance to this quaint-looking cabin, situated one mile away from the heart of Ohio's Amish Country, off of a quiet township road.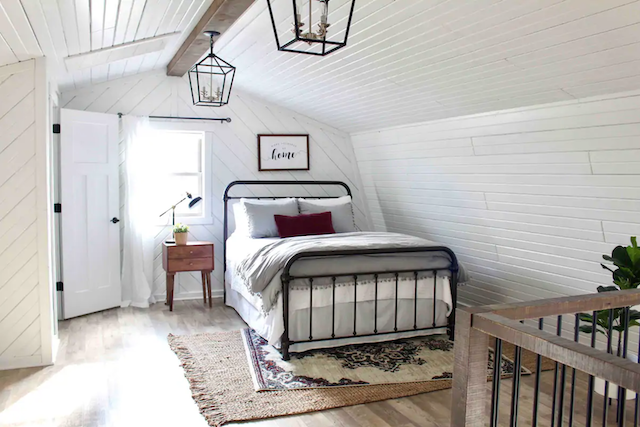 Kids can play on the lawn that surrounds the cabin. And you can sit on the deck equipped with a fire pit in the wooded area behind it. If you have work to finish, free WiFi is available. The cabin does not support a television, giving you a chance to explore the outdoors.
The Pear Tree Cottage
Enjoy every season in this cute private cottage, which is cocooned in the folds of the eastern hills of Holmes County. It is situated 10 to 15 minutes from Walnut Creek, Winesburg, or Berlin, where you can dine and shop. For nature lovers, there's Dundee Falls, about 15 minutes from the cabin.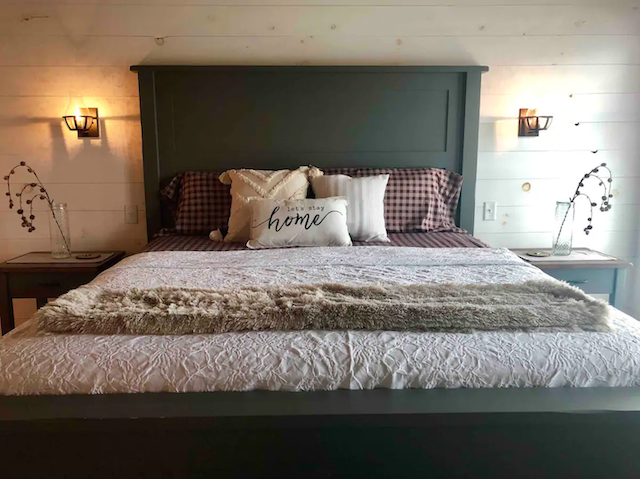 The one-bedroom cabin can accommodate two guests. There is an ample supply of coffee beans that you can grind yourself. You're welcomed at the cottage with fresh-out-of-the-oven cinnamon rolls, frosted with maple, and delectable baked bread.
Whether you want to stay cozy inside during the winter or watch fireflies during the summer twilight, you will have an amazing experience here.
Blue Spruce Cabin at Trailside Lodging
Welcome to an oasis of calm very close to downtown. This newly renovated cabin off the Millersburg bike-trail is minutes away from Millersburg. Nestled in the lap of nature, this three-bedroom, two-bathroom retreat is great for up to eight guests.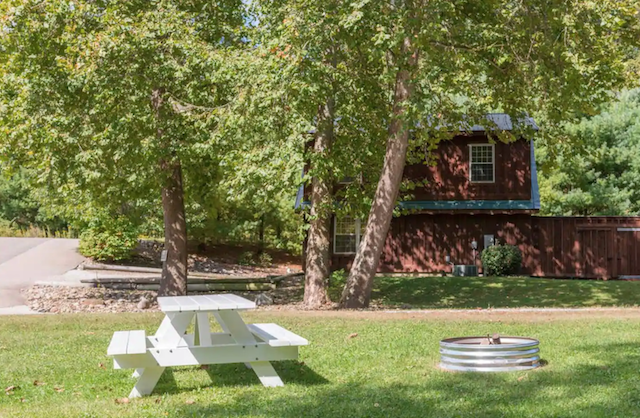 The bike trail is great for those wanting to explore the surrounding areas and also the Amish country. Head downtown if you want a city feel or to sample the fare at the local restaurants.
If you want to skip eating outside, there's a functional kitchen with all the possible amenities for you. You can have perfect barbeque nights using the charcoal grill and the fire pit.
Quiet Farmhouse cottage With Rustic Charm
This stunning two-bedroom cottage is located on a quiet township road. It is surrounded by nature in all its beauty. You'll get to see the best of it if you visit during the fall.
Set in the eastern hills of Holmes County, this cabin guarantees you a peaceful country environment. The neighboring buggies that clickety-clack down the road are reminiscent of the simple country life we all want sometimes.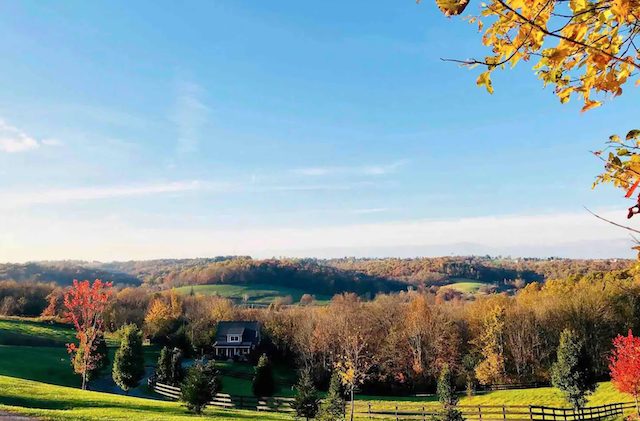 You may even come across Chip, the owner's canine friend, roaming around the property.
You'll have an unlimited supply of coffee beans that you can grind and brew a fresh steaming cup of coffee with. You also get freshly baked frosted cinnamon rolls and bread when you arrive.
The cottage interiors have a warm, welcoming, and cozy ambiance that guarantee a memorable stay.
Canadian Hemlock Cabin Near Berlin & Amish Country
This beautiful three-bedroom log cabin is just off Millersburg's trail, a few minutes from downtown and a few miles away from the heart of Amish Country.
The recently renovated cabin has all the amenities, along with new furniture, that will make your stay pleasant.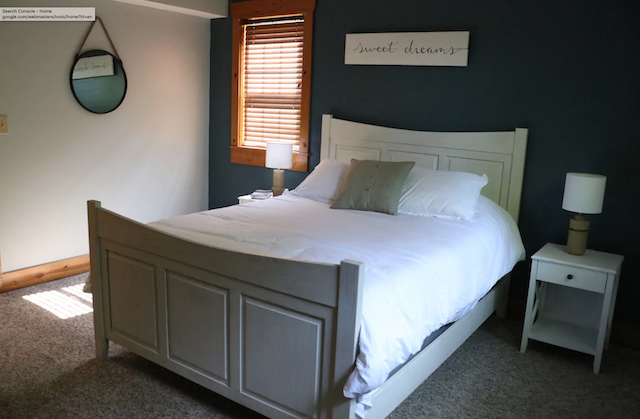 All the bedrooms have queen beds, and there's an air mattress in the living room. The lodge is big enough for eight quests without any crowding. You have access to a fully furnished kitchen, two full bathrooms, and a living area. You can read a book out on the porch or enjoy the warmth from the fire pit outside as you take in the scenic woods .
There's also Netflix for that regular dose of urban entertainment.
The Miller Coyote Cabin
If you are looking for a cabin in Berlin on private property that looks out onto a lake with a waterfall in the vicinity, this is it.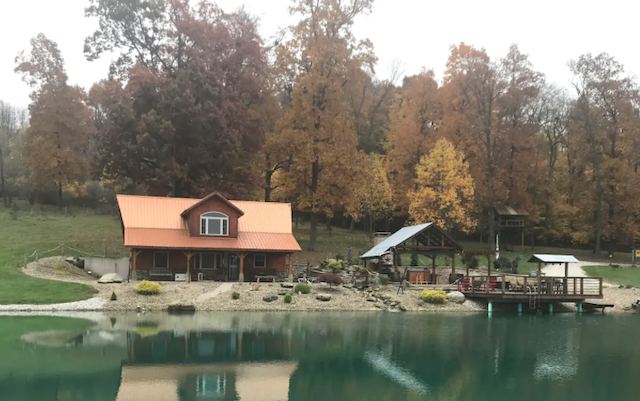 You can fish as long as you catch and release. It's a 5 to 10-minute walk to Charm, Millersburg, Berlin, Walnut Creek, and other places nearby. Take in the local sights and soak in the culture of the place as you wine and dine, or browse through knick knacks made by local craftsmen. The property is located in the Hills of Holmes County. The cabin is equipped with queen beds and can house six guests comfortably. A furnished kitchen is ready for you to prepare home-cooked meals.