Treehouses aren't just meant for kids.
Don't you love the thrill and excitement that come with living in one? Doesn't it remind you of the days when you spent evenings with friends, reading a book or telling a story, sitting in your treehouse?
Fast forward to the present, where you are racing against time. You've reached a point where you want to drop everything, pack an overnight bag, and head up, up and away to a place where time slows down. These nine tree houses are the best recreation that one can hope for right in the lap of nature. It wouldn't be wrong to say that they are in a world of their own.

The Box at Treehouse Village in Dundee, Ohio
The perfect blend of contemporary and modern this treehouse is made out of a shipping container fitted with modern interiors. It can accommodate a group of four, so you can either go as a couple or take a couple of friends along.
Since it's right in the middle of the forest, you can enjoy a magnificent view from the deck. You can also have quiet time for yourself, read a book, make a cup of coffee in the furnished kitchenette, or browse on your phone.
The Box Treehouse is furnished with a queen bed and an air mattress. Various other amenities ensure that you have a comfortable and memorable stay.
The Sky Loft at Treehouse Village in Dundee, Ohio
Small on space but large on utility, this treehouse cabin is perfect for a getaway.
It has a two-person capacity, and the space is intimate and cozy. The setup is best suited for a couple or even two friends who are comfortable with each other—because the toilet and the bed are quite close.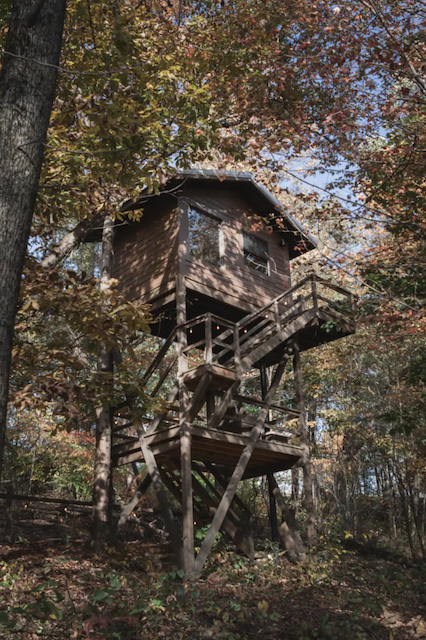 The treehouse is well-equipped with everything you need to have a relaxing time with, including a soaking tub.
The little wood burner ensures you are snug as a bug as you cozy up in this hideaway in the trees.
Hocking Hills Studio Treehouse
Large and spacious, the treehouse has enough room to lodge four people and is fully furnished. The studio-style lodge is right in the middle of the trees along a hillside and you can enjoy magnificent views from your room. The French windows give a view of the woods without restricting or hindering any scenery outside.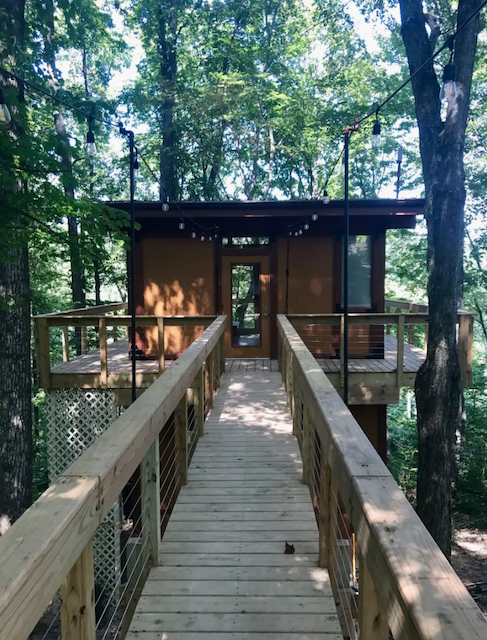 The queen bed, the sofa-cum-bed, and television are all in the same room, so a small group of friends or family can huddle together and spend quality time. You can whip up delicious dishes for your gang in the fully furnished kitchen. Without a doubt, =you will have an incredible stay here.
The Shack at Treehouse Village
This treehouse is designed with a little adventure added to it—you need to cross a 40-foot swinging bridge to get there!
This lodging comprises the main floor with a kitchenette, a full bath and a daybed. Head up to the loft with the help of the European-style if the queen bed is your destination.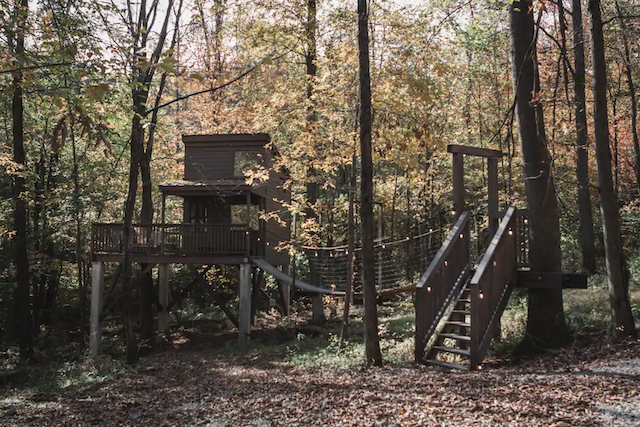 The lounge area on the main floor can also double as a bed chamber at night. You can stay warm by the fire on the deck during cold nights. It's a cozy staycation that you wouldn't want to miss.
Acadia Cliffs Treehouse Cabin in Cutler, Ohio
If you're planning a hike along with some rest, then this treehouse cabin is ideal for you and maybe your friends or family. A group of four can have a memorable stay on this 560 sq. foot treehouse cabin that sits on a 20-acre piece of land surrounded by the Acadia Cliff Wildlife Preserve.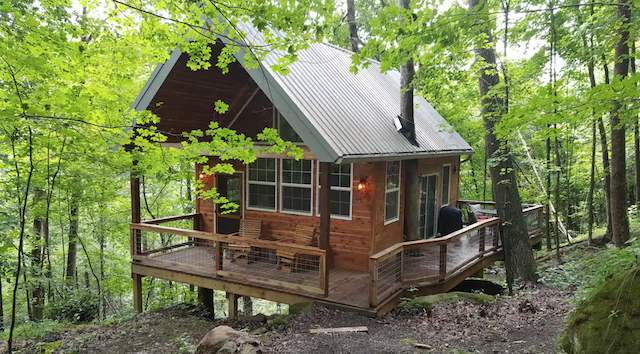 You can do many things here – commune with nature, do some birdwatching, take a hike to the Millstone Quarry, or visit the Athens Farmers Market (Wednesdays and Saturdays).
It's the perfect place to detox, as you do not have access to cable or television. However, DVDs are provided for movie buffs.
Treehouse Lodge at Treehouse Village
Want to go camping in the trees and with a group of family or friends to boot? This super-sized treehouse is perfect for a group of up to 12!
Whether you are with family or friends, you will enjoy the modern yet rustic structure made using two shipping containers and a common living room.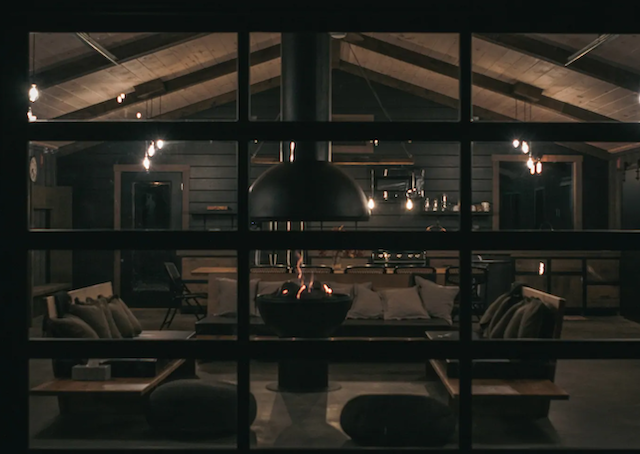 The living area is fully provisioned with a kitchen, handmade sofas, a natural gas fireplace, and a large dining table for a mini royal gathering. This hangout boasts three bedrooms and queen-size beds, more like a mansion in the trees.
You can have a great time out on the deck, grilling your favorite choice of meat and veggies. Whether you spend time indoors or outdoors, your experience will be one-of-a-kind.
Tullihas in the Trees in Frazeysburg, Ohio
If glamping off-the-grid is more your style then embark on a treehouse adventure and come calling.
Every corner of this treehouse is quite Instagram-friendly. Create beautiful memories in this natural habitat, lying on the hammock or enjoying your favorite cuppa on the deck. A small family of five can have their kind of fun here, especially kids, as they run up and down the staircase.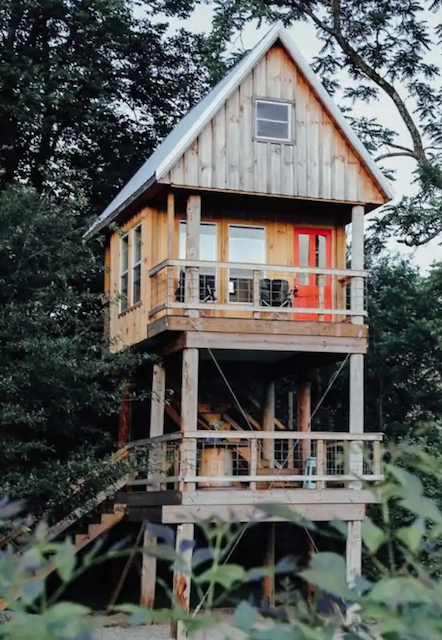 Potable water is available a short distance away. However, there's no electricity, running water, or a shower in this facility. There is but one small propane heater to take away the chill in the cold weather. That makes it a next-level camping experience, with all the privacy you need..
This treehouse is housed on a 230-acre property. The best way to enjoy it is to hike on the trails and explore the woods, creeks, and farmland that covers the land's expanse.
The Arrow at Treehouse Village
This treehouse is specially built for a romantic duo.
A swinging rope-bridge takes you to this mini-resort for a weekend or a week of solitude. It consists of one room with a bed, a claw tub, and a mini kitchen. You can keep warm outdoors with the grill and by the fireplace on cold nights and cool off soaking in the tub on warm days. Here, you can make up for all those times you've been away from your partner.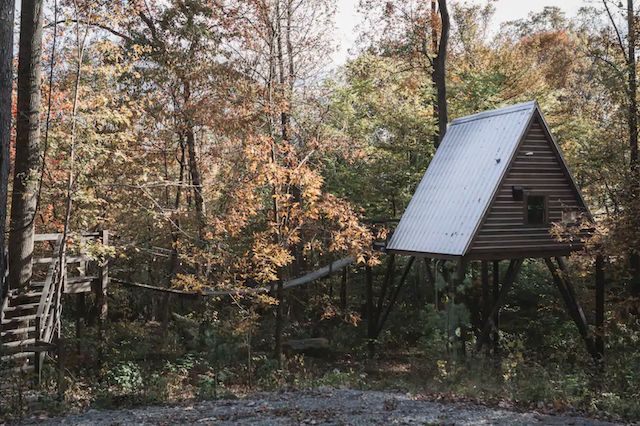 All in all, romance does nothing but bloom in this cozy place with all basic amenities.
Hocking Hills Treehouse Cabin in Logan Ohio
A father-and-son duo spent a summer, winter, and spring to make this treehouse all by themselves. Their labor of love adds a personal touch to every part of the cabin. They've custom-made everything – from the rear staircase and handrails made from branches to the upcycled interior doors and the cherry wood ladder that leads to the loft. The cabin is equipped with two bedrooms, queen beds, sofa beds, a functional kitchen, and a large deck to enjoy the view outside.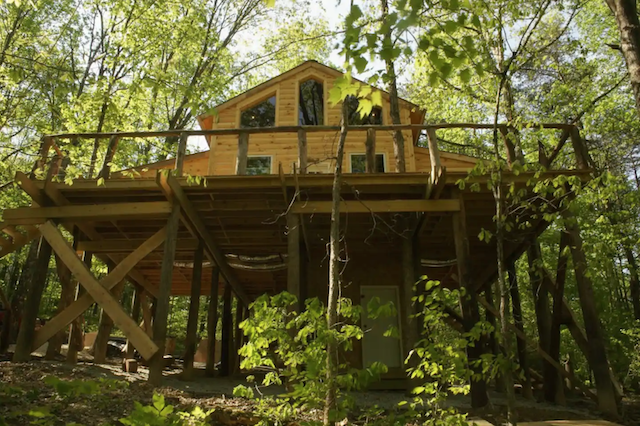 This spacious treehouse accommodates seven persons. If you come with a fun group, you will enjoy the indoors and the outdoors because horse riding, canoeing, hiking, and fishing are minutes away from Hocking Hills.
Luxury Treehouse Getaway with Treetop Views
Take your partner with you on a private, romantic weekend to this beautiful treehouse, 30 feet high under the canopy of tall trees.
This one-of-a-kind treehouse gives you a magnificent treetop view from the covered porch. Once you've visited this place, you'll understand why it was featured on the home design channel HGTV.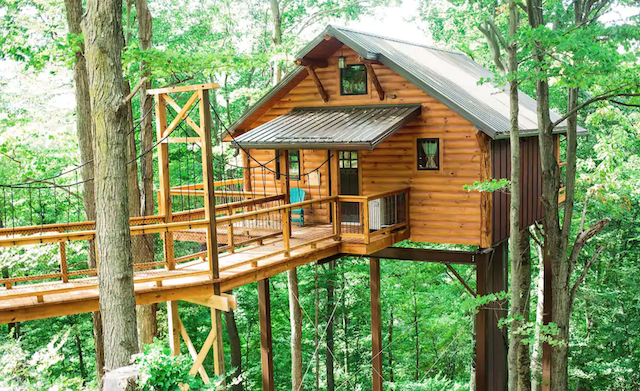 Perfect for two, the treehouse is equipped with a large king bed, a comfortable living room, and a well-stocked kitchen to cook in.
You have the entire cabin to yourself on a private 38 acre property in the heart of Amish Country. Nothing less than the perfect getaway for two.