Ohio is a beautiful state with plenty of natural beauty perfect for a luxury cabin getaway. Find beautifully secluded properties around popular areas like Hocking Hills with amazing amenities like pools and hot tubs. Here are 10 of the top-rated Ohio luxury cabins on Airbnb.
Kodiak Falls Lodge Ohio 50 miles from Cleveland
Immerse yourself in this oasis of calm in the lap of luxury on this breathtaking 34-acre property.
Kodiak Falls Lodge, Ohio, is located 50 miles away from Cleveland and is a mere 20-minute drive to Geneva-on-the-Lake. With 5 bedrooms, 4.5 bathrooms, and 13 beds, the term cabin is a misnomer for this sprawling retreat. It is spacious enough to accommodate a group of up to 20 guests. With games to play and a hot tub you can dip into, you're sure to have lots of fun with friends, family, or your significant other.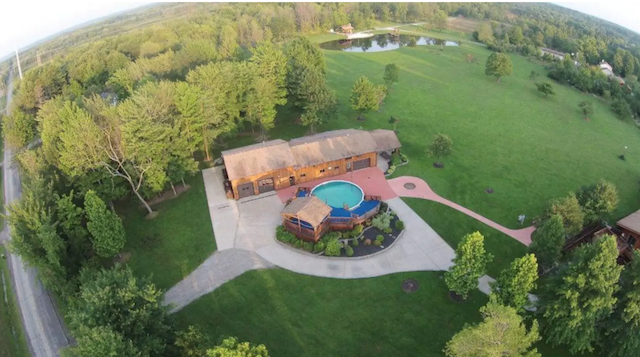 The cabin is well-equipped with a swimming pool/fishing pond, fire pit, and a built-in outdoor fireplace. It comes with a full kitchen so you can cook whatever you want to, as you would in the comfort of your home.
This luxury cabin is also conveniently located. You get access to the many local wineries and even visit the Spire Sports Institute.
Kodiak Falls is the perfect place to rejuvenate.
Bear Fork Lodge by The Inn & Spa at Cedar Falls Near Hocking Hills
This luxurious two-story, four-bedroom lodge surrounded by trees is nestled in about two acres of land. Its cozy interiors feature custom-made woodwork, an open loft, a wood-burning fireplace, and a finished walkout basement. It also has a pool table, a concrete patio, and a fire pit.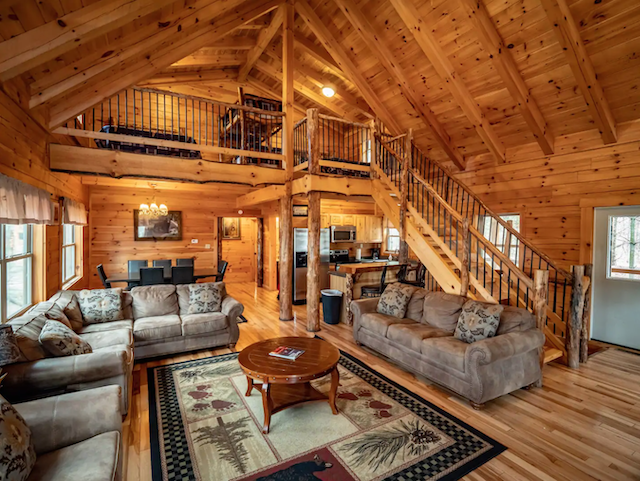 If you wish to explore the nearby area, you'd be just minutes away from Old Man's Cave and Cedar Falls.
After a long excursion, you can relax in the hot tub, which can accommodate eight people at once. If you can't leave your dog behind, this place has provisions for your pet, but with an additional fee.
Bear Fork Lodge is very serious about cleanliness. Any misconduct will cost you a hefty fee. On the plus side, you get to enjoy this every convenience that this uber luxurious retreat has to offer.
Paradise Falls Cabin by The Inn & Spa at Cedar Falls in Logan, Ohio
Leave the mundane world with its stresses behind and step into a world that becomes your haven for as long as you are there. Perfect for a small family, couples, or a group of six, this spacious cabin comes with a breathtaking view and an ambiance like no other.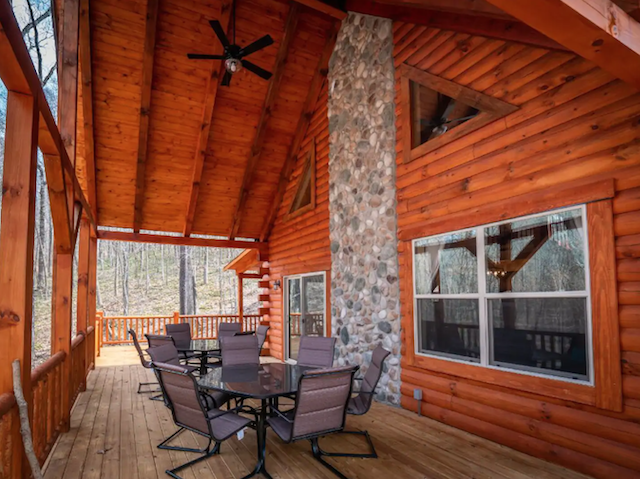 With wooden interiors, soft bright decor, and black stainless steel appliances, this rustic retreat brings with it all the comforts of home. You can prepare a delicious meal in the well-equipped kitchen.
The lower level is the games area, with free play arcade games and foosball. After your outdoor adventures, you can relax in comfort by the wood-burning fireplace or by the firepit. You can also enjoy the deck and the hot tub. Paradise Falls is close to Ash Cave and the Hocking Hills State Parks.
Thelma's Retreat by The Inn & Spa at Cedar Falls
Pictures don't do justice to this place.
This newly built, spacious lodge nestled in the woods is well-lit and you get breathtaking views of the woods from inside through its large picture windows that also let in plenty of natural light. The vaulted ceilings and a wrought iron glass chandelier in the living room only enhance the cabin's beauty manifold.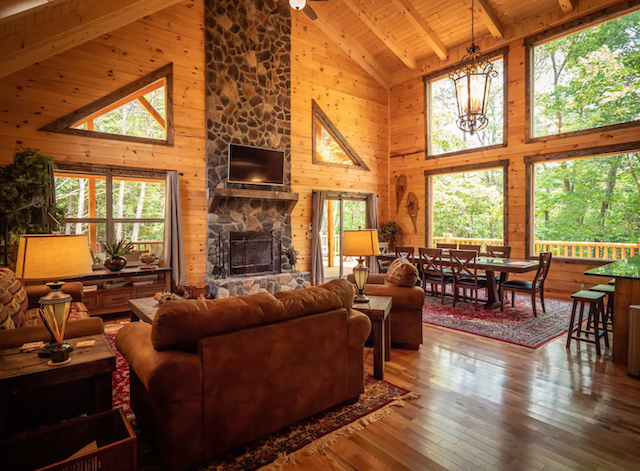 The cabin comes with 2 master suites and en suite bathrooms and can comfortably hold upto 8 guests. With its eclectic pieces of art and furniture, the lodge's interiors are as impressive as the exteriors. The open kitchen is perfect for cooking as well as enjoying conversations with your group in the living room.
This retreat is located on a steep slope, so a four-wheel-drive is recommended during any time of the year.
Moonlit Pines Lodge Cabin in Hocking Hills
Built as recently as 2019, this stunning cabin situated on 7.5 acres of the scenic landscape can accommodate around 16 guests.
It has all the things you need to make you feel at home away from home. The kitchen is well stocked and comes equipped with modern appliances making it a delight for any chef or baker.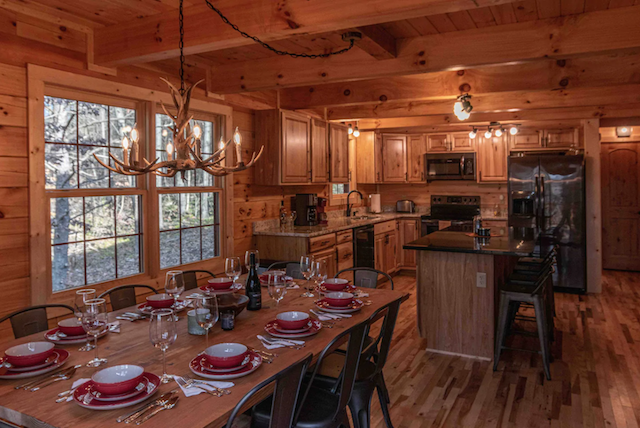 Amenities include a hammock, hot tub, fire pit, foosball, and a fireplace on a covered deck. Not to forget a great view of the outdoors including a starlit sky. Plus all the creature comforts of urban living including Wi-Fi, Smart TV, YouTube TV and a pool table as well.
It takes ten minutes to reach Logan and Nelsonville. The cabin has access to ATV trails, and it backs up to Wayne National Forest.
It is the perfect place for family gatherings.
Stillwater Lodge Cabin in Hocking Hills
Large enough for 16 guests, this spacious cabin has 4 bedrooms, 14 beds, and 3.5 bathrooms. It is perfect for large families or groups looking to escape the city for a day or two or even more.
You can enjoy the scenic view while you soak in the hot tub or fish in the fully stocked (catch-and-release fishing) pond. Explore the great outdoors using the on-site trail system.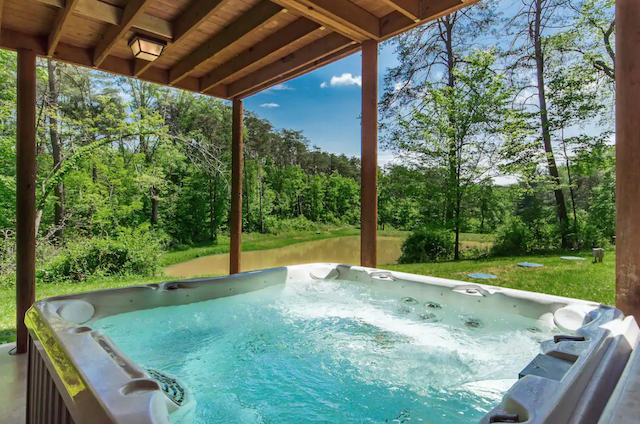 If you prefer the charm of the indoors, you can have breakfast or read a book on the porch facing the pond and the forest beyond – what could be more peaceful?
This three-level loft-style lodge features an open kitchen along with living and dining spaces with direct access to the porch. Nineteen of you can cozy up around the fire pit, play a game of corn hole, or play on the Wii if you choose to remain indoors.
This lodge is ideal in all respects – location, weather, and comfort.
Luxury Log Cabin in the Hocking Hills Area
This lodge has everything you would want. It offers luxury and comfort in all possible ways. The newly built lodge has up-to-date amenities and is fully furnished. It is suitable for a family vacation as well as a romantic getaway. Four large bedrooms, 5 beds, and 3.5 bathrooms, a game room, a porch, and a hot tub are just a few of its amenities.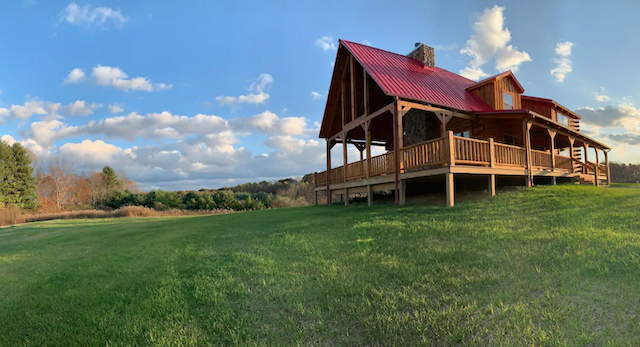 Moreover, you can create wholesome meals in the lodge's well-equipped kitchen, and everyone gets a seat at the 10-seater Amish wood dining table. Else, you can explore the abundant wildlife outside or sit on the reclining leather sectional couch, as you read a book while enjoying the warmth of the fire.
This facility is a short drive to Cedar Falls, Old Man's Cave and the Ash Cave.
Staying at this lodge will be an experience to remember.
Rustic Elegance Cabin in Hocking Hills Area
Nestled in a five-acre private land filled with trees, this beautiful multi-level cabin, with its wrap-around deck, is designed for those who want to enjoy every bit of Hocking Hills. It is suitably located a few minutes away from Old Man's Cave, restaurants, and shopping centers.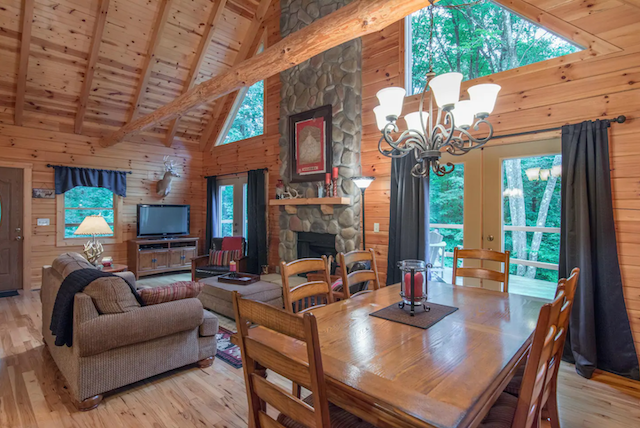 It comes with a well stocked kitchen and modern appliances, so you can rustle up quick meals. If you're not in the mood for cooking, you can visit any of the nearby restaurants that whip up some delicious local cuisine.
This log home does not cut corners when it comes to providing you with all the comforts you'll need for a relaxing stay. You can enjoy your morning coffee on the porch overlooking the forest and unwind after an exciting day around the fire pit.
It is recommended that you drive down in a four-wheel-drive vehicle due to the declining gravel driveway.
Authentic Log Cabin w/ Pool Table, Hot Tub & More
What's different about this cabin is that it was built using trees grown on the property. The logs have been carefully selected with no modifications made and preserved just the way they were. This old-fashioned method aims to highlight the beauty of the lodge.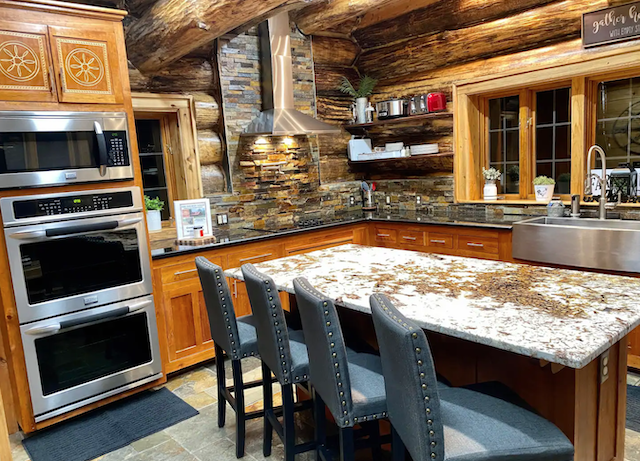 This authentic lodge is all majesty and grandeur right from its luxurious indoors to the wide and breathtaking outdoors. It wouldn't be wrong to say that this lodge has something for everyone.
It is well-equipped with everything your group could ask for: games, TV, Wi-Fi, and a nice hot tub to soak away the tension, besides the indoor and outdoor fireplaces. Comfortable beds and relaxing baths add to the much-needed R&R at the lodge.
You can whip up whatever you want to eat in the well-stocked modern kitchen or tour the 125-acreage or find a well stocked fishing pond.
Modern Ledge at LostCavern in Hocking Hills
This surreal cabin is centrally located on a 24-acre private land in the middle of the forest. It's perfectly secluded for a private vacation while also close to the famous Hocking Hills hikes. The cabin combines contemporary design with floor to ceiling windows that literally bring the outdoors in, and an old-world charm with a malm fireplace and fixtures in salvaged timbers that perfectly complement the rustic ambiance.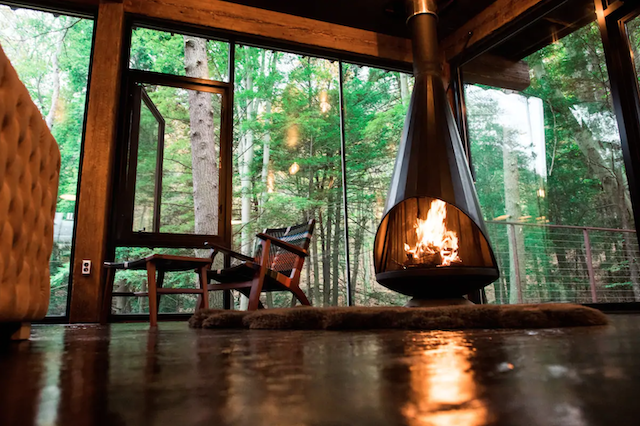 You can read a book and laze around, play a multitude of games provided, or even visit Ash Cave, which is a stone's throw away, and then come back and laze around again.
The cabin offers a striking view of the caverns, with seasonal waterfalls at every angle. It is the perfect staycation spot for those who want everything in one place.
Luxury Treehouse Getaway with Treetop Views
Take your partner with you on a private, romantic weekend to this beautiful treehouse, 30 feet high under the canopy of tall trees.
This one-of-a-kind treehouse gives you a magnificent treetop view from the covered porch. Once you've visited this place, you'll understand why it was featured on the home design channel HGTV.
Perfect for two, the treehouse is equipped with a large king bed, a comfortable living room, and a well-stocked kitchen to cook in.
You have the entire cabin to yourself on a private 38 acre property in the heart of Amish Country. Nothing less than the perfect getaway for two.