Whether it's winter, summer, spring, or fall, Blue Ridge, Georgia, promises to provide sanctuary amongst captivating mountains and evergreen forests. With 106,000 acres located in Chattahoochee National Forest, Blue Ridge is one big outdoor adventure just waiting to be explored and the best way to fully emerge is to rent one of the cozy Blue Ridge cabins.
Tackle a range of hiking trails, horseback through enchanting valleys, zipline along the treetops, or brave the Ocoee River on a white water rafting adventure. Head to the downtown Blue Ridge, which draws crowds all on its own in summer, for hearty local food or to roam the numerous antique shops and locally owned businesses that line Blue Ridge's streets. Be sure not to miss out on a ride on The Blue Ridge Scenic Railway, which begins at the historic depot downtown, journeying along the Toccoa River through the north Georgia countryside.
There's something for everyone in Blue Ridge, and you're guaranteed to leave feeling refreshed, relaxed, and just that bit closer to your loved one. Here are the best-rated cabins in the area to make your trip even better.
Sky Bear Cabin With Mountain Views & Modern Comforts
Winding mountain roads can be a real challenge, but you'll be thanking yourself you'd braved them once you reach the magical two bed, two bath Sky Bear Cabin.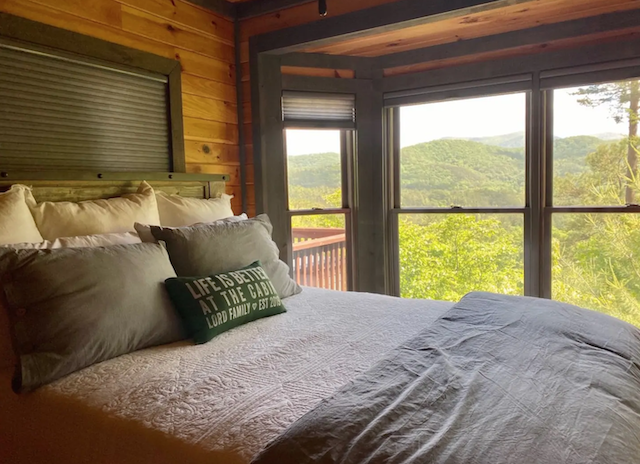 Breath-taking panoramic views of the Blue Ridge Mountains can be surveyed from several spots around this beautiful home- try out the hot tub with some bubbly in hand or the master bedroom with its incredible bay windows. And if you want to get in on the action, hiking trails, waterfalls, white water rafting,  and even chimpanzees are just minutes away.
Peaceful Ridge Cabin
Situated equally 1.5 miles to downtown Blue Ridge and 1.5 miles to Lake Blue Ridge, Peaceful Ridge sits in a prime location. Not to mention, it is situated on a dead-end road meaning privacy and tranquillity are at an all-time high here.
The cabin itself was custom designed by Don Gardner, making it one-of-a-kind. It consists of one bedroom, one bathroom, a hot tub, free parking on premises, a triple-head shower, a see-through fireplace, and a wrap-around-porch for ultimate mountain views.
Mountain View Hideaway Blue Ridge Cabin
Nestled atop the mighty mountains and forming part of the Cherry Log Mountain Community, this charming hideaway cabin ensures total serenity. Its location on Cherry Log's 400+ acres of private property already makes the cabin pretty exclusive.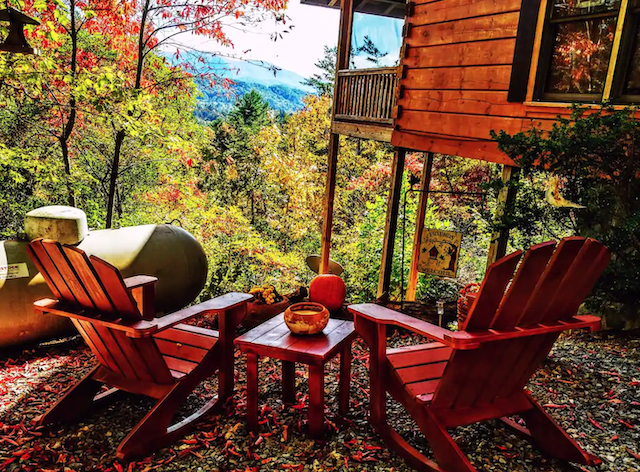 But just to ensure you and your partner have an utterly peaceful stay, the log cabin is further tucked away on its own private drive. It is made up of two bedrooms, two bathrooms and contains a hot tub, an inviting hammock situated on the balcony, a BBQ grill, a fire pit, Wi-Fi, and, of course, parking on-premises. Note the renowned Benton Mackaye Hiking Trail runs through the property.
Tranquility Ridge Cabin in Blue Ridge
Sit by the crackling indoor fireplace, cuddled up and cozy, in this one bedroom, one bathroom intimate Blue Ridge cabin. If it's beautiful nature, you're after just step right outside into the crisp mountain air, or head to famed Mercier Orchards only six minutes away, where you can pick locally grown fruit and taste some of the best-fried apple pies in the US.
With Wi-Fi, a TV, a hot tub, an outside grill on-premises,  and mountain activities just minutes away, you're sure to have a memorable retreat at Tranquillity Ridge.
Panoramic Sunset Views Cabin – Hickory Bear
Admire the burning oranges and yellows of the sky from The Hickory Bear's deck as the sun sets on beautiful Blue Ridge. Wildlife watching in the early mornings, and you might catch sight of deep galloping by through the forest. And fear not, these stunning views belong entirely to you- The Hickory Bear stands alone, and you'll have access to its entirety. It is made up of two bedrooms and one bathroom.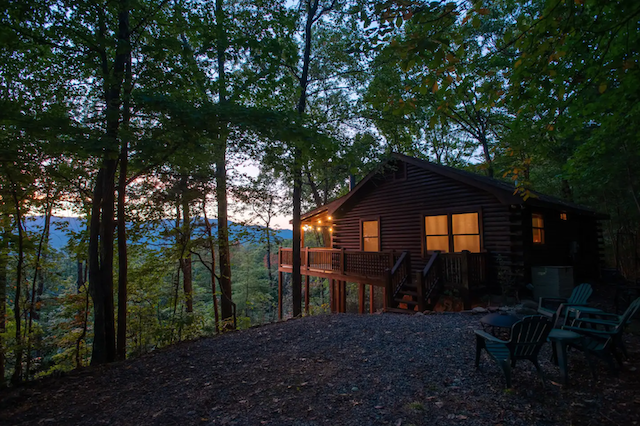 Its amenities include a gorgeous stone fireplace, Wi-Fi, TV, and free parking. An added bonus- the drive up to The Hickory Bear is relatively straightforward and easy, unlike access to some of the other cabins situated in Blue Ridge, which require 4WD.
Petey's Peak Cabins in Blue Ridge, Georgia
Just six miles from downtown Blue Ridge, a short drive from the 'Apple Capital of Georgia' (Ellijay) and the Big Foot Museum, Petey's Peak (a two-bedroom, one a half bathroom cabin) is conveniently located and well connected. Adventure is never far, and there is also an abundance to explore right on the property, including the various walking trails, the lake, the creek, and the small blue chapel.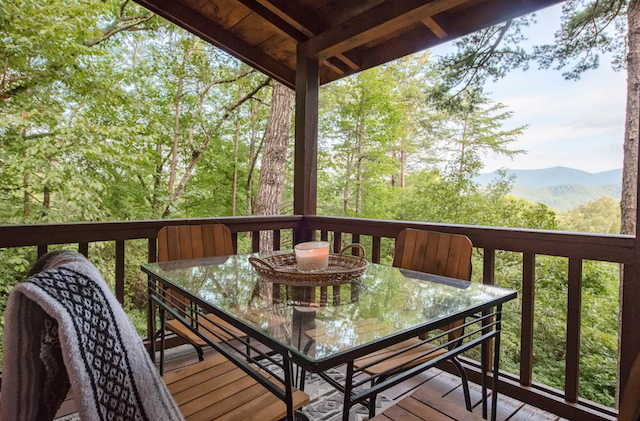 If you don't know where to start, don't worry, the hosts have taken care of the details for you- a list of activities will be waiting for you on arrival. If you'd prefer to stay inside cuddled up in the upstairs nook or outdoor hammock with a good book, then that's all well and good too!
Lake Hideaway Cabins for Rent in Blue Ridge, Georgia
Lake Hideaway truly lives up to its name- the cabin is a rare hidden gem, lying on Lake Allen's shores within the Cherry Log Community. It simply oozes romance- there is a Jacuzzi awaiting you in the master bathroom, an oversized stone fireplace in the guestroom, and another fireplace outdoors on the covered porch.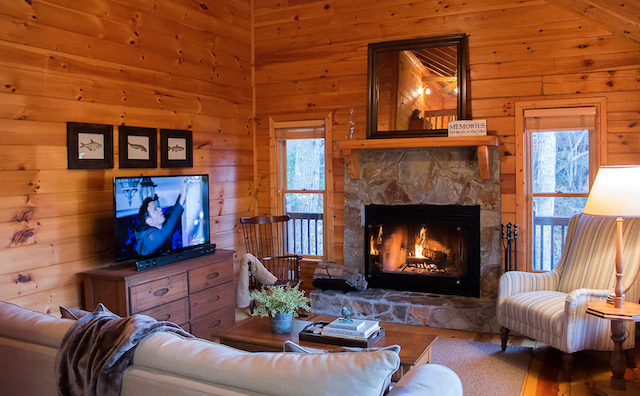 The two bed, two bath cabin has its own private dock. You can canoe, paddleboat, and fish (fishing poles are provided) out on the lake. Be sure to stop for a bite at the renowned Pink Pink BBQ Restaurant just steps away, and try out the tasty local strawberry cider back at the cabin.
Cozy Haven View Cabin With Hot Tub
Cozy Haven cabin retains a rustic feel but is equipped with all the modern amenities one might need. Inside there are two bedrooms, one and a half bathrooms, a TV, and Wi-Fi. Outside, three decks wrap around the entirety of the cabin meaning unparalleled views can be found with every step.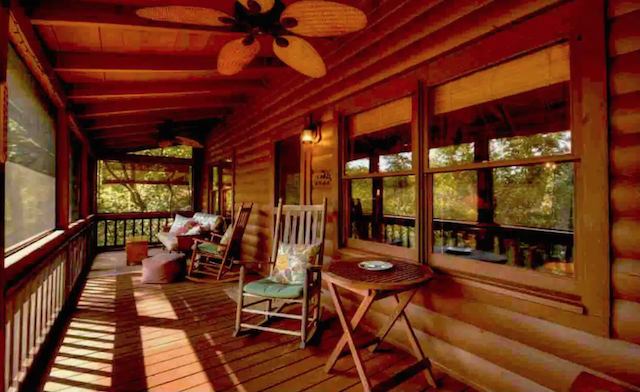 There is also an inviting hot tub, a fire pit to roast marshmallows on, and free parking on-premises. Should you want or need a trip to town, Cozy Haven provides easy access so that grocery stores, restaurants, and quaint shops are all well within reach.
Leroy's Place in Blue Ridge, Georgia
Recuperate amongst idyllic environs at Leroy's Place, a two-bedroom, two-bathroom blissful cabin that has just about every amenity to keep you on-site. The screened lower porch
features a spacious hot tub, a couples swing, a dartboard, and not to mention surreal scenery. Inside there is a TV, wood-burning fireplace, and Wi-Fi. Should you want to venture out into the mountains, you could spend the day hiking to local waterfalls, catch a movie at The Swan Drive-In Theatre, or play a round of golf at the Old Toccoa Farm, which overlooks the rushing waters of the Toccoa River.
Rustic Fireside Cabin
This 2,400 sq. ft, three-story cabin home features three bedrooms, three bathrooms, a games room equipped with billiards, foosball, and a poker table, wrap-around decks, a luxurious hot tub, and three different fireside options (inside and outside).
It even has a separate refrigerator just for wine, which you can stock up on at the Bear Claw Vineyards a mere five minutes away. Here you can also catch live music on Saturdays and join in on some delicious wine tastings.
Calico Cabin with Mountain Views
Two miles from downtown Blue Ridge stands the spacious three-bedroom, three and a half bathroom Calico Cabin. Its main level features a stunning cathedral ceiling, a stone fireplace, and a bedroom suite with a private bathroom. The upper-level bedroom has its own private balcony.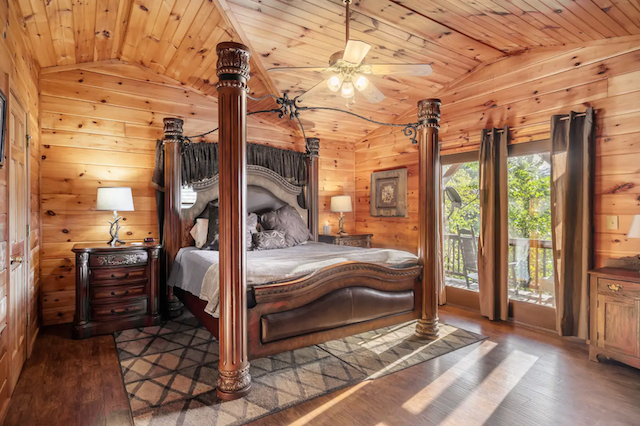 You can survey the glorious mountain views, and the terrace floor is even more special. It houses the recreational room that opens out onto a covered porch with a large hot tub. You can also arrange apple orchid tours from the Calico Cabin, horseback riding on the trails, and nature walks on the famed Appalachian Trail.
Luxury Log Cabin Airbnb in Blue Ridge
The sky seems just that bit clearer, and the stars just that bit brighter at The Lodge on Laurel Ridge Mountain. Here is a cabin retreat to remember.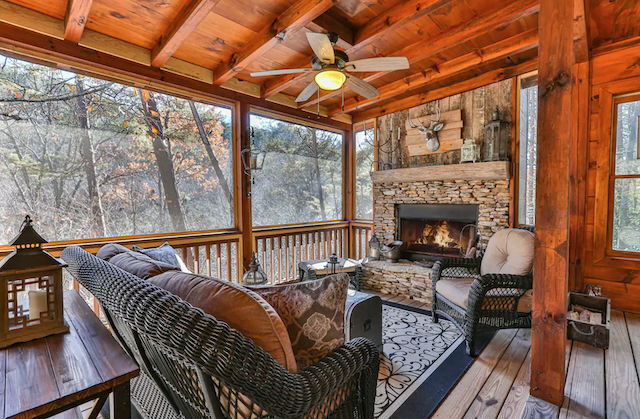 The home consists of two bedrooms and two bathrooms, TVs with all the streaming services you could desire, an outdoor hot tub perfect for a relaxing soak, a great selection of board games to keep you busy, and a one-of-a-kind, full-size arcade game that features 200+ vintage video games such as Ms. Pacman. The Benton Mackaye Trail is additionally a short walk away.
Luxury Treehouse Cabin in Blue Ridge, Georgia
Perfect for couples, this extremely modern and secluded treehouse cabin is a truly astounding sight to behold. The intimate one bedroom, one bathroom home places you up amongst the trees and the large windows ensure you'll always have a fantastic view of the beautiful forest below.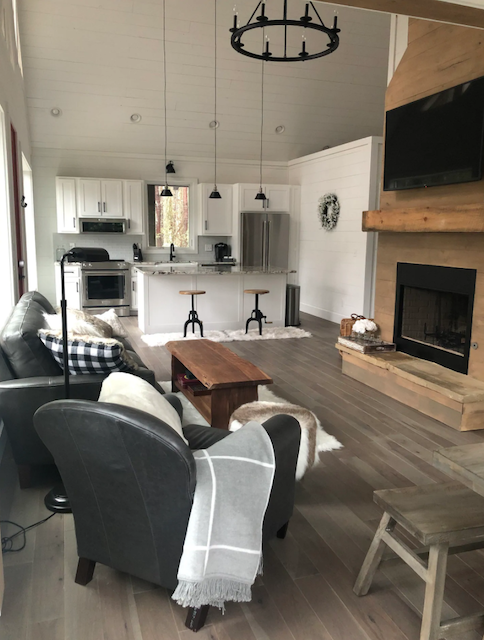 Situated within the Aska Adventure Area, the cabin just steps away from mountain bike and hiking trails, The Toccoa River, Lake Blue Ridge, and the downtown area. Be sure to make use of the cabin's gorgeous marble rain shower and large, oval soaking tub.
Blue Ridge Cabin Getaway Cabins
This cozy one bedroom, one bath cabin is located just a 25-minute drive from downtown Blue Ridge. With owners living just upstairs, you'll never be far from helping hands and trustworthy guides.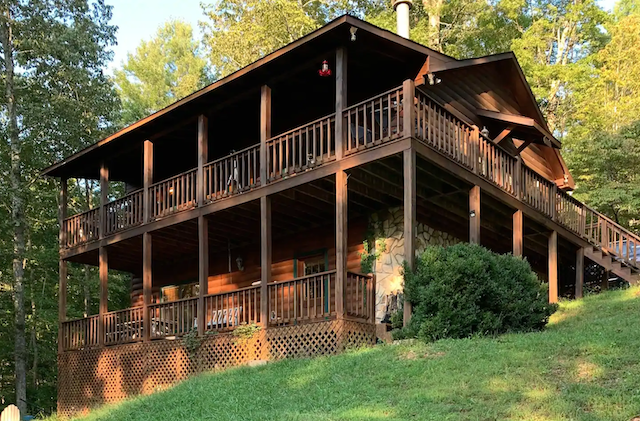 The hosts are exceptionally friendly (expect delicious home-made muffins). The cabin is extra-homey with kitchen supplies, firewood, fire starter, and additional towels and bed linen all included. There also are young chickens that free range on the grass just outside- guests are welcome to fresh eggs.