If you've been craving an escape to nature, but don't want to give up the benefits of modern society, then these cabins are just what you're looking for. All of these cabins reside in the scenic area of Broken Bow, full of woods, lakes and rivers that will take your breath away.
You won't have to skimp on the comforts, though—these cabins are as luxurious as they come, with many unique aspects and plenty of amenities and activities. Don't settle for second best. Read on to find the luxury cabin experience you deserve.
Amazing Creekside Luxury Cabin
This incredible cabin provides you with the perfect mix of rustic charm and luxurious amenities. Nestled along a lovely creek, the combination of surrounding natural scenery and nearby conveniences means you can have your peace and quiet and still enjoy all that Broken Bow has to offer.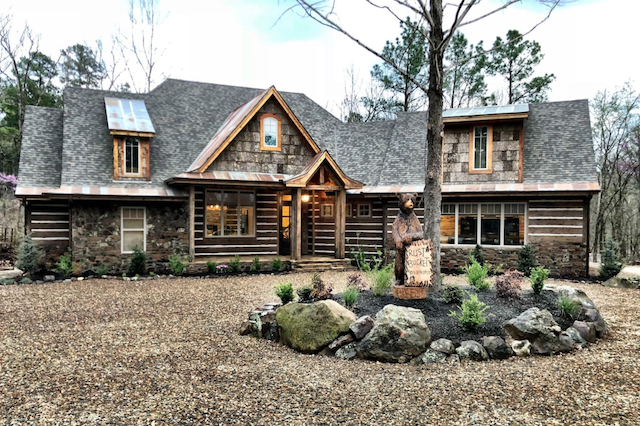 Inside, the woodsy décor combines wonderfully with spacious and comfortable accommodations. It features 6 bedrooms, 4.5 baths, a full-service kitchen, a massive fireside dining area, a game room and so much more. In addition, you can also take advantage of additional services, such as a private chef or masseuse.
Stairway to Heaven Luxury Cabin
Find a little slice of heaven at this luxury cabin. Situated near Broken Bow Lake, you can take in the spectacular views surrounding this mountain-top getaway. Featuring a unique cathedral-like design, you can find everything you need and more here.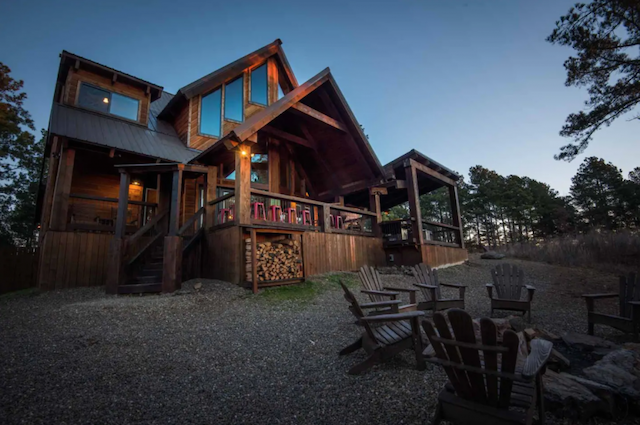 It features room for up to 20 guests, an open concept dining and living area, fully-stocked kitchen, outdoor seating with fire pit, a hot tub and many more amenities. And with the multitude of nearby attractions, you'll find adventure both indoors and out.
Way More Ramblin' Luxury Cabin
Take your vacation to the next level at this jaw-dropping luxury cabin. You'll be neighbors with majestic pine trees and fantastic natural scenery. Drink it all in from the wrap-around porch, while gathered around the fire pit, or from the hot tub. And you won't miss out on the view from inside either, as the spacious living area offers large windows to look out from.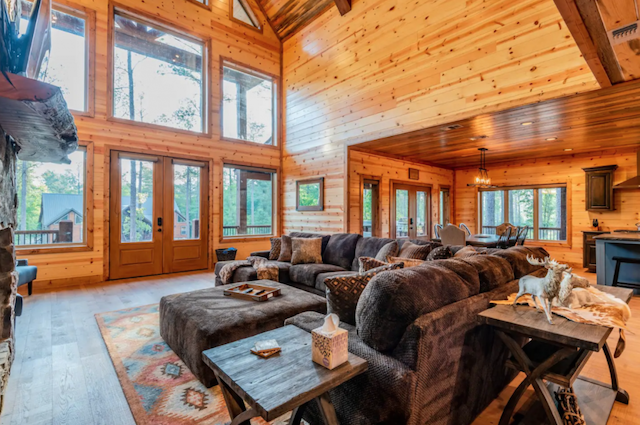 With 4 bedrooms, 3.5 baths, and multiple entertainment areas, you'll have both comfort and convenience at your fingertips.
Kiamichi Tranquil Lake & Pines Mountain Cabin
Treat yourself to an unforgettable experience at this amazing lakeside cabin. Nestled in between a scenic forest and a beautiful lake, this palatial lodge makes for an ideal getaway destination. Try your hand at fishing or simply take in the magnificent view at the lake, or go exploring in the nearby woodlands. Around the cabin, you'll find an outdoor cooking and dining area, a fire pit, a covered porch, and a hot tub. But once you're inside, you may not want to leave.
The interior sports a homey all-wood look. 6 massive bedrooms, full kitchen and dining, lounge, game room, floor-to-ceiling fireplace—and that's only scratching the surface of what this incredible cabin has to offer.
Sparrows Nest Luxury Cabin
Have the luxury cabin experience you've always dreamed of. At this gorgeous modern take on the classic cabin style, you'll have everything you could want and more. A 4,000 square foot mansion, it features a combination of rustic log cabin exterior and sleek chrome-and-marble interior.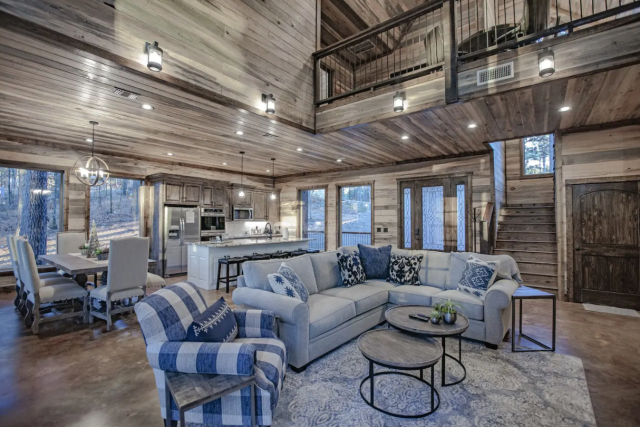 The open plan living/dining/kitchen area provides an airy atmosphere. It also features an outdoor lounge area with fireplace, en suite bathrooms, a game room with a video arcade machine, an outdoor playset for the kids, a hot tub and so much more.
Gather Round Luxury Cabin Lodge
If you've been searching for the perfect combination of comfort and class, then look no further. Conveniently located near Beavers Bend State Park, this luxurious cabin is settled among tall trees and serene views. You can take in the scenery from the covered porch, or from the spacious 6-person hot tub. Inside, you'll be treated to accommodations meeting your every need. Plenty of natural light is provided by the numerous windows.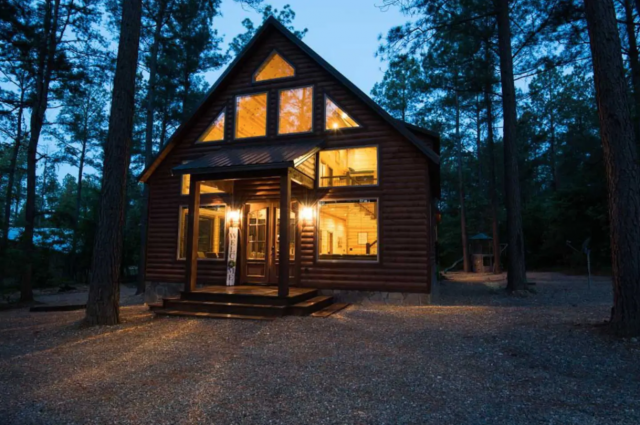 A cozy living area around the fireplace offers a perfect place to relax. The open kitchen and dining area provides plenty of room for showing off your cooking skills. It also features a game room and enough sleeping arrangements for the whole family.
Grand Lux Luxury Cabin
Experience the wonder and grandeur this luxury cabin provides. From the moment you walk up its grand front staircase, you'll be in awe of this amazing destination. The wrap-around deck offers ample seating, and at the rear of the cabin, you'll find a hot tub, fire pit, and a gazebo decked out with barbecue equipment. Inside, the high ceilings and large windows provide plenty of natural light, and the décor evokes an atmosphere of class and comfort.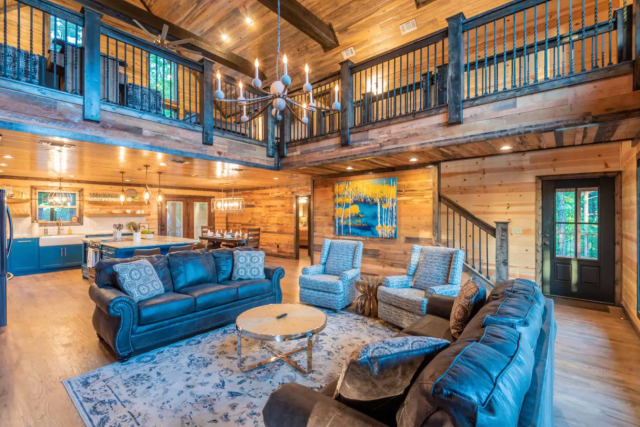 The amenities include 5 king bedrooms with en suite bathrooms, a game room, a full kitchen/dining area, and a spacious living area with a lovely chandelier.
Perfect Peace Luxury Broken Bow Cabin
Find the peace and quiet you desire, without sacrificing the modern conveniences you need. This cabin offers a beautiful getaway, that also contains everything you'll need and more for a fun and relaxing vacation.
Outside, you'll have access to a fire pit, as well as numerous activities, including horseshoes and a sand volleyball court. Inside, the combination of wood-and-stone décor creates a sense of natural wonder from the comfort of the indoors. It features large windows, luxurious bedrooms with private bathrooms, a full kitchen, and a game room.
Modern Farmhouse Cabin
This grand farmhouse-style cabin provides the ideal escape from everyday life, with its combination of beautiful natural scenery and slick modern design sense.
Situated near a tranquil pond, you'll find a variety of outdoor features, including a covered lounge area with comfy seating, a grill and dining table, and swing. Inside, the striking green and white décor will immediately catch your eye. The vaulted ceilings, luxurious bedrooms and bathrooms, and opulent lighting truly make this a private mansion all your own.
"All Spruced Up" Luxury Cabin
 For anyone looking to spend a wonderful time amid the beauty of nature, this cabin is for you. Surrounded by its namesake spruce trees, you won't be left wanting for anything at this fantastic vacation destination. A lush, covered outdoor lounge area offers a fantastic view in absolute comfort. You'll also have access to a fire pit and outdoor dining area.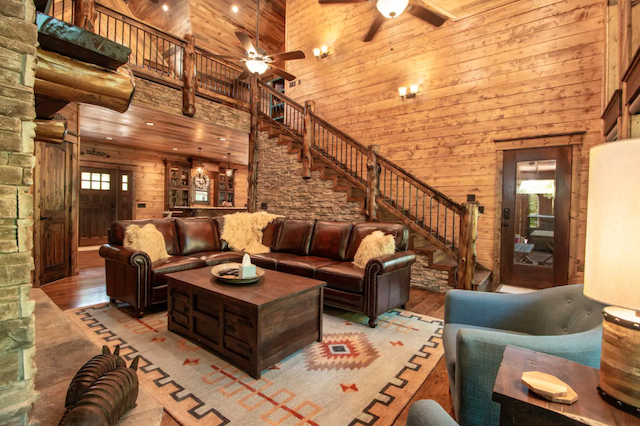 The luxury doesn't end once inside, as each king bedroom features a decadent private bathroom. Whether you're inside enjoying the game room, relaxing in the spacious living area, or outside among nature, you'll have the time of your life at this spectacular cabin.
"Deck-A-Saurus"
You'll want to spend as much time outdoors as indoors at this one of a kind luxury cabin. True to its name, this magnificent cabin's central showpieces are the two sprawling, wrap-around decks. These decks offer more amenities outside than most cabins offer inside.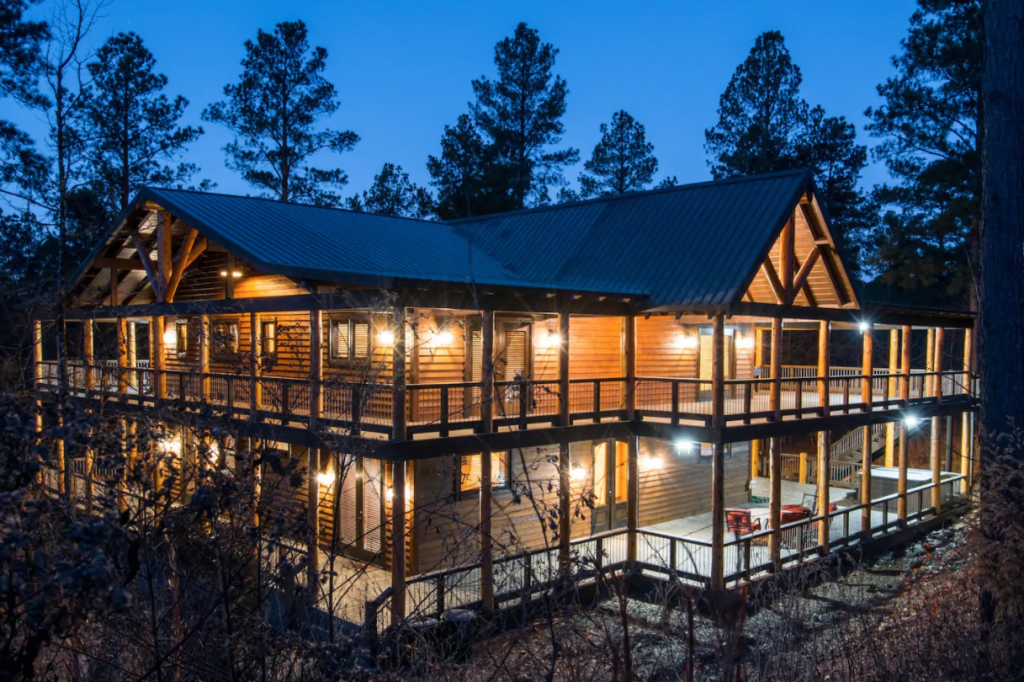 You'll find game tables, lounge areas with fireplaces and TV, a hot tub, and even a sparkling chandelier. Large windows offer tons of natural light once inside, and the rustic aesthetic brings nature to you. Plush bedrooms, spacious bathrooms, a fully-stocked kitchen, and a cozy dining area are all icing on the cake of this splendid cabin.
"Call It A Day" Luxury Cabin
Indulge in the class and convenience of this incredible cabin. Featuring a spacious covered deck, fire pit, hot tub, and ample seating, you can be close to nature without giving up the comforts you desire. Once inside, you'll find an even more luxurious experience awaiting you.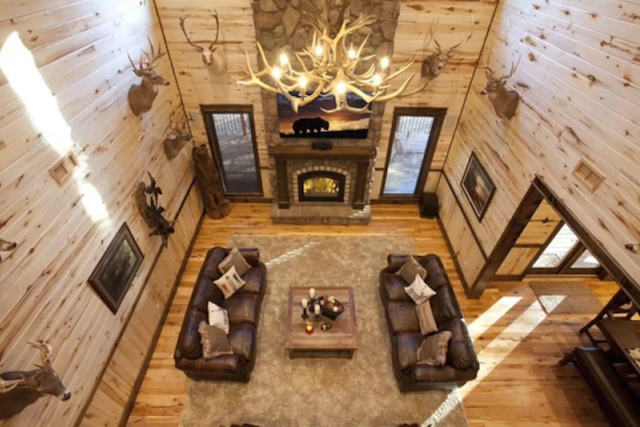 The soaring ceilings and bright wood interior make for a wonderful atmosphere. The accommodations include two king bedrooms with private bathrooms, a massive kitchen and dining area, separate game room, and so much more.
Trophy Buck Lodge
Enjoy the splendor of nature from this secluded luxury cabin. Surrounded by majestic trees, you'll find fantastic views from every angle. Outside, you can relax in front of the unique fire table, take a dip in the hot tub, or gather around the fire pit.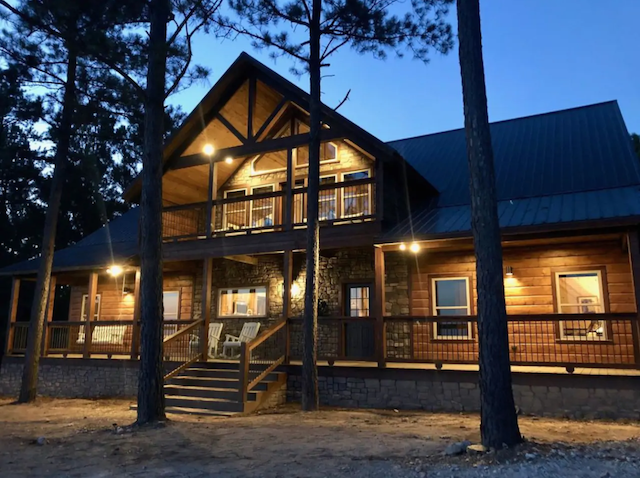 And the gorgeous views don't stop once inside, as the vaulted ceiling and massive windows allow for both natural light and natural scenery. Each of the 5 lush bedrooms come with their own private bathrooms, and a game room features plenty of activities for rainy days.
6 Bedroom Luxury Creek View Cabin
Whether indoors or out, this splendid cabin offers you a wide array of comforts and activities. Just a short walk away from two peaceful lakes, you'll have the opportunity to break out the fishing poles and try your hand at catching dinner. Cook up the catch of the day at the outdoor grilling area, or inside in the fully-stocked kitchen.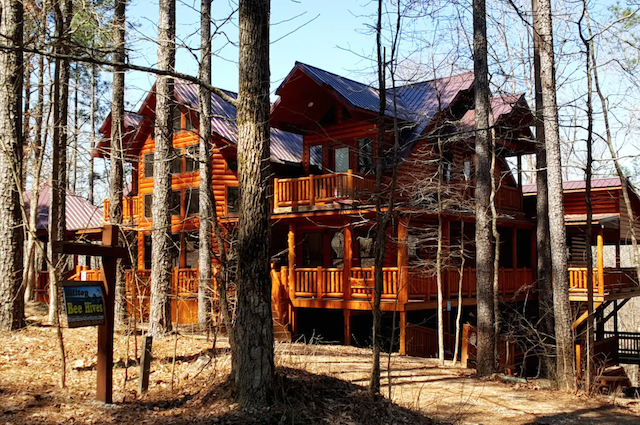 After dinner, relax amid nature on the covered porch or second floor balcony, or in the comfy living area inside. With accommodations for up to 26 people, a game room with wet bar, and even a hot tub, this cabin is the ultimate vacation destination.
Luxury Cabin, 4 Miles from the Lake
Relax in comfort and style at this lovely cabin. Only a few miles from the shores of Broken Bow Lake, you'll immediately be taken by the stunning red exterior and wrap-around deck. With a hot tub, lounge area with an outdoor fireplace, and a grill, even the great outdoors can be experienced in luxury.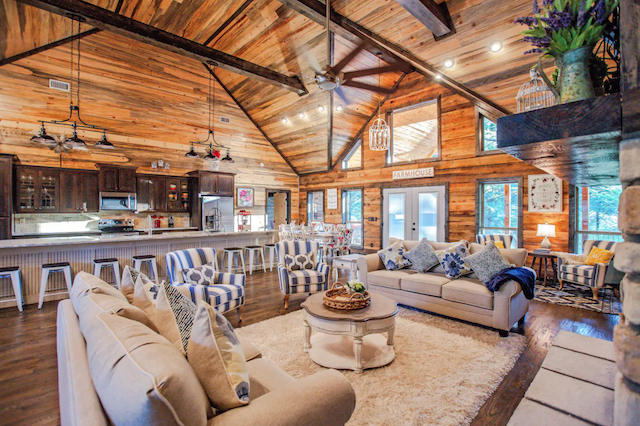 Once inside, the warm and homey interior will welcome you, and the slick modern décor will astound you. With a massive open living/dining/kitchen area, 4 king bedrooms with private baths, and a 12-person breakfast bar, you'll have everything you need and more.
"The Big Chill" Luxury Cabin
Once you visit this amazing cabin, you may not want to go home again. Situated next to a 3-acre pond, you'll have access to a vast array of activities, both indoors and out.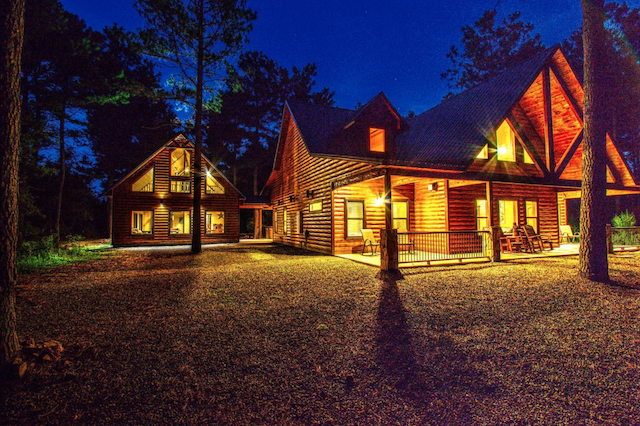 Go fishing in the pond, challenge your friends or family in the volleyball or badminton court, join them in the 8-person hot tub, or just relax and enjoy some food and quality time around the fire pit. The inside features a rustic design, open floor plan living, and dining area, a game house, and sleeping arrangements for 14.
Eagle's Point Cabin
Make some unforgettable memories at this fantastic luxury cabin. Perched above the winding Mountain Fork River, you'll have a truly spectacular view from the back porch, allowing you to eat or relax within sight of the amazing scenery. The peaked ceiling and large windows allow for natural light and unobstructed views from within.
You'll also have access to a spacious kitchen and dining area, wet bar, lounge and game room, and accommodations for 16 or more. Don't miss out on a chance to experience everything this incredible cabin has to offer.