Cooking is one of the highlights of camping or staying in cabins. I love making a typical breakfast with bacon, eggs and pancakes or french toast, easy foil meals with amazing favorites and inventive desserts that take our favorite sweet treats and make a campfire version. Here are some recipes to try on your next campout.
Campfire Breakfast Recipes
Spring Green Campfire Frittata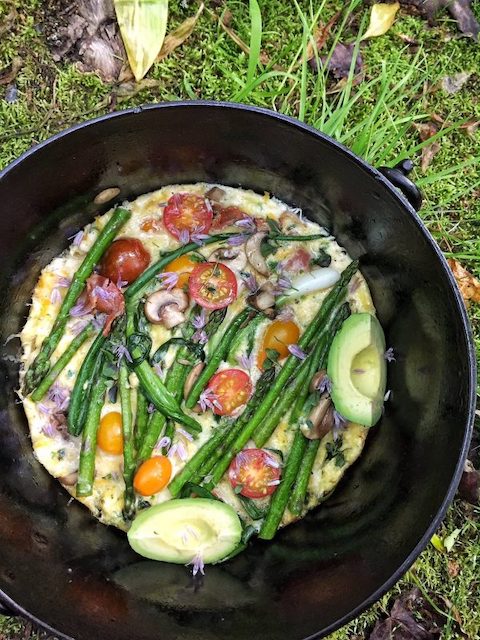 Whether you are fueling up for a hike, wrangling small children, or just tossing a Frisbee on the beach, this hearty breakfast will keep you fed up well through the morning.
Omlet In A Bag
No mess omelets are a thing with this camping hack. Get our recipe for quick and easy omelets and tips for making the campsite.
Campfire French Toast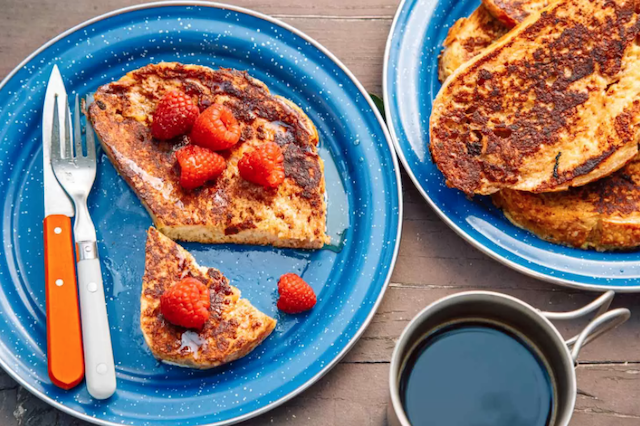 My personal favorite breakfast recipe because of its ease and taste is French Toast. You can use some simple sliced white bread or buy a loaf from the bakery like Challah bread and top it with whatever you would like.
Appetizer for Camping
Cheesy Vegetable Campfire Dip
Perfect for sharing, this beyond amazing Cheesy Vegetable Campfire Dip recipe is perfect for a light lunch with the family or sharing as an appetizer with friends.
Campfire Nachos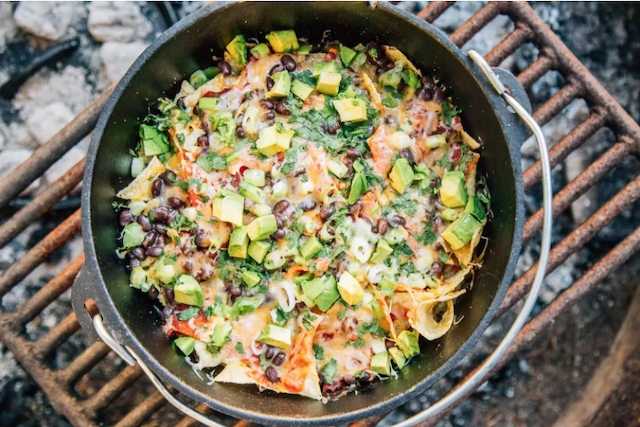 Campfire Nachos are a fun dinner or appetizer to enjoy at the campsite. This recipe features beans, shredded cheese, spicy salsa, avocado, and cilantro and can be customized with all your favorite nacho toppings.
Paneer Tikka
Paneer Tikka is a popular and delicious tandoori snack where paneer (Indian cottage cheese cubes) are marinated in a spiced yogurt-based marinade, arranged on skewers and grilled.
Campfire Dinners
Campfire Pizza Bake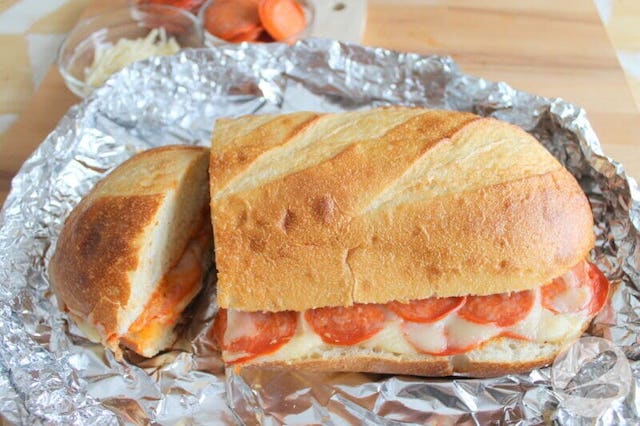 This Campfire Pizza Bake Recipe is life-changing. It's beyond easy to make and a total crowd-pleaser, especially with the kids.
Dutch Oven Chili and Cornbread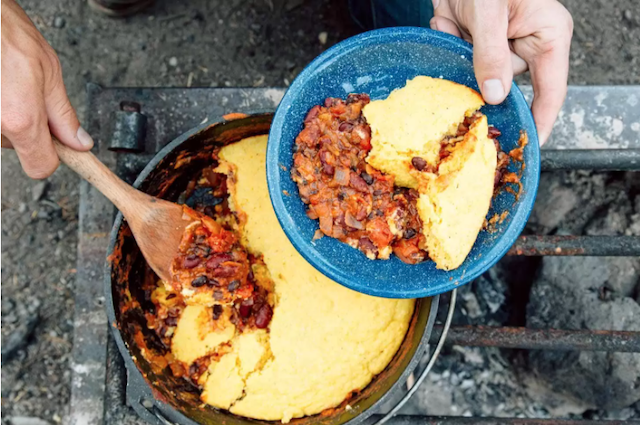 This Dutch Oven Chili and Cornbread is an easy one-pot camping meal! This is a perfect dinner for family camping.
Blackened Catfish Recipe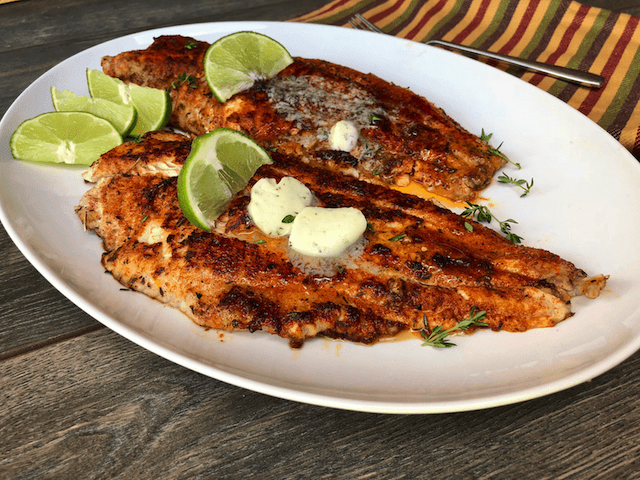 Blackened Catfish
Cooked on the grill or in a cast-iron skillet over the campfire, this blackened catfish is really good. Perfect for that fishing/camping trip.
Foil Dinners
Foil Stew
Foil Stew (aka Hobo Dinner, Campfire Stew, Tin Foil Dinner) is easy, fun, and so good that you'll want to make it even when you aren't camping.
Grilled Shrimp Foil Packs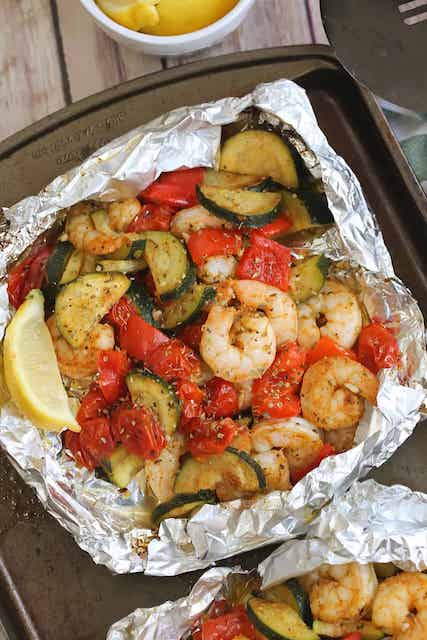 These easy Grilled Shrimp Foil Packs are loaded with shrimp, zucchini, peppers, tomatoes, and tasty spices. Made over a campfire, on the BBQ, or even in the oven – cleanup is a breeze!
Chicken Fajita Foil Packets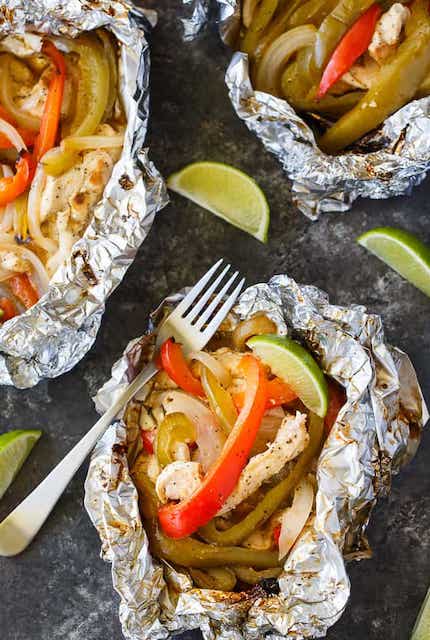 Chicken Fajita Foil Packets are flavor-packed and low carb! This easy grilling recipe is made with tender chicken, peppers, and onions seasoned with the yummy tastes of fajitas.
Curry Cauliflower Grill Packets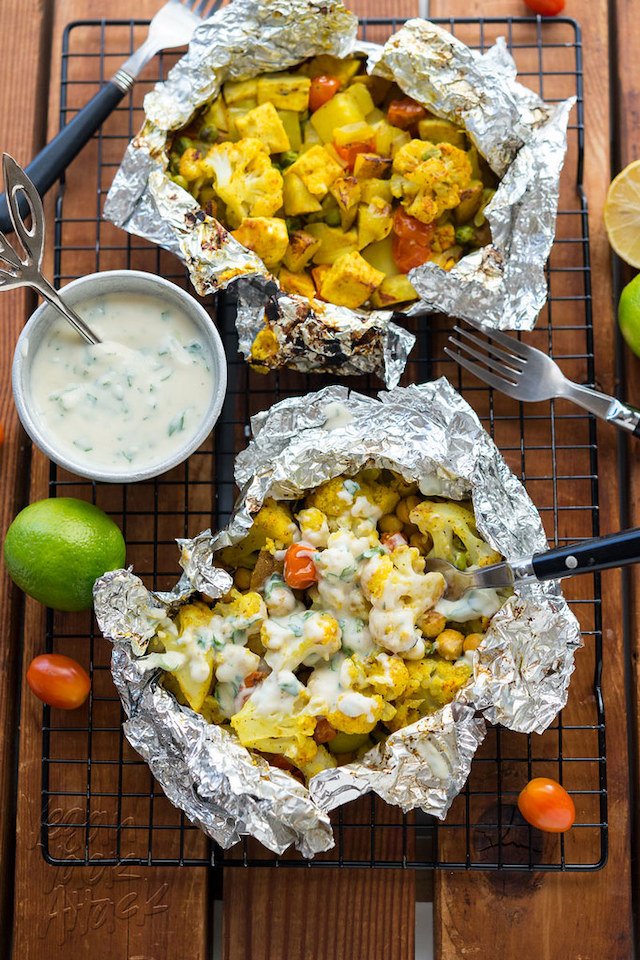 These Curry Cauliflower Grill Packets will blow your mind with how easy-to-make, delicious and healthy they are.
Grilled Salmon & Asparagus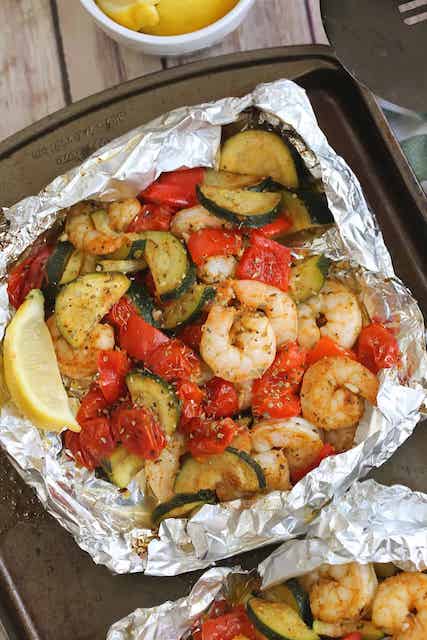 Foil packets make easy dinners when you're camping. Throw everything together, on to the grill, then serve. Campers love this Grilled salmon and asparagus cooked in a foil packet. It comes out perfect every time.
Greek Inspired Beef & Cauliflower Foil Meal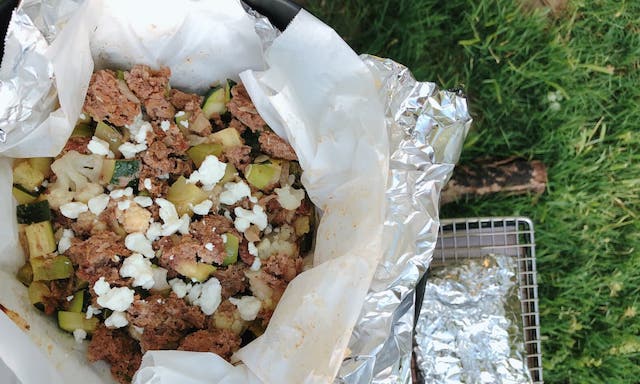 No more plain hobo meals with this Greek-inspired beef and cauliflower foil meal. We've added Kalamata olives and feta for a zip that's keto-friendly and kid-approved.
Pizza Potato Packs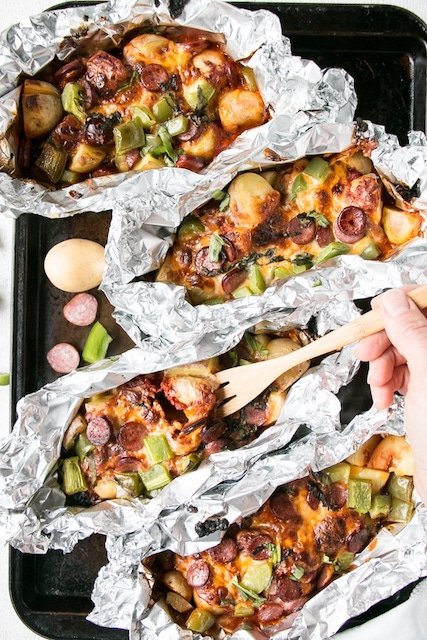 Pizza Potato Packs are the ultimate campfire recipe with a wholesome potato base and topped with pizza flavors you won't be able to resist. Grab this almost effortless foil pack meal that will become a new family favorite.
Silver Turtles
Silver turtles aka foil packet dinners are a classic campfire meal. These packets can be made ahead of time and customized for each person's likes and dislikes.
Sides
Campfire Beans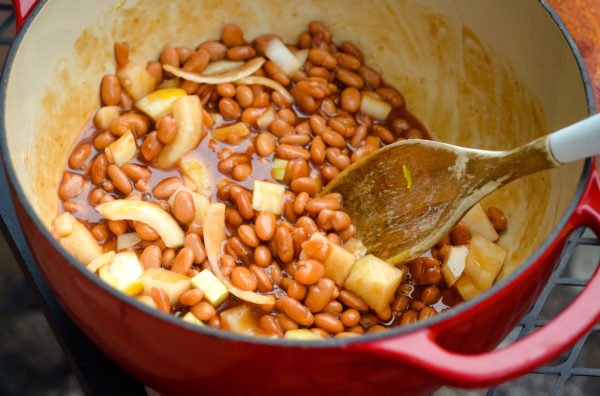 Make these easy delicious Campfire Beans right over an open flame!
Campfire Potatoes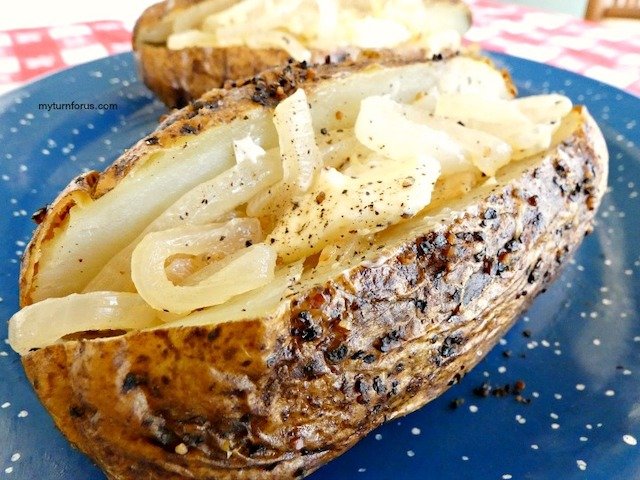 A longtime favorite to campers, campfire potatoes are almost as easy as they are delicious.
Seasoned Potatoes with Onions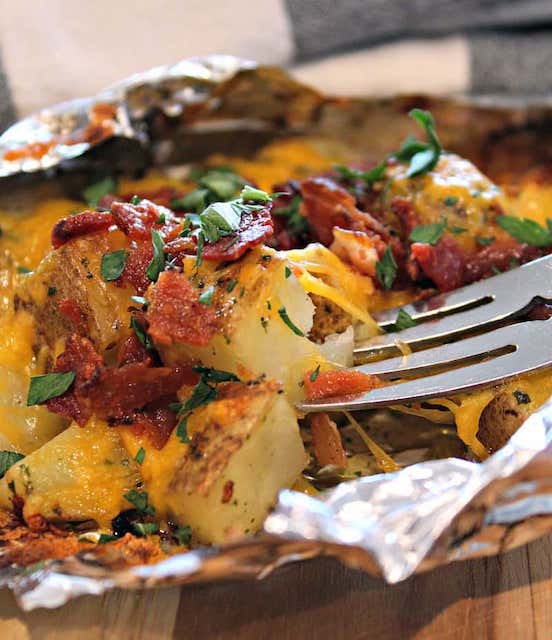 Make potatoes the star of the show with these Ranch seasoned diced potatoes and onions grilled in foil until tender and browned, topped with bacon and gooey melted cheddar cheese then finished off with a dollop of sour cream.
Grilled Corn on the Cob with Creamy Avocado Dill Dressing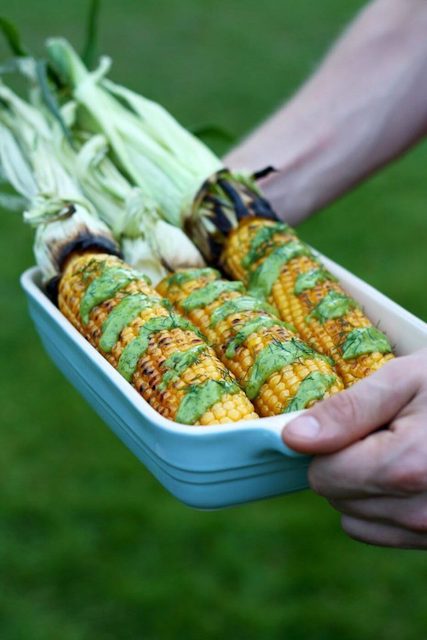 Perfectly Grilled Corn on the Cob is very juicy and pairs so well with creamy vegan avocado dill dressing. Easy and impressive recipe for your summer barbecue!
Campfire Desserts
Dutch Oven Pineapple Upside-down Cake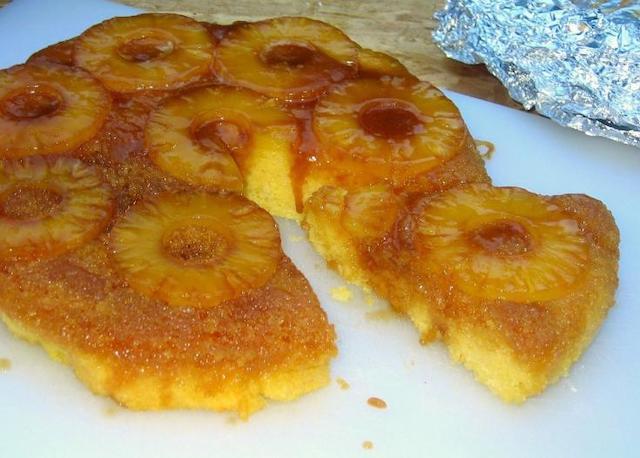 Create a little culinary magic! Bake up this nearly fool-proof Dutch Oven Pineapple Upside-down Cake on your next camping trip – or in your own backyard.
Campfire Blueberry Crisp
Make this fabulous Campfire Blueberry Crisp over an open flame in a cast-iron skillet, perfect for a camping dessert!
Dutch Over Texas Peach Cobbler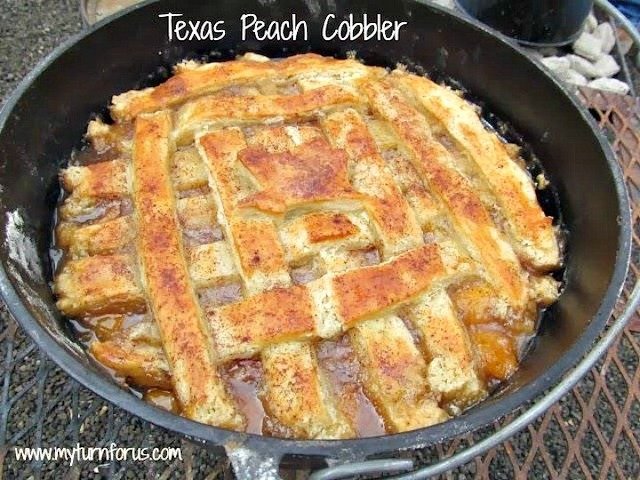 Try a dutch oven peach cobbler as a perfect campfire dessert.
Dutch Oven Lemon Blueberry Clafoutis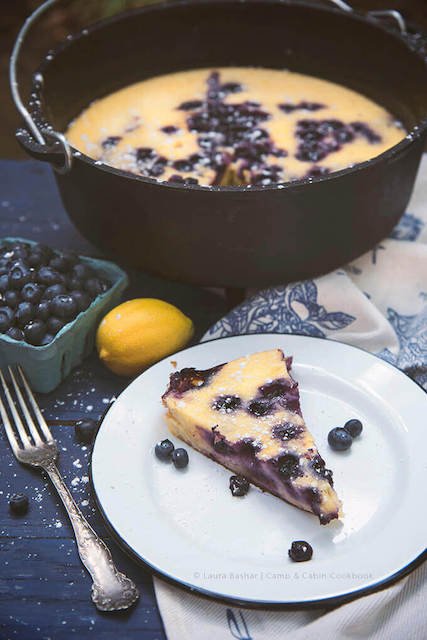 Traditionally made with cherries, this Dutch Oven Lemon Blueberry Clafoutis is a delicious twist on this classic French dessert and it can easily be made indoors or out.
Grilled Blackberry Cobbler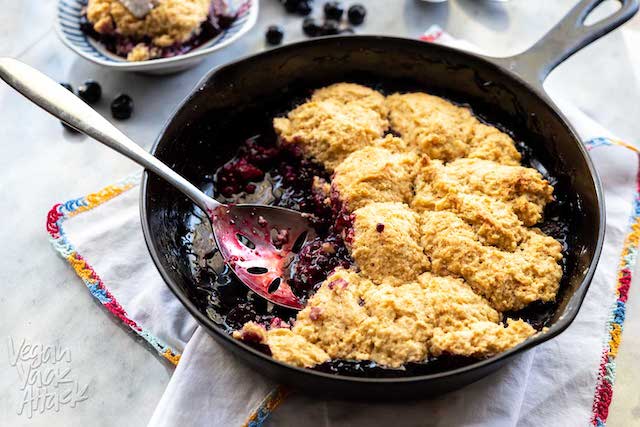 No need to heat up your kitchen with the oven this summer, make this Grilled Blackberry Cobbler. A fluffy biscuit topping, fresh berries, and super delicious; plus, vegan!
Campfire Foil Apple Crisps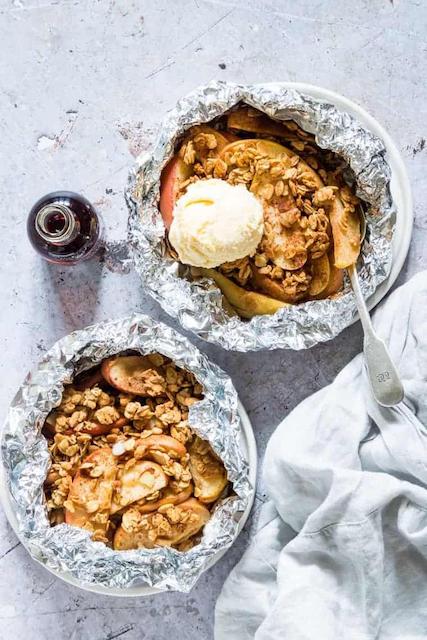 Easy campfire foil packets dessert recipe lovers, this one is for you. We have Campfire Apple Crisp Foil Packs full of sweet juicy apples, cinnamon, and granola.