When getting ready for a Texas Hill Country vacation, there is no better jumping-off-point than Wimberley. Located between Austin, Fredericksburg, San Marcos, and San Antonio, the location is convenient to virtually everything. There are dozens of restaurants and plenty of exciting places to keep you busy and within a short drive.
When staying in Wimberley, the best accommodations are the unique cabins and cottages that come with all the comforts of a home while still allowing you to be submersed into nature. Here are thirteen of the best-rated cottages and cabins in Wimberley to make for a perfect trip.
Ancil's Attic Cabin
One of Buttercup Hill Scenic Cabins, Ancil's Attic is a quiet cabin with amazing views of the Texas Hill Country. There are three private cabins with each having 1 bedroom, a plush king bed, and a full bath shower/tub combo. Just a mile away from the town square, you get to enjoy the privacy of a whole cabin to yourself.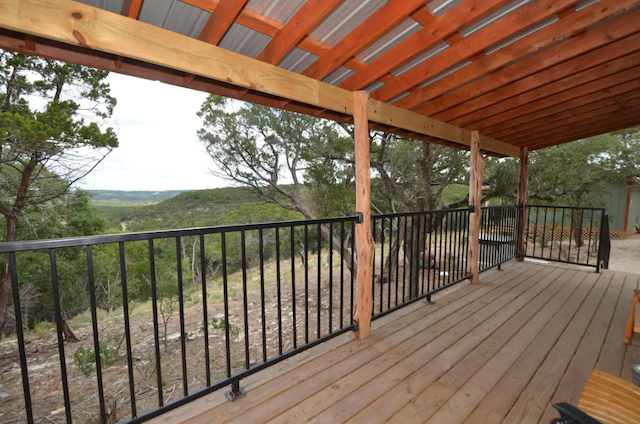 The key amenities include cable TV, free parking, coffee maker, and heating. Breakfast is provided along with a refrigerator, microwave, dishes, and silverware. The breathtaking views of the local wildlife, lush landscape, and the canyon makes this the perfect getaway.
"The Nest" Cabin on Robin Nest
Are you searching for a quiet place to read, relax, get some work done, or getaway with your better half or family? 'The Nest' on Robin Nest is an entire house with 2 bedrooms and 2 beds. The living space is 1000 square feet in size and there is a fenced back yard with a screened-in gazebo and pond and enough seating space for everyone.
The amenities include a kitchen, TV, washer, hairdryer, heating, indoor fireplace, and Wi-Fi. While this is not a place for hosting parties, you can stay here for 28 days or more.
Romantic Log Cabin on Smith Creek
If what you need is a romantic, peaceful and luxurious place away from the hustle and bustle of the city life, the Romantic Log Cabin On Smith Creek is the perfect place for you. It is a log cabin with 1 bedroom, 1 bed, and a bath. It is situated in the beautiful Hill Country; a short distance from downtown Wimberley.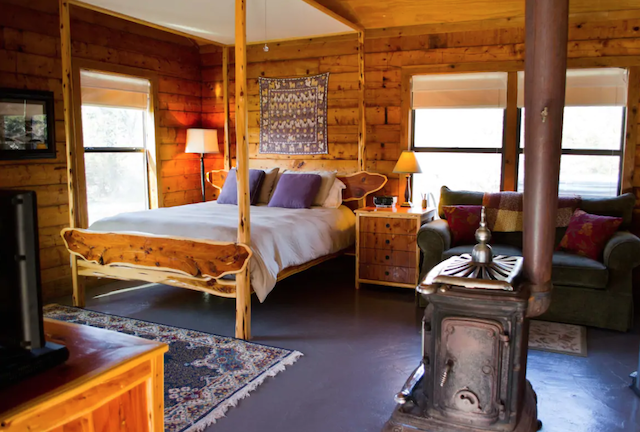 You can watch the deer graze as you sip your coffee, strum the guitar from a fire pit, or view the stars with from a luxurious hot tub. Cable TV, BBQ grill, free parking, hairdryer, and Wi-Fi are available.
La Luna Cabin
With a capacity of 4, this is the ultimate romantic getaway with 1 bedroom, 1 bed, and a bath. It is located high up in the hills to offer sweeping views of the Hill Country. In this isolated cabin, you enjoy a private hot tub, fully stocked kitchen, Wi-Fi, fire pit, outdoor dining table, walk-in shower, TV, and free parking. You can hike from the cabin to enjoy the diverse wildlife and scenery too. La Luna Cabin is also one of the few deluxe cabins that allow pets.
Mod Tiny House
This is a modern off-grid tiny house with a capacity of 8 guests. It has one bedroom and 4 beds and uses an efficient open floor plan and upper loft. Its video games, vinyl collection, and retro stereo make this the perfect place for persons of all ages.
The key amenities include free parking on premises, fully equipped kitchen, BBQ grill, bathtub, and a laptop-friendly workspace. Thanks to its amazing layout, exceptional furnishings, and unique location, the MOD Tiny House is perfect for families. You will have the house all to yourself.
Bella Rosa Cottage
Located in Cypress Creek and a short walk from Wimberley Square, the Bella Rosa Cottage is a 1 bedroom cottage that accommodates a maximum of 3 guests. Thanks to its peace and quiet, it is the perfect getaway for couples.
The key amenities include cable TV, private entrance, Wi-Fi, washer, indoor fireplace, bathtub, and a fully equipped kitchen. You also get a BBQ grill. The best thing about this cottage is that you will have it all to yourself. What more could you ask for when trying to get away from the noisy city life?
Beautiful Chapel Home
This is a beautiful converted chapel located in Austin Hill Country, about 40 minutes from downtown Austin. Guests have the whole 2-acre property to themselves which sits on Lone Man Creek and has a waterfall. There is a fire pit at the bank of the river.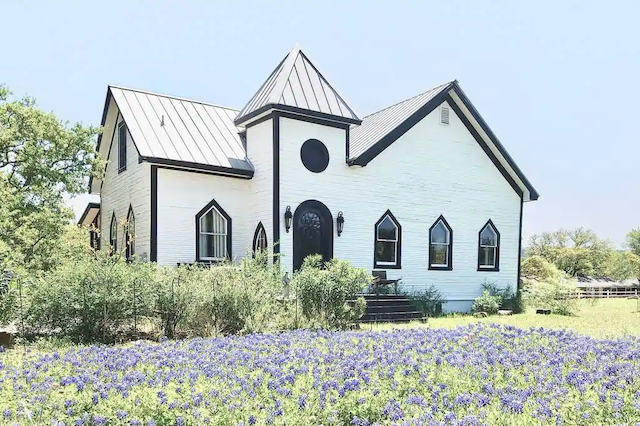 The key amenities are Wi-Fi, cable TV, indoor fireplace, washer, bathtub, free parking on premises, fully equipped kitchen, and a private entrance. This is the perfect escape for a family or friends. The villa has 3 bedrooms, 5 beds, and 2 baths. It accommodates a maximum of 8 guests.
The Hideout at Hills Haven
With a capacity of 6 guests, the Hideout at Hills Haven is a 3 bedroomed house in Wimberley with 3 beds and 2 baths. It's hardwood floors, plentiful windows, and delightful décor makes this house the perfect choice for a family retreat. The master suite has a king-size bed and en suite bathroom. The second bedroom has a king-size bed while the third has a queen-size bed.
This is the best place for retreat for both couples and friends. The amenities include Wi-Fi, washer, TV, dryer, free parking on premises, fully equipped kitchen, and hairdryer. You will have the entire house to yourself.
Lavender Cottage
Located about 4 miles from Wimberley, the cottage has one bedroom, one bed, and one bath. It accommodates 4 guests. Lavender Cottage is home to a spa and wellness center, nature trail, and an artisan gift shop. Its unique location and setting make it easy to customize your stay with packages like wellness, romance as well as kid's activities and nature.
Whether you are looking for a private getaway or a retreat with friends, this cottage will be a great choice. Its amenities include a private entrance, TV, air conditioning, free parking on premises, kitchen, BBQ grill, and patio/balcony.
Garden Cottage with Hot Tub
For the perfect romantic getaway, Garden Cottage will make a great choice. The cottage is secluded out of town but is close enough to make the commute easy. It is a studio with one bed and one bath and accommodates 2 guests. It is quiet and romantic with all the amenities you need to make your stay comfortable.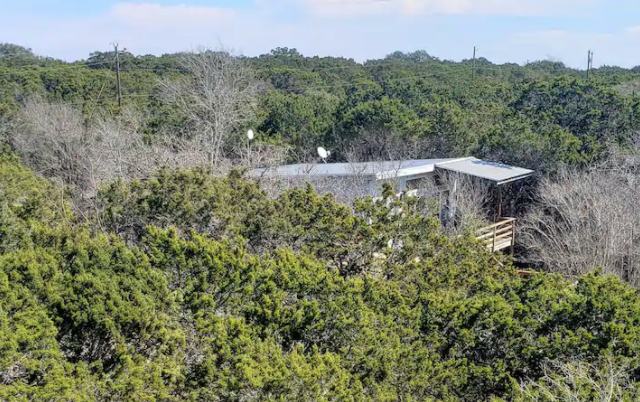 The amenities include hot water, Wi-Fi, air conditioning, smart TV, free parking on premises, hot tub, private entrance, BBQ grill, and balcony/patio. You get the guesthouse all to yourself and enjoy 30% if you stay longer than 7 nights.
Pecan Star Cottages
How about a romantic cottage on a gently sloping yard on the Blanco River? The Pecan Star accommodates 4 guests and has 2 bedrooms, 2 beds, and 1 bath. The cottage is comfy and deluxe. It is, however, not set up for kids. It is ideal for guests over the age of 12.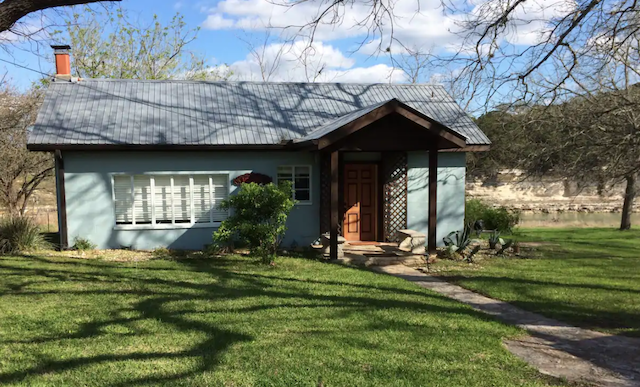 The amenities include a full kitchen, smart TV, cable TV, charcoal grill, outdoor dining table, indoor fireplace, Wi-Fi, hot tub, free parking on premises, and a private entrance. Have the cottage to yourself as you sleep to the sounds of the river flowing gently by.
El Sol Cabin
Do you need the peace that comes with a secluded cabin with a private hot tub and modern amenities? That is what you get with El Sol Cabin. The cabin accommodates 4, has one bedroom, and one bath. It is a remarkable romantic getaway located high in the hill with sweeping views of Hill Country.
The cabin is a walking distance from Smith Creek where you can enjoy diverse wildlife. The cabin is pet friendly too. Key amenities include digital TV, Wi-Fi, fully equipped kitchen, private hot tub, fire pit, outdoor dining table, and a full-size sleeper sofa.
Ramsay's Cozy Cottage
For more than 12 years, this cottage has been a favorite destination in Wimberley. It is 3.2 miles from downtown Wimberley. The cottage accommodates 8 guests, has 2 bedrooms, 2 beds, and a bath. It is a perfect spot for friends and families searching for the perfect break from the hectic city life. From the porch, you can watch the river and wildlife or soak yourself in the hot tub. Dogs are allowed at a fee. The amenities include cable TV, Wi-Fi, dryer, free parking on premises, hot tub, fully equipped kitchen, patio/balcony, and a garden/backyard.
Whether you are searching for a quiet place to do some writing or a romantic place to rekindle your love, there is a cabin or cottage that will be perfect for you in Wimberley. The above options will give you a great start. All you need to do is make your reservation early. Most of these accommodations are highly sought after.