The US National Park Service maintains several parks and other recreational areas on the east coast, including the most visited park in the US and some of the most unique landscapes. The parks can provide anything from a secluded mountain getaway to scuba diving. Here are the best east coast national parks and other areas managed by the US National Park Services.
Acadia National Park
Contributed by Jenessa Baird-Van Woerkom from DestinationDaydreamer.com
Acadia National Park in Maine is in the top-10 most visited national parks every year- and for good reason! Because Acadia's rugged, rocky coastlines and forests of trees are totally gorgeous. You can hike on 158 miles of beautiful trails, or cycle on 45 miles of historic carriage roads.
Plus you can camp, birdwatch, tidepool, and stargaze! Not to mention that Acadia National Park is a super dog-friendly national park (which is unusual). Dogs are allowed on 100 miles of the hiking trails!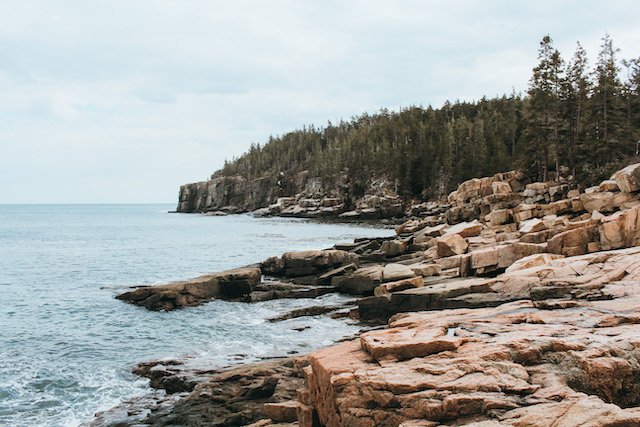 One thing you must experience while in Acadia is the sweeping view of the islands in Frenchman Bay from the top of Cadillac Mountain. You can either hike or drive to the top. And for an extra special experience, get to the top of Cadillac Mountain for one of the earliest (and prettiest) sunrises in the country.
And make sure you spend some time on the rugged coastline walking the Ocean Path Trail or the many other coastal hikes!
A great bonus is that Acadia National Park is conveniently located near the charming coastal town of Bar Harbor, Maine. Bar Harbor is a great place to look for hotels or Airbnbs. However, you can also camp right in Acadia National Park or book a private Airbnb in the surrounding areas.
The two closest airports to Acadia are Bar Harbor international and Bangor international. However, Acadia National Park is only a 4-hour drive from Boston and it makes an amazing road trip.
Smoky Mountains National Park
America's most visited national park, the Great Smoky Mountains, is located on the border of North Carolina and Tennessee. The park is called the Smokies due to the morning fog within the mountains. The mountain range is known for its diversity of its plant and animal life, the natural beauty, and its history of southern Appalachian mountain culture.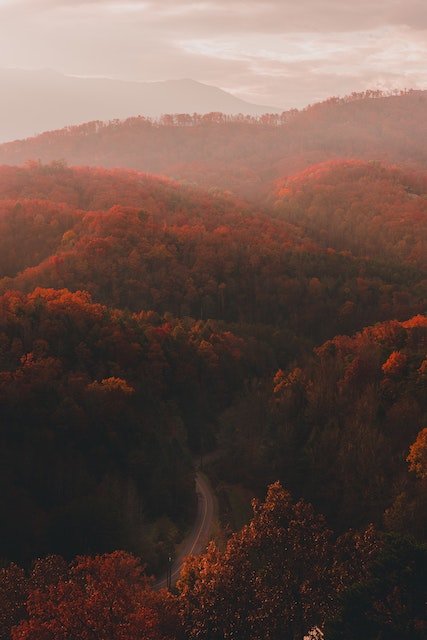 There are two visitor centers you can visit, one in each state as well as several waterfalls you can reach by hiking. Camping is available throughout the area, but most people opt for staying in the nearby cabins in Gatlinburg.
The area is known for seeing wildlife, especially the 1,500 black bears that roam the area, but there are over 17,000 species that have been recorded in the area. The area is also perfect for trout fishing.
Biscayne National Park
Biscayne National Park is a very unique national park being 95% underwater. The park stretches from south Miami to the Florida Keys and is the largest marine sanctuary in the National Park Service, being home to threatened or endangered species including manatees, crocodiles, and sea turtles. It comprises several islands and is bordered by thriving mangrove forests. It also includes the Florida Reef, the only living coral barrier reef in the United States and one of the largest in the world.
From the Dante Fascell Visitor Center, you can learn about the ecosystems within the Biscayne National Park where you can also schedule a half-day cruise to Boca Chita Key. You can also go Scuba diving or snorkeling to see shipwrecks along the Maritime Heritage Trail or you paddleboard through Jones Lagoon and see juvenile sharks, stingrays, and turtles. At Elliott Key, which was home to pineapple plantations and a CIA training ground in the 1960s, you can go fishing, enjoy the walking trail and go camping overnight.
Congaree National Park
Contributed by Julia from TheCureFromCuriosity.com
Located in South Carolina, Congaree National Park is best known for being the largest intact expanse of old-growth bottomland hardwood forest remaining in the southeastern United States. This means you can expect to see a lot of really tall trees in the park. In fact, the floodplain within Congaree offers one of the highest canopies in the world. This is due to the Congaree and Wateree Rivers flowing through bringing the necessary nutrients and sediments to nourish and rejuvenate this fabulous ecosystem.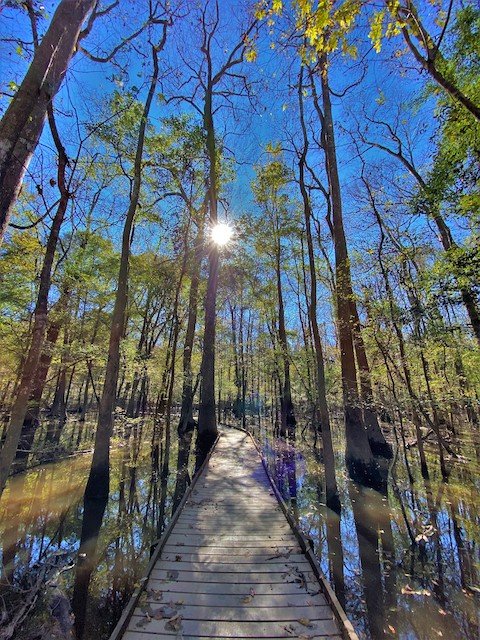 When visiting Congaree National Park, there are two key ways to explore it – on foot or on the water. You'll find over 25 miles of hiking trails and 2.4 miles of boardwalk that take you meandering through the towering trees and in some cases, above the flooded forest floor. Or, you can opt for one of the well-marked canoe trails through Cedar Creek. While Congaree does not rent canoes or kayaks, you can bring your own or rent them in Columbia.
If you wish to stay overnight, you can camp within the park. Otherwise, you will need to use Columbia as your home base. Fortunately, it's just 20 minutes away. Congaree and Columbia make a great weekend trip, or plan it into a bigger road trip, like this road trip from Raleigh to New Orleans. This way you'll get to experience the stunning trees of Congaree National Park and beyond!
Dry Tortugas National Park
Contributed by Ellie From ElliesTravelTips.com
Dry Tortugas National Park consists of a series of tiny islands located around 70 miles from Florida's Key West. This East Coast National Park is a remote destination frequently visited by history-buffs, snorkelers, and fishermen alike.
The islands of Dry Tortugas were discovered by Ponce de Leon back in 1513. With the islands' strategic position on the most strategic deepwater anchorages in North America, the United States quickly constructed Fort Jefferson to protect the American heartland. Now, those visiting this beautiful National Park can expect to stroll the beautiful historic fort, snorkel the surrounding reef, and enjoy excellent fishing conditions.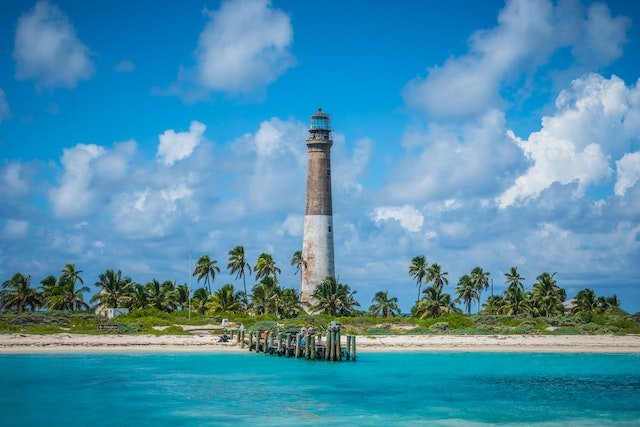 Dry Tortugas is not as popular as the other East Coast National Parks, mostly because of its secluded location only accessible through ferry, boat charter, or seaplane. Most visitors take the Yankee Freedom III ferry departing from the Key West Ferry Terminal to spend a day at Dry Tortugas. Plenty of tours are offered through companies based in Key West for those looking to learn about the park's history.
The majority of people visiting Dry Tortugas National Park enjoy a day trip from Key West into the park, leaving around dusk. However, for those looking to stay on the island, Dry Tortugas offers a camping site at Fort Jefferson. This camping site is technically a primitive campsite, so make sure to bring everything you could need with you on the ride over (tent, water, food, etc.).
Shenandoah National Park
Contributed by Megan Starr from VirginiaTravelTips.com
Shenandoah National Park is located in the colorful Blue Ridge Mountains in Virginia and is covered in dense forest with beautiful vistas throughout. You can find waterfalls, caverns, and some of the most prolific mountains in Virginia, like Hawksbill and Old Rag, inside of the national park.
During the warmer months, Shenandoah National Park offers many great activities but the most popular thing to do there is to go hiking. Not only are there many trails in Shenandoah, but you will also find the longest part of the Appalachian Trail goes through Virginia (and much of it through this park)! Some of the easier hikes to enjoy at Shenandoah are the Dark Hollow Falls Trail, a 1.4-mile hike, or the Upper Hawksbill Trail, a 2.1-mile hike. During the winter in Shenandoah, the park is much quieter but you can still head out to a few trails or enjoy the warmth of a cabin nearby.
Another beloved thing to do inside of Shenandoah National Park is to drive along one of the best roads in the US – Skyline Drive. The 105-mile long drive gives you a chance to overlook the park from different vistas and places. Two of the most famous overlooks are Franklin Cliffs Overlook and Shenandoah Valley Overlook.
With over a million visitors annually, Shenandoah is one of the top national parks in the United States and one of the most famous on the East Coast.
New River Gorge National Park
Submitted by Becky from sightDOING.net
The nation's newest national park, the New River Gorge in West Virginia lends itself perfectly to adventure travelers. Here, adrenaline-racing activities like whitewater rafting, mountain biking, and rock climbing are mainstays. However, don't be deterred if that's not your style: traditional things to do in the New River Gorge like scenic drives and hiking are just as easy to find.
Since the park covers 70,000 acres, there are lots of options on where to stay. Camping in the park is popular, but you'll find plenty of hotels as well. Fayetteville is the closest town to the New River Gorge Bridge, an iconic landmark in the park, and offers plenty of independent properties. For chain hotels, check Beckley, WV or even Charlestown, about an hour and site of the closest commercial airport. Book far in advance if you're coming for the region's Bridge Day in October, a fall festival with everything from carnival food to bridge-jumpers.
Cuyahoga Valley National Park
Submitted by Nicole from Bucketlistlists.com
One of the BEST east coast national parks not to miss is Cuyahoga Valley National Park. Fun fact: this is the only national park in all of Ohio and a top bucket list destination for many.
Located just outside Cleveland, about a 25-minute drive, Cuyahoga Valley will make you feel like you entered an entirely new world.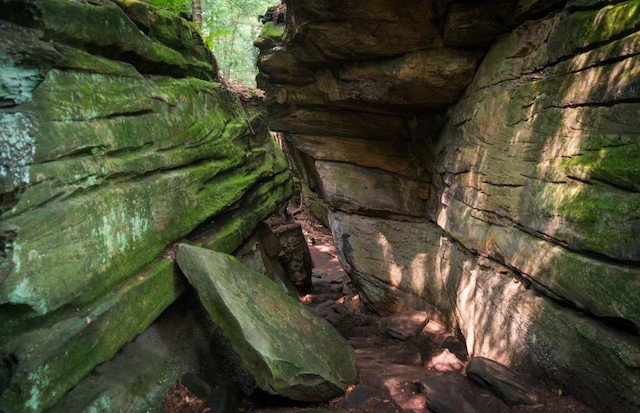 The Ritchie Ledges is the most popular place to explore within the park and the ledges trail is about 1.8 miles around. There are several hikes within this system that come off the trail, but the real attraction is the opening of the limestone cliffs.
To see this incredible spot, you can park at the trailhead and follow it back. You will know when you have made it because the limestone Cliffs open up and you feel small. This trail is very uneven and has stairs in some areas. If you want to go down into the trail, you will have to walk, so wear very comfortable shoes.
Everglades National Park
Contributed by Neha from Travelmelodies.com 
Everglades National Park, the third-largest national park in the US is located on the Southern tip of Florida. With a biodiverse and unique ecosystem, it finds its place in the UNESCO World Heritage site.
Everglades is a haven for wildlife enthusiasts due to the presence of thousands of species of birds and animals. It is widely known for the American crocodiles, manatees, and Anhingas.
Since it is a massive park, there are 3 entrances to it – Homestead, Shark Valley and at Everglades City each providing a different experience.
If entering through Homestead, the best is to start from the Ernest Coe Visitor Center. Get acquainted with the park and the trails/events for the day. There are some great ranger-led programs that are best to traverse through this unique ecosystem. Head off to the Anhinga Trail, an easy 1-mile long boardwalk trail to spot the alligators in the pond. Mahogany Trail is another elevated boardwalk trail that leads through trees and also has the tallest Mahogany tree in the US. The last point in this area is Flamingo Bay where you can spot the manatees and American crocodiles. Choose to kayak or canoe in the bay.
Shark Valley is best explored by taking a Shark Valley Tram tour or a bike ride and exploring the area.
Do visit the National Park in winters to avoid the scorching hot weather and the hurricane season. Everglades National Park is easily accessible from Miami and makes a perfect stop during the road trip from Miami to Key West.
If looking for thrill then Airboat tours are a great way to traverse the wetlands.
Cape Cod National Seashore
Contributed by Jackie Gately at Enjoy Travel Life
Along the coast of Massachusetts on the Outer Cape, you'll find a national park with lots of sand and sea: the Cape Cod National Seashore. It flanks the Atlantic Ocean for 40 miles from Provincetown to Chatham.
Created in 1961 by President John F. Kennedy, the park preserves the natural and historic value of this unique area for recreational use by the public. Within its 40,000 acres, you'll discover beaches, sand dunes, salt marshes, hiking, and cycling paths.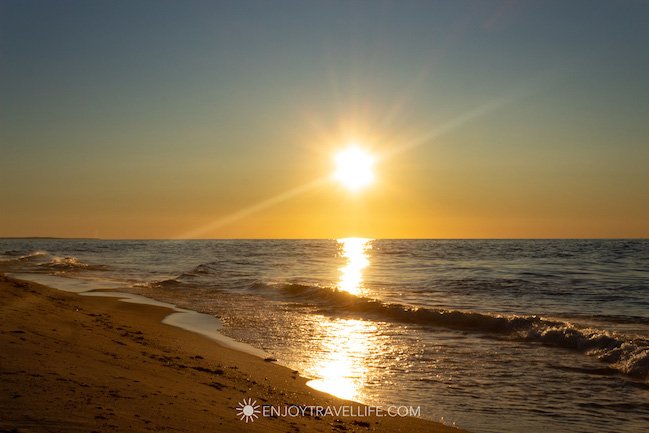 The easiest way to arrive is by car on Route 6, which travels the length of Cape Cod's "arm." Expect traffic as the road narrows toward the tip of Cape Cod.
Perhaps one of the best ways to experience the park's sand dunes is with Art's Dune Tours. In the comfort of a luxury SUV, you'll see the historic Dune Shacks. These primitive structures once provided shelter to ship-wrecked sailors. Today, they serve as Artists' Residencies.
You might decide to stay at the hostel in Truro's old Coast Guard Station, or pick from budget to luxurious accommodations in the region. Just be sure to book ahead.
For a truly memorable experience, indulge in a lobster dinner at Race Point Beach while the sun sets. (It's an upgrade to the dune tour that's well worth it.)
There, as the waves lap the soft-sand of the shore, you'll feel as though you're on the edge of the continent. And, in fact, you are.
Blue Ridge Parkway
Contributed by Bret Love & Mary Gabbett of BlueRidgeMountainsTravelGuide.com
Stretching 469 miles, from Great Smoky Mountains National Park in North Carolina to Shenandoah National Park in Virginia, the Blue Ridge Parkway ranks high among America's classic road trip destinations. It also happens to be the #1 most popular unit in the National Park System, attracting some 15 million visitors each year.
Most people don't drive the entire Blue Ridge Parkway in one stretch: It's easy to break it down into a 3-day weekend getaway or an epic week-long (or even multi-week) vacation. But from a theoretical standpoint, you could maintain the 45 mph speed limit and drive the entire route in 15 hours if you didn't make any stops. Of course, doing so would be missing the point entirely, as the BRP is packed with some of the most breathtaking Blue Ridge Mountains scenery you'll ever lay eyes on (especially in October, when the fall colors reach their peak).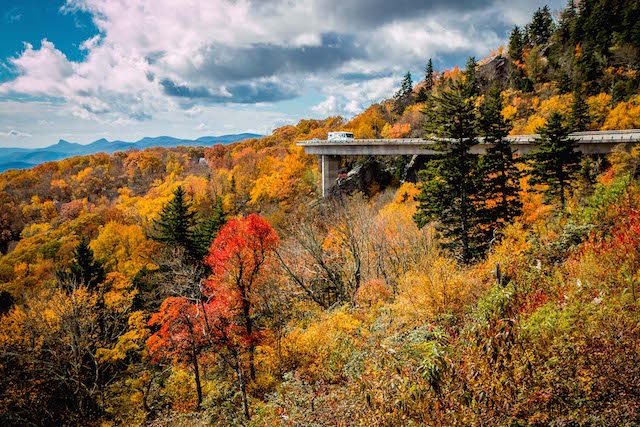 There are 200 scenic overlooks along the way, each offering jaw-dropping vistas of pristine wilderness, from mountains and waterfalls to lush valleys and forests. The most popular BRP overlooks include Grandfather Mountain State Park, the Linville Gorge Wilderness, the Linn Cove Viaduct, Looking Glass Rock, Mount Mitchell (North Carolina's tallest), Pisgah National Forest, and Price Lake at Julian Price Memorial Park.
Perhaps the best thing about the Blue Ridge Parkway is its utter lack of commodification. There are no billboards, neon signs, gas stations, restaurants, or other signs of commerce. In fact, the only town situated right on the parkway is the quaint little alpine village of Little Switzerland NC, which is definitely worth a stop!
Delaware Water Gap National Recreation Area
Contributed by Sue From TravelForLifeNow.com
Spanning 200+ miles across New Jersey and Pennsylvania, the Delaware Water Gap National Recreation Area is an outdoor lover's paradise. Hiking, swimming, fishing, kayaking, camping, bird watching, rock climbing, skiing, snowshoeing, ice fishing, and more. You can do anything in any season somewhere in the Gap. If you've always wanted to hike part of the Appalachian Trail, you'll find 27 miles of it along the Gap. Some of the most beautiful waterfalls on the East Coast can be found in the Gap—Buttermilk Falls, Raymondskill Falls, Dingmans Falls, Silverthread Falls, and many more. Quaint towns in New Jersey and Pennsylvania—yes.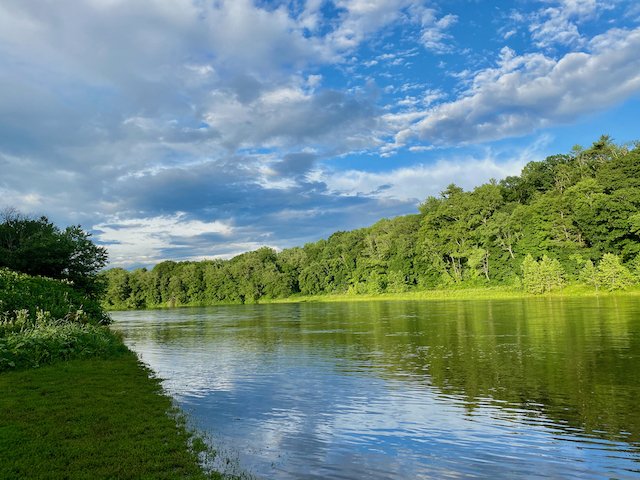 The Gap is not one park—it's actually a large area that has many state parks within it. Since it runs North to South, it is easy to do as a day trip from New York or Philadelphia. There are buses and trains that come near the Gap, but it is best to go by car. If you are planning a trip, start by deciding which area of the Gap you are interested in visiting. After that, you can plan accommodations. The northernmost area of the Gap is Milford, PA which has great B&Bs and restaurants.
Cape Hatteras National Seashore
Contributed by Charles McCool from McCoolTravel.com
Cape Hatteras National Seashore is the USA's first national seashore and encompasses three barrier islands of North Carolina's Outer Banks. Explore the main section along the 58-mile drive from Whalebone Junction (six miles south of Wright Brothers National Memorial) to the town of Hatteras. From there, a free ferry connects to Ocracoke Island, which extends another 14 miles.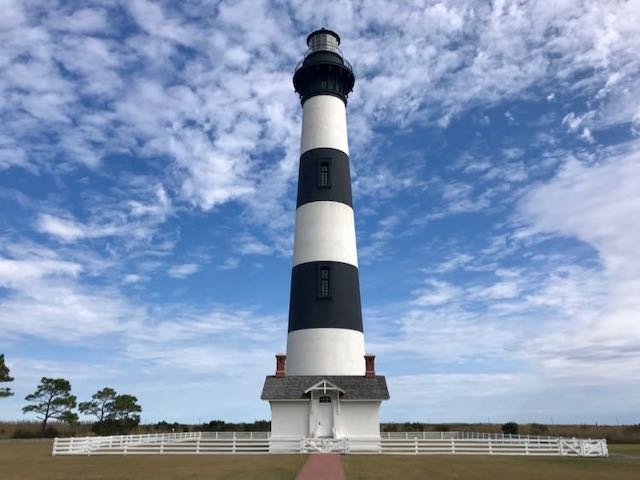 Popular Outer Banks activities in Cape Hatteras National Seashore include savoring the gorgeous beaches, spotting sea turtles and dolphins and other marine animals, nature hiking, off-road driving, kayaking (ocean and sound), fishing, visiting the three lighthouses, and learning pirate and shipwreck history (0ver 600 wrecks). Cape Hatteras lighthouse is the USA's tallest lighthouse and one of the most popular lighthouses in the world. Visitors can climb Cape Hatteras and Bodie Island lighthouses but not the Ocracoke lighthouse.
Enjoy fresh seafood (especially she-crab soup and shrimp) and salt life shopping in cute towns like Waves, Salvo, Buxton, and Hatteras. For a memorable experience, try horseback riding on the beach in Hatteras. Most visitors stay in vacation rental houses but four beachfront campgrounds are available.