Broken Bow is a beautiful destination perfect for an escape to nature. We had never heard of Broken Bow until we were planning a road trip and looking for a place to stay in between Austin and Tennessee. What we found was a wonderful area just over 3 hours from Dallas providing tons of options for outdoor activities like fishing, boating, hiking, and horseback riding.
Where to Stay in Broken Bow 
Staying at one of the cabins in Broken Bow is a necessity to make the most of your time, allowing you to be immersed in nature while still in comfortable accommodations. As the area has become more popular, new cabins are being constructed offering more options and price points including luxury accommodations that will make you feel at home.  
When we stayed in Broken Bow we rented a large luxury cabin called "Adventure Awaits" located just minutes from the center of Hochatown. The 4 bedroom cabin has an outdoor hot tub gazebo, fire pit, a covered patio with a wood-burning fireplace, and BBQ grill giving you plenty of outdoor spaces. Inside, there are high ceilings and huge windows bringing the outdoor sights into you. The ​extra-large island and custom-crafted dining table act as magnets bringing people together.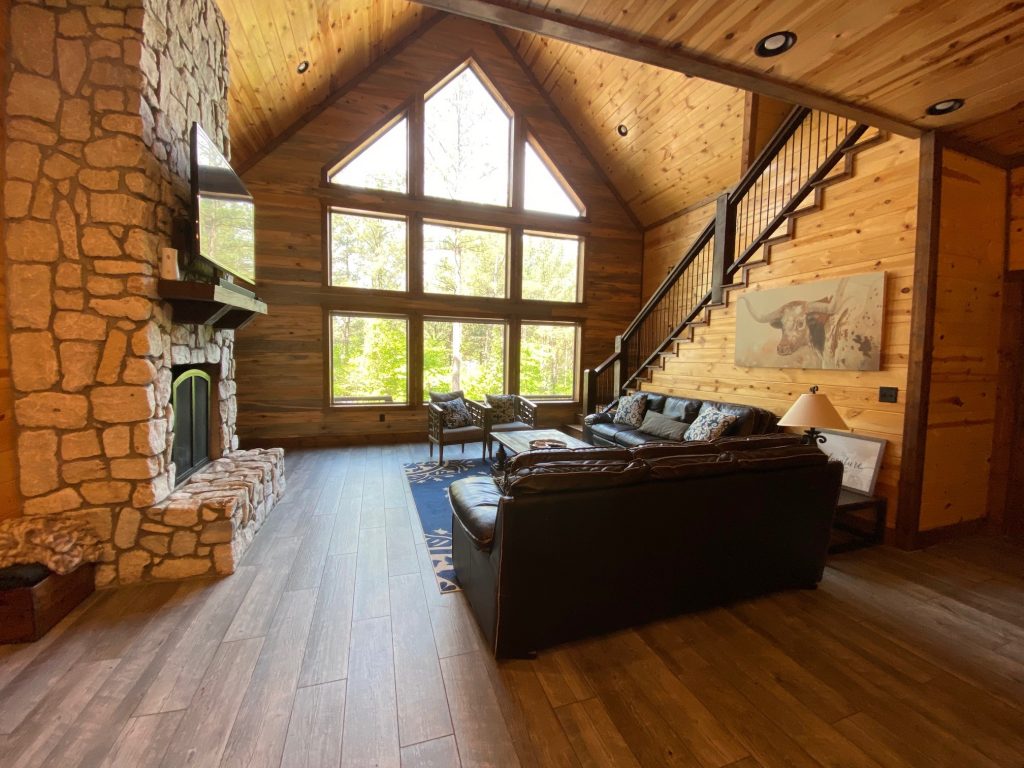 Each bedroom has its own bathroom. The loft area features a full-size pool table and additional games and seating areas. There is a laundry room with two washer dryer sets that make it easy to stay caught up even with a full house. 
If the Adventures Awaits Cabin is not available, you can expect the same level of detail and hospitality from the other cabin from the same owners, Adventure Awaits Creekside. The luxury Broken Bow cabin has a beautiful creek on the property and sleeps up to 18 guests.  A circular driveway provides plenty of room for guests to park and relax during a visit to the Broken Bow Lake area. 
Both of these cabins are just minutes from Timber Creek Trail Merchant area where you can find Hochatown Distilling Co Gift Shop, Shuck Me Seafood Restaurant, Knotted Rope Winery, Mountain Fork Brewery and Pizza plus their gift shop, Hochatown Escape Game, Tea & Jewelry and Okie Girls Ice Cream Shop. They are approximately 3 miles North of Broken Bow Lake and Marina, Beaver's Bend State Park and other Hochatown restaurants and local attractions.
How To Spend Your Trip in Broken Bow 
When planning your trip, start by not planning every minute of your stay.  This is a place to relax and enjoy the outdoors.  Leave time to spend time with your friends and family in your cabin.  Plan some campfire meals to cook together. Plan to spend some time relaxing in the hot tub, playing games together, and just sitting around a fire together. 
Eventually, you will get cabin fever and be ready to explore the town. Beavers Bend State Park is where you can spend days enjoying nature. Explore the area finding hikes that match your activity level. We personally enjoyed the new friend's trail, the first trail in over 15 years added to the park which took us to overlook the Mountain Fork River, but there are miles and miles of trails of different lengths and difficulties. 
If you enjoy fishing, Beavers Bend is an angler's dream with Mountain Fork River stocked year-round with trout including a nearly four-mile "trophy section," where boats and barbed hooks are not allowed.
With over 180 miles of shoreline and rock-lined floors providing clear waters, the area is perfect for fishing. You can venture on your own or hire a guide to show you exactly where to go.
For other activities, you can enjoy the water by going boating, swimming, kayaking, and canoeing. Have fun on land with ATV tours, ziplines, horseback riding, hunting, and golfing are all great options.