Tennessee has many treehouse rentals with modern amenities that have enough recreational and workspace with an enabling environment to hang out and appreciate nature. So, in this post, we have compiled a list of recommended treehouses in Tennessee on Airbnb that you can consider staying at for your next trip to Tennessee.
Rustic Treehouse in Guild, Tennessee
We call this treehouse the "couple's choice" as it comes with just a king-size bed for two. Located in a small gated community in Guild, Tennessee; the treehouse offers a high level of privacy and some side attractions. One of these is the Lookout Mountain winery that provides great pizzas with impressive views too.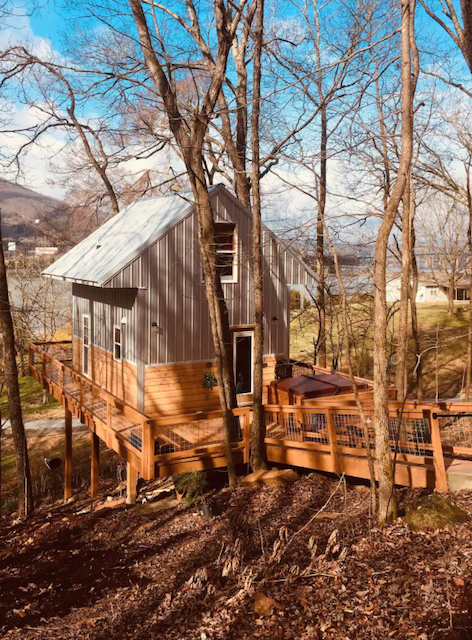 The Maple in Treehouse Grove at Norton Creek in Gatlinburg
Often referred to as the Honeymoon Treehouse, this cabin is the perfect place to share a great time with that special person or close family and friends while enjoying the peaceful scene of surrounding trees. Established high amid the trees, the Maple treehouse offers a unique state of tranquility to its four guests' capacity.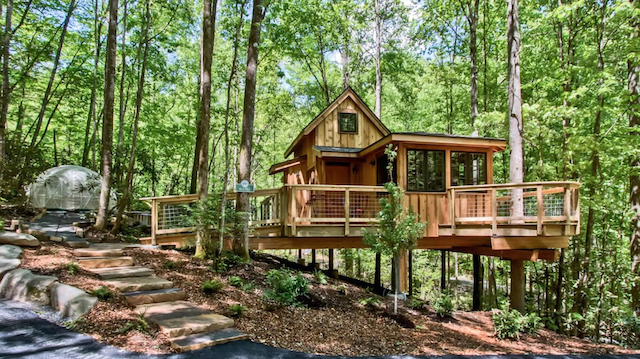 The Gatlinburg cabin comes with essentials in addition to a modern kitchenette, air conditioning, a laptop-friendly workspace, good Wi-Fi and TV, and a smart-lock keypad with a private entrance for your privacy and security.
The Nest, Adult Treehouse near Nashville
With a sleeping arrangement for just two people, this adult treehouse offers the romantic feel that you usually would get from only a hotel. The treehouse amenities include the heater/fireplace to keep you warm during cold and the air conditioner for hot days.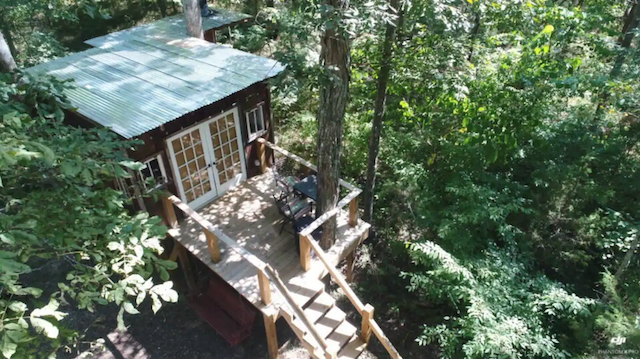 The vicinity is quite lovely and is very close to restaurants and even the Nashville airport, Tennessee.
Treehouses at Deer Camp in Dunlap, Tennessee
The treehouse at Deer Camp in Dunlop, Tennessee can take just two guests and is therefore perfect for couples looking to create memories and spend some time together. From board games to the TV access with Netflix, fire pits, and nearby centers of attention such as the fall Creeks State Park, there is just so much to do to catch fun.
Besides, the treehouse also allows pets but only after paying the pet fee and cleaning fees. Cooking utensils, as well as beverages, are also available. All you've to do is bring your clothes and food and enjoy this serene atmosphere.
Dove Treehouse Getaway with Hot Tub
Location: Monteagle, Tennessee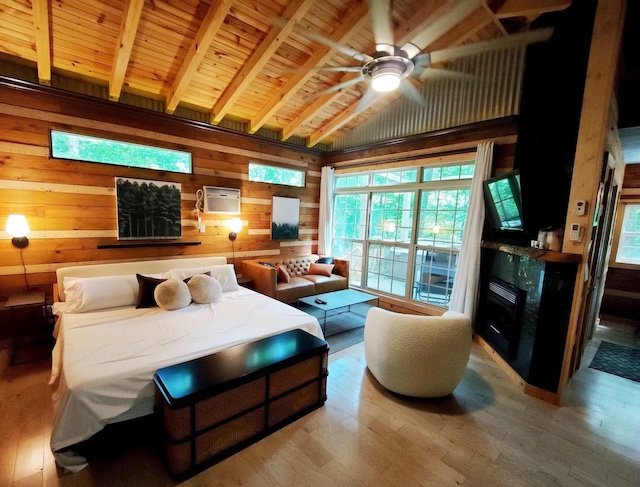 The Dove treehouse is hidden away in nearly 18 acres of remote woods and was recently updated with new furnishings. There's also a fireplace indoors to keep you cozy and a private hot tub on the porch where you can simply sit back and relax after a long day of hiking, biking, or exploring. The open concept treehouse cabin includes a full kitchen, king-sized Nectar mattress, and a sitting room area.
Dusty's 3 Bedroom TreeHouse
Location: Gatlinburg, Tennessee
For a genuine Gatlinburg Chalet, check out Dusty's Treehouse. The recently redecorated and remodeled cabin has one bedroom with a trundle-bed bonus room. You'll find floor-to-ceiling windows making you feel like you are deep into nature as well as making the chalet feel larger.
There is a cozy stone fireplace, full kitchen, king log style bed, and a red heart-shaped whirlpool tub perfect for a little romance in the Smokies! Right off of the deck is a stone patio w/ charcoal grill, table & chairs, and a stand-up electric grill on the deck. The treehouse is located convenient to Gatlinburg and is less than a mile from a neighborhood market and deli.
Luxury Treehouse Built by The Treehouse Guys
Location: Pigeon Forge, Tennessee
Check out this treehouse built by the Treehouse Guys from the DIY Network where you will feel fully immersed in the outdoors. The treehouse is located in a location convienient to both Pigeon Forge and Gatlinburg, allowing you to enjoy nearby attractions like Dollywood or grab breakfast in town while still feeling seclusion when relaxing in the Smoky Mountains.
This is a legitimiate treehouse, supported by 4 Oak trees and a Hickory tree. The main deck features a hot tub for 2 and bar stools that sit up against windows leading to the kitchen. Off the side of the home are a fire pit and camping style charcoal grill. Inside there is a loft bedroom, tile corner shower and full kitchen. Underneath the treehouse is an additional seating area with handing chairs.
Stunning Three Bedroom Treehouse Mansion
Location: Springfield, Tennessee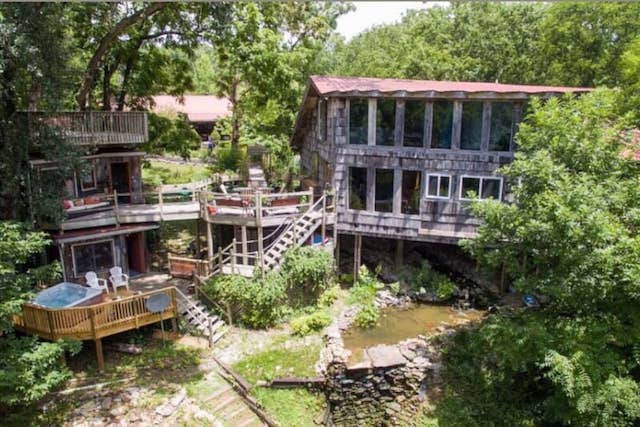 Kelly's Jubilee isn't a traditional treehouse, but gives you the size you wouldn't be able to have supported by trees, while still making you feel immersed in nature. The three-story home is located around a 30-minute drive to Nashville on a property with hiking trails, a labyrinth, a pond to catch and release fish, and a creek that runs year-round.
If you are in a large group, there are several other rentals on property to give you the space you need.
Eagle Treehouse Getaway with Hot Tub
Location: Monteagle, Tennessee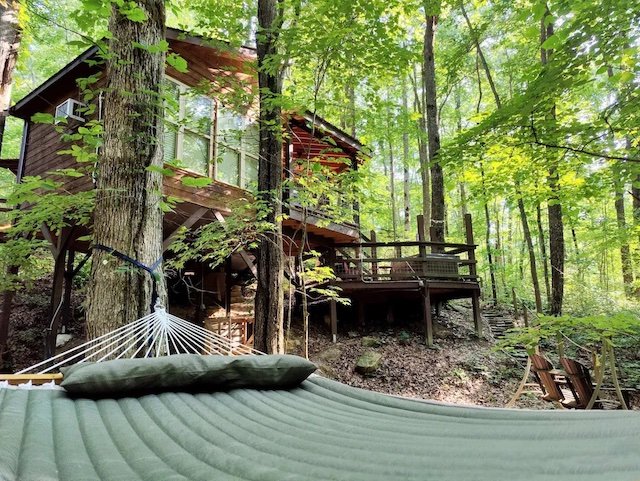 The Eagle treehouse is located on nearly 18 acres of secluded woods. All furniture tv's, grills, and mattress are brand new. Enjoy seclusion with fiber internet, making this as perfect place to work from and enjoy an extended getaway.
The Eagle has one bedroom and a separate loft space and a daybed with trundle. There's a full kitchen, a large, covered porch and a very private salt water hot tub. There is a welcoming firepit fully stocked with firewood.
"Out On A Limb" Treehouse
Location: Pigeon Forge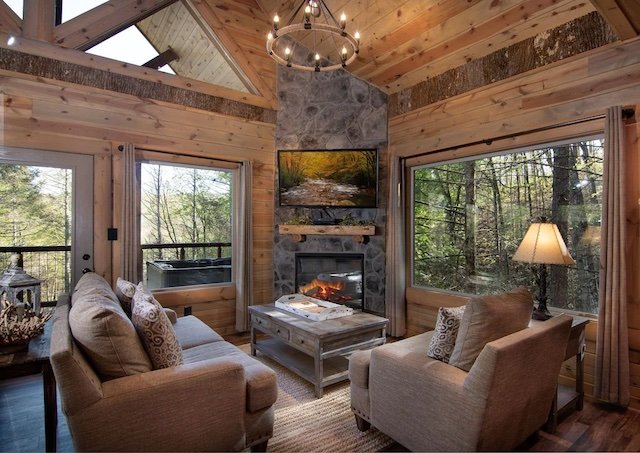 We love the view through the floor to ceiling windows for this treehouse! Out On A Limb offers the luxuries of a modern cabin with a treehouse feel in the Smoky Mountains. The cabin features a full kitchen with granite countertops, a king size bed downstairs, electric fireplace, large chandeliers, and a two person tiled shower in the bathroom. For families, the upstairs area offers bunkbeds and a washer/dryer
The 2 Bedroom Bristol Tree House
Location: Bristol, Tennessee
Enjoy 360° views from this treehouse cabin. The treehouse cabin features a large deck surrounding both levels. Inside, there is a full kitchen, living room, and 2 bedrooms, one with bunk beds.
Sunrise Mountain Tree House Cabin
Location: Altamont, Tennessee
The Sunrise Mountain Treehouse Cabin has a full kitchen, one bathroom and sitting area with TV on the main story. There is also a large deck around the home queen size bed in the loft. Under the cabin is a seating area with a swinging chair.
Treehouse Cottage Near Chattanooga
Location: Chattanooga, Tennessee
This Boho Treehouse is perfect for a rustic romantic getaway on a 70 Acre Family Farm. The Treehouse has an inviting front porch and once inside there is a mini-kitchen and bathroom. Upstairs there is a loft with a king sized bed.