Tennessee has many treehouse rentals with modern amenities that have enough recreational and workspace with an enabling environment to hang out and appreciate nature. So, in this post, we have compiled a list of recommended treehouses in Tennessee on Airbnb that you can consider staying at for your next trip to Tennessee.
Pioneer Cabins + Luxury Treehouse with Lakeviews in Sparta
If you stay around Tennessee and desire some privacy while still having fun, then this treehouse is for you. With the sleeping arrangement of five bedrooms that can take up to 14 people, it is one of the best treehouses in Tennessee that is fit for a cool family and friends' vacation. With an excellent lake view behind the main cabin and fascinating lights leading to the waters, you'll feel the luxury of a hotel rather than a treehouse.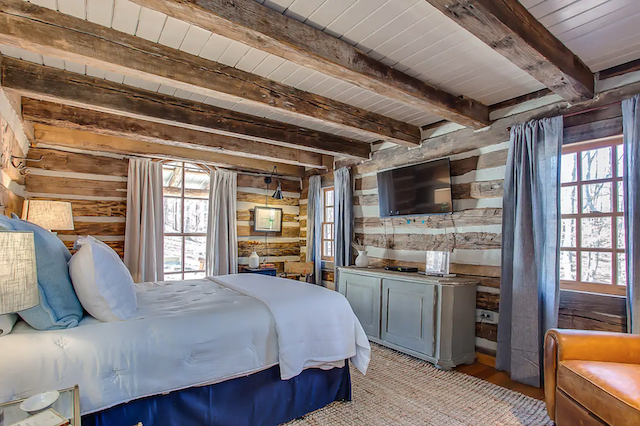 Other alluring amenities include the jacuzzi tub, a large sitting area around an extra-large fire, porch bed swing and well-equipped kitchen. The 10 minutes proximity to Sligo Marina and incredible waterfalls around certainly wraps up this treehouse's already unique features.
The Maple in Treehouse Grove at Norton Creek in Gatlinburg
Often referred to as the Honeymoon Treehouse, this cabin is the perfect place to share a great time with that special person or close family and friends while enjoying the peaceful scene of surrounding trees. Established high amid the trees, the Maple treehouse offers a unique state of tranquility to its four guests' capacity.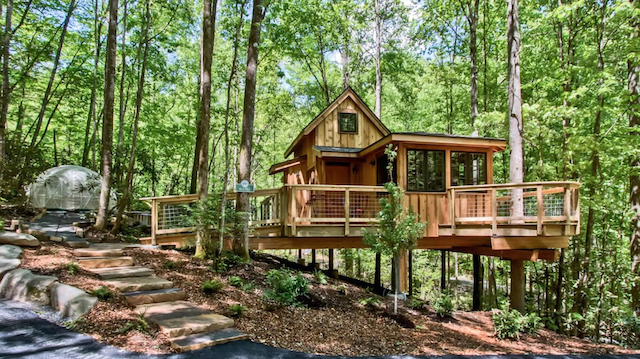 The Gatlinburg cabin comes with essentials in addition to a modern kitchenette, air conditioning, a laptop-friendly workspace, good Wi-Fi and TV, and a smart-lock keypad with a private entrance for your privacy and security.
The Treehouse of Center Hill Lake – Treehouses for Rent in Smithville, Tennessee
Located on Center Hill near Hurricane Marina, this treehouse suite offers an exclusively fun and exciting stay. Sleeping up to 10 guests makes it particularly suitable for a group of friends or relatives looking forward to a reserved area to relax and enjoy the moment.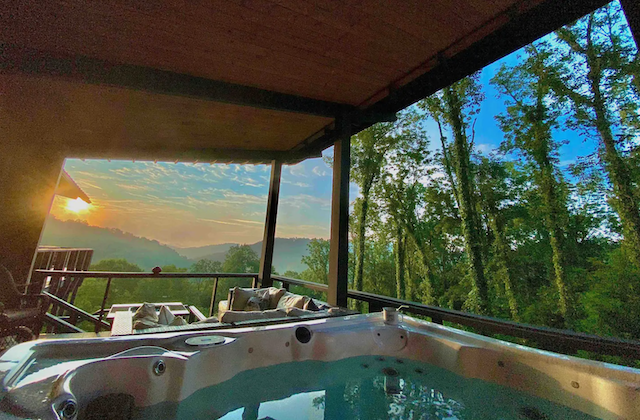 The treehouse is more like a cabin with high decks that shouldn't be a problem for height lovers. The cabin contains a large section where you can see movies with loved ones and play varieties of card and board games. If you care so much about a quiet vacation, you might probably not like the fact that the cabin is just a 10 minutes' drive off the main road. Asides from this, the house is one that won't disappoint and is worth visiting again
Treehouse Dreamweaver in Copperhill
If you're in search of an amazing treehouse rental in Tennessee that is great for a romantic holiday for couples that are looking to enjoy their time alone, then this is the place for you. With an extra bed, the treehouse Dreamweaver can as well lodge up to 3 guests. Unlike many treehouses, pets are allowed here. So, you can be sure to bring your dog around to have a full fun time experience. Your comfort is the priority here with a well-equipped kitchenette that contains cooking utensils and necessary cooking items and beverages.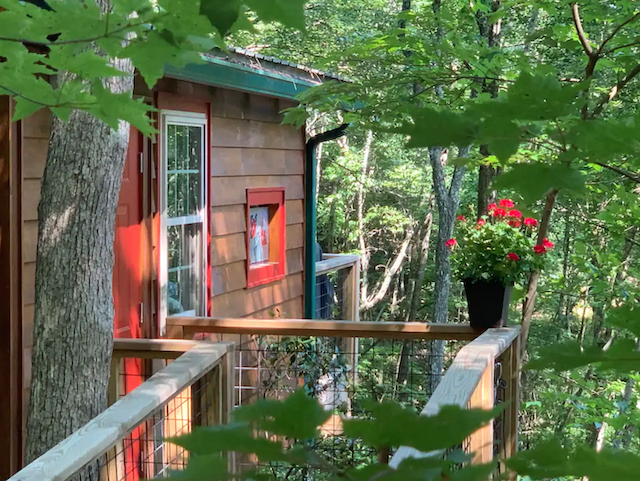 Still on comfort, they have a special provision for individual bathroom/shower for separate guests during the current covid-19 issue. Don't hesitate to book them this coming weekend; a trial will convince you.
Treehouse Stamish Castlee in Copperhill, Tennessee
For pet lovers, this is another beautiful treehouse located in Copperhill, Tennessee that charges no extra fee to accept pets. The cabin is fully equipped for your relaxation and has sleeping provisions for up to four people. In case you plan to have a more extensive gathering beyond four people, there is a friendly discount available for their extra two treehouses. In addition to the bathhouse just 60 yards away, you'll also have access to a personal half-bath inside the treehouse.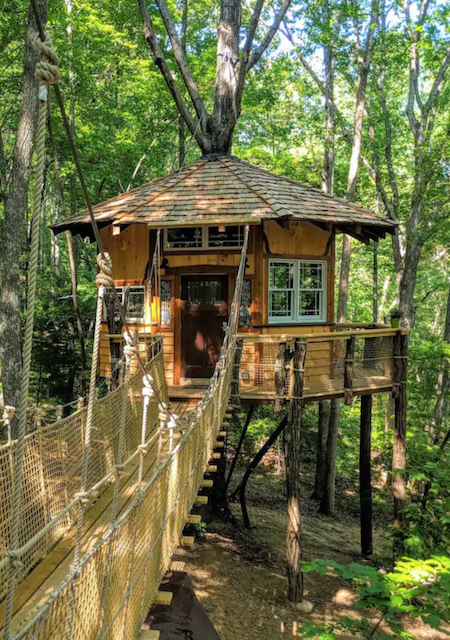 Overall, the treehouse is great and has a very responsive management to any issue that you might have during your stay.
Rustic Treehouse in Guild, Tennessee
We call this treehouse the "couple's choice" as it comes with just a king-size bed for two. Located in a small gated community in Guild, Tennessee; the treehouse offers a high level of privacy and some side attractions. One of these is the Lookout Mountain winery that provides great pizzas with impressive views too.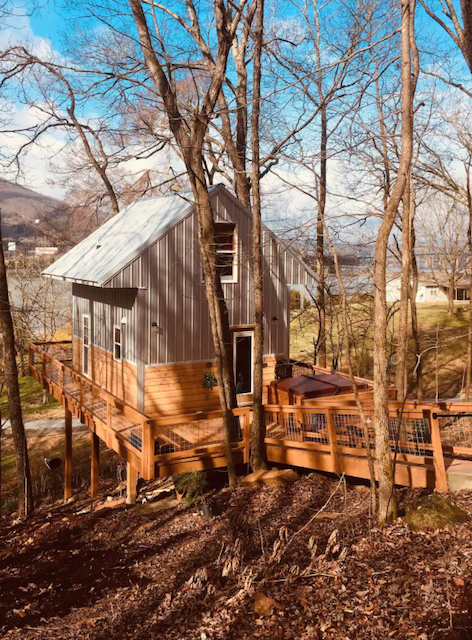 Treehouse La Paz in Copperhill, Tennessee
This treehouse is just perfect for holidays with friends, relatives, and even your dogs. Yeah, the treehouse La Paz is pet-friendly and provides essential and necessary amenities. The amenities include TV access as well as Wi-Fi.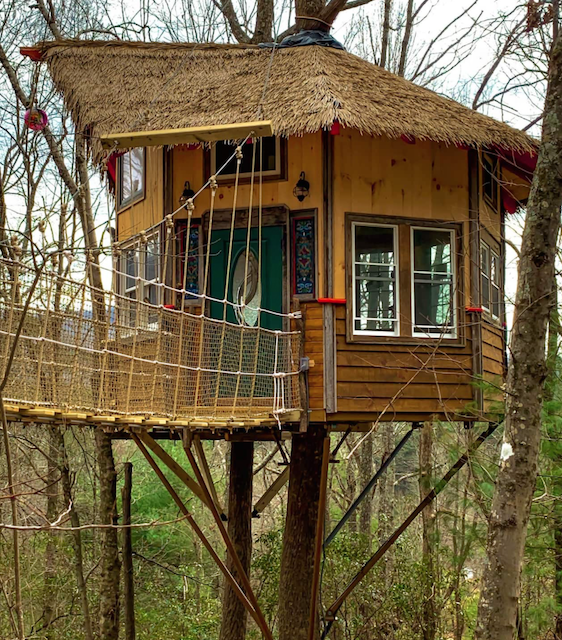 The downside is that the treehouse is accessible only by stairs and is therefore unsuitable for disabled persons.
Secluded Treehouse Cabin in Cookeville
Surrounded by a shelter of trees that's visible from the inside, this cabin situated in Cookeville, Tennessee is a fantastic avenue for a romantic vacation with your partner. With the free Wi-Fi, fast internet access and house Netflix, it's certain you will create memories that are worth remembering in this treehouse.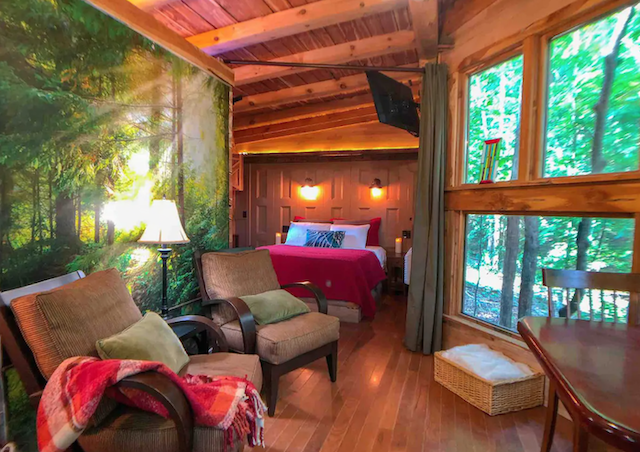 The location is also miles away from everyday life, so there is top-notch privacy.
The Nest, Adult Treehouse near Nashville
With a sleeping arrangement for just two people, this adult treehouse offers the romantic feel that you usually would get from only a hotel. The treehouse amenities include the heater/fireplace to keep you warm during cold and the air conditioner for the hot days.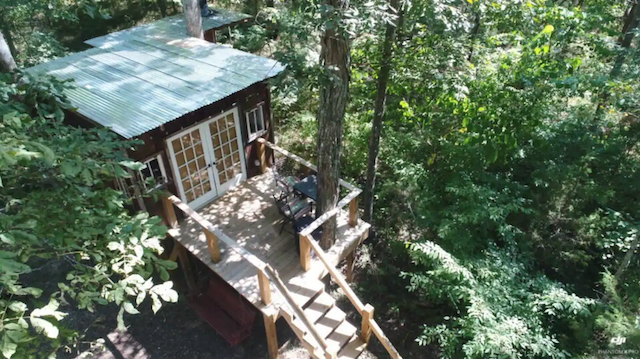 The vicinity is quite lovely and is very close to restaurants and even the Nashville airport, Tennessee.
The Bostonian in Johnson City, Tennessee
Talking about being far away from all distractions and yet close to everything, the Bostonian treehouse in Johnson City, Tennessee comes first. With a secluded environment, privacy is assured while it's only 3 minutes away from the Boones creek exit.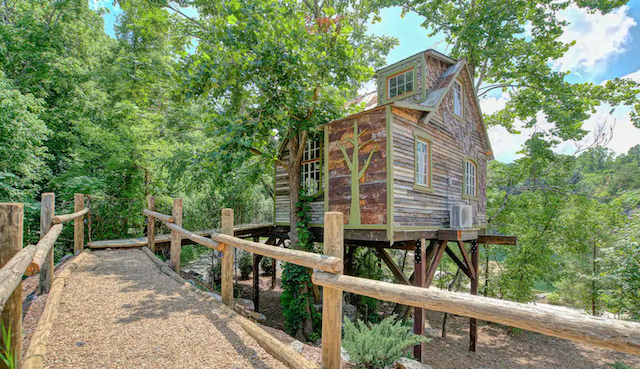 The sole issue some people have with this house is that pets and parties are not allowed.
Sulfur Ridge, Tennessee's First Luxury Treehouse ® in Bloomington
As the first luxury treehouse to start rental services in Tennessee, the sulfur ridge treehouse in Bloomington Tennessee offers a mix of history and eclectic features together with amenities designed for your comfort. This includes the 1848 front door and a host of other features to serve as a side attraction. Lovers of nature can also experience some beautiful views nearby, such as the Burgess Falls State Park, Center Hill Lake and the Cummins Falls State Park.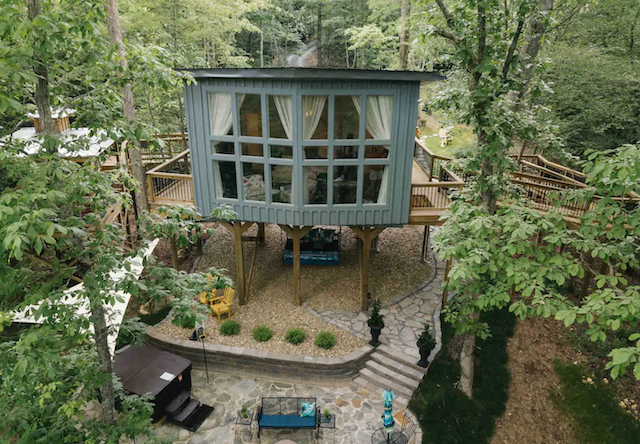 The treehouse provides accommodation to only two guests. However, it also has a camp for separate bookings for a gathering of six or less.
Treehouses at Deer Camp in Dunlap, Tennessee
The treehouse at Deer Camp in Dunlop, Tennessee can take just two guests and is therefore perfect for couples looking to create memories and spend some time together. From board games to the TV access with Netflix, fire pits and nearby centers of attention such as the fall Creeks State Park, there is just so much to do to catch fun.
Besides, the treehouse also allows pets but only after paying the pet fee and cleaning fees. Cooking utensils, as well as beverages, are also available. All you've to do is bring your clothes and food and enjoy this serene atmosphere.
Serenity House, a Treehouse in McEwen, Tennessee
Located high amid the trees, the serenity treehouse is for close families and friends that want a unique experience. With provision for four, you can sit on the porch and engulf yourself in the amazing overlook of the surrounding valley or horse pastures. Also, pets are allowed here but only with a pet fee that's paid upon departure.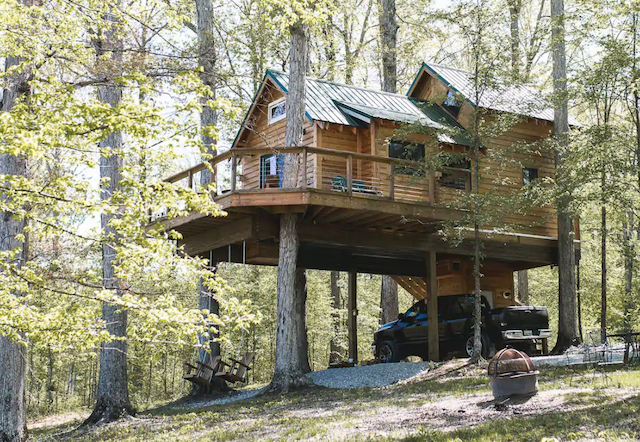 Despite these great features, there is no internet or TV space, and the phone network is terrible. It is therefore advisable to come with a DVD or pre-downloaded movies.