Staying in a cabin in Estes Park provides great access to amazing mountain adventures in Rocky Mountain National Park. After a day of hiking, skiing or exploring you will love coming back to a cabin with a hot tub to give you a place to relax in the evenings. Here are 10 top rated cabins and rental homes in Estes Park all with hot tubs on property.
Wild Turkey Retreat Cabin With Hot Tub
The Wild Turkey Retreat Cabin is perfect for the adventurer seeking a rustic, relaxed environment. Close to Rocky Mountain National Park, this is the perfect family-friendly getaway. You can go out hiking and fly-fishing then come back and relax in the cozy 6 people hot tub.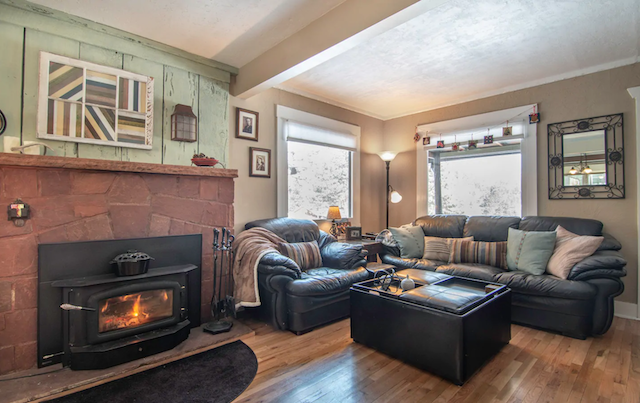 Decorated with gorgeous hand-crafted wooden pieces, you will feel at home whether you brought your family, significant other, or even simply decided to treat yourself. Plenty of towels and a fully stocked kitchen will be at your disposal. With access to two decks, an outdoor fire pit in the backyard, and an outdoor shower that's operational in summer, this will be a place worth writing home about.
Cabin With Hot Tub Steps From Rocky Mountain National Park
Get the best of both worlds at this cabin steps from RMNP – a traditional feel of home from the historic feel and modern touch from the updated architecture. Spend days exploring nature then relax in the evenings in the hot tub outside.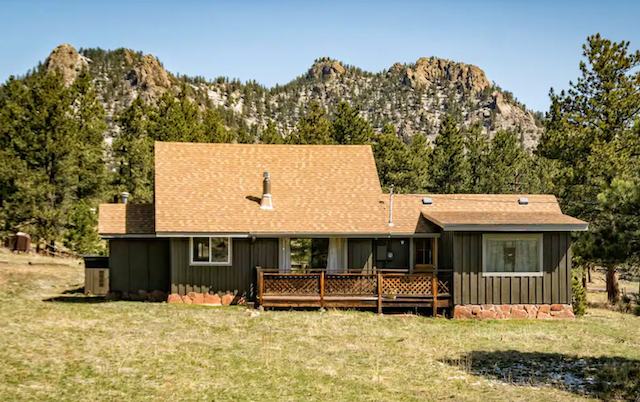 The lovely mountain and forest backdrop make sure you have the best photos and just three minutes out of town, you won't miss any amenities. You can use the dining room as a family game zone on days you want to stay in or enjoy the fireplace and 60″ television in the living room. With two redwood decks and a BBQ, it's a wholesome experience that will delight everyone.
Bears Den Estes Park Cabins With Hot Tub
Picturesque and idyllic, Bears' Den is the perfect vacation spot for families, individuals, or any group looking for a great getaway. Bring your own food and enjoy viewing wildlife including chipmunks, rabbits, elk, and deer. The large hot tub in the back yard will be a welcome relaxation after a day of taking walks or enjoying the large flat-screen TV over the fireplace.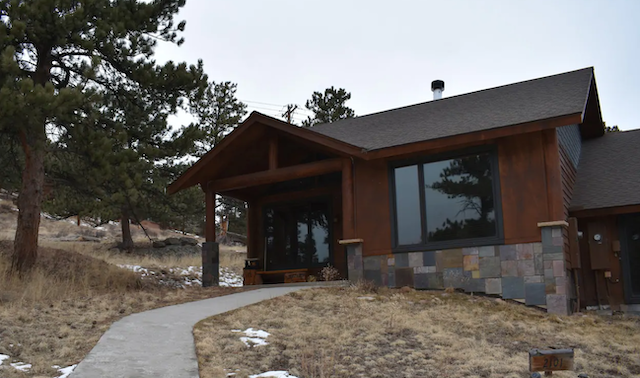 The space is modern and features vaulted ceilings, large picture windows, and log accents. You can view and take photos of Long Peaks from both the master bedroom and living area. The kitchen is fully set up with all the main appliances you may need during your stay including a slow cooker and a microwave. Everyone will enjoy their perfect temperature because there is separate heat control in every room; so you get the full holiday experience at Bears' Den.
Alpenhut RMNP Cabin With Hot Tub in Estes Park
This small and serene romantic hut is perfect for a getaway a short distance away from the Rocky Mountain National Park. This modern take on traditional shelter is luxurious and will afford you comfort beyond your imaginations- there's even a private hot tub! As long as you are 21 years old and over and don't come with children or pets, you're welcome to shelter here.
The cabin is a 420/Cannabis friendly establishment in accordance with Colorado state law as well, so you can relax and enjoy to your heart's content. A queen-size bed with memory foam ensures your comfort so you wake up well-rested. More amenities include a fireplace, a library, and an efficiency kitchen with all you could need. If you're in need of great accommodation while on holiday, do book a few nights!
The Bristlecone Cabin at Fall River Cabins
The Bristlecone Cabin is unique and has everything that you would need in a vacation unit. Indoors, you will have a full bed, fully fitted kitchen, and in-room jacuzzi. Outdoors is a luxurious hot tub and views that will stay etched in your memory for a long time.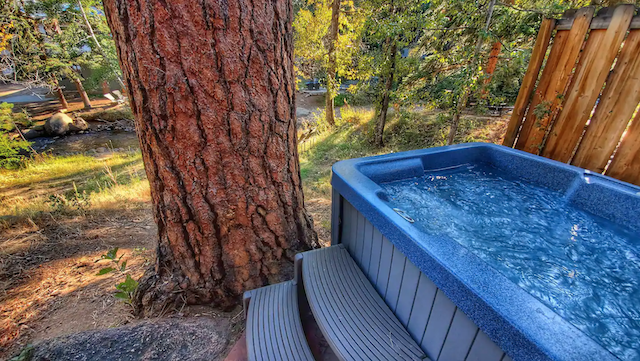 On occasions when the weather is not conducive for hiking and extensive outdoor activities, simply stay indoors and enjoy entertainment from one of the two TV's or tell stories while getting warmth from one of the two fireplaces available. Well-built and offering all the modern amenities you could need, give your next vacation a generous sprinkling of glamour by holidaying here!
Cabins for Rent in Estes Park, Colorado With Hot Tub
This cabin is where modern efficiency meets traditional quintessence. At just 200 yards from the edge of the Rocky Mountain National Park, you can drive or hike in. A hot tub on the deck, a fully fitted kitchen, and free wireless internet mean that you will have a great time settling in or sitting at the porch table if you so choose.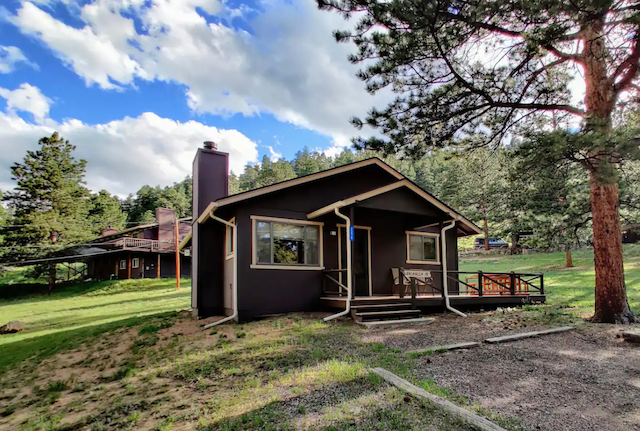 Bring your own food and toiletries to ensure you make the most of your stay here as the property sits away from the busy side of town. When you rent the cabin, you get access to the nearby activity center with a seasonally heated pool, community hot tub, and coin-operated washer/dryer. Come and enjoy this pine-paneled unit and you will want to visit again for sure.
Luxurious Historic Cabin with Hot Tub
You wouldn't believe that this luxurious cabin was built in 1910 because, after the thorough renovation of the interior, it has become a gorgeous masterpiece. The gourmet kitchen, radiant heat floors, and private outdoor hot tub on the deck will give you an experience you've never had before.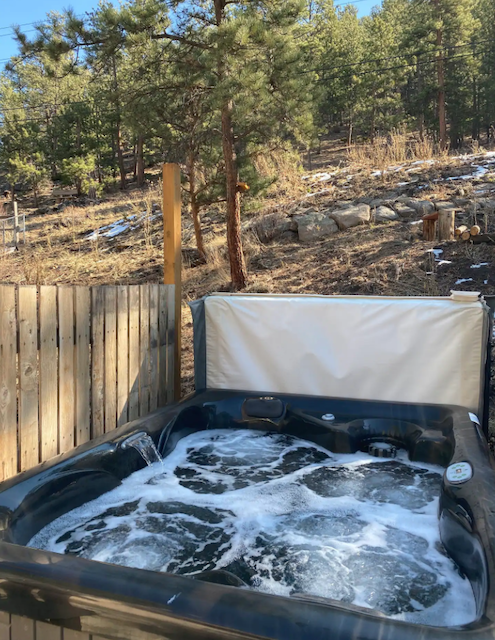 The history here is rich because, despite the renovation, most original fittings and finishes were not replaced. For instance, the fireplace and the French doors to the master bedroom are original to the house. The master bedroom was the original structure built by the Federal government in the 1800s and was moved, renovated, then extended over time. Come get a great holiday and help immortalize this historical marvel with pictures.
Alpenhaven Cabin With Hot Tub
This gorgeous Alpenhaven cabin is super clean, cozy, and has a hot tub to boot! You will be extremely close to the Rocky Mountain National Park here so you can hike and enjoy modern amenities at the same time. As long as you are all 21 years old and over, you are welcome to stay here because we are a 420/cannabis friendly establishment in accordance with Colorado state law.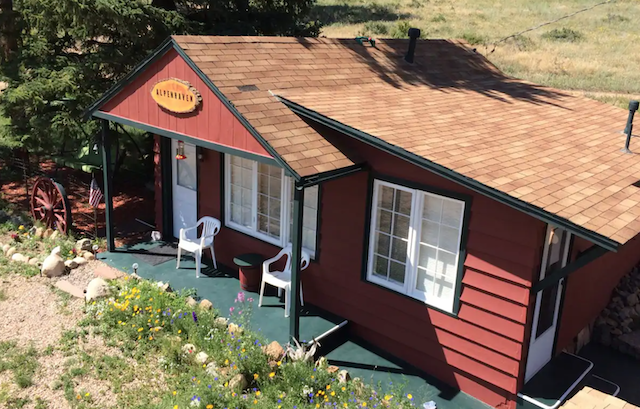 Enjoy your stay with frequent visits from wild animals like chipmunks, elk, hummingbirds, mule deer, and even bobcats and black bears on occasion. Be a part of the Estes Park film festival in mid-September, Autumn gold in mid-September, the Elk Fest in early October, and holiday parades depending on the season. You will love each day you spend here.
3 Bedroom Cabin With Hot Tub in Estes Park
This massive 3 bedroom unit will offer you lovely views of the mountains through the large windows. You can BBQ in the afternoons and laze in the hot tub on the deck after a day of leisurely hiking outdoors.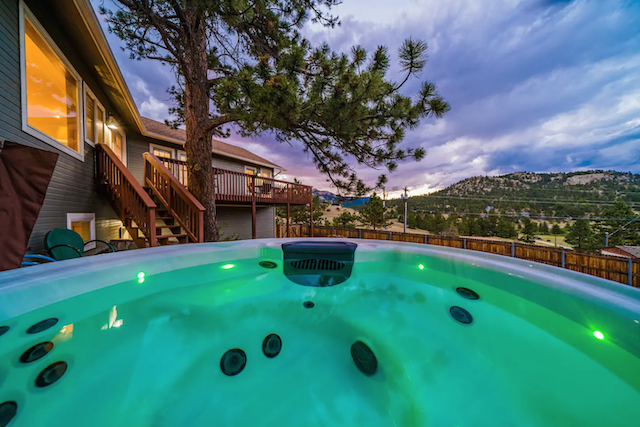 There is room for up to 8 people as besides the three bedrooms, two more can sleep on the sofabed in the living room. The kitchen is fully fitted and the laundry room has a full-size washer and dryer. The security is great as there are motion-sensing cameras but you shouldn't leave food in the cars- bears frequently walk around here and may break into the car to get the food. Besides this, you will have a great time walking around on nature trails or dining at the great restaurants downtown which is within walking distance from the house!
Estes Park Mountain House Cabin with Hot Tub
This beautiful studio cabin has a vaulted ceiling and large windows which afford you views of Mt Meeker and the Twin Sisters. Hiking and sightseeing in the rich landscape can be followed by stargazing while in the private hot tub to end the day on a great note.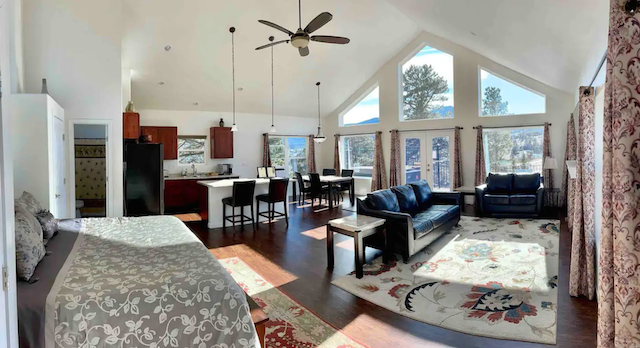 The house is one large open space that doesn't have separate bedrooms so take this into consideration. There are also no curtains on the upper windows so that the stars and moon are fully visible at night. At just 4 miles to Rocky Mountain National Park, you can be sure to have lots of sightings of the local wildlife around these parts like elk and chipmunks. When you visit, your stay will have four complimentary passes to the new Mustang Mountain Coaster!