When planning a backpacking trip, a backpacking tarp can be an effective way to lessen your pack weight without sacrificing comfort. As opposed to a basic tarp you might have protecting your grill outside, tarps that are made for backpackers are much more lightweight, come in various shapes and sizes and have different configurations to make them useful. While we would love to recommend one tarp for everyone, there are different reasons to purchase a tarp. If you are a backpacker that will be covering a lot of miles, it might be worth a high price tag to get an ultra lightweight tarp. If this is your first backpacking tarp or you won't be covering long distances you can start with a mid-ranged range tarp.
Our Top Picks
LiteOutdoors Silnylon Ultralight Tarp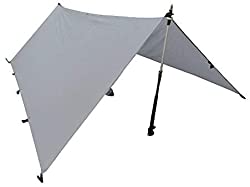 Pros: This is a high quality, ultralight tarp. It is made with 20D ripstop nylon with a silicone coating on both sides The material is incredibly strong yet ultralight, weighing 11.3 ounces. All webbing loops are double stitched for strength and will not fail.16 webbing loops around the outside and one in the center leaves you with multiple pitch configurations. This is a great all-around tarp.  
Cons: The only con to this tarp is the price, $125 is a great price, but it is still less than many other options.  Click here to check the current price on Amazon
Budget-Friendly Backpacking Tarps
YUEDGE Camping Tarp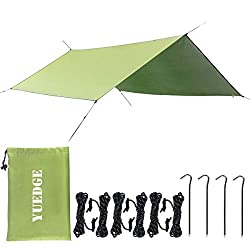 Pros: The YUEDGE Camping Tarp is a great tarp for the price of around $30. It should do its job of keeping you dry and covered while you are camping. It also comes with ropes and steaks which make shopping easier.
Cons: Of course with any product that is a lower price come the drawbacks.  1st there aren't any tie-ins at the quarter lengths of the tarp, limiting the configurations you can use. It does not fold up a compact as other tarps and weighs over 2 pounds. Additionally, it is not a perfect square.  The middle of the tarp is shorter than the corners limiting your options further with configurations and protection from the elements.   Overall it is a good buy if you are looking to spend the smallest amount possible for a tarp that will keep you dry. Click here to check the current price on Amazon
FREE SOLDIER Waterproof Portable Tarp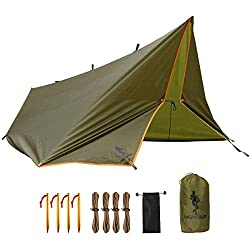 Pros: Like the YUEDGE backpacking tarp, the free soldier tarp is budget-friendly.  For a little bit more money($45), you get a tarp that is a bit lighter and has loops in the quarter lengths and going down the middle seam of the tarp that make it very versatile.
Cons: As expected with a budget polyester backpacking tarp, it is bulkier and heavier than more expensive tarps.       Click here to check the current price on Amazon
Mid Range Back Packing Tarps
Aqua Quest Guide Tarp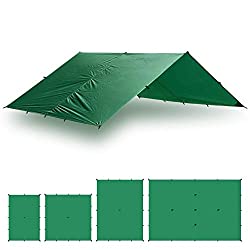 Pros: The Aqua Quest guide tarps are a great product for the price. For around $70 you get a large tarp that weighs just over one pound.  The Sil Nylon material is very durable and makes it easy to pack down into its small pack. There are several tie-outs on the sides and the seam, making it very versatile. Overall very high quality.  
Cons: The Aqua Quest guide tarps only come as rectangles and limit some of the configurations you can do with a square backpacking tarp.   We recommend this tarp for backpackers looking for something that is high quality and light without breaking the bank.   Click here to check the current price on Amazon
Sanctuary SilTarp – Ultralight and Waterproof Ripstop Silnylon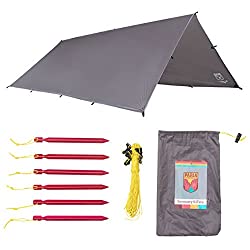 Pro: This tarp comes in at 15oz, a great weight for the price.  It includes a stake and line locks that make it ready for set up.  It has 17 takeoff loops, included one in the center. For $80, it is a great balance of price, weight, and durability. Cons: There really aren't any cons with this tarp.  You can always pay more for something lighter or less for something lower quality, but for the moderate price, I think this is an excellent option.
Click here to check the current price on Amazon
Higher-End Backpacking Tarps
Eagles Nest Outfitters HouseFly Rain Tarp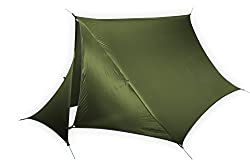 Pros: This backpacker's tarp provides additional protection for the elements with overlapping doors.  This will make a huge difference if you catch yourself in rain or on a windy cold night. The tie-offs are adjustable, making it easy to get your tarp nice and tight to hold up against the wind. It is made of durable Sil nylon which allows for it to be packed up nice and tight.  
Cons: It does come in a little heavy compared to other backpacking tarps at 27 ounces.  It also may not be the best tarp when you have nice weather out. It is more expensive than other tarps that are the same size and material.   This is a perfect tarp when expecting rain, wind, or cold on your trip.  It also makes a perfect hammock tarp. Click here to check the current price on Amazon
Ultra Light Backpacking Tarp
Sea to Summit Escapist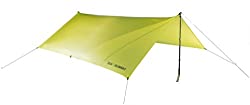 Pros: The Sea to Summit backpacking tarps are very high quality, durable, versatile and ultra lightweight.  Their medium tarp comes in at just 11 ounces. It has 8 different tie outs to make set up easy.  
Con: With and superior produce comes a higher price tag around $160.  The Sea to Summit Escapist also does not have quarter length tie outs.   Click here to check the current price on Amazon
Poncho/Tarp Combos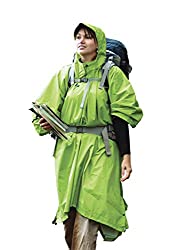 Pros: If you are looking to save even more space than with a normal tarp, consider a poncho that doubles as a tarp.  They are extremely lightweight and small.  If it rains, the poncho will keep you and your gear dry and when night comes, you can set it up to keep you dry the night.  
Con: The poncho tarp only comes in one size.   You can purchase the Ultralight Tarp/Poncho in Nylon or Ultra-Sil material. With a difference in material comes a difference in price. Click here to check the price of the Ultralight Ultra-Sil Tarp/ Poncho Click here to check the price on the less expensive Nylon version
Budget Tarps for Hammocks
If you go camping with your hammock often, you can use any of the tarps above, but there are also several tarps that are built just for that. They usually have a longer center to cover most of the hammock.
Pro Venture WATERPROOF HAMMOCK RAIN FLY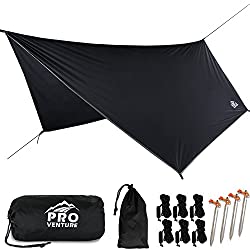 Pros: This is a great product for the price made with Ripstop Nylon weighing in at 1.8lbs, and taking up 10x5x5inches of backpack space. This is a great product at just $33.  
Cons: The shape is specific for hammocks, making it less versatile.  It is also fairly heavy and only has 6 tie-ins.  
Check the current price on Amazon
The Outdoors Way Hammock Tarp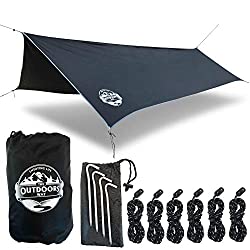 Pro: This hammock tarp is slightly larger than the Pro Venture but slightly lighter.  With the hammock comes rope and states, giving you everything you need to get going. I think it is worth the extra $7 for saving the weight and if you will use the stakes provided.
Cons: The shape is specific for hammocks, making them less versatile.  It is also fairly heavy and only has 6 tie-ins.  
Click here to check the price on Amazon
Backpacking Tarp vs a Lightweight Tent
Besides lightening up your pack a tarp is much smaller and will not have ridged parts making it much easier to store and find room for.  With a tint, the poles are required, but with a tarp, you can use your walking poles to set it up, trees, or sticks you find. While tents are designed to be folded in a specific way, tarps can be folded in many ways and packed down to be very small and fit around other things in your back.  Some may even fit in a pocket.  
When deciding between a tent and a tarp, a tent has an advantage because it is enclosed to keep out the elements.  A tarp on the other end is much more versatile. A tarp can be set up higher than a tent to allow for more airflow when it is hot or warm.  It can also be used in different configurations and in general give you much more size with less material and weight. You can easily have room for one or two people, your gear, and you can even cook on a small stove under your tarp as long as it is raised high enough.  
In the chance that you do find yourself in inclement weather, you can enjoy all the advantages of a tent with a tarp by using a bivy sack.
What to look for when buying a Backpacking Tarp
Weight – One of the main reasons to buy a tarp as a form of shelter is because it is ultralight. Make sure you keep an eye on the weight of your tarp when deciding which to purchase. You will find backpacking tarps as low as 10 ounces, but they can get up to 2 pounds+. At that point, you might as well get a tent. Ultralight tarps can get very expensive so take in to account what it will be used for. If you will be hiking several days for long distances one pound can make a huge difference. If you are only hiking a short distance you may want to save some money and forgo the weight savings.
Size – Choosing size is a balance of weight and utility. The larger the tarp, the more space it will take up in your pack, but also, the more versatile it will be. If you have a larger tarp you can fit your pack underneath and be able to use different configurations to create your shelter. An 8×10 should be great for one person or a 10×10 for two.
Durability – You want a backpacking tarp that will last. While its hard to tell online how durable a tarp is, read the ratings and reviews to see what users are saying. Take a look at the tie-ins to see if they are reinforced. Additionally, pay attention to the material they are made out of.
Shape & Functionality – Tarps come in different shapes and have tie-ins located in different places. The more tie-ins, the more flexibility you will have to try different configurations. Additionally, there are tarps with a unique shape that can add versatility. If you are planning on using a hammock, you can find tarps that are made with a shape made exactly for that.