When you visit Helen, Georgia, you'll find it is a perfect destination for outdoor activities like tubing, hot air balloon festivals, hiking and so much more. Of course, the first order of business is to find the best accommodations for your vacation. Whether you're bringing the whole family or just looking for a couple's retreat, this list has the absolute best cabins in Helen, Georgia to make your next vacation memorable.
"Hidden Hollow" 3 Bedroom Cabin with Hot Tub
Tucked away amid the trees, this cabin in Helen offers a peaceful and secluded spot for couples or families to enjoy. Its beautiful combination of bright, elegant décor and splashes of rustic charm make for a truly memorable experience. It can accommodate up to 6 guests and features a lovely kitchen and dining area, a comfy living room, and a spiral staircase leading up to the second floor.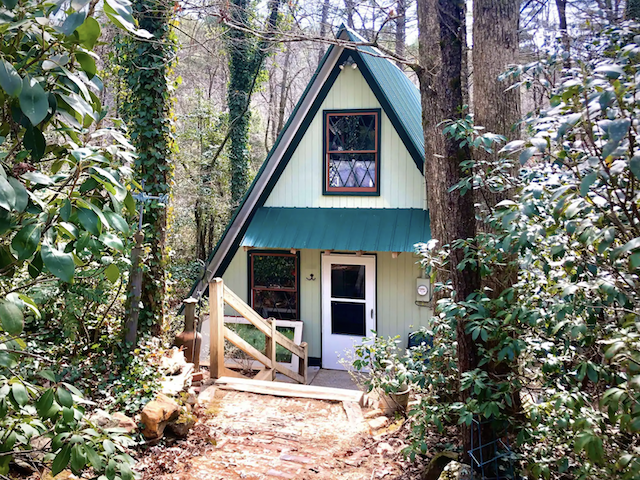 The rear deck is quite spacious, with plenty of room for outdoor dining, along with a grill. You'll also find a covered, 8-person hot tub to relax in.
Seclusion 2 Bedroom Cabin with Hot Tub
Whether you're enjoying a romantic weekend with your special someone or bringing the whole family along, this cabin has what you need. Nestled among the flowers and trees just a few miles from downtown Helen, you'll have a serene experience at this wonderful cabin. Its homey interior will put you at ease.
With two bedrooms, two baths, a full kitchen and dining area, and a living room, you'll have plenty of space. Cozy up next to the fireplace or head out onto the deck to grill up a meal. Then, at the end of the day, you can unwind in the hot tub at watch the stars come out.
"The Firefly" One Bedroom Cabin
Make yourself at home in this fantastic cabin. As soon as you step in the door, you'll find the stone-and-wood décor and lively interior an absolute joy. All the comforts you could imagine are at your fingertips, including a lush king-sized bed, complete with a jetted tub right in the master bedroom.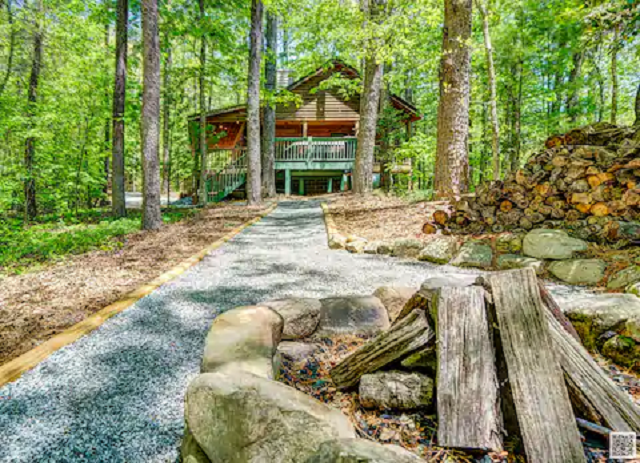 You can cuddle up with your loved one next to the fireplace, or head outside to enjoy the fire pit. Or, if you prefer, you can simply take in the splendid natural scenery from the porch, relaxing in one of the rustic wooden rocking chairs.
Rustic Elegance 3 Bedroom Cabin in a Luxury Community
True to its name, this amazing cabin near downtown Helen offers you the best of both rustic style and elegant luxuries. With three king-sized beds and three full baths, there is plenty of room for the whole family, and then some. Head outside to the spacious deck and take in the view, or hop in the hot tub to unwind after a long day of fun.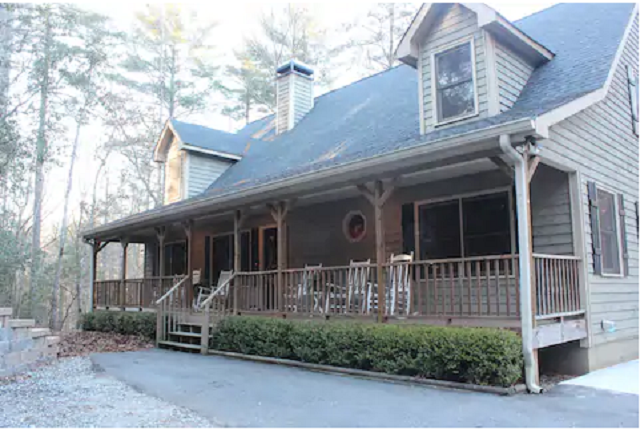 Then, you can head inside and challenge your friends or family to a game of pool up in the loft. And if you're craving a meal, you can cook up a feast for everyone in the huge, fully-stocked kitchen.
Mystic Moonlight 1 Bedroom Cabin
Surround yourself with the splendor of nature at this magical cabin 4 miles from Helen. Whether you are taking in the view from the front porch, the rear covered deck, or even from the couple's hot tub, you'll be enchanted by the sights and sounds of nature. Inside, the intimate and comfy accommodations make for a romantic atmosphere.
The rustic décor matches nicely with the luxurious flourishes, such as the king-sized bed and the marble kitchen countertops. Don't miss out on a chance to experience this incredible cabin for yourself.
2 Bedroom Mountain Fever Cabin with Hot Tub
For fun and comfort, this wonderful cabin can't be beaten. Conveniently located to nearby attractions such as Alpine Helen and Raven Cliff Falls, there won't be a boring moment while visiting this amazing spot. The cabin itself offers both privacy and luxury. The woodsy décor and ample space create a welcoming atmosphere.
The two bedrooms feature king and queen-sized beds, and the cozy lounge has a fireplace to snuggle up next to. Outside, you can relax by the outdoor fireplace, hop in the hot tub, or go explore the woods surrounding the property.
"Alpine Mountain Majesty" 4 Bedroom Cabin
Let the splendor of the mountains wash over you at this incredible luxury cabin 10 minutes from Helen. With three floors of beautiful rooms, two spacious decks, and every amenity you could imagine, you may never want to leave. Huge, floor-to-ceiling windows in the great room allow for lots of natural light and spectacular views of the mountains and surrounding countryside.
Four bedrooms and accommodations for up to 8 people mean that the whole family can enjoy this amazing vacation destination. You'll also find a game room, hot tub and a fire pit.
"Ritz on the Rocks" 4 Bedroom Cabin
Have your own private luxury hotel experience at this gorgeous cabin. With jaw-dropping views of the mountains and tons of space, you and your family won't want your vacation to end. This amazing cabin can accommodate up to 12 guests, with four bedrooms, three baths, and tons of amenities.
The two decks are excellent spots for taking in the scenery. The spacious living room also offers a wonderful view, as well as a cozy fireplace. And to top it all off, there are tons of nearby attractions and activities to partake in.
Helen Round House Mountain View Cabin with Hot Tub
This terrific, yurt-style cabin combines unique architecture with ample comforts. The deck stretches all the way around the house, giving you plenty of room for taking in the wonderful view. Alternatively, you can head down to the fire pit, perfect for making smores under the stars.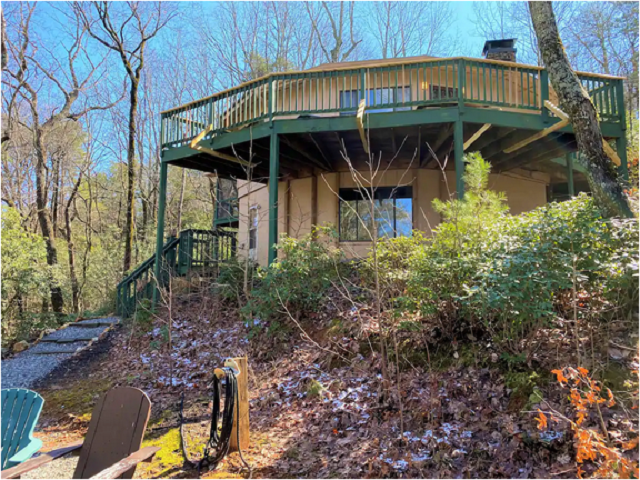 Head into the basement to find a stocked recreation room, including a game table and pool table. There are sleeping arrangements for up to 6 guests, including both a king and queen-sized bed. Plus, you'll be conveniently located to nearby attractions, such as wineries and hiking trails.
UberHelen 1 Loft Bedroom Cabin
Anyone looking for an intimate and homey atmosphere will be thrilled with this lovely cabin. With plenty of amenities and a cozy interior, this awesome vacation destination is ideal for couples or small families and anyone hoping to find some peace and quiet. The quaint loft bedroom features a comfy queen-sized bed.
Additionally, the bathroom has a luxurious jetted tub for you to relax in. You can head out onto the covered deck to take in the sights from the rocking chairs. Or, you can grill up a meal for you and your loved ones.
3 Bedroom Cabin Near Helen with Hot Tub
Rustic style meets modern comfort at this awesome cabin. The bright interior and woodsy décor make for a wonderful combination, providing an authentic log cabin experience without skimping on the amenities. With two kings and one queen-sized bed, there is plenty of room for everyone. A cozy den features plush couches and a lovely fireplace to gather around.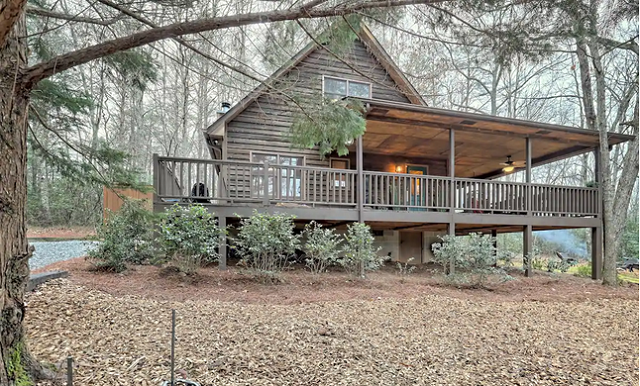 Head outside to the covered porch for dining among the elements, or hop in the hot tub to unwind after a day of exploring the great outdoors. All this and easy access to all that downtown Helen has to offer.
Trout Fish Inn One Bedroom Cabin
Come say hello to the fish at this beautiful cabin. Nestled among the trees, you'll have both comfort and seclusion to indulge in. The open floor plan makes for a spacious and enjoyable experience. Features include a queen-sized bed, full kitchen, full bath, and a large deck. The quirky, trout-themed décor will put a smile on your face.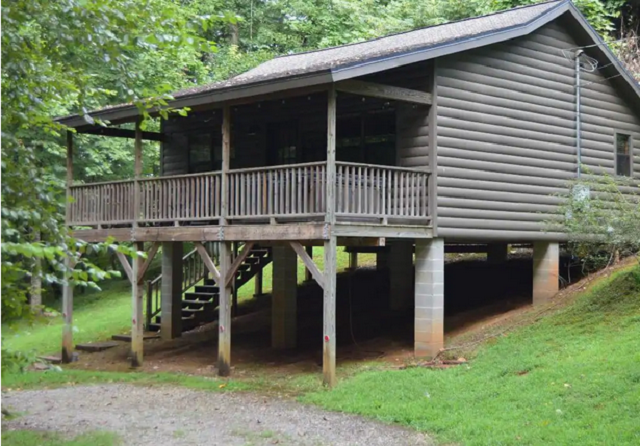 Nearby Helen has a multitude of enjoyable attractions, and there are plenty of opportunities in the area for hiking and exploring nature. If you're looking for someplace special to go with someone special, this cabin is for you.
"Roar of the Wilderness" 2 Bedroom Cabin
Fall in love with nature and this fantastic cabin. With room for up to 6 guests, you can bring the whole family along for the adventure. Accommodations include two queen-sized beds, a full bath, and a kitchen. Let the lovely scenery enchant you from the comfort of the spacious porch.
You'll also have access to a grill, for some pleasant outdoor dining. Or, you can take a dip in the hot tub to unwind. Then, you can head into downtown Helen for some fun, including tubing, hiking, or visiting a winery.
Modern, Rustic 1 Bedroom Cabin Near Downtown Helen
With terrific amenities and a tranquil atmosphere, this cabin is perfect for anyone looking to get away from it all. Indulge in the calm and cozy accommodations, or take part in the many fun activities just a short distance away. You'll have access to a luxurious queen-sized bed, a lovely living room with a fireplace, a full kitchen, and a large jacuzzi tub.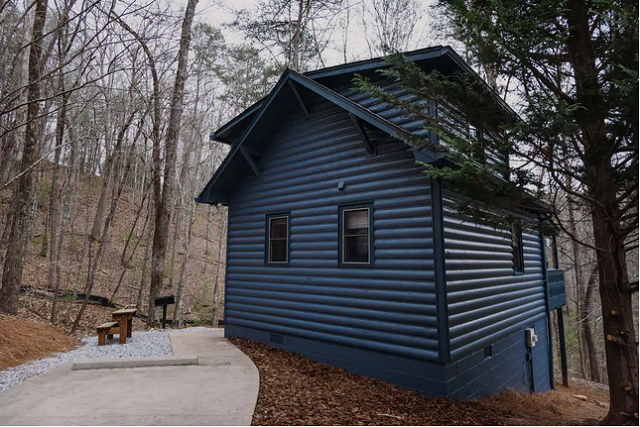 Outside, you'll have a fantastic view of the woods from the back porch. Whether you want to cuddle up with a good book, spend some quality time with a loved one, or just relax the day away, this cabin has everything you need and more.