Turner Falls Park in Davis, Oklahoma is an adventure filed and family-friendly annual destination located in Arbuckle Mountains perfect for a cabin getaway. Located just 10 minutes from the town of Davis and surrounded by acres of undisturbed wild, Turner Falls is a perfect place to cool off on your next vacation. The star is the Turner Falls which are a natural spectacle that flows over travertine into the phenomenal natural swimming hole. There are plenty more things to do in the Arbuckle Mountains including hiking to caves and springs that flow out of the earth, walking the rolling hills or flying over them on zip-line tours, or simply taking an Oklahoma hill country wildlife safari.
There is so much for you and your family to see and do. If you want to be as close to the falls as possible throughout your stay, here are a couple of amazing Turner Falls cabins you can make reservations in.
Arbor Breeze Lodge near Turner Falls
Arbor Breeze Lodge is a large 5 bedroom 3,000 square foot cabin with interiors crafted with white aspen logs that can accommodate 16 guests. The lodge features a variety of modern appliances, custom rock fireplace, granite countertops, two family rooms, a large deck, 3 air conditioning systems, and several other amenities to make you feel right at home.
While staying here you will have full access to the property. You can explore through the oaks and pines and enjoy the beauty of nature. The lodge is a mile from Arbuckle Lake, a mile from Turner Falls and a few miles to Chickasaw Cultural Center. This is a place to gather as friends or family and build memories that last a lifetime.
Cedar Cabin (Sulphur-Davis Area)
If you are a small family searching for a secluded cabin, the Cedar Cabin will not disappoint. This is a two-bedroom, one-bath cabin that accommodates up to 4 guests. From here, you can easily enjoy activities in Arbuckle Country (skiing and fishing on Arbuckle lake), swimming at Turner Falls, safaris in Chickasaw National Recreation Area, Chickasaw Cultural Center, Artesian Hotel Spa & Casino, Treasure Valley as well as Bedre Gourmet Chocolate.
The cabin has all the amenities of home including air conditioning, TV and Wi-Fi. It is the perfect getaway for couples, small families, and friends.
Where the Magic Cabins
"Where the Magic Cabins" is a recently renovated luxury cabin that sits high in the hills of Arbuckle Mountains. It has a bright and fresh inside perfect for gathering as a family and friends and an exterior that is peaceful and secluded, while still being close to all the major attractions in Turner Falls. With 3 bedrooms, 7 beds, 2 baths, and a capacity of 10 guests, this cabin offers the perfect weekend getaway. There is also a room to play or simply gather around a cozy fire.
Private wooded; near Turner Falls
This cabin is a great place to escape to and enjoy a woodland breeze surrounded by trees and spectacular views. The 3-bedroom cabin is adjacent to the Chickasaw National Recreational Area park and includes 4 beds, 2 baths, a game table, and is a short drive to all the local attractions. You can enjoy your morning coffee on the deck and if you are lucky you can see a couple of deer. This is the perfect place to unwind where you can either hang out in the cabin enjoying the amenities or visit the local attractions. The cabin has a capacity of 10 guests.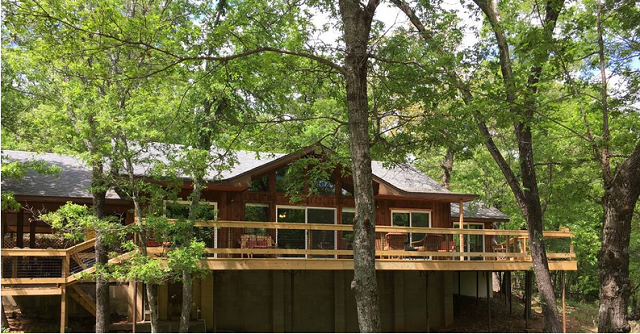 Windsong Villas Tiny Home
Windsong Villas is a brand new villa in a convenient town location. The one-bedroom, the one-bed villa is decked out in an industrial décor. The features range from reclaimed boxcar flooring wood countertops to sliding barn doors. The villa has everything you need to make your vacation amazing and budget-friendly.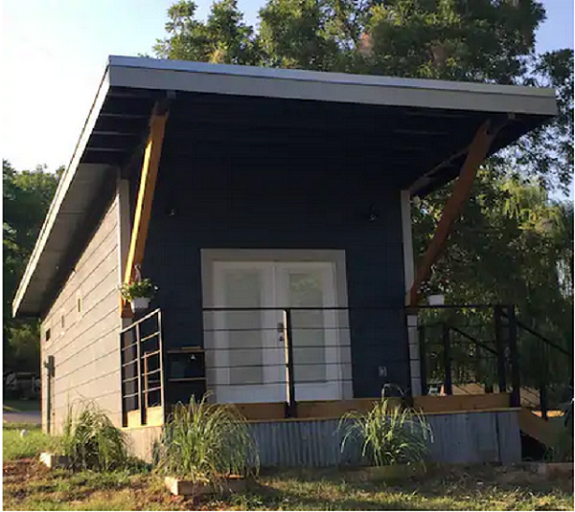 The villa is also close to the Chickasaw Recreation Area and Platt National Park. Its convenient location offers easy access to downtown, casinos, and art centers. You also enjoy all the modern amenities including 4K TV, roomy shower, washer/dryer, and an outdoor charcoal BBQ.
Cozy Cabin Nestled by Honey Creek
This one-bedroom rental cabin with 3 beds, a bath, and a capacity of 5 guests is the best place to stay on your next vacation in Turner Falls. It offers the best experience of the scenic wonders of south-central Oklahoma. The property sits less than a mile from Turner Falls Park and is a couple of minutes' drive from Davis' popular attractions and Arbuckle Mountains. The one thing you can always count on when staying here is stunning sunsets, breathtaking waterfall views, and days of adventure. The cabin is perfect for a quiet, romantic getaway or family trips.
Bird's Nest Tree House, Minutes from Turner Falls
Elevated 15 feet above the ground, this is a unique 'Bird's nest' that will welcome you with the most captivating views of Arbuckle Mountains. The treehouse has 1 bedroom and can accommodate up to 4 guests. The cabin uses an open floor plan and includes the modern amenities you would expect in a modern home. Guests are free to explore the 70 acres the property sits on. Whether you are vacationing alone, with your better half, family or friends, this cabin will be perfect. It is secluded and only shares the 70 acres with three other cabins.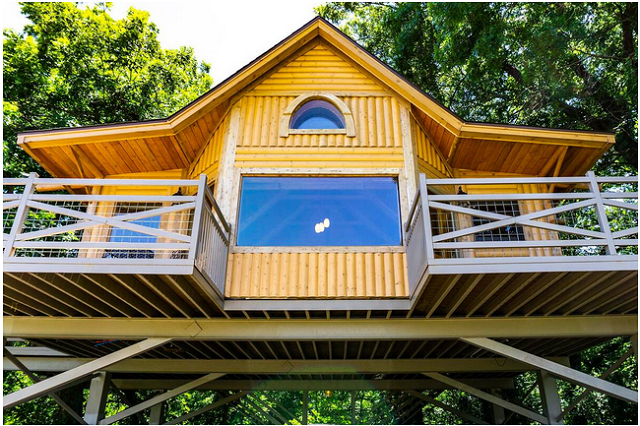 Powell Cabin Inside Turner Falls Park
If you are searching for a family cabin this one-bedroom cabin is located in Turner Falls Park and is fully furnished. It is only steps away from picnicking, swimming, and the Falls.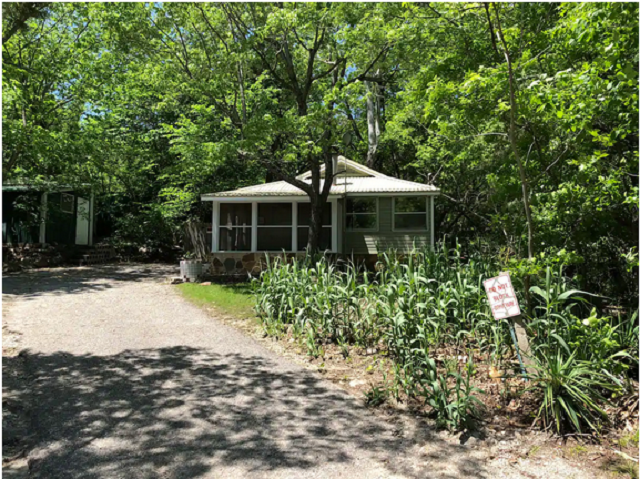 This little cabin is a family treasure with all the amenities of a home. The grounds are landscaped and guests access the entire cabin. Be at the center of the action at Powell Cabin.
Cottage By The Lake
Last but not least is this amazing cottage by the lake. It is a 2-bedroom cottage with 2 beds, 1 bath and accommodates up to 8 guests. This newly renovated farm cottage sits on 40 acres outside of Sulphur and offers amazing views of the private 15-acre fishing lake. Guests can enjoy fishing here too. There is also a fire pit and you can relax while watching wildlife. The cottage is minutes from Arbuckle Lake, Chickasaw National Recreation Area, Chickasaw Cultural Center, Art Museum, and numerous local attractions.
Turner Falls Cabins With Hot Tubs
Turner Falls Cabin With Enchanting Views
For sweeping views of the Arbuckle Mountains and easy access to all the attractions including Turner Falls, this spectacular log cabin is for you. It has 2-bedrooms, 3 beds, 2 baths and can accommodate up to 6 guests. You can sit on the deck, sipping coffee as you take in views of the 70 acres' pasture land, gather by the fire pit area with your family, or soak yourself in the hot tub in the screened porch. There is also a balcony sitting/ BBQ grill area. This secluded cabin is only a few minutes from Turner Falls Park.
Tiny Log Cottage By Creek with Views
The Tiny Log Cottage sits on 1200 acres of private paradise in a valley between two ridges of Arbuckle Mountain. The cottage is next door to the main log cabin which could be hosting other guests. The clear rock bottom creek is 100 feet away and flows throughout the year and you can hear its small waterfall from the cottage. There are trails to the lake and you can enjoy swimming in the creek, hiking deep in the woods, soaking in a hot tub, climbing the hill to the lake, or simply enjoying the amenities of the cottage. This is a relaxing retreat spot for nature lovers.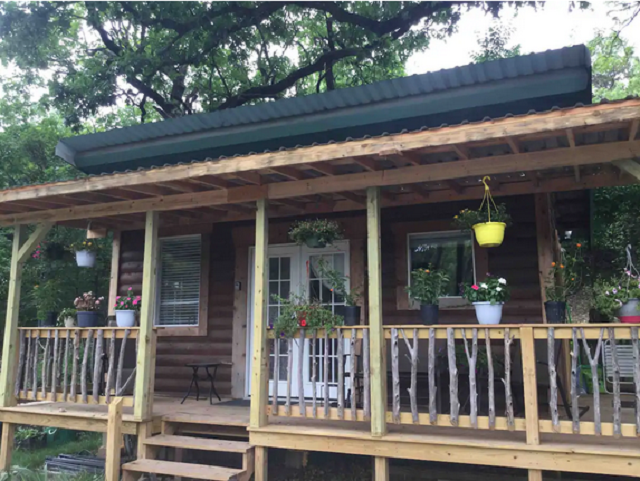 Things to do in Turner Falls
Oklahoma's Turner Falls Park is the ideal getaway for anyone wanting to be surrounded by nature at every turn. From natural caves and swimming areas to bathhouses and a rock castle, there's something for everyone at Turner Falls when you aren't enjoying the comforts of your cabin.
Gaze over the spectacular waterfall, famously high and mesmerizing. As well as watching over the waterfall, you can dip your toes in at the bottom and wade through the pool made from cascading water. Constructed in the 1930s, the castle at Turner Falls is now a piece of artwork with staircases so small they seem like secret passageways; there are no tours given here, so explore at your convenience. Explore other parts of the Park on foot as you hunt for the three natural caves at Turner Falls. These breath-taking natural formations are a sight to behold. There are also normal hiking trails to reveal more of the Park's beauty.
When to visit Turner Falls
Open year-round, there really isn't a bad time to visit Turner Falls. The Park is busiest during the summer months as the various pools make a great place to cool off in the heat. Towards the end of summer, the crowds clear up and the weather is more temperate. This is the same for spring and fall; there are fewer people in the Park, and the weather is lovely. Also during fall is when the mountains surrounding the park are shrouded in autumnal colors. Winter brings the cold, and this is more of a time for exploring nature rather than swimming in the waters. The frozen waterfall is no less spectacular when it's frozen!