Turner Falls Park in Davis, Oklahoma is an adventure filed and family-friendly annual destination located in Arbuckle Mountains perfect for a cabin getaway. Located just 10 minutes from the town of Davis and surrounded by acres of undisturbed wild, Turner Falls is a perfect place to cool off on your next vacation. The star is the Turner Falls which are a natural spectacle that flows over the travertine into the phenomenal natural swimming hole. There are plenty more things to do in the Arbuckle Mountains including hiking to caves and springs that flow out of the earth, walking the rolling hills or flying over them on zip-line tours, or simply taking an Oklahoma hill country wildlife safari.
There is so much for you and your family to see and do. If you want to be as close to the falls as possible throughout your stay, here are a couple of amazing Turner Falls cabins you can make reservations in.
Where the Magic Cabins
"Where the Magic Cabins" is a recently renovated luxury cabin that sits high in the hills of Arbuckle Mountains. It has a bright and fresh inside perfect for gathering as a family and friends and an exterior that is peaceful and secluded, while still being close to all the major attractions in Turner Falls. With 3 bedrooms, 7 beds, 2 baths, and a capacity of 10 guests, this cabin offers the perfect weekend getaway. There is also a room to play or simply gather around a cozy fire.
Cozy Cabin Nestled by Honey Creek
This cozy one-bedroom cabin with 3 beds, a bath, and a capacity of 5 guests is the best place to stay on your next vacation in Turner Falls. It offers the best experience of the scenic wonders of south-central Oklahoma. The property sits less than a mile from Turner Falls Park and is a couple of minutes drive from Davis' popular attractions and Arbuckle Mountains. The one thing you can always count on when staying here is stunning sunsets, breathtaking waterfall views, and days of adventure. The cabin is perfect for a quiet, romantic getaway or family trip.
COTTAGE BY THE LAKE
Last but not least is this amazing cottage by the lake. It is a 2-bedroom cottage with 2 beds, 1 bath and accommodates up to 8 guests. This newly renovated farm cottage sits on 40 acres outside of Sulphur and offers amazing views of the private 15-acre fishing lake. Guests can enjoy fishing here too. There is also a fire pit and you can relax while watching wildlife. The cottage is minutes from Arbuckle Lake, Chickasaw National Recreation Area, Chickasaw Cultural Center, Art Museum, and numerous local attractions.
Hard to Find Cabin – Perfect at the top of the Range, Close to Arbuckle Lake
The perfect place to get away from it all, this cabin has two beds and is designed so you can enjoy a cup of coffee in bed without getting up. You'll also find deer roaming around the pond outside your window – watching them while drinking that first morning brew just makes things even better. Inside there's plenty for cooking including an island with pots, pans and utensils as well as a fridge/freezer combo which includes modern appliances like ovens, microwaves and Keurig machines! Sleepover max: 4 people
Find true serenity and privacy at this cabin with a standup shower, vanity, and plenty of towels in the bathroom; outdoors there is an impressive patio overlooking the pond. Enjoy outdoor cooking on propane grill or taking in views from your table for two while relaxing outback.
Newly Listed Rustic 3 Bedroom Cabin
This newly renovated 3 bedroom, 2 bath cabin is perfect for a family or friends looking to get away from it all. With an open floor plan kitchen, dining room, and living room this quaint home will be the most relaxing place you have ever been in your life! Master bedroom suite with king bed and two guest bedrooms each with queen beds as well as plenty of parking at the house for trailers makes staying here easy.
Centrally located on Guanabara Bay where there are lots of outdoor activities like walking distance to Lake Arbuckles which provides opportunities for fishing! Nearby Turner Falls Park offers freshwater springs that are 14 miles down the road so don't forget your swimsuit because otherwise stop by Chickasaw National Recreation Area.
The Brandin' Post On The Flyin' D Ranch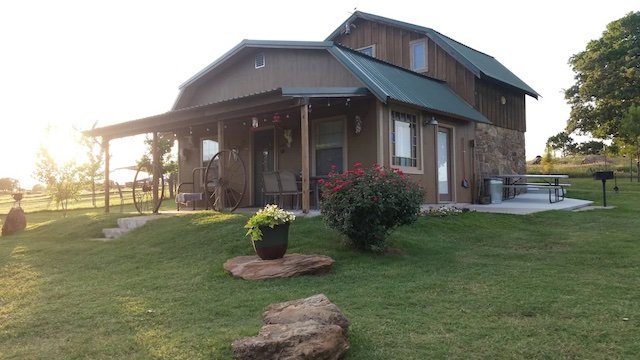 The Brandin' Post Cabin
The Brandin' Post is the country living that you've been looking for. Come stay at our converted barn in Turner Falls, a beautiful and unique rustic home with hiking trails on 450 acres of ranch land. The Flyin' D Ranch has miles of marked trails, a fishing pond, and kiddie-corral – your inner cowboy or cowgirl will love it! Just minutes from Arbuckle Mountains, Turner Falls Cross Bar Cultural Center (home to an award-winning theatre), Quail Hollow Golf Course… come to find out what's waiting for you here in Davis County — life as it was meant to be lived: "country livin'
Old School Cottage Cabin
Old School Cottage provides a quiet country setting in a one-bedroom cabin with a queen bed and bathroom. Full-size kitchen, electric stovetop, microwave oven/fridge combo unit available to use! Plenty of parking for RVs or boats with plenty of space outside in the backyard that includes an excellent view over our working cattle ranch you can bring your family's favorite recipes along while you enjoy time at this isolated location off from Sulphur Oklahoma where there are lakes, art centers and cultural attractions close by including Chickasaw National Recreation Area which is 4 miles south on Highway 412 Westbound from here.
Turner Falls Cabins With Hot Tubs
Beautiful Secluded Log Home With hot tub for up to 10 Guests
This secluded log home on 24 acres of forest is the perfect getaway for families or friends. There are wildflowers throughout the property, a natural spring, creek, and plenty of wildlife to enjoy from the wrap-around deck. One large bedroom has a king size bed with a TV/DVD player and two other bedrooms have twin beds each sharing one full bath. There's also an outdoor shower on site! Grab your hiking boots or fishing pole because you'll want to take advantage of all that this place has to offer!
Star Valley Log Cabin With Hot Tub
Star Valley is a new log cabin perfect for smaller families who want to escape the hustle and bustle of city life. The wooden fence surrounding this property provides complete privacy. Enjoy the soothing hot tub, outdoor fire pit and park-style grill. The Star Valley cabin is located a short drive from Lake Michigan and is just 1 mile from both Eagle Bay boat ramp on Lake Arbuckles or Chickasaw National Park Boat Ramp. 
You'll love our well-equipped kitchen, living room with flat-screen TV, bedrooms with comfortable beds and WiFi throughout the property so that no matter where you want to watch Netflix or Hulu we've got it covered. 
Circle M Lodge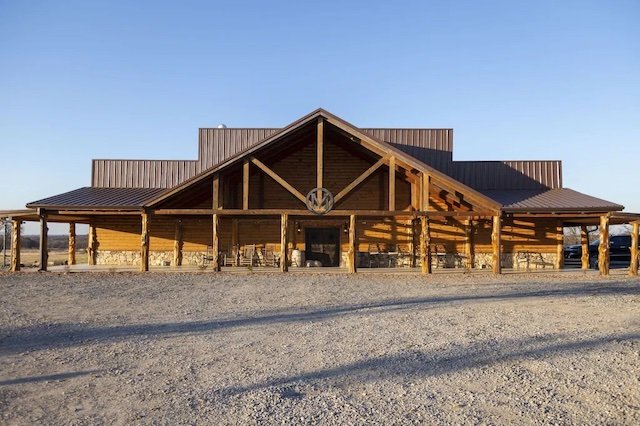 Circle M Lodge is a rustic, relaxing place to enjoy the rolling hills of Central Oklahoma. Enjoy an escape from civilization with ponds, barns and cows all around you! We offer 12 bedrooms for guests that each come equipped with their own full bathroom as well as 2 bunk rooms adjoined by one bedroom that can sleep up to 30 people in twin beds or bunk beds.
The lodge has a large front porch with lots of room for sitting and whittling. You'll find plenty ofgames like shuffleboard, ping pong, or indoor dodgeball. The lights from the fire pit make it a perfect retreat in cooler weather.
The land surrounding the lodge includes 160 acres of beautiful land and 4 fishing ponds. The lodge cabin is just 17 miles from Chickasaw National Recreation Area or Artesian Hotel & Casino in Sulphur, OK.
Things to do in Turner Falls
Oklahoma's Turner Falls Park is the ideal getaway for anyone wanting to be surrounded by nature at every turn. From natural caves and swimming areas to bathhouses and a rock castle, there's something for everyone at Turner Falls when you aren't enjoying the comforts of your cabin.
Gaze over the spectacular waterfall, famously high and mesmerizing. As well as watching over the waterfall, you can dip your toes in at the bottom and wade through the pool made from cascading water. Constructed in the 1930s, the castle at Turner Falls is now a piece of artwork with staircases so small they seem like secret passageways; there are no tours given here, so explore at your convenience. Explore other parts of the Park on foot as you hunt for the three natural caves at Turner Falls. These breath-taking natural formations are a sight to behold. There are also normal hiking trails to reveal more of the Park's beauty.
When to visit Turner Falls
Open year-round, there really isn't a bad time to visit Turner Falls. The Park is busiest during the summer months as the various pools make a great place to cool off in the heat. Towards the end of summer, the crowds clear up and the weather is more temperate. This is the same for spring and fall; there are fewer people in the Park, and the weather is lovely. Also during fall is when the mountains surrounding the park are shrouded in autumnal colors. Winter brings the cold, and this is more of a time for exploring nature rather than swimming in the waters. The frozen waterfall is no less spectacular when it's frozen!