Pigeon Forge is an amazing destination in the Smoky Mountains perfect for enjoying the outdoors or some of the fun area attractions. The best way to spend your time in the area is one of the luxury cabins where you can enjoy the outdoors while without sacrificing the comforts of home. You'll find cabins with luxury amenities like hot tubs, game rooms, and even theatres with amazing balcony views while still having a rustic cabin feel. Here are a few of the top-rated luxury cabins in Pigeon Forge.
New Pigeon Forge Luxury Cabin Hot Tub Pool
This 7-bedroom luxury cabin is only 2 miles from Dollywood and downtown Pigeon Forge. It is the perfect place to stay if you wish to make memories exploring the Smoky Mountains. The kitchen is fully stocked and equipped and the indoor living space includes a game room with an air hockey and arcade machine, a theater room, 10 TVs, a fireplace, and an open-concept floor plan. This is a high-end home ideal for the whole family.
"Chateaux Nirvana" 5 Bedroom Cabin
Chateaux Nirvana is a 5-bedroom cabin that can accommodate up to 20 guests located 2.5 miles from Pigeon Forge. Spread out across the 3,000 square foot home and multi-level patio and balconies. The cabin has all the amenities you would expect and even its own theater room that sits 16, hot tub, and community swimming pool.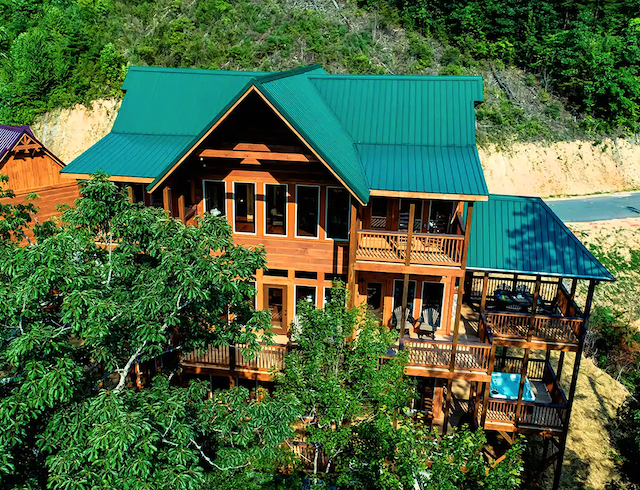 "Bigfoot Crossing" Luxury Cabin
If luxury is what you are after on your next vacation, Bigfoot Crossing will not disappoint. The cabin has 5 bedrooms, 5 baths, and can accommodate 16 guests. Bigfoot Crossing offers lots of fun, relaxation, and big entertainment. There is a modern theater room, private hot tub, and game room with a pool table. The cabin is the perfect place for a trip to the Smoky Mountain.
6 Bedroom Cabin with Private Pool
With 6 bedrooms and tons of amenities, this new cabin is perfect for a large group trip to Pigeon Forge. Enjoy resort-style amenities which include a 7-people hot tub, 11 seat theater room, a private pool, and a game room with an air hockey table. Inside, the luxurious alpine ambiance in the 3-story home is enhanced by classic log cabin architecture. The house's location further makes it easy for guests to explore the Smoky Mountains as well as head to downtown Pigeon Forge and several other attractions within a 7-minute drive.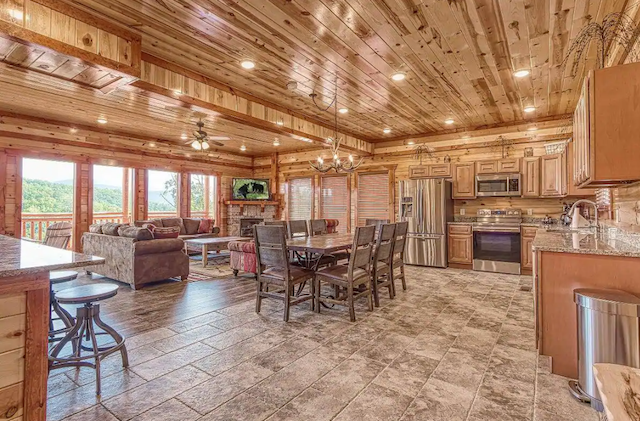 Splashin Bear Lodge Cabin in Pigeon Forge
The Splashin Bear Lodge is a new 5-bedroom lodge located in the Bear Creek Crossing Resort a few minutes' drive to the Great Smoky Mountains National Park and Pigeon Forge. The brand new cabin has luxury amenities which include a home theater, comfortable furnishings, game room, hot tub, and a private indoor swimming pool. You will also have access to a community outdoor pool, and a putt-putt golf course. The lodge has all the conveniences of a home making it a perfect choice for a fun family vacation.
Upscale cabin w/ private hot tub, game room, & shared seasonal pool access!
Take your family reunion to the next level by choosing this luxurious Pigeon Forge cabin. The cabin has 6 bedrooms and can comfortably accommodate 16 guests. The best thing about the cabin is its incredible amenities which include a game room, private hot tub, 3 wrap-around decks as well as easy access to the community pool. The cabin is located in a quiet vacation cabin community surrounded by lush trees. It offers a chic place for you to relax while being close to Highway 73.
Secluded Cabin with 4 Master Suites & More
If what you want is to make lasting memories, this cabin located in a wooded 2-acre lot will be perfect for you. It has 5 bedrooms and can accommodate up to 15 guests and is located about 15 minutes from Pigeon Forge and 20 minutes to Gatlinburg. The tri-level cabin has a total floor space of 3,000 square feet and includes beautiful finishes, wooden floors, and a cozy ambiance. Here you can relax in a hot tub, enjoy the scenery on the deck or spend time in the game room playing arcade, pool, or board games. The cabin is perfect for families or groups of friends.
"A Grand View" Smoky Mountain Cabin
The Grand View is a 5-bedroom vacation rental and accommodates up to 12 guests. The floor-to-ceiling windows offer sweeping views of the mountain. You also get access to a fully outfitted deck with grill, hot tub, and lounge seating. Additional amenities include a fireplace, game room, pool table, and arcade games. This vacation rental is a perfect cabin for families and group of friends to unwind while taking in breathtaking views of the mountains.
Eagle River Lodge
Is luxury what you are looking for? Eagle River Lodge is a stunning 6-bedroom lodge with 9 beds, 7.5 baths and can comfortably accommodate 16 guests. There is space for up to 24 guests. It is located on a 5-acre lot adjacent to the beautiful Mountain Cascades Lodge. Every aspect of this industrial-style cabin has been designed beautifully from the stone & log exterior and unbelievable indoor pool room to the stylish entrance and amazing game loft.
The cabin is perfect for just any group vacation: church retreat, family reunion, girls' getaway, wedding weekend, a weekend with friends, or big family vacation. The Eagle River Lodge has space and amenities to make your stay amazing.