Hocking Hills has some of the very best outdoor destinations that Ohio has to offer. If you and your family are looking to make this wonderful location your next vacation destination, you'll need an equally wonderful place to stay. Whether you prefer rustic or modern, cozy or classy, all the cabins on this list are the absolute height of luxury, and perfect for a family getaway.
Cedar Hill Cabin Luxury Lodge
Fun for the whole family awaits you at this sprawling lodge. At over 5,000 square feet and with accommodations for up to 30 people, this incredible cabin will make sure that everyone has a comfortable vacation. The wide-open property gives the kids plenty of room to play.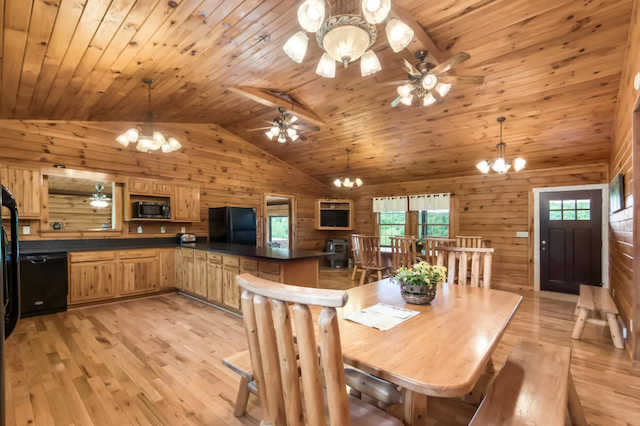 You'll have access to a fire pit, covered porch with swing and plenty of seating, and a luxurious hot tub. In addition to the 7 cozy bedrooms, you'll also find a game room and a private movie theater, complete with projector and reclining seats.
Stillwater Luxury Cabin Lodge in the Heart of the Hocking Hills
This wonderful lodge exudes a bright and welcoming atmosphere. Nestled next to a pond, you'll have a peaceful view from the wrap-around deck, or while unwinding in the hot tub. You can also gather around the fire pit for smores and stories. Inside, the all-wood construction and warm lighting will relax you after a long day of outdoor adventures.
It features sleeping arrangements for up to 19 people, an open kitchen and dining area, a living room with plush couches and a fireplace, a pool table and so much more.
Fallswood Lodge – Hocking Hills
Indulge in the many luxuries of this incredible lodge. With its towering design and large, wrap-around porch, it offers a striking first impression. The sleek and spacious interior mixes the classic with the modern, offering an open living area with a fireplace, fully stocked kitchen, large dining room, and accommodations for 22 guests.
For when you want to take the fun outdoors, you'll be able to relax on the porch, have a soak in the covered hot tub, or join your friends or family in your own private pool. You won't want your vacation to end when you visit this awesome cabin.
Grande Butte Cabin in Hocking Hills with Swimming Pool
For the ultimate luxury cabin experience, look no further—this cabin has you covered, no matter what amenities you might be seeking. Situated on 144 acres of private land, this amazing lodge provides you with spectacular views and modern luxuries. The most obvious of these is the private pool, overlooked by a porch and a second-floor deck, each with ample seating.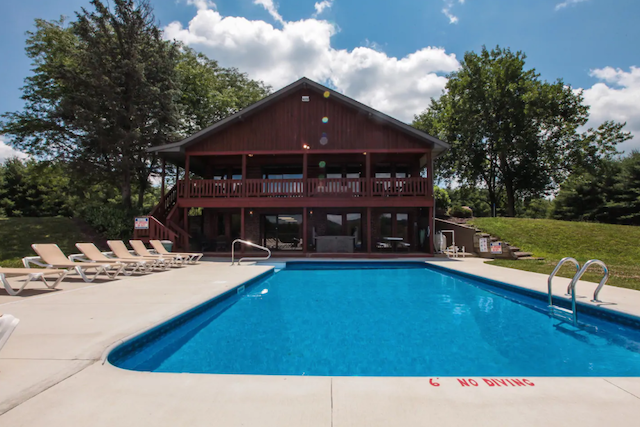 There is also a 10-person hot tub at your disposal. Inside, you'll find a spacious gathering area with vaulted ceilings, perfect for the whole family to get together. With 7 plush and comfy bedrooms and accommodations for more than 16 people, everyone can enjoy this awesome lodge.
Big Sky Lodge Luxury Cabin
True to its name, this cabin features some awe-inspiring views of the wide-open countryside that surrounds it. Perched atop a hill, you and your family will be treated to such wonderful scenery, you may be distracted from the numerous luxuries of this fully stocked lodge. With 5 bedrooms, you'll have room for the whole family.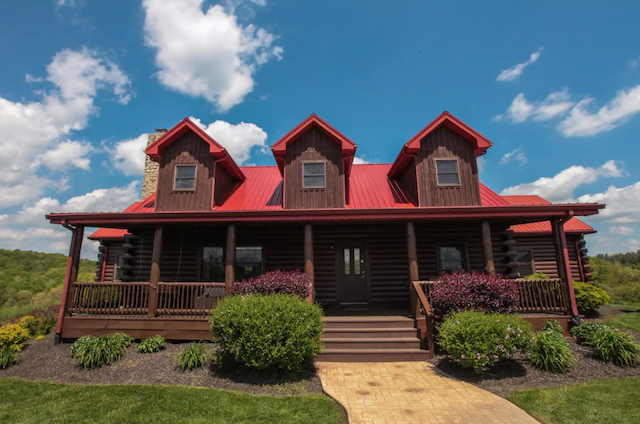 Two spacious lounge areas allow you to relax and enjoy a fireplace or a large screen TV. Outside, you'll find a private pool for fun under the sun, as well as a hot tub tucked away under a charming gazebo.
Dogwood Manor – Hocking Hills Cabin
Make your family vacation a memorable one at this lovely cabin. Located within walking distance of Old Man's Cave, you'll have plenty of exploring to do while staying at this incredible lodge. The large wrap-around porch gives you a lot of space to relax or take in the view. There are also both outdoor and indoor fireplaces, perfect to cozy up around with a cup of coffee or a good book.
Inside, the woodsy décor blends wonderfully with splashes of chic. With a spacious kitchen and dining area, cozy lounge, 8 bedrooms with space for 20, and a game room, you won't be missing out on any luxuries.
Hidden Lake Lodge Cabin in Hocking Hills
Take advantage of all the wonderful aspects of this spectacular lodge. Taking its namesake from the nearby lake, you'll find a convenient and charming dock with seating, for easy access to catch-and-release fishing. The three levels of decks provide plenty of outdoor relaxation spots, or you can gather the family around the firepit.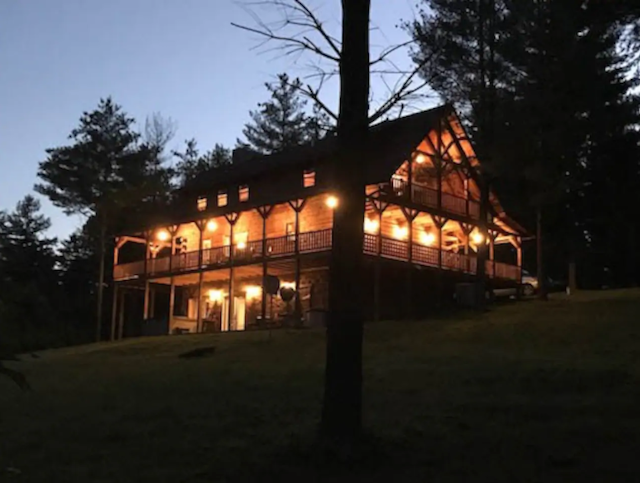 The interior features a full kitchen, spacious dining and living areas, 5 comfy bedrooms, a game room, and a fireplace. Whether inside or outside, this cabin will make your next Hocking Hills vacation truly one to remember.
Double Down Lodge
This fantastic lodge is wreathed in rustic charm and full of modern luxuries. The warm and inviting interior features numerous fun and comfortable amenities. It includes sleeping arrangements for up to 10—with one king bedroom and 4 queen bedrooms—3 baths, a full kitchen and dining area, a living room with plenty of seating, and a rec room with a custom-built bar and poker table.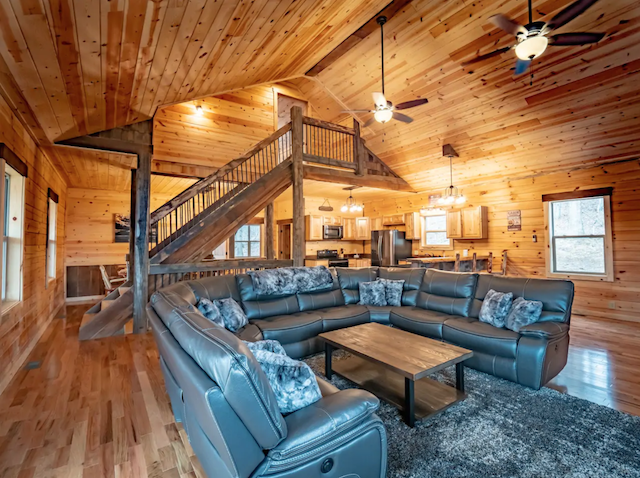 Outside, the covered deck area has a spacious 8-person hot tub, ample seating and a grill for an outdoor dining experience.
Treetops Lodge and Family Fun Barn
Come experience the wonder of nature at this scenic lodge. Perched on a ravine overlooking beautiful trees, you'll feel on top of the world at this fun-filled cabin. Outside, you'll have a gorgeous view from one of the many decks, gathered around the wood-burning stove, or while relaxing in the hot tub. The interior has enough sleeping arrangements for the whole family, including three king beds and two queen beds.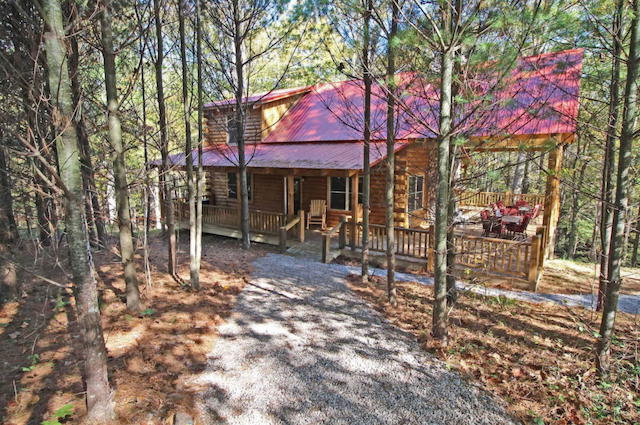 The warm and cheery atmosphere is carried over to the Family Fun Barn, a separate, fully renovated barn with tons of entertainment features, including a poker table, air hockey, and a home theater with surround sound.
Luxury Lodge at Harble Ridge
Situated on 40 acres of splendid woodland, you will have plenty of opportunities to satisfy your inner explorer when you visit this spectacular lodge. After you've had fun wandering the forest or trying your hand at fishing in the private pond, the cabin's many luxuries wait to welcome you back.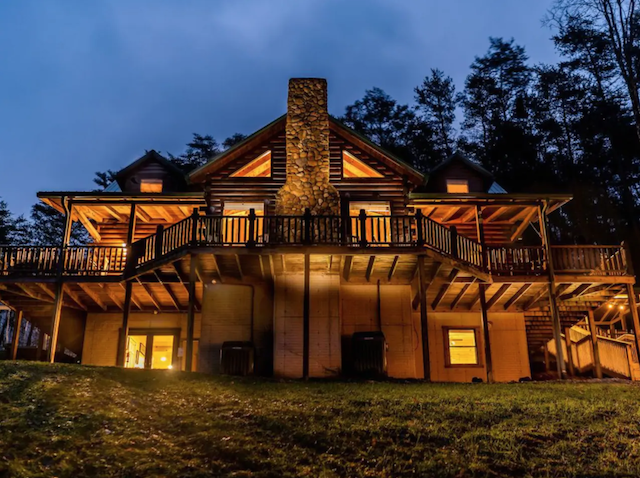 The exterior has a sprawling wrap-around deck, with plenty of seating, swings and a large hot tub. The rustic yet spacious design can accommodate up to 23 people, with 6 bedrooms, a fully stocked kitchen, and many more amenities at your fingertips.
Ivy Cottage – Hocking Hills Barndominium
Classic meets modern at this stunning Barndominium. A fully renovated barn, the sleek black exterior with cedar accents will immediately catch your eye. The welcoming front porch leads you into the bright, elegant interior, where splashes of rustic charm contrast beautifully with the luxurious contemporary décor.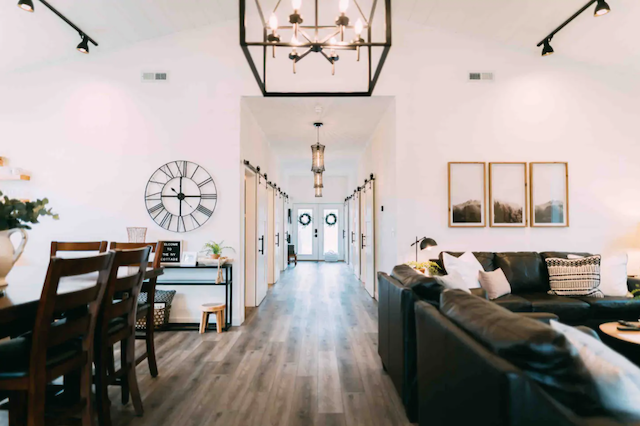 You'll have access to a full kitchen and dining area, lounge with fireplace, and TVs in each of the bedrooms. The covered back porch has a hot tub, grilling station, seating for 8 and a lovely view of the surrounding countryside.