There is nothing quite like the beauty and majesty of the mountains. They make for some truly magical vacations and leave you with memories that will last a lifetime. If you decide to travel to Asheville, there are numerous mountain retreats that offer access to both natural wonders and enjoyable activities. These luxury cabins in Asheville are the absolute best of the best when it comes to finding both a natural charm and modern amenities. If you've ever wanted to experience nature at its best—without sacrificing any comforts—read on to find the perfect Asheville getaway location for you.
When you are looking for luxury cabin in Asheville, you can expect to find large lodges with amenities you may not expect in a cabin. Almost all the cabins have hot tubs. Many have additional amenities like game rooms with pool tables and theater rooms.
Luxury Mountain Cabin Near Asheville
With nature at your doorstep, you won't even have to leave the comfort of this spectacular cabin. Nestled next to a beautiful stream and surrounded by trees, you'll have a spectacular view no matter where you look, whether unwinding in the hot tub, gathered around the fire pit, or relaxing on the spacious porch.
Inside, you'll find accommodations for 20, private sitting rooms, a full kitchen, gas fireplace, and more. Partake in the many activities offered by nearby Lake Lure or the Tryon International Equestrian Center, or just indulge in the luxuries provided by this magnificent cabin.
2 Cabins on One Property
Get double the fun at this pair of lovely cabins. Situated beside a scenic creek, you'll within hiking distance from your very own swimming hole, as well as Wildcat Rock. The main house features accommodations for 8. It has a spacious, open floor-plan living, dining and kitchen area, complete with wood-burning stove. The high ceilings, plush beds, and classy décor make for a truly luxurious experience.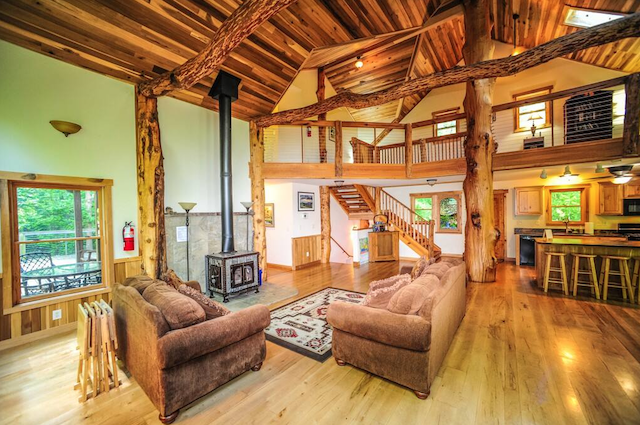 For something a little more intimate and homey, try the cottage next door, with room for 4 and all the amenities you require. Both properties have outdoor seating areas to enjoy the view of the creek.
High Top Mountain Luxury Cabin
This incredible cabin features 3 full floors of comfort and enjoyment. With 5 king-sized beds, 5 full baths, and enough room for up to 10 guests, you'll never run out of space. Outside, there is ample space and seating for taking in the view, relaxing in the hot tub, or having a meal. Inside, you'll find a bright, rustic interior.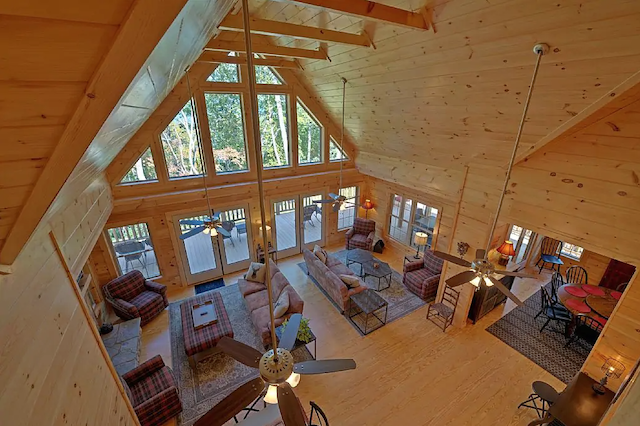 The main level includes a full kitchen and dining area, and a cozy living area with a fireplace. The upper level has two bedrooms and a reading nook, and the lower level contains a game room and two bedrooms.
Owls Roost Log Cabin Home
Located next to the Pisgah National Forest, this peaceful luxury cabin offers comfort and convenience for the whole family. You'll have easy access to nearby hiking opportunities and a scenic waterfall. The property itself is surrounded by trees, giving plenty of fantastic views from the deck.
Inside, you'll find a warm and inviting atmosphere. It features 5 bedrooms, 3.5 baths, and enough room for 14 guests. Other amenities include a huge, fully-stocked kitchen, a living room with plush couches and a fireplace, a game room, a reading nook, and an outdoor grill.
Linger Longer Lodge
At this gorgeous luxury cabin, you can take in the fantastic mountain view from three separate decks. Nestled amongst the trees just a few miles away from Lake Susan, this spectacular getaway provides everything you and the family need for a memorable vacation. The decks have ample seating on each level, and an outdoor dining area on the main floor.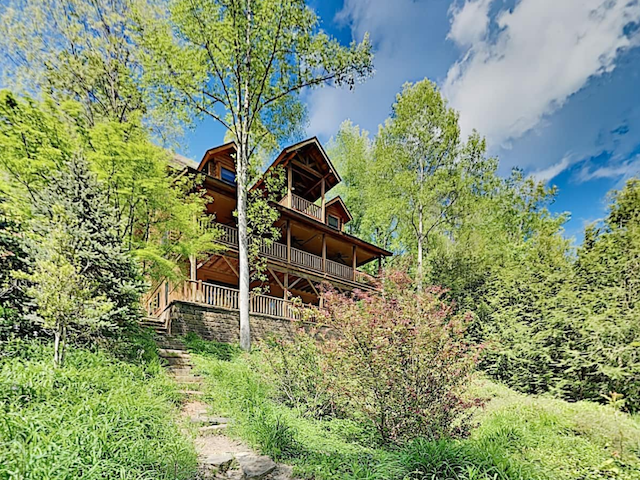 Inside, the large windows and all-wood interior creates a bright and cheerful atmosphere. Amenities include a full kitchen, spacious living room on the main level, multiple reading nooks, 8 bedrooms, 9 baths and enough sleeping arrangements for 16 or more guests.
Laurel Falls Historic Luxury Asheville Cabin
Settled on 18 acres of scenic land, these historic cabins will enchant you at first sight. Consisting of 4 separate cabins—the Lodge, the Carriage House, the Chestnut Cabin, and the Waterfall Cabin—you'll have space aplenty, fantastic mountain views, and all the comforts you desire. The Lodge features 5 bedrooms, 3 fireplaces, and a hot tub on the porch with a spectacular view of the Blue Ridge Mountains.
The Carriage House has been converted into a cozy apartment, complete with a full kitchen. The Chestnut Cabin's amenities include a comfy living area, fireplace and a loft-style bedroom. The Waterfall Cabin gets its name from the nearby creek waterfall, which is visible from the two decks. You'll also find king and queen-sized beds, plus another hot tub.
Big Rock Luxury Asheville Lodge
Rustic style meets modern design sense in this luxurious cabin. You'll find this incredible log cabin on the doorstep of Lake Lure, offering convenient access to many activities. The interior is both bright and spacious, with splashes of sleek modern décor. Featuring 4 bedrooms, 4 baths, a game room, a living room with a fireplace, and a top of the line kitchen, you won't be left wanting for anything.
Outside, you can take in the view or enjoy a meal among the plentiful space and seating. And the kids can enjoy the outdoor play area as well.
Big Sky Lodge
This grand cabin will make you feel like royalty the moment you step inside. The living room is open and bright. Its large windows look out onto the awesome mountain view, in addition to providing lots of natural light. A wood-burning stove, lush seating, a full kitchen and dining area, and a game room only add to the grandeur of this cabin.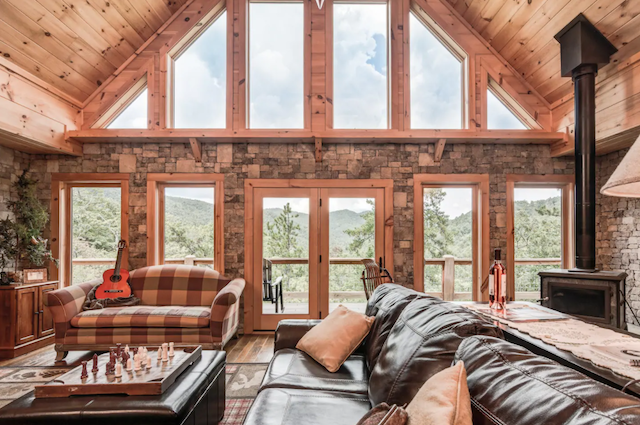 You'll also have 4 bedrooms with en suite bathrooms, with total sleeping accommodations for up to 13 people. The wrap-around deck offers plenty of seating for taking in the sunrise (or sunset) over the mountains. And nearby Pisgah National Park provides ample opportunity for adventure.
Historic Stone and Timber Lodge Near Asheville
For an authentic log cabin experience that doesn't skimp on the comforts, look no further. Originally built in 1910, its rustic style is now complemented by chic, modern additions. The cozy living room and reading room exude an atmosphere of classic charm, where you can snuggle up by the fireplace or gather the family for some board games.
The kitchen, on the other hand, is sleek and fully-stocked, with top of the line amenities. Each of the 4 bedrooms features an en suite bathroom, and there is enough room for 10 guests. Outside, you'll find a lovely covered patio for taking in the view, a fire pit, and even a hammock to relax in.
Luxury Lodge on 45 Acres Near Asheville
Drink in the splendor of nature at this incredible luxury lodge. Surrounded by 45 acres of private land, you'll have plenty to explore, including creeks, streams, and lots of wildlife. After your excursion, you can relax on one of the hanging swings out on the suspended patio, letting the beautiful forest wash away your fatigue.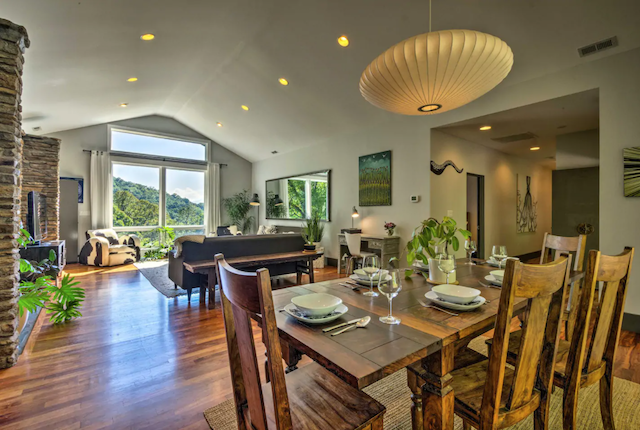 The cabin itself features a combination of classic stone and wood construction, with modern décor. You'll have access to a full kitchen, breakfast bar, open dining and living area, a lounge, 5 bedrooms, and 3 baths.
Hidden Vista Lodge
You'll feel on top of the world when you visit this stunning luxury cabin lodge. Settled on a ridge overlooking the majestic Appalachian Mountains, this incredible lodge comes fully stocked. The sunroom is a peaceful place to relax and includes an electric fireplace.
You'll also find a game room, dining nook, living room and accommodations for 8. Its multi-level deck is a terrific place to soak up the sun, indulge in the view of beautiful trees and mountains, grill dinner for the family, or unwind in the hot tub after a day of hiking.
"Serenity" Luxury Cabin in Asheville
Explore both outdoors and indoors at this sprawling luxury cabin. Secluded among the trees, this magnificent vacation spot offers the peace and quiet you desire. While you will have easy access to such destinations as Lake Lure and the Tryon International Equestrian Center, you'll also have plenty to discover in the cabin itself.
With three floors of amenities and accommodations, you won't be left wanting for anything. It features a game room, dining area, wet bar, 5 bedrooms, a hot tub, outdoor lounge with fireplace, a hammock, and so much more.
New Luxury Log Cabin in Black Mountain
If you want gorgeous views both outdoors and indoors during your vacation, this luxury cabin is for you. With a view that stretches for miles, you'll feel like you own the whole mountain. Let the grandeur of nature wash over you, either from the incredible wrap-around deck, or the private picnic area.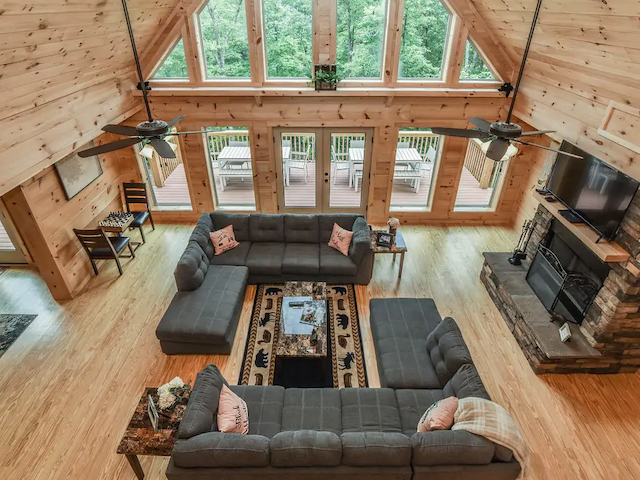 Inside, the high ceilings and large windows give unobstructed views as well. With 6 bedrooms across all three levels of the house, there is plenty of room for the whole family. The snazzy, stone gray décor mixes beautifully with the classic all-wood construction. You can also enjoy a hot tub, game room, fireplace and more.
Luxury Bearfoot Lodge
With its unique mix of luxury and coziness, this cabin will feel like your home away from home. The nearby hiking trails, waterfalls, rivers, and other points of natural beauty offer hours and hours of adventure and exploration. Once you've finished your excursion, you can return to this peaceful cabin to relax and recharge for another day.
Its combination of homey décor and extensive amenities makes for a truly wonderful experience. With room enough for 12, a fully-stocked kitchen and a lovely dining area, the whole family will feel welcome and comfortable. You'll also find a stone fireplace, spacious deck, and a private hot tub.