There are few places as stunning in their natural beauty as the deserts of southern California. In particular, Joshua Tree (and its national park) provide picturesque views that you won't soon forget.
Whether spending one day in Joshua Tree or having an entire week's getaway, Joshua Tree is a prime destination for glamping enthusiasts. If you've been craving a memorable getaway that combines both luxury and nature's finest, this list will help you find the glamping accommodations that fit you best.
Luna Bell Tent at JT High Desert Hideout
Indulge in the many attractions at this awesome glamping spot in Joshua Tree. More than just a place to lay your head, this incredible location is an experience unto itself. A comfortable yet elegant boho tent awaits you, complete with plush bed and plenty of room to stretch out. An outdoor shower and grilling station are also at your disposal.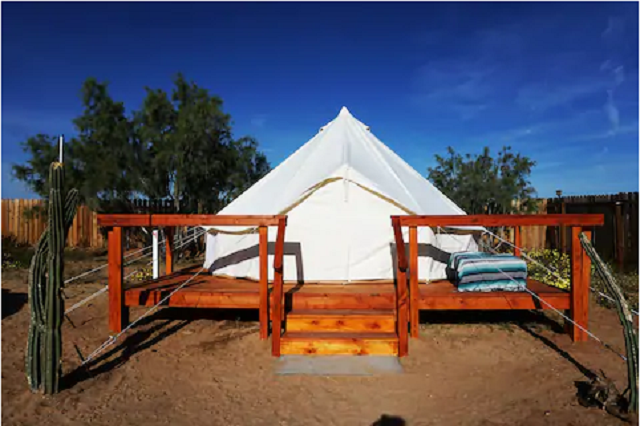 But that's not all—this glamping spot comes with many more amenities. You'll have access to a pool, a barn-style movie theater, a fire pit, a pool table, and more. And of course, the view of the surrounding countryside is excellent.
Twilight Glamping Tent at Lazy Sky
Let nature be your guide at this scenic retreat. Nestled among 10 acres of the gorgeous desert landscape, you'll be able to create memories that will last a lifetime. The tent features a comfy queen-sized bed and a couch for relaxing on. Outside, you'll find a private fire pit and a hammock, both ideal places for watching the sunrise or stargazing.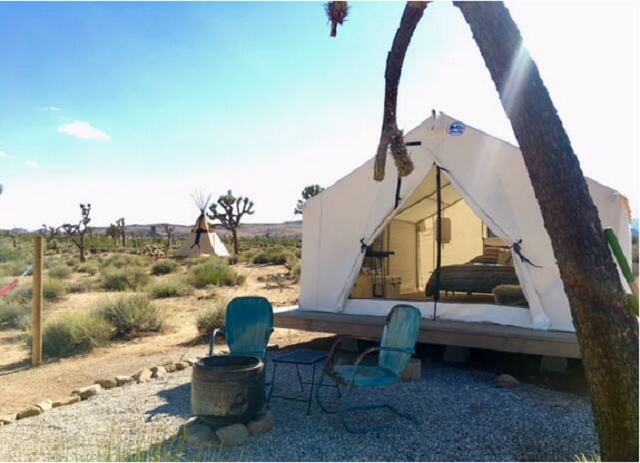 A separate outdoor shower is also at your disposal, as well as a communal bathroom, a full kitchen, and a grill. No matter where you are at this awesome location, you'll be surrounded by the wonder of nature.
Joshuas Tree A Frame Houses
For the ultimate combination of luxury and natural charm, this tiny house can't be beaten. Its beautiful a-frame design contains a lovely queen-sized bed, perfect for a good night's sleep after a full day of fun. Outside your door, you'll have a seating area and a private fire pit. Take in the amazing scenery while grilling up some smores.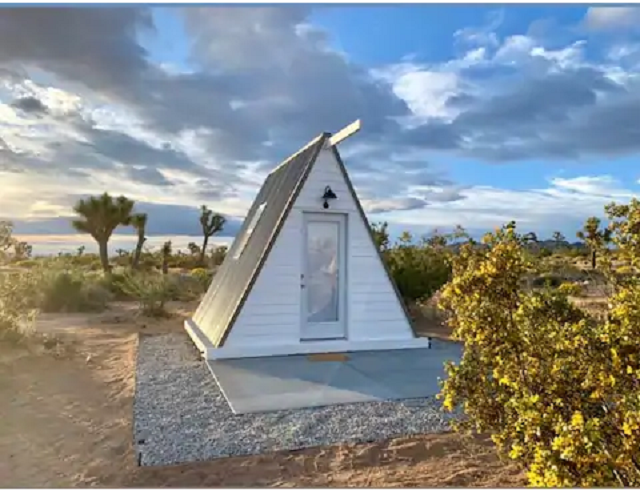 Additionally, you'll have access to a pool with a deck and lounge area, a full kitchen, and a jacuzzi. There is truly no end to the excitement and attractions you can find at this amazing glamping location.
Joshua Tree Glamping RV With Phenomenal Views
If you're seeking peace and quiet for your next glamping trip, this incredible camper is not to be missed. Perched above the Yucca Valley, the wide expanse of mountains and desert is a sight to behold. The camper itself is cozy and full of amenities.
You'll find a comfy double bed, in addition to a pull-out sofa bed. Additionally, there is a full bath and kitchen. Outside, take a swing in the hammock or fall asleep under the stars. The covered outdoor picnic area is perfect for a meal with a view.
Glamping Trailer With Hot Tub, Pool & More
You'll be all smiles after arriving at this lovely, fully renovated camper. Its interior is bright and spacious, allowing you ample opportunity to relax. You'll find a full kitchen and bath, sitting area and a comfy double bed at your disposal. Outside, a private covered porch is perfect for taking in the scenery or watching a sunset.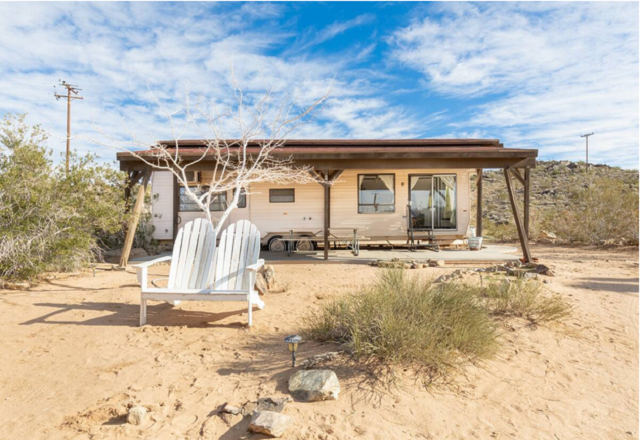 In addition, you're free to take a refreshing dip in the pool, go for a steam in the sauna, or catch a cat nap in a hammock. Whatever your pleasure, this glamping destination has you covered.
Glamping Tent at Lazy Sky
Come find your own personal paradise at this fantastic glamping tent. This tent is settled on 10 acres of amazing land, surrounded by all the natural beauty that you'd expect to find in Yucca Valley. The tent is adorned in southwest style décor, and features a well-appointed queen-sized bed, a seating area for breakfast or chatting with guests, and a cooler to keep all your favorite beverages cool.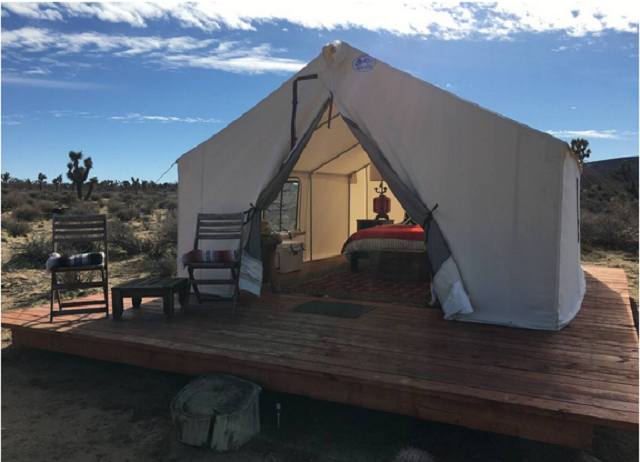 Outside, you'll have a private porch with more seating, perfect for taking in the view. Communal amenities include an outdoor shower, a full kitchen with picnic dining area, and more.
Sunset Road Trailer With Hot Tub
Retro style meets contemporary luxury at this groovy camper. This fully renovated vintage RV features all the modern amenities you desire, while surrounded by the incredible natural scenery of California. Inside, you'll find an amazing king-sized bed, a bright and cheery breakfast nook, a kitchen, and a lounge.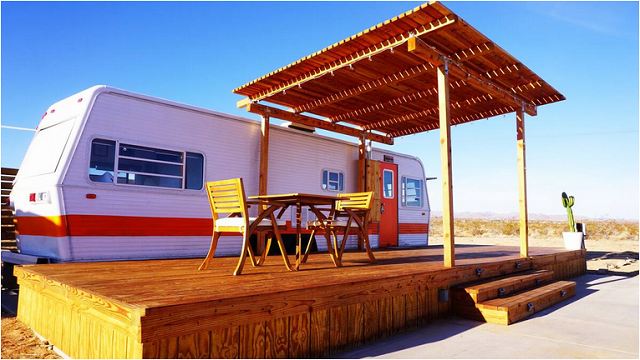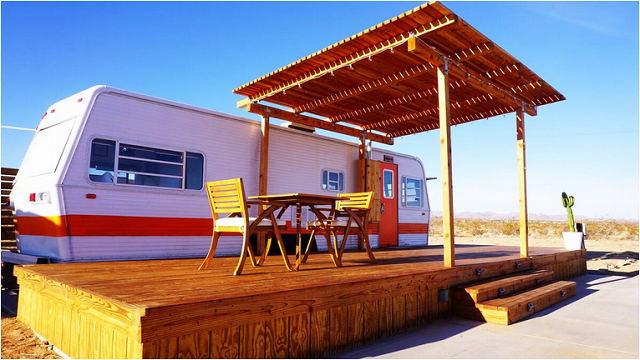 Outside, you can let the beauty of nature wash over you from the covered porch, or while relaxing in the hot tub. Finally, you'll also have easy access to the attractions of nearby Joshua Tree National Park, a short 15-minute drive away.
Joshua Tree Moon Camp
Your next vacation will be out of this world at this one of a kind glamping camp. A fully solar-powered property, you'll have access to three unique structures. The first is a dome style living area. Its bright, open design is both spacious and comfortable. It easily sleeps 4, with a king-sized bed and an additional lofted sleeping area.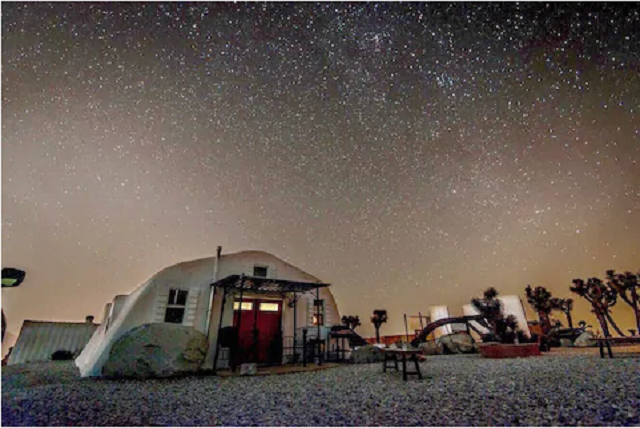 Other features include a full kitchen and bath, dining nook and a telescope for stargazing. There are also two renovated shipping containers. One acts as a "guest house" complete with full bathroom. The other is a cozy lounge, with two hammocks and a couch.
The Raven House – Renovated Homestead Cabin
This lovely cabin is ideal for a romantic weekend with your special someone. A fully renovated homestead cabin, it features a cheerful and modern interior, while still maintaining the cozy intimacy of its heritage. Inside, you'll find a plush queen-sized bed, living area with a fireplace, a full kitchen, and bath. There is plenty of natural light and spectacular views from the large windows.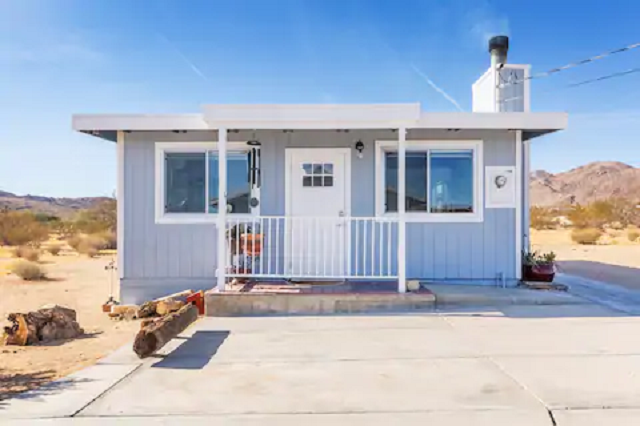 On the back porch, you'll have access to a seating area for some outdoor dining, as well as a hot tub. Whether taking in the mountain view or snuggling up with your loved one, this cabin is exactly what you need.
Joshua Tree Harebnb tiny home
You'll be charmed the moment you step inside this delightful tiny house. Its gorgeous modern design exudes a homey atmosphere. Additionally, the quirky, rabbit-themed décor will leave you grinning. Despite its small size, it contains all the amenities you desire. You'll find a comfy full-sized bed, all the usual kitchen appliances, a full bath, and more.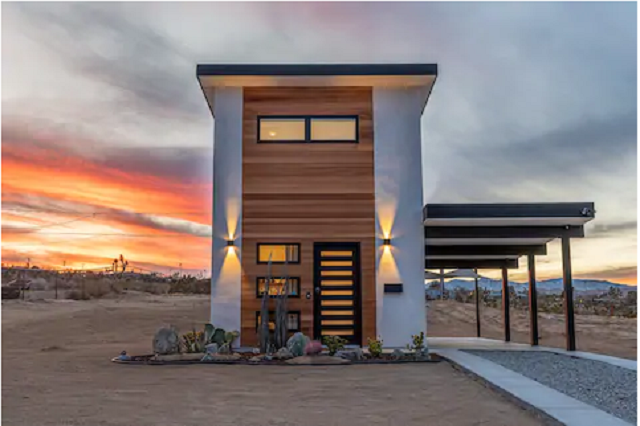 The balcony is an ideal place to watch one of Joshua Tree's signature sunsets. Finally, if you fancy some further exploration of the beautiful natural scenery, you're just minutes away from a lovely park.
Dome in the Desert in Joshua Tree
Make unforgettable memories at this amazing dome house. It features a clean white interior aesthetic, with many splashes of color and unique décor. You'll fall in love with the fusion of southwest style and modern chic. Of course, the comforts are top-notch, and you won't be wanting for anything during your glamping experience.
It can accommodate up to four guests, with two lush, king-sized beds, a full bath, an open kitchen/dining/living area, and a stone fireplace. Grab a book and relax in the swing chair, or try your hand at some vintage board games.
The Little Dipper: Off-Grid Tiny Home by Moon Camp
Find your (tiny) home away from home at this glamping spot. The trailer style architecture and yard design are as welcoming as they are charming. The outdoor picnic area and lawn are perfect for meal time with a view. You'll also find a hammock and a fire pit at your disposal.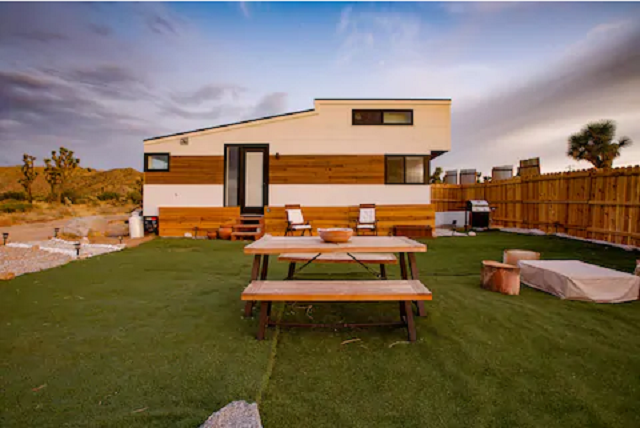 Inside, the accommodations are luxurious and spacious for a tiny home. Features include a full kitchen and bath, a loft sleeping area with a queen-sized bed, a dining area and a lounge with a plush couch for snuggling upon.
"kind of Blue" 1959 airstream
Have fun and make friends at this cool glamping spot. This fully renovated 1959 Airstream is vintage on the outside but totally modern on the inside. The king-sized bed is perfect for recharging after a full day of fun. Additionally, you'll find a quaint seating area for reading or enjoying a snack. You'll even have your own private covered deck, ideal for watching the sunrise with a cup of coffee.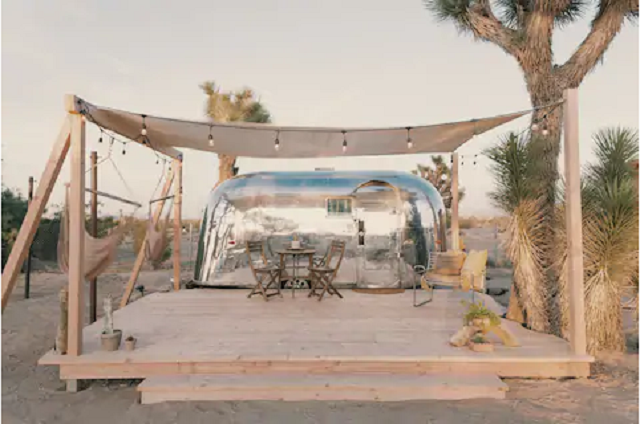 The communal accommodations include an outdoor shower, a grilling station, a dining area, and a hot tub. Meet the other guests and party it up, or just enjoy some peaceful relaxation.
Magical Airstream, Stunning Views
For anyone looking to find the perfect spot for a romantic getaway, this intimate camper is the ideal destination. The Airstream style RV has a classic look on the outside while containing all the comforts and amenities you'd expect. It features a queen-sized bed, full kitchen and bath, and a dining area. The interior is colorful and comfortable, creating a truly wonderful and welcoming aura.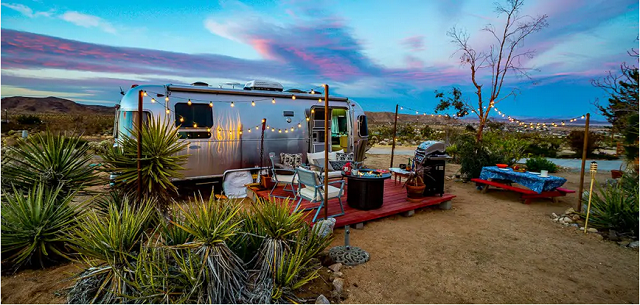 Outside, you'll have a cozy private deck area. It comes complete with seating and dining areas, a grill and a propane fire pit for cooking up smores under the stars.
Joshuas Tree Moonshine House
With both luxury and natural beauty at your doorstep, this terrific glamping location is sure to please. The cozy yurt contains a plush queen-sized bed and a surprising amount of room to stretch out and relax. It has style and comfort in spades.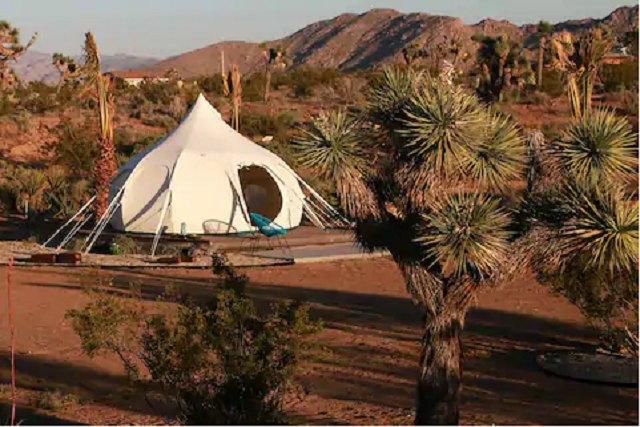 Additionally, you'll have access to many communal amenities as well. Challenge your friends to a game of horseshoes, take a dip in the pool or unwind in the hot tub. Then, after a day of fun in the sun, you can gather around the fire pit and reminisce on the memories you've made.