When its time to escape the big city, glamping is a great option in New Jersey. Summer destinations like Cape May, Asbury Park, and Atlantic City are all perfect options the Garden State has to offer. Your New Jersey glamping can be filled with adventures that range from swimming, surging, and fishing to snowboarding and hiking. Here are some awesome glamping spots around the state.
Glamping Tent in Hunterdon County
Stay at the Pittstown Yurt set on an elevated platform in a secluded natural grass field surrounded by wildflowers in Hunterdon County. Inside you get a full-size bed with blankets and pillows. The tent is a 4-season rated enclosure that keeps the elements out to help you enjoy a comfortable night. There is enough space on the floor to sleep an additional two more people. The Glamping Tent in Hunterdon County is ideal for couples but big enough to accommodate up to 6 guests. There is an outhouse which is a ½ bath and you also have access to a hose for washing dishes as well as potable water.
Airstream Glamping Rental in Cape May
The Aolani the Airstream at the Shore is a 2015, 23' Airstream Flying Cloud that has been set up at Seashore RV Resort in Cape May. The Airstream can accommodate up to 4 adults or 2 adults and up to 3 kids depending on their age. The Airstream has all the amenities you need to relax. There is a stocked kitchen, double bed, 2 sofa beds, Wi-Fi, TV and other amenities you would expect in a home. If what you need is a unique getaway, then the Aolani the Airstream at the Shore will be a perfect choice.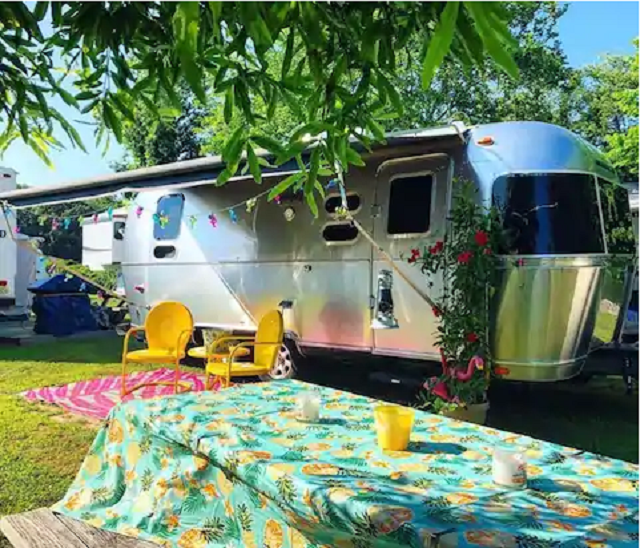 Cozy Hideaway Hut – W15 @ The Great Divide
The Hideaway Hut is a perfect alternative to sleeping in a tent while still being close to nature in rural Newton, New Jersey. The wooden hut sleeps 2 adults and 2 children on the queen size bed and one bunk bed. The hut also has all the amenities you need for a comfortable stay including a TV, Wi-Fi, heat and air conditioning, picnic table outside, and Adirondack chairs. You will also enjoy a pool and free parking on-premises. The bathhouse with toilets, showers, and sinks is located next to the Hideaway Hut.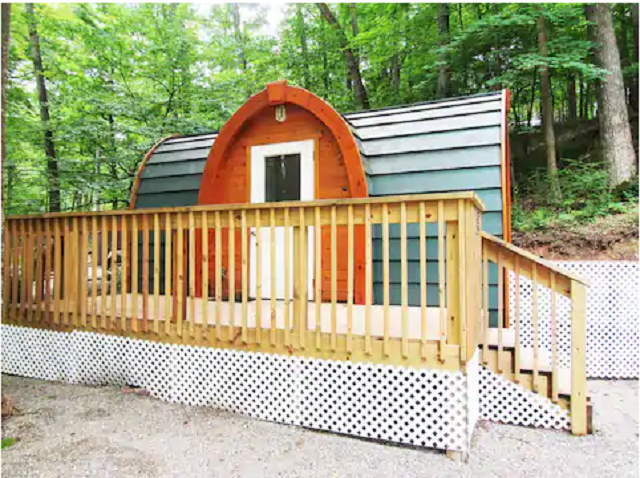 Safari Glamping Tent in Newton, New Jersey
The Safari Glamping Tent lives up to its name with a spacious interior and luxury king bed. You will also have access to a kitchenette, AC/heating, Wi-Fi, half bath, cable TV, fire pit, covered deck, and parking space. The tent can accommodate up to four guests. There is a full-service bath facility adjacent to the tent. Whether you are vacationing with your better half or with your family or friends, this tent will make a great choice.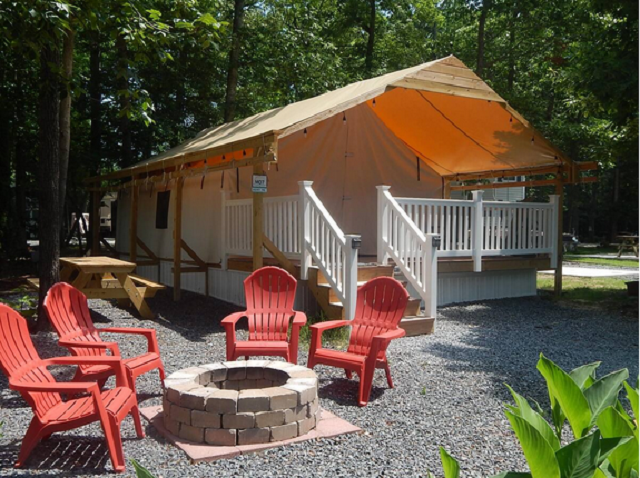 Cozy Conestoga Wagon in Newton, New Jersey
How about going back in time on your next getaway in New Jersey? The Conestoga Wagon accommodates up to 2 adults and two children on a king-sized bed and a twin-sized bunk beds. The A13 is a secluded site with a fire ring with Adirondack chairs, picnic table, and cooking grate. You also get Wi-Fi, washer/dryer, overhead lights, AC unit, bedside lamp, a bedside fan, and free parking. The wagon also has outlets where you can charge your laptop and phones. The Wagon is steps away from the bathhouse with sinks, showers, and toilets.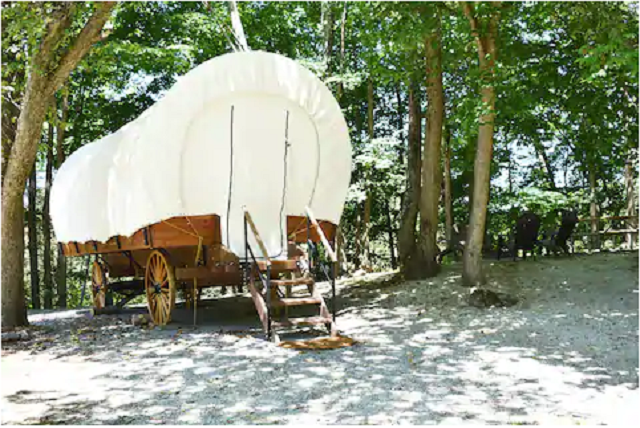 Tentrr Glamping Tent
Tentrr partners with ranchers, farmers, and other property owners to provide unique outdoor accommodations on beautiful and private land. The Tentrr Signature – Pinelands Getaway is a waterside private campsite situated in a working cranberry farm. It sits on the reservoir for the farm and is the only campsite on a property of more than 200 acres. If you want to get lost in a peaceful and quiet property on the East Coast, this is the best accommodation option for you. You get all the amenities of a modern home as well as convenience to liquor stores and department stores. You also get a BBQ grill on site. There is one bunk bed and it is large enough to accommodate 8 guests.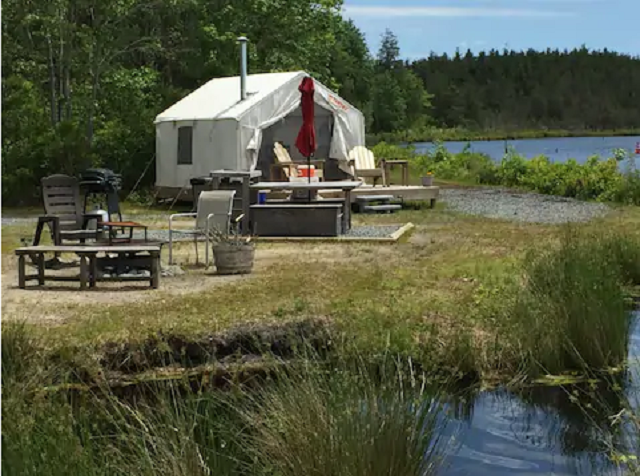 Glamping at a Sussex, NJ Camping Resort
Glamp in this tiny home accommodates up to 8 guests. The modern trailer has 2 bunk beds, 1 double bed, and a sofa bed. Guests have access to all the common areas which include pools, recreation rooms, and general functions that require you to wear a bracelet that will be provided. There is also a private stocked lake ideal for fishing. The resort is close to High Point State Park where you can hike and minutes from Mountain Creek Resort where you can enjoy snow tubing and skiing. There are activities for persons of all ages.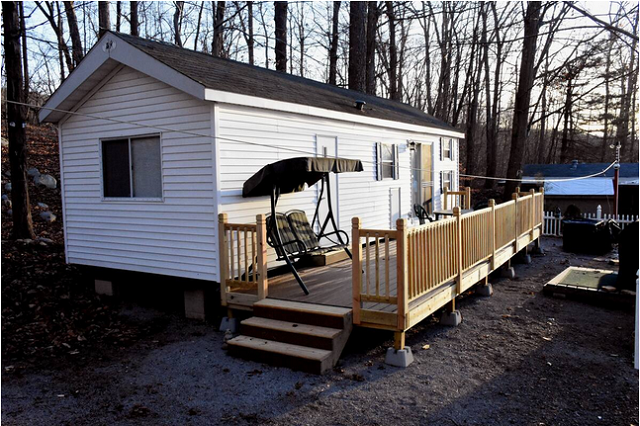 Cape May Tiny House
Enjoy one of these new cottages with a capacity of 4 guests. Cape May Tiny House has all the amenities you would expect in a home. You will get a queen bed, TV, bunk beds, A/C & heat, charcoal grill, screened front porch, kitchenette, and a bathroom with a shower tub. Whether you are on vacation with your better half, with your family or friends, this tiny house will be a perfect choice. It is modern, spacious, secluded, and cozy. Free parking is available on-premises as well as a pool.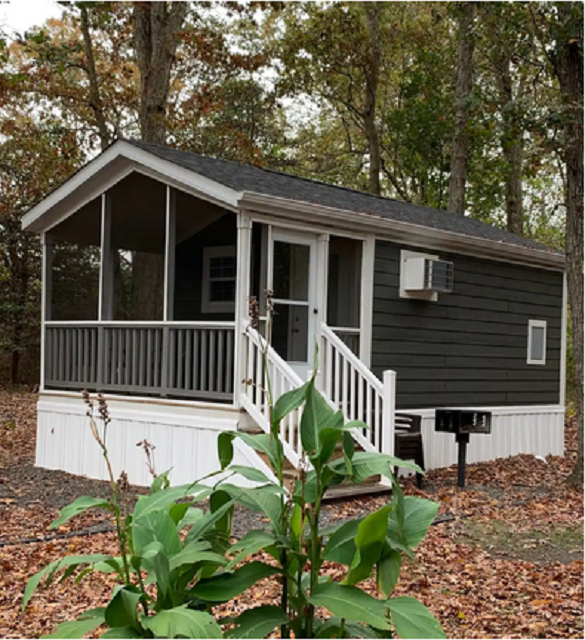 Comfy Cozy & Clean Motorhome in Mount Laurel
This 34-foot 1998 Fleetwood Bounder Motorhome is newly remodeled parked on our property in Mount Laurel, NJ. You'll have all the conveniences of home in a compact, clean, and comfortable space all to yourself.
The motorhome has a full bathroom with tub and shower, kitchen, dining area, bedroom, and living room. A 13-foot slide-out provides plenty of living space. The sofa can convert into a bed if you wish to invite a third guest or a child. The dining table also makes a great workspace.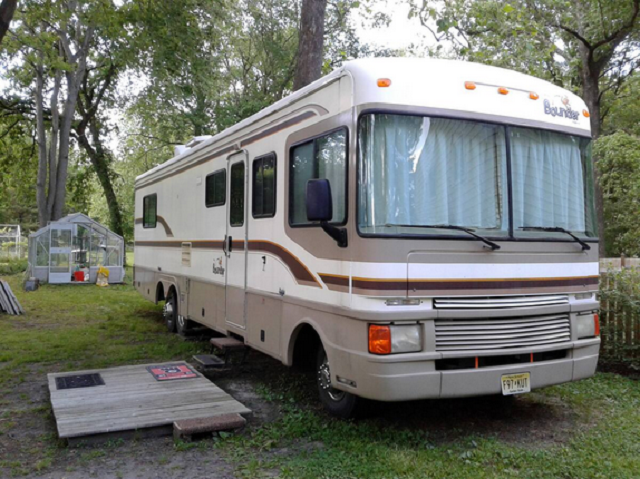 Hippy Glamping Hut Near Six Flags
The Hippy Hut is the place to expect the unexpected. There are so many games to play and activities to keep you engaged throughout your stay. You can hang out in the hammocks, chill on a grass couch, enjoy the fires outdoors and so much more. The Hut is in central New Jersey where you will have easy access to numerous attractions and memorable road trips. The Hippy Hut permits a maximum of 4 guests. There is a sofa bed, a couch, and one air mattress. Guests are required to be over the age of 18.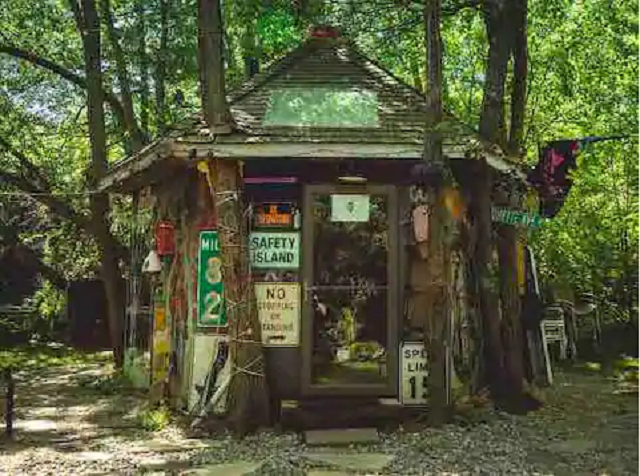 Even in cold weather, New Jersey still shines. Whether it is summer or winter, there is something amazing for you to do. In winter, Mountain Creek offers more than 150 acres of ski-able trails. Campgaw Mountain Ski Resort is also a great place to enjoy skiing and take in the magnificent views of the Manhattan Skyline. You will be spoilt for choice in summer. The secret to an amazing time is making your reservations early and coming up with a workable list of things to do in New Jersey well in advance.