If you are looking to do something fun, adventurous, and different this holiday season, consider heading to one of these amazing properties. Each of these ranches, cabins, resorts, or bed and breakfasts makes sure your holiday is special with unique activities like cookie decorating, meetings with Santa, slight rides, and more. Additionally, you can enjoy numerous outdoor activities from skiing to horseback riding. Whether you are looking for a luxurious winter getaway or a rustic southern retreat, here are 15 properties to consider for a holiday away from home.
Vista Verde Ranch – Colorado
Located outside of Steamboat Springs, Vista Verde Ranch is a luxury guest ranch that turns into a winter wonderland perfect for a holiday getaway. The all-inclusive rates include all the meals including a special Christmas day feast, freshly made cookies daily, and hot chocolate or coffee available at the lodge. You can enjoy a Christmas tree decorating party, Christmas day family tubing afternoon with a bonfire, hot chocolate, and some caroling.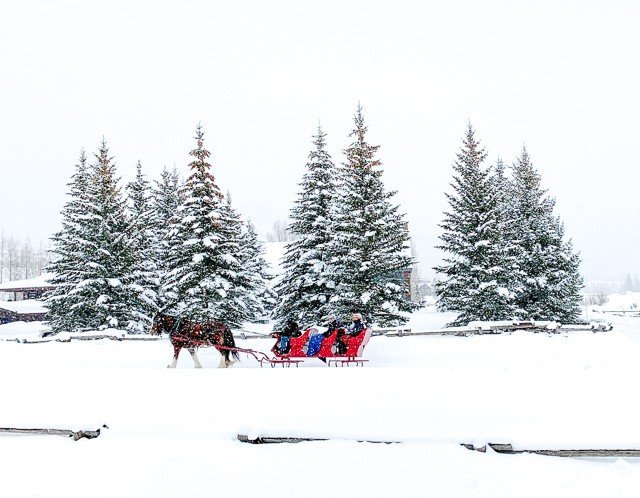 Your holiday vacation week can be as full of activities as you would like including skiing, ice fishing, snow tubing, snowmobiling, snowshoeing, and more. You can always decide to spend some time relaxing in your cabin around the fireplace or in the hot tub.
Columbia River Gorge's Skamania Lodge – Washington
Make the holidays extra magical with an escape to the Holiday Tree Houses of Skamania Lodge 50 minutes from Portland(not including traffic). The cozy getaway for the holidays will be filled with warm nights by the fire, frost-covered trees out your window, and a soft bed to snuggle in while whispers of nature lull you to sleep. Decorated with twinkling outdoor lights and fresh garlands, experience the peaceful seclusion and coziness of the holidays while nestled in a luxurious and private Tree House tucked between the Douglas Fir forest just beyond our Lodge.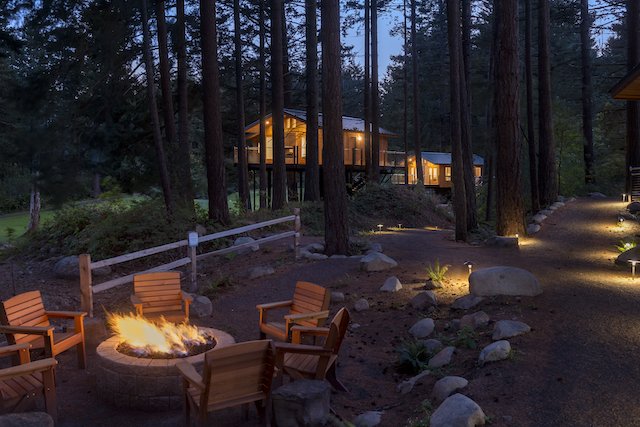 The lodge hosts several activities to make your stay festive. You can join the chase to find Chippie the elf for a prize with the Elf Scavenger Hunt or go on a Santa Sasquatch scavenger hunt. Participate in a gingerbread house workshop kit or create a unique stuffed animal with a build-a-friend holiday kit. On Christmas day you can enjoy a family-style 4 course Christmas dinner or a seasonal 3-course dinner.
The Lodge & Spa at Brush Creek Ranch – Wyoming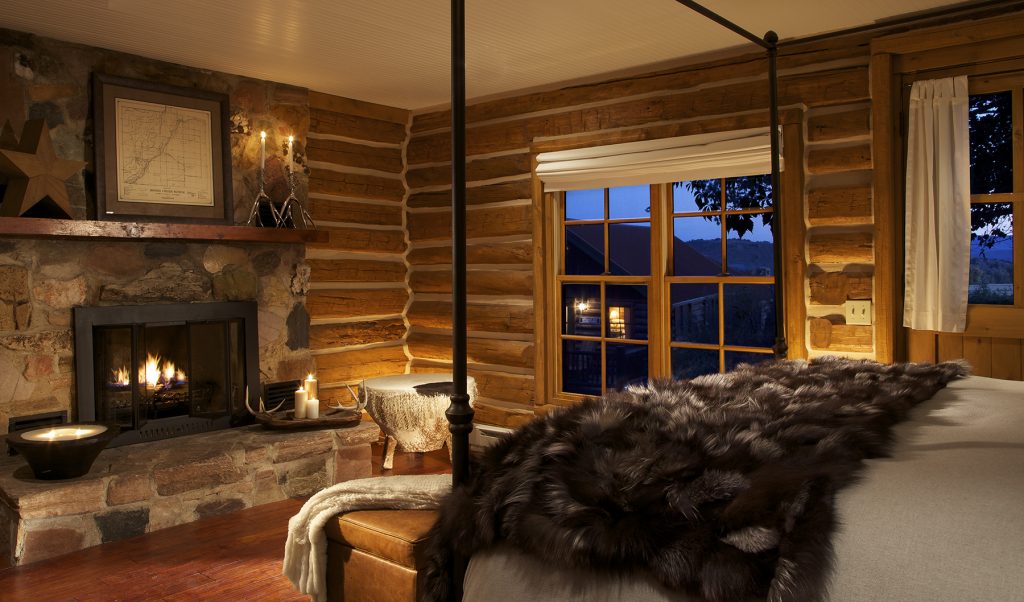 The holiday season is the perfect time to retreat to Brush Creek Ranch in Wyoming. The ranch will be decked out for the holidays including into your own private cabin. The holiday schedule will include special meals at the Cheyenne Club, ice skating, sleigh rides, and a New Year's Eve party to get you dancing past midnight.
Additionally, there are the usual activities you can enjoy together like cooking classes, whisky tastings, horseback riding, and sleigh rides. You can enjoy the snow with the privacy of Green Mountain, the resort's private mountain retreat that accommodates only 12 people at a time and offers 1,100 incredible vertical feet and miles of trails for skiing and snowboarding.
BlissWood Bed and Breakfast Ranch – Texas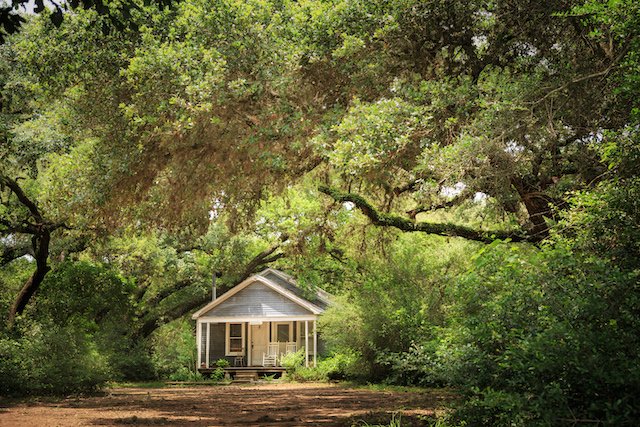 The Blisswood Bed and Breakfast Ranch in Cat Spring, Texas, is a 500-acre working ranch with multiple cabins and cottages, some including pull-out fireplaces, whirlpool baths, hot tubs, and shared or private outdoor pools. Enjoy an old fashioned Christmas on the ranch with plenty of decorations, a stocking filled with popcorn to pop and cranberries, a gingerbread house making kit, marshmallows for toasting, and a SleigHay ride with Mr. and Mrs. Claus.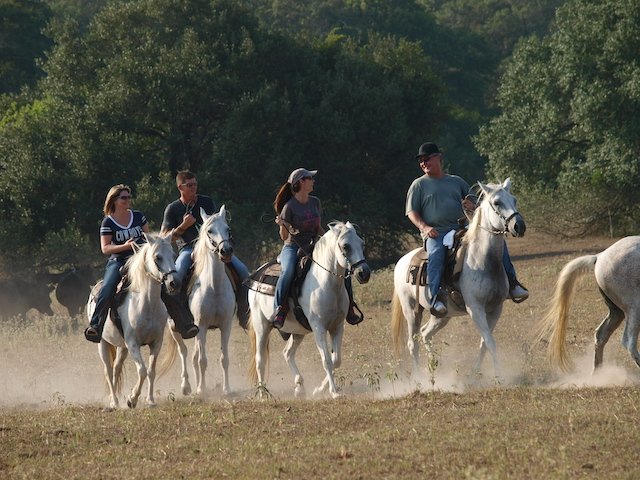 All accommodations include Continental breakfast delivered each day to guests' doors. Additional activities include private exotic safaris, animal feeding tours, hiking trails, fishing lakes, and activities, including trapshooting, horseback riding, archery, and scrapbooking.
Camp Wandawga – Wisconsin
Camp Wandawega is a historic summer camp-turned-getaway in Elkhorn, Wisconsin. While the spot is known as a summer camp, the Wandawega cabins are winterized and there are a number of individual cabins for guests.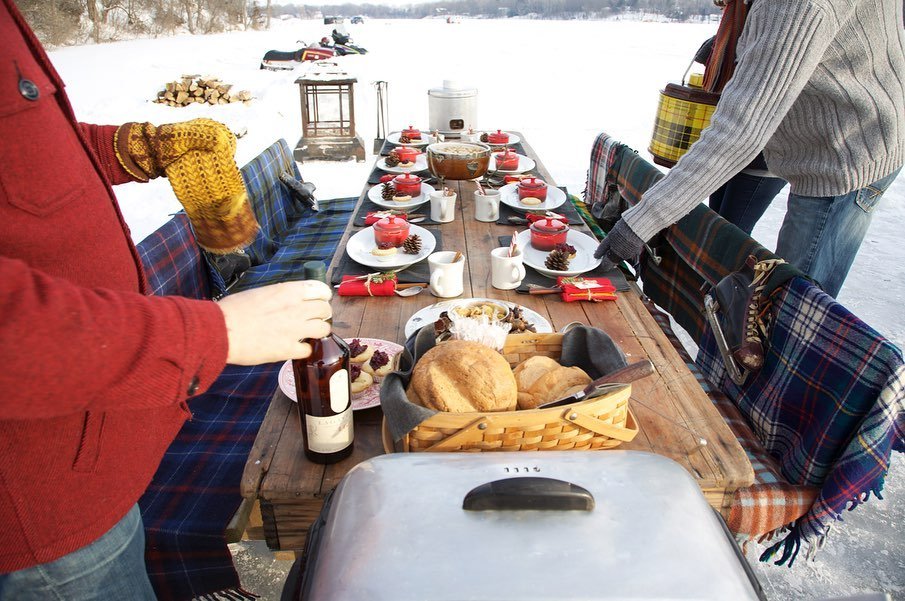 Intrepid guests come to this corner of the country to sled, go ice fishing and drink hot toddies by the fire. Every year for the holidays (including this year), camp owners Tereasa and David build an ice-skating rink on the lake, with lights in the evergreens so that the skating (or ice hockey) can continue into the night. They set up an outdoor bar with hot drinks and peppermint cocoa to keep spirits high. They host supper club parties indoors or on the ice!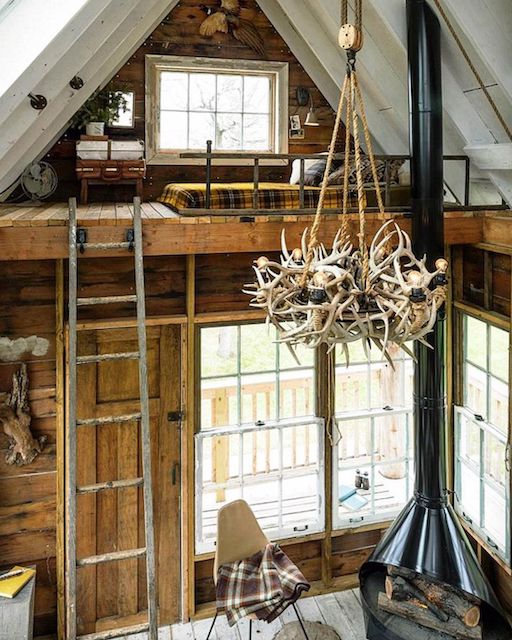 Timberline Lodge – Oregon
The Timberline Lodge has always been a grand refuge for visitors wanting to experience the magnificent and expansive high-alpine environment of Mt. Hood. The lodge is decorated for the Christmas holidays with a 30' tree, wreaths, garland, and lights. Enjoy a multi-course Christmas dinner with appearances of Santa.
While at the lodge you can take advantage of world-class skiing and snowboarding as well as snow-showing, snowcat rides, snow tubing, and more.
Edgewood Tahoe Resort – California
Lake Tahoe is a perfect destination for the holidays and staying at the Edgewood Tahoe Resort is sure to keep you in the Christmas spirit. There are several activities including letter writing to Santa, special holiday cocktails, a complimentary gift wrapping station, milk & cookies delivered to your room on Christmas eve, and holiday-inspired fare in the Bistro and Clubhouse on Christmas day.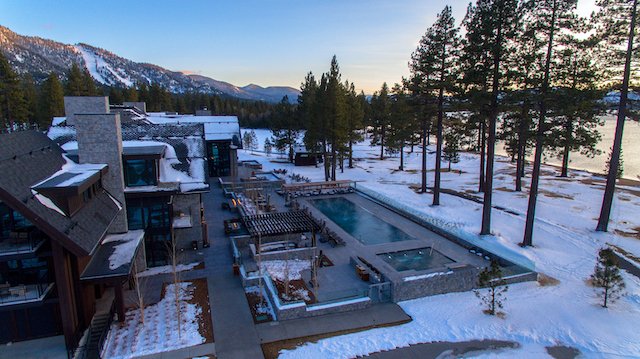 Every day there are multiple amenities including complimentary après sleep cart service, morning yoga, a s'mores bar at night, and hot cocoa socials. You can enjoy the winter by snowshoeing to the champagne chalet, ice skating, or go to the nearby Heavenly Lake Tahoe Resort for skiing.
Sage Lodge – Montana
Sage Lodge, located on the banks of the Yellowstone River just 35 minutes from Yellowstone National Park, offers the ultimate Montana luxury resort getaway. It's an idyllic headquarters from where you can launch a day of fly fishing, hiking, biking, hunting, cross-country skiing – or any other endeavor that calls your name.
Make yourself at home at Sage Lodge for the holidays, where they'll have nightly 6-course feast in the Fireside Room with all the classics, along with Montana-inspired features designed by Sage Lodge Executive Chef Daniel Cox. Work it off during the day with snowshoeing and wildlife watching on the 1,200 acres for you to explore, and then cozy up around the fire at night, relaxing with hot toddies, craft beers, and a curated wine list. A day trip into Yellowstone National Park for wolf spotting can cap-off your holiday weekend, making this a holiday experience you'll never forget!
Brasada Ranch – Oregon
At Brasada Ranch you can participate in winter Trail Rides and Treats, where you ride horseback to the most scenic point on the property, Spirit Rock, and enjoy panoramic views of the Central Oregon landscape while sipping on hot cocoa and roasting our famous house-made s'mores over an open fire. Chef Doug and his Culinary Team will be serving up a variety of special holiday meals over Christmas and New Year's to enjoy at the restaurant, or even inside the comfort of your own cabin with curated Christmas and New Year's In Dine-In Menus complete with everything you need to celebrate, and Holiday Feasts at Range.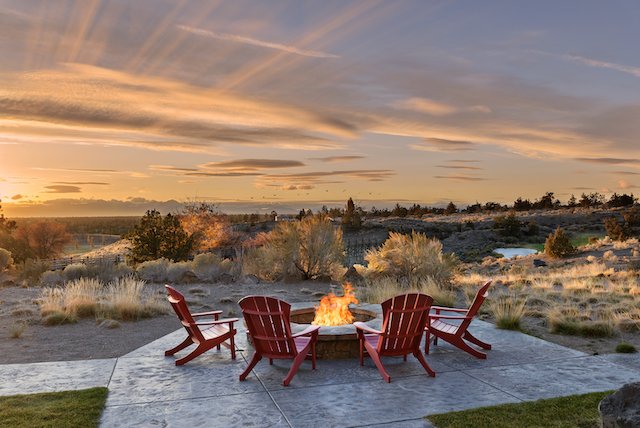 There are several activities for kids like storytime with Santa's elf, holiday craft kits, ornament hunts, letters to Santa, carriage rides, and cookie decorating kits. The whole family can also enjoy swimming in the heated outdoor pools.
Sand Valley Resort – Wisconsin
Sand Valley Resort provides cozy lodging options including stand-alone cottages with stunning views, and a culinary experience to match, making it a perfect stress-free holiday getaway.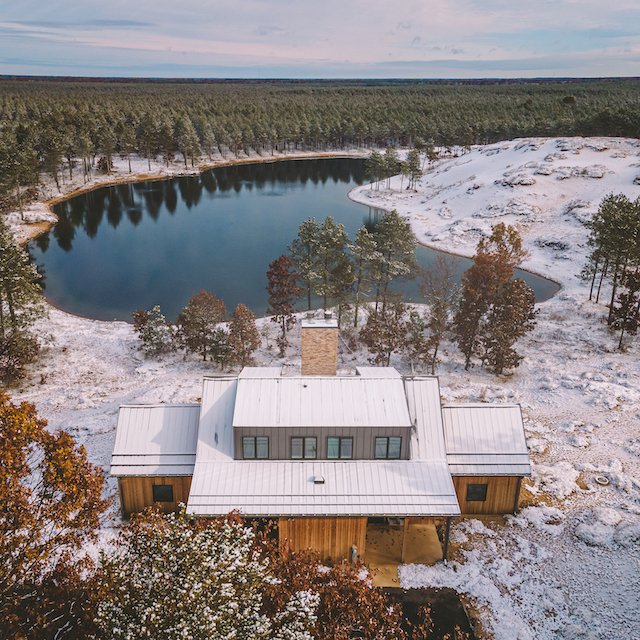 To keep spirits bright throughout December, the property will be dressed in holiday lights and offer a variety of festive activities during the first three weekends of the month, including Christmas cookie and ornament decorating, gingerbread house decorating classes, hot chocolate and hot toddy bar at the onsite Mammoth Bar. Additionally, the property will kick off the new year with a wellness weekend, including an exclusive New Year's Eve dinner and outdoor fitness activities. Once the weather allows, Sand Valley will also offer additional thrills including cross-country skiing, snowshoeing, ice skating, sledding, star gazing as well as convenient transportation to other local area winter attractions.
Barnsley Resort – Georgia
Spanning 3,000-acres in northwest Georgia lies Barnsley Resort, an ideal destination for a holiday vacation with only 150 guest rooms and endless holiday happenings. A collection of 39 individual cozy cottages dot the village green and range from one to seven bedrooms, each with wood-burning fireplaces, hardwood floors, and clawfoot bathtubs.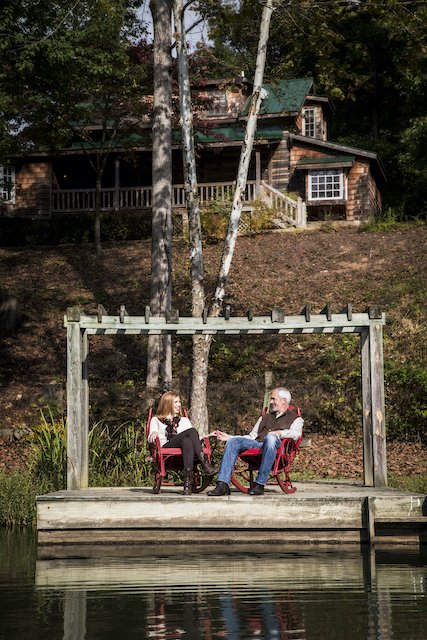 When you have had their fill of enjoying quality time together within the cottage, there are plenty of activities and holiday festivities to enjoy across the resort, including horseback riding, clay shooting, archery, spa, golf, and more. Throughout December, guests can get into the holiday spirit by partaking in an array of holiday crafts and workshops available, such as ornament crafting, gingerbread house making, wreath making, and more.
In December Barnsley Resort hosts its annual evening tradition of illuminating the grounds with a display of more than one million holiday lights strung throughout the Manor House Ruins and village green.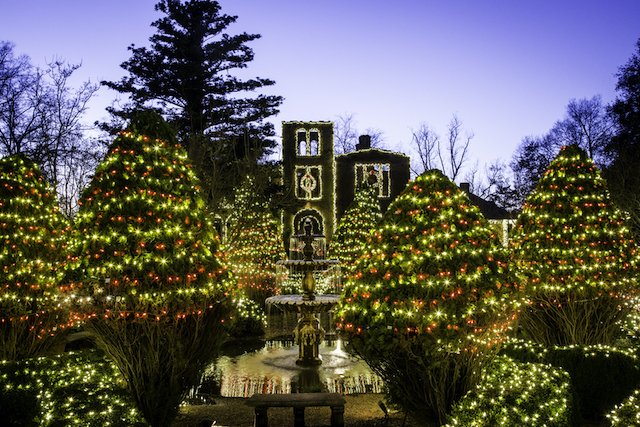 Cedar Lakes Estate – New York
Cedar Lakes Estate is a former Olympic training summer camp turned rustic-chic hotel, known for its 500 acres of stunning grounds, 18 luxury cottages and camper cabins, private lakes, and beautiful experiences on property.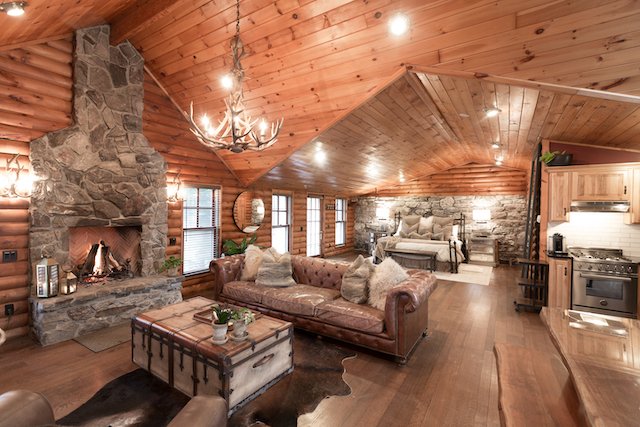 Cedar Lakes Estate has created an all-inclusive extended stay package for the winter season, which includes all food, non-alcoholic beverages with alcoholic beverages available for purchase, and access to complementary activities, such as snowshoeing and sledding (weather permitting), ice skating and curling on their private rink, daily bonfires, board games and trivia night in their Treehouse, access to cozy work stations in their converted barn, and more.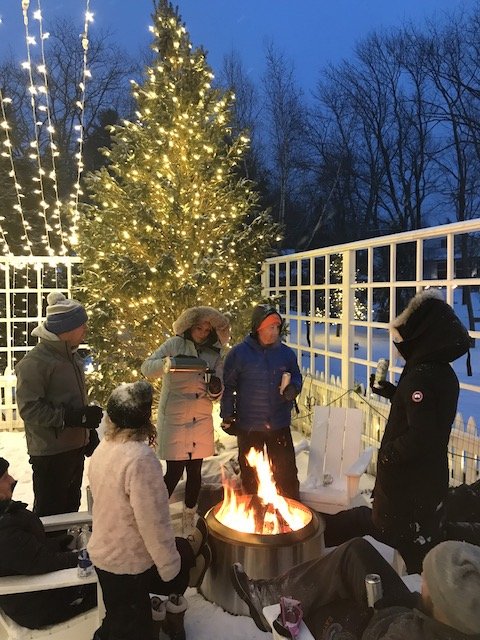 Brooks Lake Lodge – Wyoming
Brooks Lake Lodge, a remote resort located in Wyoming's incredibly wild and scenic Shoshone National Forest backcountry near Jackson Hole and Yellowstone National Park with 12 private cabins. The exclusive, all-inclusive guest ranch offers three gourmet meals and a "Governor's tea time" daily and a range of outdoor activities, from snowshoeing and ice fishing to cross-country skiing and snowmobiling, all offered guests' choice of self-guided or accompanied by expert guides.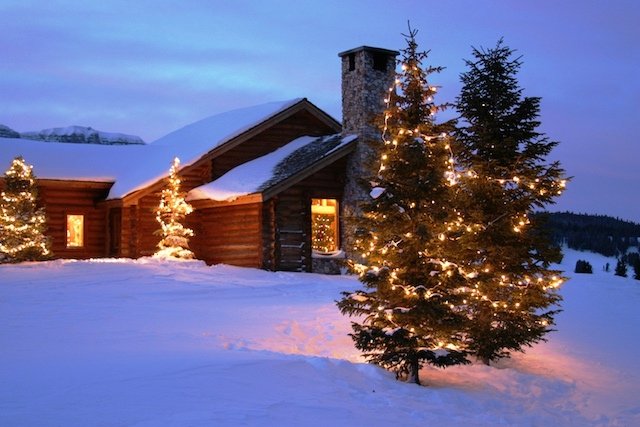 For Christmas day, guests will be treated to a festive three-course meal with seasonal favorites like creamy maple brie and cheddar apple soup, prime rib, and maple spiced creme brûlée.
Triple Creek Ranch – Montana
Triple Creek Ranch is a Relais & Chateaux luxury ranch resort hidden away in Montana's Bitterroot Valley with plush comforts of private log cabins, exquisite dining, and all-inclusive activities. The holidays bring a festive spirit like a vintner celebration for Thanksgiving, a cowboy Christmas with old-fashioned fun in the snow and trees in the cabins, and a four-course dinner, champagne toast, and fireworks for New Year's Eve.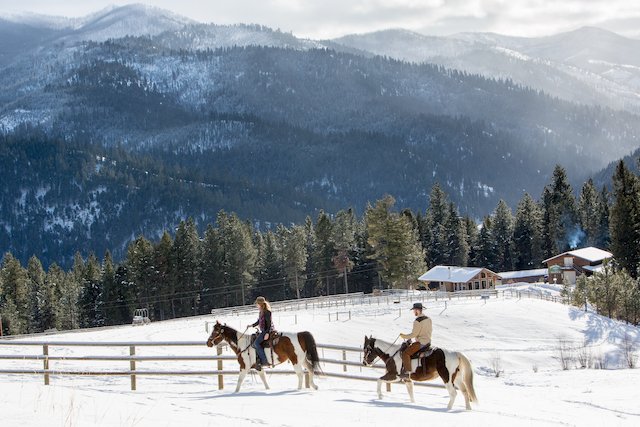 Winter activities at Triple Creek Ranch include tranquil horseback rides, snowshoeing, cross-country and downhill skiing, fat-tire snow biking. Adventures like dog sledding and snowmobiling are available for an additional fee.