In the mood for some much-needed R&R? Try Steamboat Springs, home to six lofty peaks with stunning mountain views and therapeutic geothermal hot springs. This winter wonderland is where you should head to for some ski action. You can also shop for interesting artefacts made by local artists.
When you are not sitting down to a hot cup of coffee in your cozy cabin, you can have fun at the Old Town Hot Springs, jump into its swimming pools and enjoy the water slides with your family. You can also try out fishing, hunting and get a taste of the famed Champagne powder.
Located in the magical Yampa Valley of Northern Colorado, Steamboat Springs is also home to some quaint and exquisite cabins.
Bright and Cozy Mountain Log Home in Steamboat Springs
Old world charm meets modern-day comfort in this spacious log cabin that's bright and cozy, yet large enough to accommodate a group. The three-bedroom, six-bed log house boasts of some of the best views of the Flat Tops wilderness.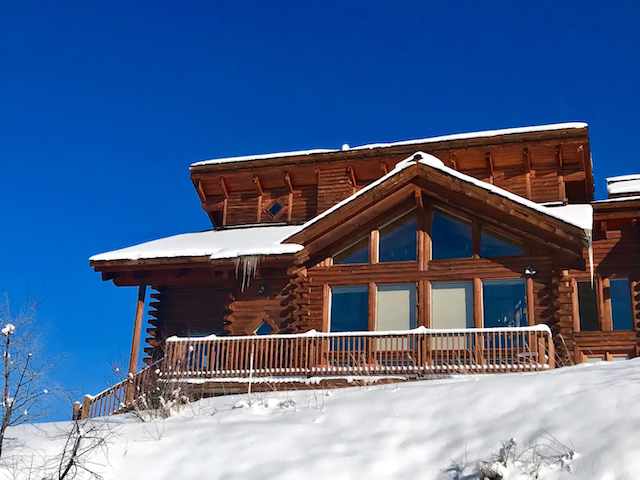 The cabin is clean and well maintained and comes equipped with modern amenities such as Wi-Fi, hot tub, iron, hairdryer, a full-fledged kitchen, and everything else you need for a comfortable stay. The home also boasts a fireplace, a television with a DVD player in the basement, and a smart TV in the living room. It is perfect and spacious for a trip out with family or friends.
The Dog Friendly Lucy's Lodge
Nestled among the pines, Lucy's Lodge is a studio cabin perfect for you, your partner, and your dog. Located 7 km away from town, you have all the privacy and serenity you need with a breathtaking view of the mountains. The cabin comprises one large, luxuriously done up the room, with wooden ceilings and a skylight, and amenities such as Wi-Fi, television, hairdryer, dryer, and washing machine.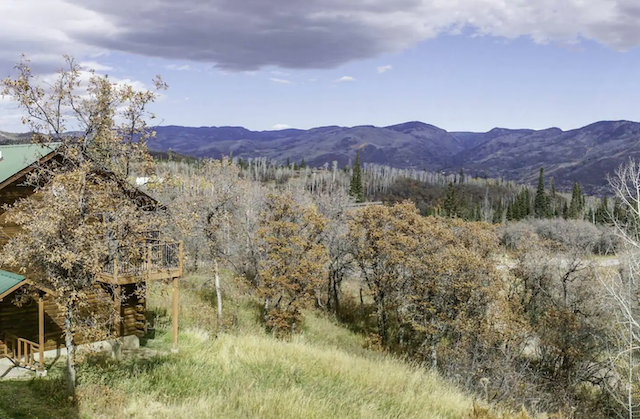 The compact kitchenette is equipped with everything you need to cook or heat up meals including a dishwasher, a microwave oven, toaster oven, coffee maker, and crockpots. Not to be outdone, the bathroom is also tastefully done. What it may lose out on when it comes to size, this picturesque cabin makes up for it with some views to die for.
2 Bedroom Cabin in Triplex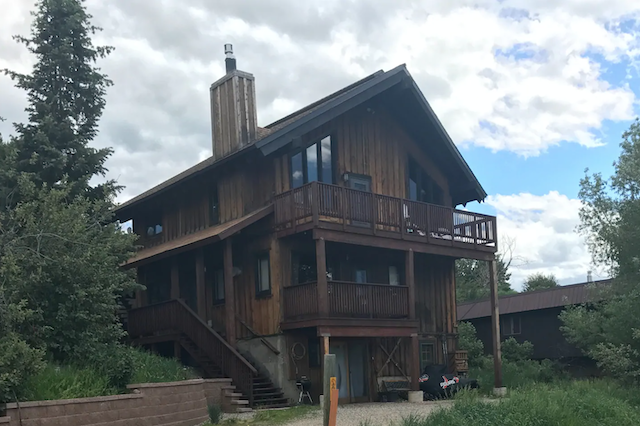 Overlooking the Yampa valley, this cabin stands tall looking out over Steamboat. This dog-friendly house is actually a triplex of 3 units – with 1 unit per floor each with their own entrance and parking. The cabin, located in the middle unit, is spacious with a large open kitchen comprising a large dining area, a huge and comfortably furnished living room, and two bedrooms.
On offer are amenities such as Wi-Fi, free parking, an indoor fireplace, heating, and a television. Heading to town? You can bike, walk or ride on the free Steamboat Springs bus.
Quaint, 4 Bedroom Downtown Steamboat Chalet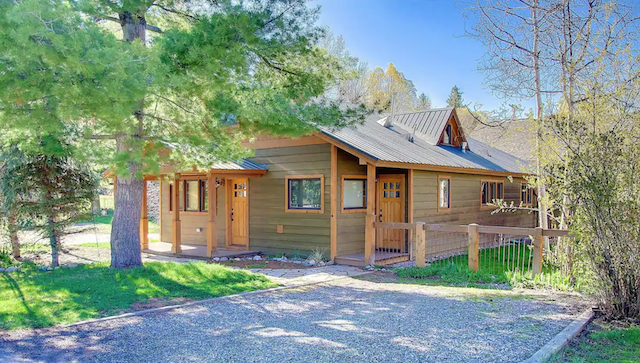 If you are looking for a place out of a storybook, nothing beats this quaint chalet, over 100 years old. An original chalet, this spacious property located in the Old Town neighborhood has been beautifully restored and preserved to maintain its luxurious old-world appeal.
You walk into a stately appointed living room that is warm, inviting, and spacious. With two garages and four bedrooms, the stately home provides much more than the basic amenities. This four-bath home is located in a serene neighborhood, four blocks away from the city center. A bonus – the cottage is located just across the street from the Butcherknife creek and Stehley Park.
Edelweiss Chalet, 8,000 sq. Feet Luxury Chalet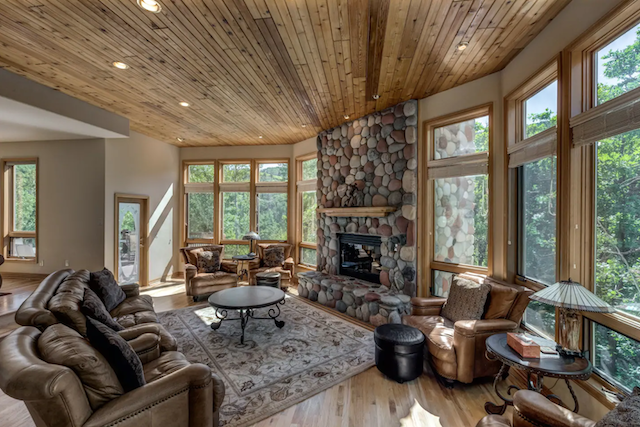 Ever dreamt of a home in the skies? The term magnificent would fail to do sufficient justice to this chalet that looks like a fairytale castle or something out of a Disney movie. With seven bedrooms and 14 beds – this house is just perfect if you are looking for a getaway with a large group of family or friends. This is a home that's steeped in grandeur both indoors and outdoors.
Look out on the snowcapped mountains and revel in the panoramic views from not one, not two, not even ten but eighty (yes, you heard that right) wide windows that give you a 360-degree view of the stunning natural panorama even from the in-suite bathrooms. 
Casa Pineiro: A 5 Bedroom Lux Retreat With Hot Tub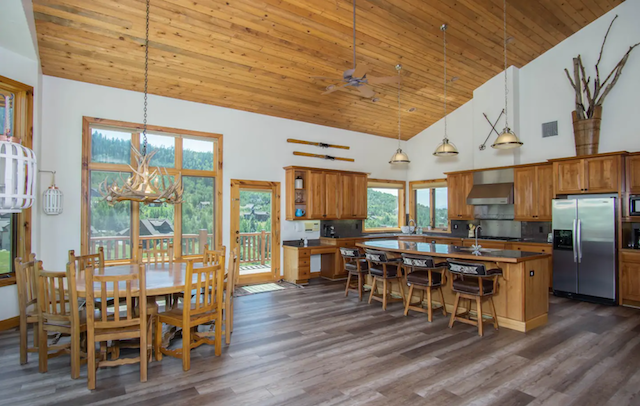 If you're looking for the perfect mountain retreat, the Casa Pineiro would make the ideal getaway. This luxurious five-bedroom villa, with a smart lock system, offers enhanced comfort and is large enough for a group of 13 guests. Casa Piniero is located only five minutes from Ski Mountain and very near to the free steamboat shuttle. You get an expansive view of Mt Werner, South Valley, and the Flat Tops from the large deck of this two-storied chalet. A fully-stocked gourmet kitchen and a hot tub are exclusively available for guests. This luxurious vacation home is just perfect for large families.
Luxury Java Ski Home
Do not get fooled by the seemingly nondescript exterior of Java Ski Home. This luxurious cabin abode, located near the ski mountain, consists of four spacious, lavishly done up bedrooms that can easily accommodate 12 guests. The perfect luxe retreat for your family vacation, this four-bedroom cabin even has a fun bunk room, which has been a hit with the kids. The house is adorned with many beautiful paintings done by a former resident. Her art studio has been converted into a bedroom which provides great views of the Sleeping Giant Valley.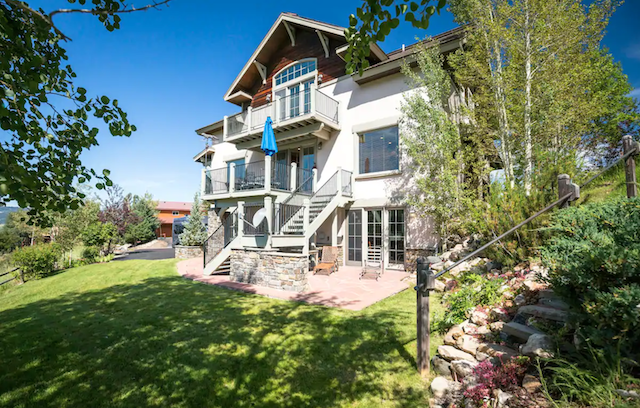 If you are visiting during summer, the expansive deck and patio area perfect for BBQs and alfresco parties. This is also a great place for some animal sighting – you can find deer, elk, and moose roaming around on the walkways adjacent to the house.
Apres Chalet: Lux Cabin with a View
Whether you wish to go skiing or prefer to spend your day indoors just taking in the beauty around you, the Apres Chalet is the perfect vacation getaway. It offers sweeping views of the adjacent mountains from the luxuriously done up living room with its comfortable couches, a custom-built table, ornate metal chairs, and a gas rock fireplace. The three-bedroom, the two-bathroom chalet also has a well-stocked kitchen with all necessary staples. You have the option of crashing in for the night on any of the chalet's two king-sized foam beds and a queen-sized one.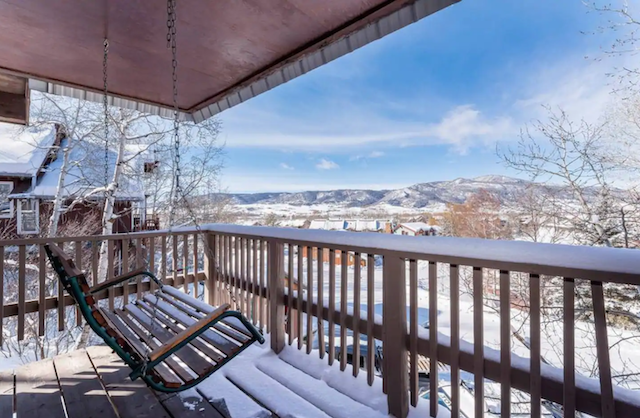 This modern mountain-style home comes equipped with all necessary amenities like television with cable and WIFI, DVD players, washer and dryer, and ceiling fans and is comfortable for up to 10 guests.
Romantic Three Bedroom Log Cabin
If you are looking for peace and quiet and endless sky, this cozy wood cabin is just the space for you. Located 15 minutes away from the town and other popular attractions, the cabin is set against a breathtaking backdrop of 20 acres of aspen/oak woods. Perfect for stargazers, the expansive setting allows you to spend quiet nights staring at the sky.
The three-storied wooden cabin is simple but clean and spacious for a group or family of six. It comprises 3 bedrooms, 5 beds, and 2 bathrooms along with a fully-functional kitchen, a large loft with twin mattresses, a living room and bath on the main floor, and two queen-sized bedrooms and bath on the first floor. You can also avail of limited internet access, DVDs, and wireless phones. Set in the midst of a winter wonderland, this romantic log chalet is the perfect choice if you have a quiet getaway in mind.
Luxury Family Chalet With Stunning Sunsets over Steamboat
If incredible sunset views and unparalleled views of Steamboat, and its scenic surroundings are what's on your itinerary, then this luxury mountain getaway is where you need to be. The cabin combines old-world charm with modern-day amenities like a pool table, a TV room, a custom bar, and your own private hot tub with sweeping views across the valley from the huge, wide windows which bring the natural beauty of the outdoors, indoors.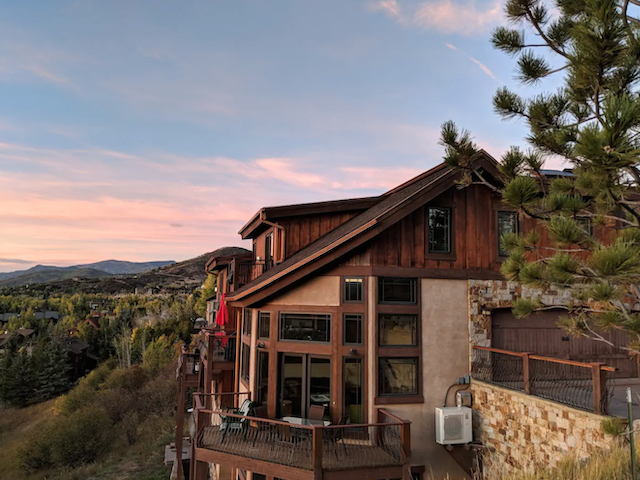 With 4 bedrooms, 7 beds, and 4.5 bathrooms, this luxurious chalet is a great holiday retreat with family and friends and is spacious enough for up to 14 guests.    It comes with a well-stocked kitchen with complimentary tea and coffee. You can even request a home-chef or grocery delivery service if needed.
Cozy Romantic Spring Creek Cabin
Looking for the perfect romantic getaway surrounded by pines? This hidden haven on Spring Creek trail is a great getaway. In the lap of nature, surrounded by woods, this two-bedroom, five-bed cabin boasts of modern amenities and is also pet-friendly! Bring along your fishing rods – with the Babbling creek located just adjacent to the cabin, you can fish right from the deck and cook your catch in the well-equipped kitchen.   
The cabin is located on the Spring Creek trail and is great biking, hiking, snowshoeing, and sledding area.  It is also en route to the famous Strawberry Park Hot springs and is perfect for five to six guests.
Steamboat Springs is an idyllic winter getaway thanks to its snow-capped mountains, pristine landscapes, and fun skiing activities. Enjoy your memorable stay at these quaint, luxurious, and rustic chalets and let the everlasting experience of the breathtaking view linger on in your mind.