Home to the Ozarks, Missouri is a land of unrivaled natural beauty. It caters to a wide variety of outdoor hobbies, such as hiking, fishing and kayaking. No matter where you plan to visit in Missouri, you'll find something to pique your interest. To insure that your next Missouri outing is as memorable as possible, make sure you book the very best accommodations available. This compilation of the top AirBnB glamping spots will help you discover the perfect cabin, camper, tiny house or treehouse for you and your family.
Happy Camper RV
You'll have a smile on your face from the moment you lay eyes on this charming camper. Tucked away amid the Ozark Mountains, this groovy renovated RV is just what you need for a rocking good time. The colorful 60's inspired décor is as welcoming as it is eye-catching.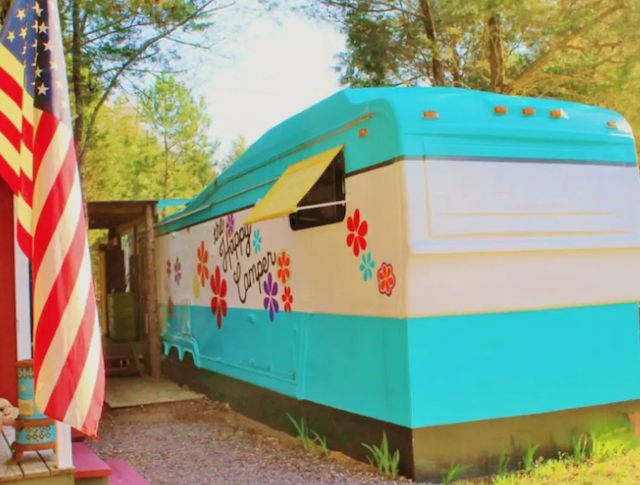 An expansive covered porch area features plenty of seating, as well as an outdoor cooking station. The comfy interior has several wistful touches, and the plush queen-sized bed is just what you need after a long day of fun.
Yurt in the Forest
Experience life among the trees at this fantastic yurt. Secluded in the beautiful forests of Missouri, you'll find this haven from the hustle and bustle of everyday life. The bright, open interior is exactly what you want for a relaxing stay. Accommodations include a well-appointed queen bed, a full kitchen and bath, a dining area, and a pellet stove in the lounge area.
Wide windows allow for wonderful views and lots of natural light. If you prefer, you can head out onto the deck and take in sunrise with a nice cup of coffee.
Hermann RV Camping Experience
Add a bit of luxury to your outing at this slick camper. You might feel like you're visiting a 5-star hotel when you step inside. The chrome-and-wood interior is chic and comfortable. You'll find a fully stocked kitchen, a plush couch, a spacious dining area, and sleeping arrangements for an incredible 9 guests.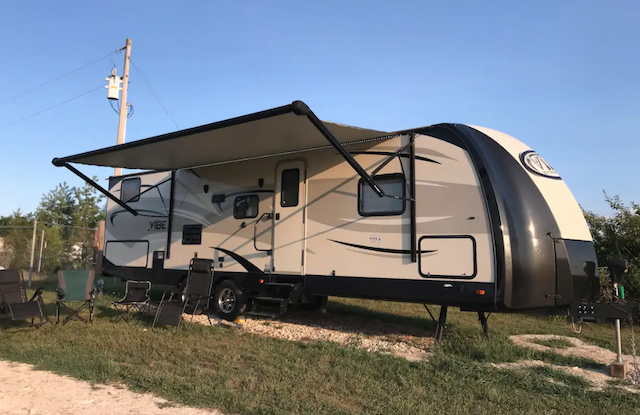 There is even a karaoke bar on the premises, so you can sing your heart out after you've spent some time enjoying the Missouri countryside.
Lovely Dragonfly Vintage Camper
Bring some color into your life when you stay at this delightful camper. Nestled next to a garden, you'll have all the peace and quiet you desire at this awesome glamping destination. The outdoor area features a number of comfortable spots, including a hammock, a fire pit, and a seating area complete with a canopy.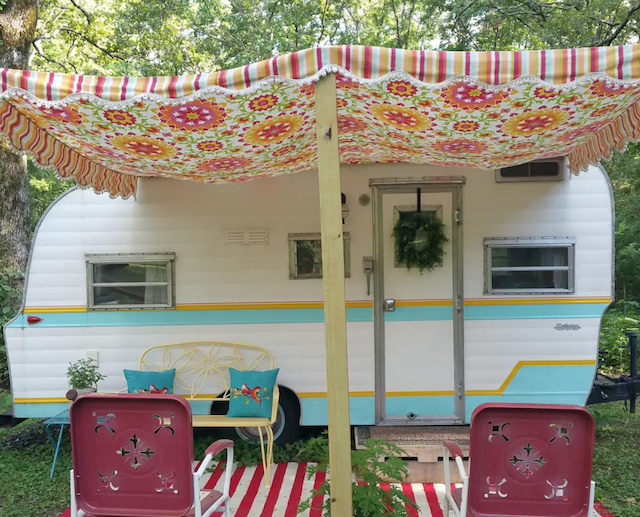 Inside, the lovely pastel colors and spacious accommodations make for an inviting atmosphere. You'll find a dining booth, kitchen, and a comfy double bed. There's even an outdoor shower for your use.
Kas A Dia Keepsake Cottages
Take to the seas on this wonderful houseboat. Not only will you have a wonderful view, but you'll have easy access to fishing, canoeing, and kayaking. After a full day of fun on the water, the accommodations here are just what you'll need to recharge for another day of adventure.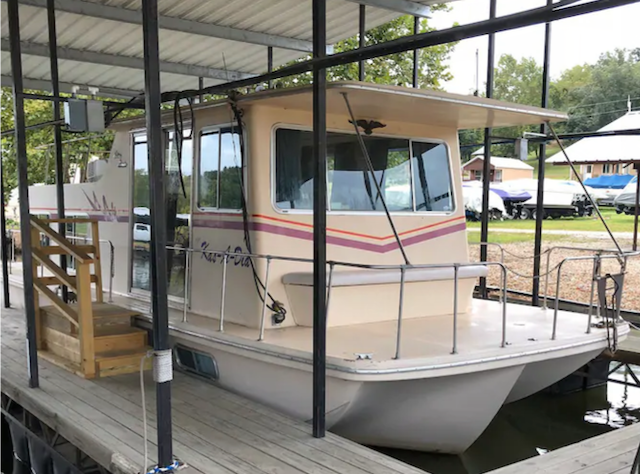 Two double beds allow for plenty of room to rest, and the seating area and kitchen mean dinner is on the house. If you prefer to eat outdoors, there is a barbecue on the patio as well.
Three Bears Cabin
Say hello to the animals at this fantastic tiny house. Situated on a working hobby farm, there are numerous cows, goats, and chickens that you can interact with. After you've enjoyed spending time with your furry neighbors, this dreamy cabin is the ideal place to retire to.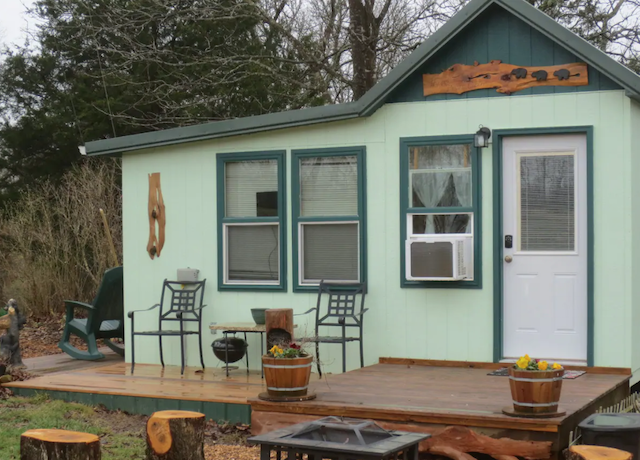 Surrounded by gardens and sporting a spacious porch and fire pit, you can spend all day outdoors and never feel uncomfortable. Inside, there is a fully stocked mini-kitchen, a lofted queen-sized bed, and a lounge area.
The Stone Cabin
True to its name, this majestic cabin is as eye-catching as it is comfortable. The all-stone construction gives a truly rustic feel, both inside and out. The warm, cozy interior is enhanced by a lush leather sofa, a comfy reading chair, and a fireplace to relax by.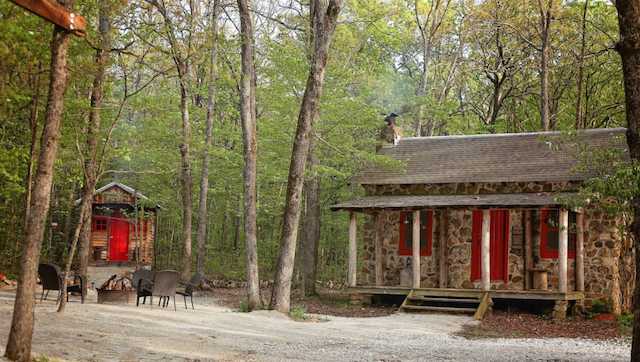 The loft contains a well-appointed queen bed, and if you prefer a catnap out among nature, there's a hammock available as well. Gather around the fire pit at night for smores and coffee, or just sit back and enjoy the beautiful scenery as the stars come out to play.
Cozy A-Frame on Acre+ Near Table Rock Lake
For an authentic log cabin experience that doesn't skimp on the luxuries, this awesome Airbnb is for you. Located within easy distance of Table Rock Lake, there is plenty to see and do around the area. After exploring the natural wonders of Missouri, you'll be glad to have such a comfortable cabin to come back to.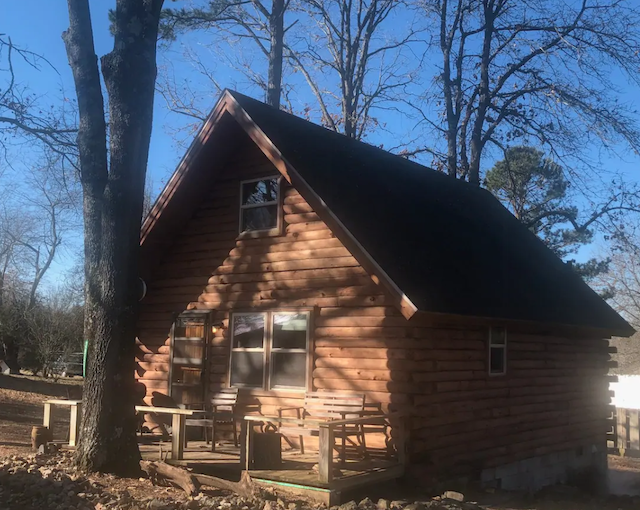 With two double beds, a king bed, and a sleeper sofa, there is plenty of room for the whole family. Other features include a fully stocked kitchen, an open living and dining area, a porch sitting area, and a fire pit.
Tiny Oasis on the Quarry
This amazing tiny house provides a chic haven in the midst of beautiful natural scenery. Situated on 10 private acres of land, you'll have access to a quarry where you can kayak, swim, fish, or simply enjoy the scenery. The sprawling deck is a wonderful place to kick back and catch some sun.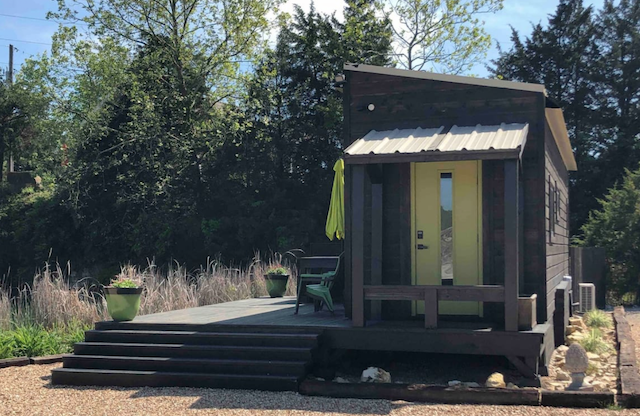 Inside, the modern design and sleek décor add a sense of elegance to the accommodations. You'll find two plush beds in opposite loft areas, a full bath with a spacious shower, an electric fireplace and a dining bar with room enough for a feast.
Sundance KC Tree House at Beautiful Lake Retreat
Allow yourself to be whisked away to another world at this magical treehouse. The whimsical flair that you'll discover inside this incredible glamping spot is sure to put a smile on your face. With 200 acres of forest to wander, you may spend more time outdoors than indoors when you visit here. Once you head inside, however, you'll find all the comforts you could desire.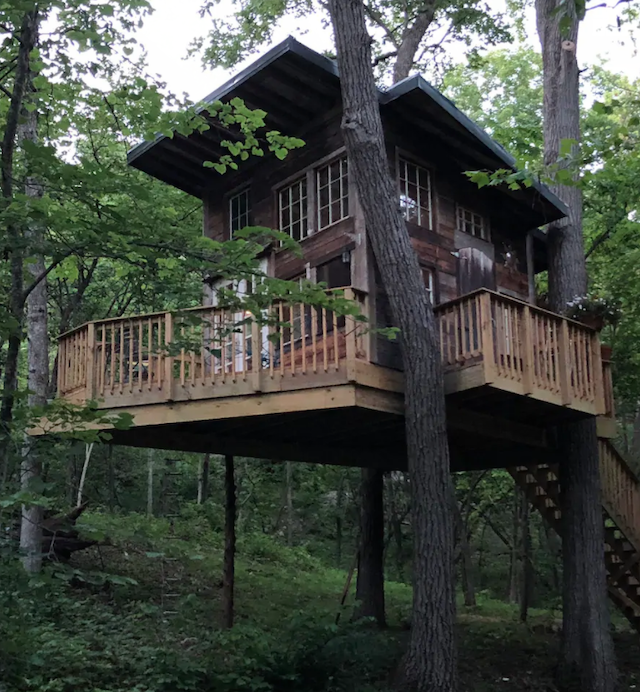 Up among the trees, you'll have spectacular views out of the wide windows, as well as lots of natural light. A queen-sized bed, wood stove, and two verandas are just a few of the lovely features of this unforgettable place.
Treehouse & Jacuzzi Bath House
With the perfect mix of natural beauty and modern comfort, this terrific treehouse is not to be missed. Perched among several trees on 10 acres of private land, the quiet seclusion you'll find here is as welcoming as it is soothing.
The accommodations include two comfy single beds up in the loft, an open living and dining area, and gorgeous stained-glass windows. A separate bathhouse features a large jacuzzi tub, which is the perfect place to unwind and take in the spectacular view.
Peaceful Treetop Cottage
Make yourself at home in this bright and inviting tiny house. Surrounded by towering trees, you'll be at one with nature when you visit this serene glamping destination. The fire pit is a wonderful spot to gather around, make smores or enjoy a cup of coffee.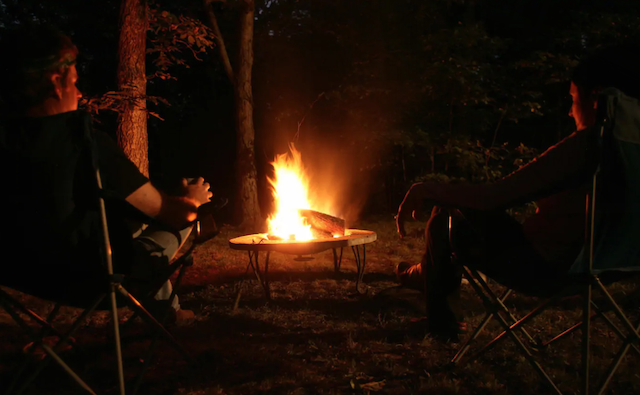 Inside, the accommodations will make you feel as if you've lived here all your life. There is room enough for up to 4 guests, a fully stocked kitchenette, and many comfortable places to relax. And if you like, you can even take a dip in the hot tub to help you unwind and find the peace you deserve.
Private Lakehouse on 5-acre lake
Fun and comfort come in spades at this lovely lakeside cottage. With a scenic lake right on your doorstep, there are a plethora of fun activities at your disposal. Try your hand at fishing, hop in a canoe or kayak or simply dip your toes in and enjoy the sunset. Once you've had your fill of enjoyment on the lake, the accommodations are just what you need to recharge for another day of fun.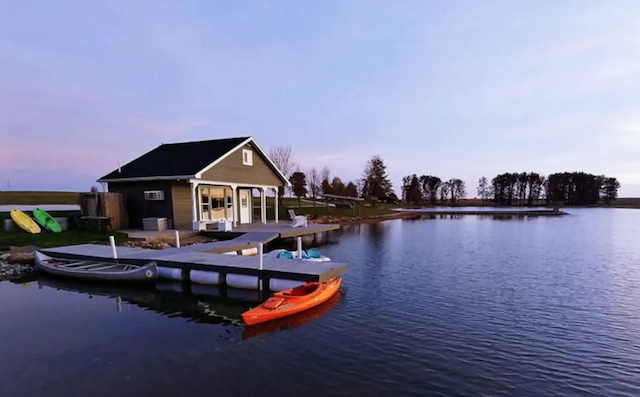 Go for a swing in the hammock, cook up a hearty meal in the kitchen or retire to one of the four plush beds. There is room enough for up to 6 guests, and plenty of space for the whole family to be able to enjoy this awesome AirBnB cabin.