The splendid natural beauty of Ohio is great to experience while staying in a comfortable romantic cabin. They feature a wide range of styles, from classic and rustic to modern and classy, you can find anything you're looking for. You can be sure that you and your partner will have the time of your lives at any of these amazing locations. Read on to find a romantic cabin that fits you and your dream honeymoon.
Green Plains Log Cabin
Enjoy the comforts of a genuine 19th-century log cabin, fully refurbished for your modern needs. Settled on a 66-acre tract of farmland, this quaint cabin gives you the rustic aesthetic of classic log cabins without losing out on the basic necessities.
The interior is intimate yet spacious, with a cozy living room—complete with stone fireplace—full kitchen, 1.5 baths, and two bedrooms. Outside, you'll have access to a hot tub, outdoor shower, and full run of the farm. Bike, hike, or simply relax under the stars at this romantic little spot.
Dunlap Hollow Romantic Cottage
Come experience the wonder of nature at this secluded cottage. Located among the dazzling, rugged landscape of Dunlap Hollow, you won't have to go far to find a spectacular view. Trails, cliffs and even waterfalls lay just beyond your doorstep.
And once you've satisfied your adventurous spirit, the bright and cheerful interior will welcome you home. Amenities include a queen-sized bed, loft area with two twin beds, full kitchen, bath and a hot tub. Make your honeymoon unforgettable at this beautiful cabin.
"The Loft Cabin" at Hiding Place Cabins
Find your little slice of honeymoon heaven at this peaceful cabin. Nestled in the woods of a 4-acre private lot, you'll have the perfect combination of seclusion and comfort at your disposal. Nearby Old Man's Cave is a striking natural cave formation, and only one of many points of natural beauty in the area.
The cabin itself features a cozy living room with a fireplace, a queen-sized bed, a loft area with additional sleeping arrangements, a full kitchen, bath, and an outdoor hot tub perfect for a romantic evening. Come make memories with your loved one at this wonderful cabin.
Eagle Ridge Cabin in Hocking Hills, Ohio
If you're looking to take your special someone to a romantic cabin, look no further. This incredible cabin provides everything you'll need for a memorable experience. Tucked away at the bottom of Eagle Ridge, the fusion of modern design sense and natural beauty will astound you.
The cabin's high ceilings and a multitude of large windows allow for great views and keep the cabin bright and cheery. You'll have all the amenities you require, with an open living area with a fireplace, full kitchen, bath, and loft-style bedroom with a queen-sized bed. Then gather around the fire ring outside for a romantic night among the stars.
Wildwood Hill Cabin
Indulge in the peace, romance, and comfort of this lovely cabin. You'll have all the quiet seclusion you wish, tucked away in the woods, only 10 minutes away from Sugarcreek. Go unwind in the hot tub, situated on a screened porch for maximum privacy throughout your honeymoon or romantic getaway.
Inside, the open design includes a living room with a fireplace to cuddle up next to, a loft-style bedroom with a queen-sized bed, and a full kitchen and bath. With a striking yet classic style, mixing both log cabin aesthetics with cathedral roof and windows, you won't want your honeymoon to end when you stay at this terrific cabin.
The Cabin at Maple View
For anyone seeking a romantic and refreshing destination for their honeymoon, this cabin has you covered. Situated on 80 acres of wooded land, you'll have plenty to explore when you visit. After your adventures, you can relax in the picnic area, complete with a fire pit for grilling and ample seating.
At the end of the day, retire to the cabin proper for a bit of R & R. The clean, rustic interior provides a wonderful atmosphere. You'll find a comfy couch in the living room, a queen-sized bed, kitchen and dining area, and more.
Arrowhead Ridge Off-grid Cabin
Get back to nature at this fully renovated camping cabin. Surrounded by trees and near a babbling brook, you'll have both the seclusion and beauty of nature at your doorstep. Take in the view from the screened porch, or around the outdoor fire pit, ideal for grilling up dinner.
There is also an outdoor, solar-powered shower. Inside, the charming décor creates a romantic atmosphere, and the intimate yet comfortable accommodations will let you relax to your heart's content. You even have a wood-burning stove for some old school cooking.
Chestnut Creek Cabin
As soon as you cross the private bridge and catch sight of this cabin, you'll feel the inviting atmosphere. Together with your loved one, you can finally have the peace and quiet you've been seeking.
Soak up the sights and sounds of nature from the covered porch, or around the fire pit. Inside, you can snuggle up on the large sofa, cook up a romantic dinner in the fully stocked kitchen, and then sink into the comfort of a queen-sized bed for a good night's rest. Explore, indulge, relax—whatever your honeymoon dreams may be, this cabin is for you.
Charming Creekside Cabin with Dock
This cozy cabin is the ideal honeymoon destination you've been waiting for. Nestled away on a peaceful deep-water stream, you'll immediately be taken by its charming design—complete with covered porch and hammock. Inside, you have all the amenities you require, including a full kitchen, bath, queen-sized bed and loft with additional sleeping arrangements.
But the real star of the show is the private dock, situated right on the creek and offering a fantastic view. And if you're up for canoeing, kayaking, or fishing, this romantic spot has you covered too.
Container Tiny Home with Hot Tub
Find big fun in this tiny container home, the perfect spot for a romantic occasion. Set on a secluded spot along the Tuscarawas River, you'll feel like the only two people in the world when you visit this lovely little cabin.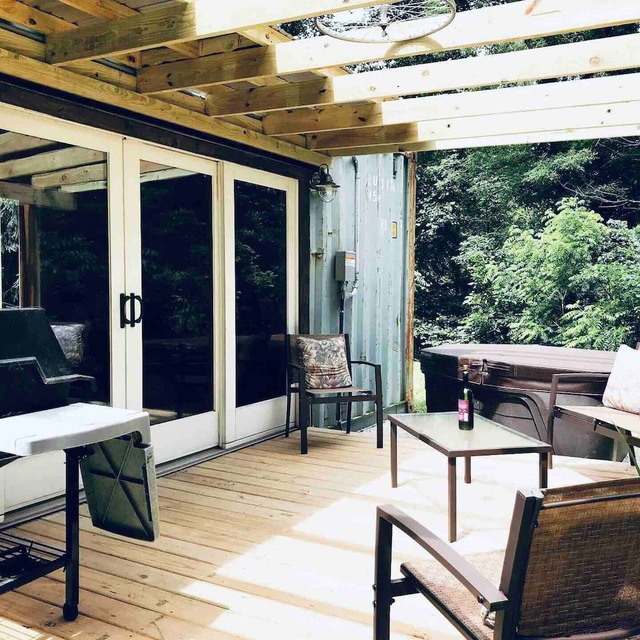 Featuring all the amenities you could ask for—including kitchen, full bath, queen-sized bed and living area—you'll also be treated to a spacious deck with plenty of seating, as well as a large hot tub. Wander the woods along the river, explore the many nearby attractions, or simply throw open the large sliding doors and let nature come to you.
Cozy Cabin 1st Choice Cabin Rentals Hocking Hills
You'll have a honeymoon to remember when you visit this charming cabin. Located on a 7-acre property, you'll have the convenience of several nearby attractions, including Wayne National Forest for hiking, and Ash Cave for sightseeing.
After your adventures, you can join your special someone on the outdoor swing, or grill up dinner at the fire pit. Once inside, you have all the amenities you need, including a queen-sized bed, full bath, kitchen and even a jacuzzi to relax in.
AZ Longhorns Cabin
You can have your own personal paradise at this gorgeous log cabin. Situated near a ravine, you can wander along the creek to the nearby waterfalls, enjoying the sights and sounds of nature. After your hiking trip, relax in the hot tub or join your loved one on the patio for some open-air dining.
But if exploring isn't for you, simply snuggle up inside amid the woodsy décor and comfy furniture. You'll have ample room, including two bedrooms, a large bathroom and kitchen, and a living area with plenty of cozy seating around the stone fireplace.
A Romantic Log Cabin with Pond in Hocking Hills
Enjoy the beauty and intimacy of this magnificent log cabin, nestled next to a lovely pond. The rustic style exudes class and comfort, and you'll have access to all the amenities you could want—a full bath and kitchen, living and dining area, stone fireplace, and a loft-style bedroom with a queen-sized bed and a view of the pond.
Outside, you can kick back on the porch swing, or head to the screened-in deck to unwind with your partner in the hot tub. Whatever mood strikes you on your honeymoon, you can indulge at this fantastic destination.
A Romantic Log Cabin in Hocking Hills in Logan, OH
Soak up the romantic atmosphere at this secluded log cabin. Surrounded by picturesque woods, and with the nearby Hocking Hills State Park at your disposal, you can experience the wonder of nature with your special someone.
The cabin itself features all the modern conveniences and comforts you desire, from the queen-sized bed to the full kitchen, bath, and comfy living area. And at the end of the day, you can cuddle up next to the gas log fireplace and dream of all the honeymoon memories you've made.
Romantic Hideaway A Frame Cabin in Hocking Hills
Give your special someone the getaway they deserve at this fantastic cabin. Constructed in a classic A-frame design, it provides both comfort and charm for your honeymoon stay.
There is plenty of space, including 2 bedrooms with queen-sized beds, a full bath, and a living area with luxurious couches and a wood-burning fireplace. You can head out to the covered porch for a dip in the hot tub, or strike out and explore one of the state parks, chock full of activities for you and your partner to take part in.
Hocking Hills Cabin with Hot Tub
Help yourself to a full-service romantic cabin, where everything you need and more is at your disposal. This spacious cabin has expansive back and front porches, with ample seating, dining space, and a private hot tub. Inside, you'll find two comfy bedrooms with queen-sized beds, a full bath, kitchen, and lounge area with a remote-controlled fireplace to cozy up next to. You also have access to a game room and a heated rec barn with lots of activities for you and your partner to enjoy.
Romantic Cottage With Scenic Views
This magnificent cottage exudes class and style. Settled in the center of Ohio's peaceful Amish Country, you'll have all of the quiet seclusion you desire, without losing out on any modern conveniences. You and your loved one can relax on the porch and take in the lovely scenic landscape.
Inside, you can snuggle up next to the fireplace with a glass of wine. And at the end of the day, you can sink into the lush, king-sized bed to ready yourself for a new day of fun. Your honeymoon will be a guaranteed hit at this romantic destination.