Nebraska is home to Great Plains, dramatic rock formations such as Scott Bluff National Monument and towering dunes of Sandhills. The many outdoor destinations in Nebraska which include Chimney Rock National Historic Site and Scotts Bluff, along with outdoor activities like fishing, tubing down various rivers, and so much more make it a perfect outdoor destination for glamping.
As you may have guessed, glamping in Nebraska is filled with amazing outdoor recreation opportunities regardless of the season. You will find some of the best hiking trails here as well as amazing glamping accommodations. The weather in Nebraska is perfect for glamping vacations. Here are some of the best glamping accommodation options.
Rustic Retreat Tiny house
The Rustic Retreat Tiny House is an ideal glamping spot for honeymooners, families, anniversaries, friend retreats, hunters, and fishermen. The wooden tiny house was constructed in 2018 and has 3 bedrooms, 3 beds, a bath and can accommodate up to 6 guests. It is located close to Calambus Lake, Historic Fort Hartsuff, and Burwell Rodeo.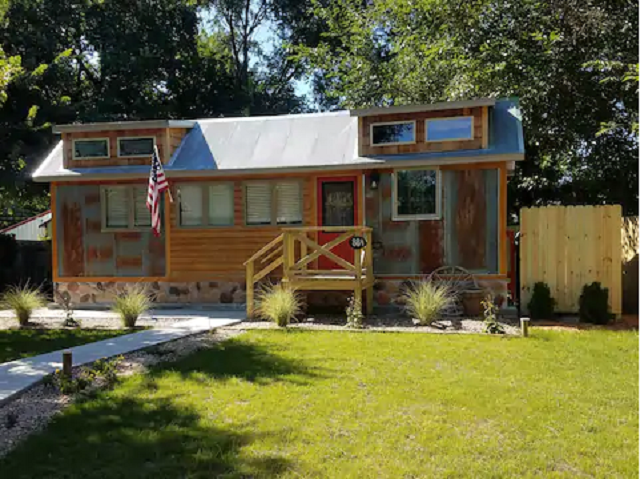 The local grocery stores, bars, and restaurants are a walking distance away. The Rustic Retreat Tiny House has all the modern amenities you would expect to find in a modern house including an indoor fireplace, Wi-Fi, hot water, room darkening shades, and TV. You also have access to a BBQ grill, balcony, garden, and free parking.
Stubby Acres Bunkhouse
The Stubby Acres Bunkhouse is located in the Platte River valley where organic and conventional crops are raised. The bunkhouse is perfect for people who love the country setting and clean air.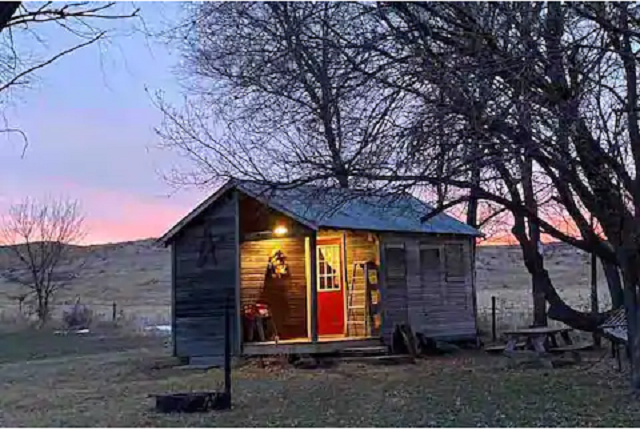 From here you will enjoy amazing views of the sky and the nearby hills. The property is about 3 miles north of I-80. In addition to all the modern amenities you would expect in a home, you also get plenty of parking. Ask for directions after booking because GPS will mislead you.
Kottage Knechtion Treehouse
The Kottage Kenchition Treehouse is 18 feet in the air nestled between two cottonwood trees. The treehouse was built using reclaimed repurposed materials. From here you will enjoy spectacular views of the Nebraska sunrises and sunsets as you overlook 5 acres of detailed landscaping.
The Kottage Knechtion was built to disconnect from the outside world. It is the perfect getaway about 6 minutes from old historic 4th street in downtown Sioux City and just 5 minutes from Hard Rock Hotel & Casino. If you wish to head to Dorothy Picate Nature Center or Ponca State Park, the treehouse is just 10 minutes away. Breakfast is provided with a variety of Cappuccinos, Lattes and brewed coffee, burrito, quiches and homemade steel cut oatmeal.
Lazy Oaks Glamping Tent
Lazy Oaks offers a glamour camping tent nestled on 11 acres of private land. The tent is secluded, quiet and without a doubt the best place to enjoy relaxing evenings away from the busy city life. Lazy Oaks is the perfect choice for you if you love camping but detest the hassle of setting up a tent. You get a queen-size bed and a private setting without neighbors or traffic. A second tent sits about 30 feet away.
The 12'x14' canvas tent sits on a raised deck with a porch that overlooks the vineyard and gardens. The tent is furnished with a dresser, tables and chairs, antiques, as well as fully electric lamps and fans/heaters. A portable air conditioner is offered in summer to help fight the heat. There is a composting toilet as well as a 'hot' water shower. You also have access to a fire pit and the 11 acres.
Cozy Oaks Glamping Tent for 2
The Cozy Oaks Glamping Tent is located 30 feet away from Lazy Oaks Glamping tent. The two tents share the 11 acres of private land. This is a perfect place to enjoy relaxing evenings far from the city and without going through the hassle of setting up a tent. You will have access to a full-size bed, coffee service, dresser with a mirror, rugs and soft bedding. Electric lamps and fans/heaters are also available to make your stay more comfortable. During summer you can request a portable air conditioner to help combat the heat.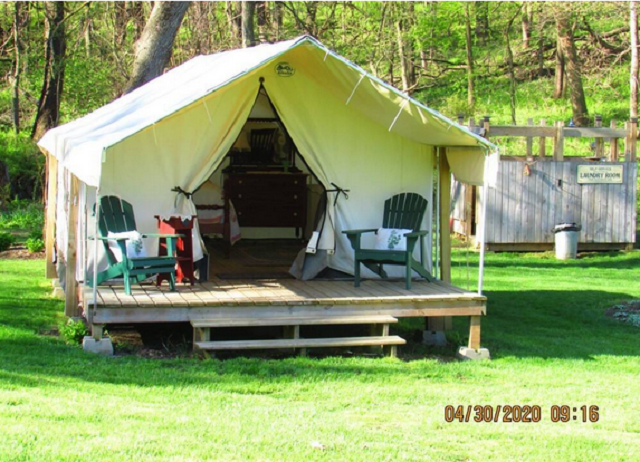 Cozy Oaks Glamping Tent offers a private privy with a composting toilet and hot water shower. You also have access to a fire pit where you can cook or simply enjoy the evening fire. The property is perfect for individuals and couples that want to escape and relax. Meals are delivered to the tent.
From barns to cabins and cottages, there is no shortage of accommodation options in Nebraska. The aforementioned options will give you a great starting point as you start exploring this lovely state. It is always good to make your bookings early so as to find the glamping accommodation that you want. Making a list of things you want to do will further keep you from getting overwhelmed when you arrive.
Custer Canyon Ranch & Horse Motel
Does quiet, remote, and surrounded by wide-open grasslands appeal to you? If yes, then the Custer Canyon Ranch & Horse Motel will be perfect for you and your family or friends. The open-concept room has a full-kitchen, well-supplied private 4-piece bath and sleeps up to 8 guests.
While the indoor space is welcoming and adaptable, the outside space offers more fun with breathtaking views of the grassland, a fire pit, walking, and cycling space, cowboy porch and so much more. There is ample parking for cars and SUVs. The ranch is 13 miles from Broken Bow and 9 miles from Callaway. Although it is secluded, you still enjoy the modern amenities of a home.