When you visit Branson Missouri consider staying in one of the cabins to connect with nature during your stay.
Branson is a lovely city in Taney and Stone Counties in Missouri. Only a small part of the city extends to Stone County. Located in the heart of the Ozark Mountains in Southwest Missouri, there is no shortage of things to do in Branson while on vacation.
1 Bedroom Cabin West of Branson
The Old Moose Cabin has some of the best views in Stonebridge Resort. It is located down the road from Fox Hollow Lake and offers a king bed, a sofa bed and accommodates up to 4 guests. This is the ultimate choice when it comes to romantic getaways. You get to relax next to an indoor fireplace as you enjoy a movie or take in the views. There is also a screened porch with an electric grill. The cabin is pet friendly too.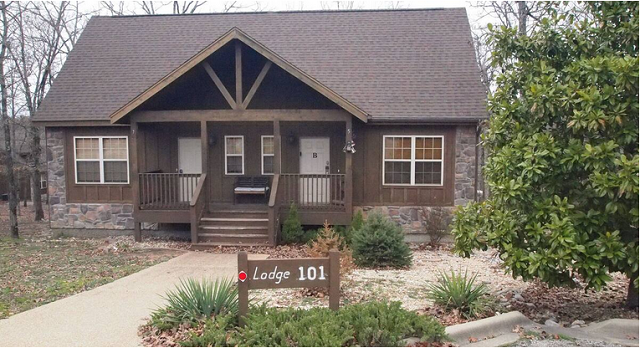 The Majestic Moose Lodge
This is a 4-bedroom cabin with 5 beds, 4 baths and accommodates up to 10 guests. The Moose Lodge is one of the most sought-after accommodation in Branson. It sits in a gated community of Stonebridge village among the Ozark Beauty with peaceful forests and inviting lakes. The lodge is just 10 minutes from Silver Dollar City and Indian Point Marina. It has an open floor plan with enough seating for up to 15. In addition to modern amenities, you will love the large outdoor living space on the back deck. Two outdoor pools are available.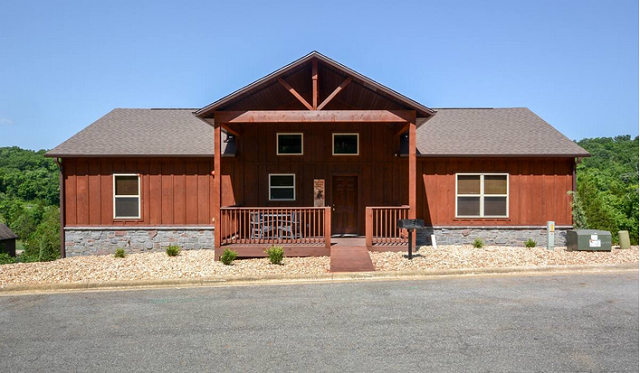 Spacious New 3 bedroom cabin close to Branson/Sleeps up to 8
For an authentic log cabin experience, the Cherokee Cabin has what you need. It is located among the rolling hills and beautiful trees of the Ozarks and a short distance from Branson. The cabin has 3 bedrooms, 5 beds, 2 baths and accommodates up to 8 guests. It has the modern amenities of home including a Jacuzzi tub, bubbling hot tub, cookout grill, and cable TV. The Cherokee Cabin will give you an amazing experience you will not soon forget.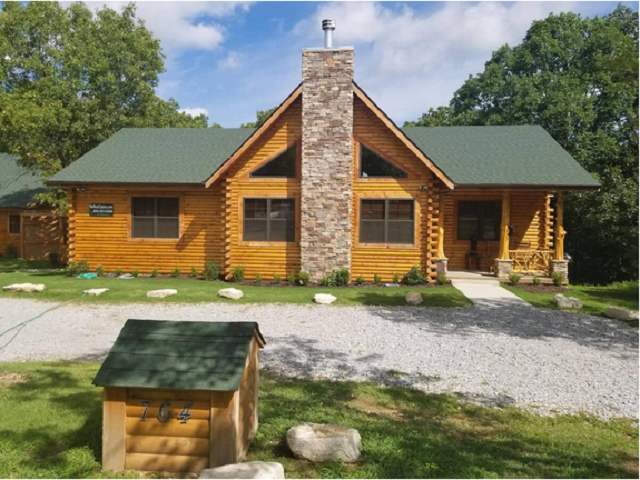 Cabin in StoneBridge 10 Minutes to Branson
Stoney Creek Cabin has been awarded 5-star super-host status on Airbnb, premier status on VRBO/Home-away, and certificate of excellence winner on TripAdvisor. This is a cabin in Branson you can book with confidence. It offers 2 bedrooms, 2 beds, 2 baths, and can accommodate 8 guests. The cabin further sits in a quiet setting in Stonebridge Village and offers all the features and amenities of home. What is more is the cabin is only 5 minutes from Silver Dollar City, Table Rock Lake and just 10 minutes from Branson strip and Branson Landing. You will have the cabin to yourself.
Lazy Bear Lodge At Stonebridge
The Lazy Bear Lodge is a cozy 2-bedroom cabin with modern amenities located at Fox Hollow Lake in Stonebridge Village Resort. The lodge is beautifully furnished and decorated. There are 3 beds, 2 baths, and the lodge can accommodate up to 6 guests. Each bedroom has its own cable TV and there is a fully stocked kitchen. The lodge is a short distance to Fox Hollow Lake where you can access a playground, pool, sand volleyball, walking trails, lake, and a BBQ area.
Elk Ridge Cabin in Branson
Elk Ridge is a 2-bedroom, 2-beds cabin located in a gated resort about 2 minutes from the Strip and 7 minutes from SDC. The cabin is well kept and beautiful with all the modern amenities and facilities of a home. Everything is supplied in this free-standing cabin and all you need is your clothes and groceries. You will also have access to everything in the resort including a mini-golf, sand volleyball, general store, gym, walking trails, shuffleboard, and gas grills near pools. The cabin accommodates up to 6 guests.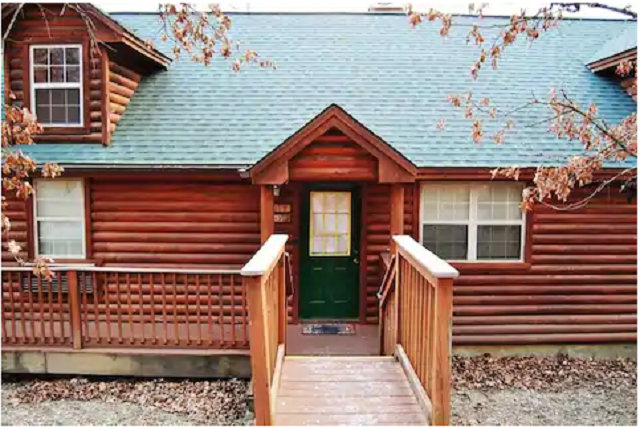 2 Bedroom Cabin Close to Branson
This is an amazing authentic log cabin perfect for a small group or family. The Navajo Cabin is nestled among the trees and rolling hills of the Ozark Mountains. Both bedroom suites have their own private bathroom with a Jacuzzi tub. There is a large deck with a bubbling hot tub as well as a cookout grill overlooking the park. This is a perfect place to make lasting memories within the peaceful Ozark Mountains. You will have access to all the facilities and amenities you would expect in a modern home.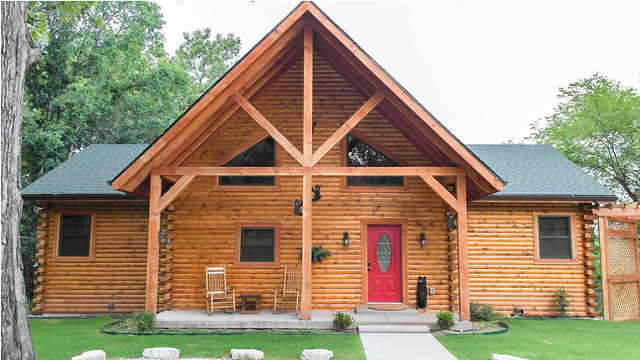 Fishing Cabin With Views
This one-bedroom cabin is located on a mountain bald that overlooks the Roark Creek. From here you will enjoy amazing views of Branson and easy access to all the amazing offerings of Branson Missouri. The cabin is only 5 minutes from Sight and Sound Theater, Branson Landing, Dixie Stampede, and just a mile from Tanger Mall. Secluded on a cul-de-sac and with modern facilities, this is the perfect cabin for a romantic getaway or a family vacation. It accommodates up to 4 guests.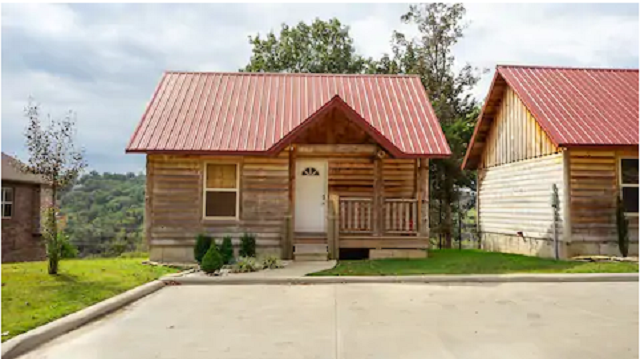 StoneBridge Village Cabin
The Stone Bridge Village is a cozy retreat ideal for relaxing and enjoying the many offerings of Branson. The one-bedroom cabin includes a king bed, 1.5 baths and accommodates up to 4 guests. The cabin offers secluded and beautiful views of the trees right from the screened back porch. In addition to the modern facilities and amenities, you will have access to the many facilities of Stonebridge Resort which include 3 swimming pools, 3 tennis courts, 3 playgrounds, catch & release lake, basketball court, sand volleyball as well as an onsite restaurant – LedgeStone Grille.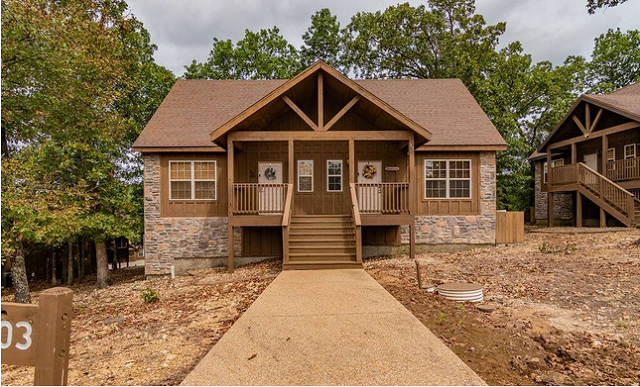 Cozy Cabin 1 Level – Stay In! Come for Spring
If you are searching for the best summer getaway, this 2-bedroom cabin will not disappoint. It is tucked in a wooded area that is quiet and a short distance from Branson Landing and Silver Dollar City. The cabin has two masters and two full baths. It also has a screened-in porch and sleeps up to 6 guests. During winter months, a gas fireplace is provided. The cabin is perfect for a week-long family trip. You can grill out, play games, watch movies, or simply enjoy family time.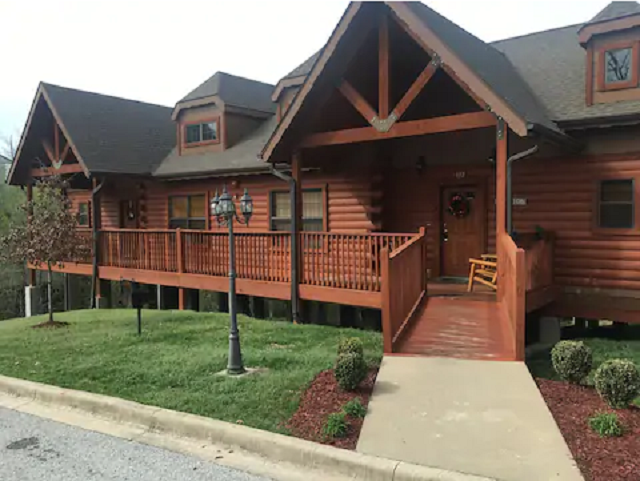 Hunting Cabin 5 Minutes to Branson
The Hunting Cabin is only 5 minutes from Branson. You will get to enjoy a queen size bed, sleeper sofa, cable TV, recliner, Wi-Fi, washer/dryer, kitchenette, and gas grill. The cozy one-bedroom cabin is located on a mountain bald and overlooks Roark Creek. The cabin is only minutes from Sight and Sound Theater, Branson Landing, Dixie Stampede, Branson Landing and Tanger Mall. If your group is bigger than 4 guests, you can get more space by booking the adjacent Fishing Cabin.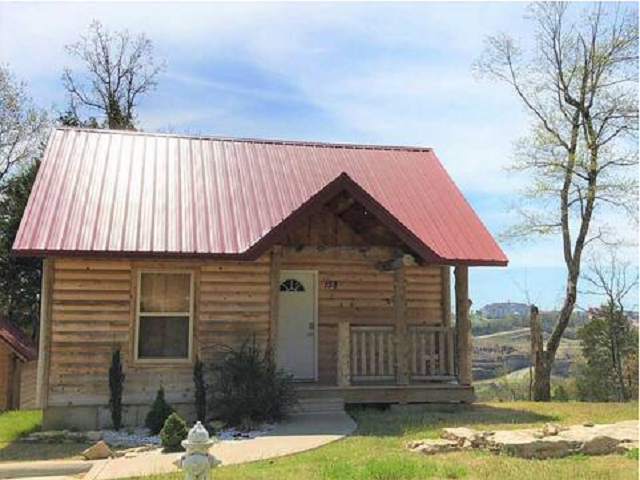 Lazy Bear Lodge Luxury Cabin
Lazy Bear Lodge is a newly decorated and remodeled two-bedroom rustic cabin nestled in the heart of Branson Strip. The beautiful lodge sits within the woods and is only 5 minutes to all the family attractions, dining, and many other offerings of Branson. The lodge has everything you may need for a memorable vacation. Its open living floor plan is 1,500 square footage and comfortably accommodates up to 7 guests. The best thing about this cabin is the ease of access with no steps to climb. It is suitable for both children and seniors.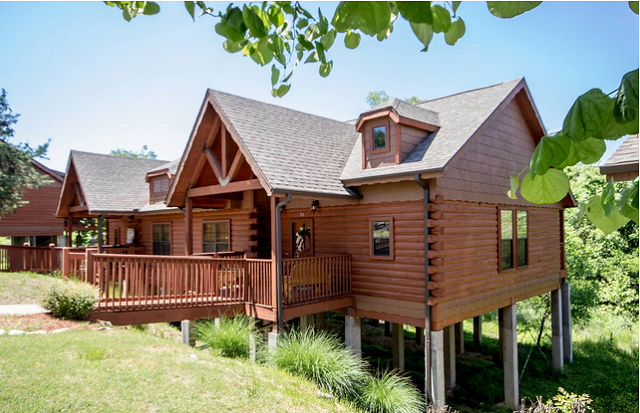 The Cabin at Rock Canyon
Last but not least is the Cabin at Rock Canyon. This is a beautiful and semi-private resort in the heart of Branson. It creates the illusion of being deep in the Ozark Mountains while you are only blocks away from the city. It is a stunning property in Taney County and a walking distance to the Branson Strip. The one-bedroom cabin uses an open floor plan and comfortably accommodates up to 4 guests. The cabin is perfect for couples but spacious enough to accommodate a small family or group.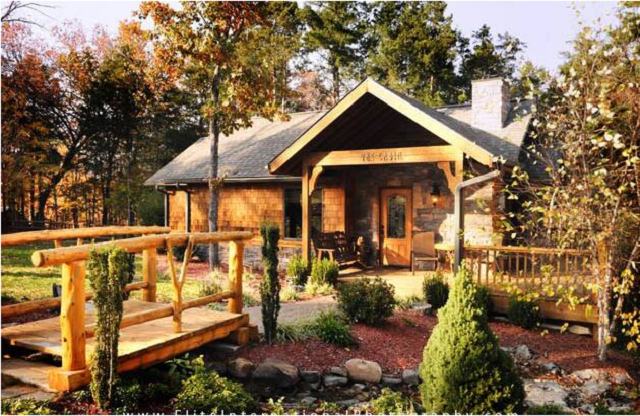 Things to do in Branson Missouri
Whether you're looking for fantastic live entertainment or some fun in the great outdoors, Branson Missouri has everything you could need for a fantastic getaway. After zip-lining over the Ozarks (or checking out the view from a helicopter), head to Table Rock Lake to relax with a spot of fishing for the afternoon. There are plenty of attractions to visit, such as the Titanic Museum and the Promised Land Zoo. With over 40 rides, 40 live shows, and 60 shops and restaurants, Silver Dollar City is a must for any visitor to Branson. Feeling hot? Head to White Water and get in the splash zone. Branson is jam-packed with adventures for all ages.
When to visit Branson
Between November and December, the whole town comes alive with holiday cheer, and Branson is turned into a white winter wonderland. This is a peak time for tourism, as the town is so beautiful and the weather not too hot! There are also a lot of shows and festivals during the winter season, which brings more traffic to the area. Between June and August is also particularly busy; you'll find a lot of crowds (and a lot of heat). If you're basing your trip on accommodation rates, January and February are the way to go, but some of the main attractions will be closed for the season. Months between September and October and March to May are perfect for temperate weather and a lack of crowding.