Glamping is the best way to escape the hassles of the city and go off-the-grid. If you desire to experience the outdoors in Virginia without dealing with the discomforts of camping in a tent while still being connected to the outdoors, we have put together a list of luxurious accommodation options that will offer you a deluxe outdoor experience with the amenities and comforts of a home.
Eastern Virginia is for American history buffs while Western Virginia is the home of the Blue Ridge Mountains. Virginia is known for its great outdoors with lots of mountains, forests, and lakes to explore. If what you want is to reconnect with nature, choosing a Virginia glamping trip will be worth it.
Glamping with Alpacas Under the Stars
This canvas tent south of Richmond has an electric heater for the cold nights and a comfy queen bed. Surrounded by huge oaks and pines, the tent is far enough from the house to give you adequate privacy. It is a perfect choice to relax and reconnect with nature on hot summer nights. The alpacas and goats on the farm are always looking for attention, making your stay even more memorable.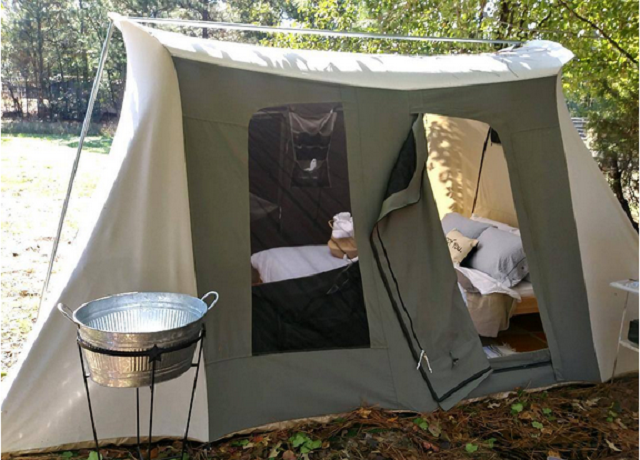 The Lee Gypsy Wagon
The Lee Gypsy Wagon sits on a 170-acre farm in the Blue Ridge Mountains and is ideal for couples or anyone that desires some alone time. It is secluded and has a comfy bed, electricity and plumbed shower and toilet also sits on the farm. To guarantee privacy, the cabin and the Lee Gypsy Cabin sit on different sections of the farm.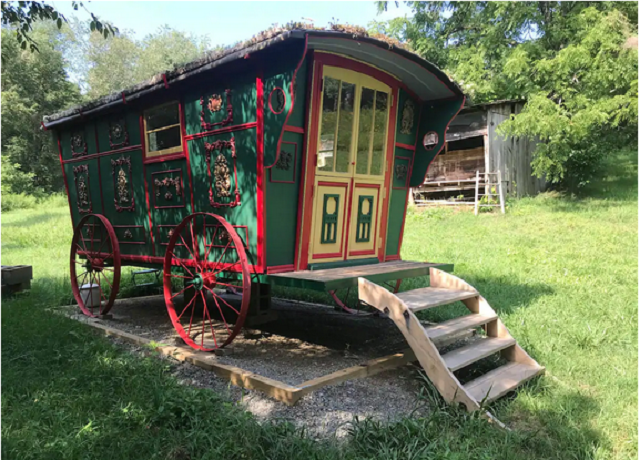 Barn Studio on Makana O Kalani Farmstead
If you have ever fancied living in a working barn, the Makana O Kalani Farmstead has an amazing studio sits on a working 1890s German bank barn with chickens, horses, and 2 rescue dogs under the barn's main level.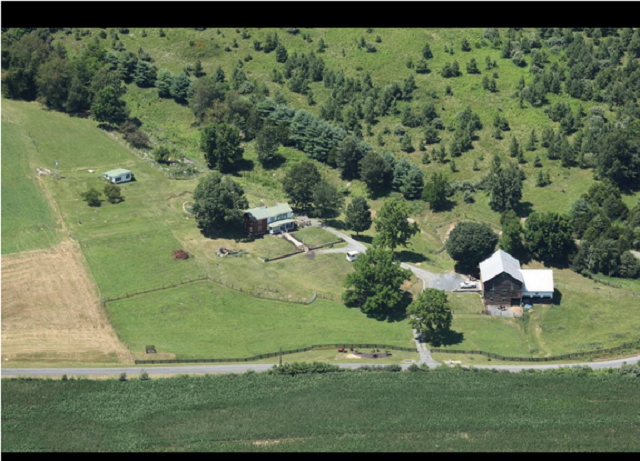 The farm is 7.5 miles from Staunton and is secluded with no visible homes. The studio has all the amenities and comforts of home including a full kitchen, storage closet, and comfy coaches. It accommodates two guests. It is perfect for couples.
Wolftrap Farm Glamping Tent
Enjoy northern Virginia glamping on Worftrap Farm, a 600-acre horse and cattle farm. It is one of three Lotus Belle tents on the farm, allowing you to enjoy camping in comfort without having to bring your own gear. Each of the tents is furnished with a queen-sized bed, sitting area, eating area, electric lights as well as air conditioning. Two shower rooms, gas grill, and microwave are located about 50 yards away at the Pavilion. The spacious tent accommodates 2 guests.
Eagles Nest Tree House
The Eagles Nest Tree House is nestled 17 feet high in the treetops and accommodates up to 4 guests. It is 900 square feet with a rustic luxury style and all the amenities you need for a comfy stay. There is a 4-person hot tub in the 1st screened porch, a king bed, two fold-out memory foam twin beds downstairs, and a screened-in porch sitting area off the bedroom. This is the perfect place to thrill your inner child.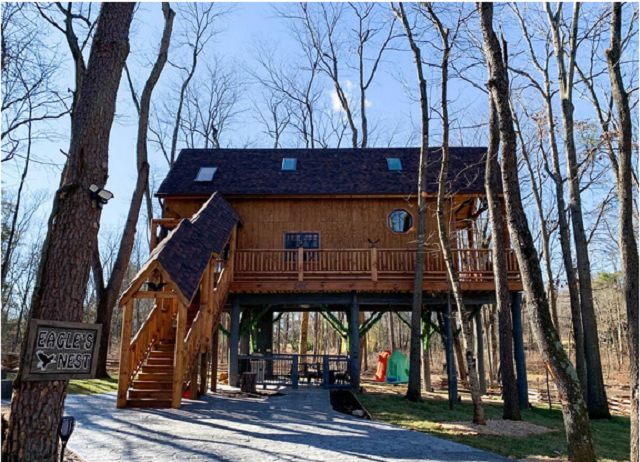 Daisy Camper in Floyd, Virginia
'Daisy' is a 19-foot-long, 1978 Layton camper nestled on 25 acres. The camper has been updated to include new, clean, and modern amenities so it feels more of a tiny house than a camper. There is a queen bed and in the cold months, you will get an electric blanket and a space heater. You are free to explore the entire property and head to the 10'X10' covered platform at the top of the hill with amazing views and hammocks for your use.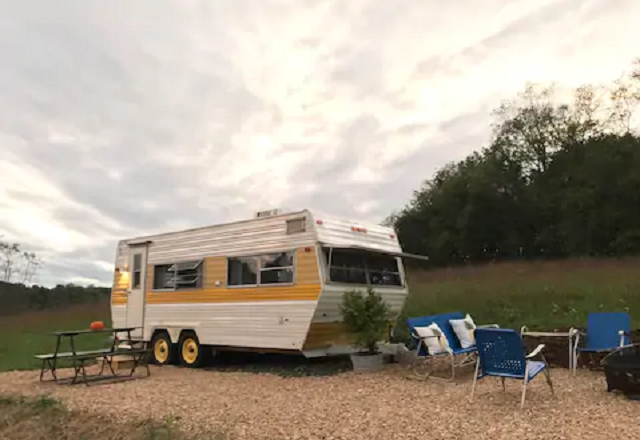 The Tiny House at Stardust Meadows
The one-bedroom tiny house is located on a 6-acre farm with chickens, ducks, sheep, and a small friendly dog. It offers a peaceful retreat in the Shenandoah Valley and is close to EMU, JMU, and downtown Harrisonburg. You can choose to relax on the porch swing, head to the trails, or hit the local breweries and eateries. The Tiny House at Stardust Meadows is perfect for couples and individuals searching for a tranquil place to renew their spirits.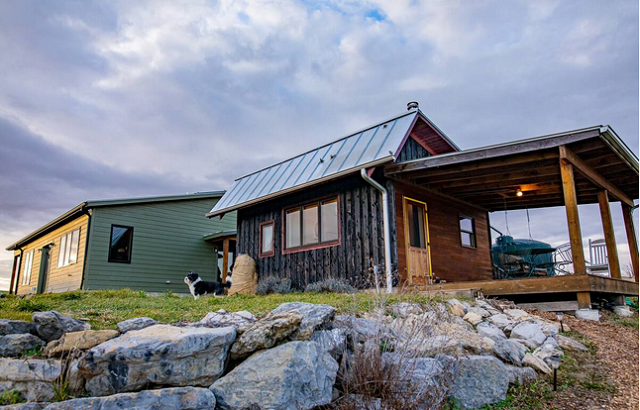 "Bucky" a Geodesic Glamping Dome
This is a 16' Geodesic dome on a 25-acre farm with a queen bed, coffee station, seating area, and mini-fridge. The dome overlooks the rolling pastures and has 4 skylights, and a foot pump sink. If what you need is a truly otherworldly glamping experience, this geodesic structure modeled after the Buckminster Fuller's design will be perfect for you. You can wander the property freely and head to the 10'X10' covered platform for spectacular views and hammocks. Other options on the farm include 'Daisy' the camper and 'Flo' the school bus.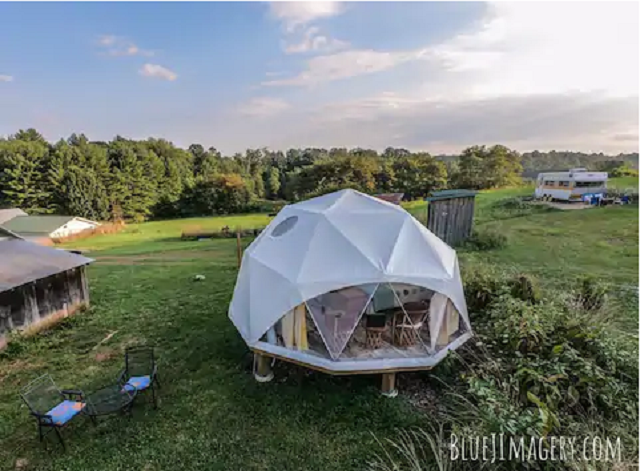 Mountain Time Enchanted Tree Cottage
This is a tiny Tree Cottage with a large deck on the roof, small kitchenette with a sink, microwave, double bed in the loft, fireplace as well as large windows. It is located near downtown Charlottesville, Monticello, and UVA. You can explore the outdoor space freely and even build bonfires, light a gas fireplace on the deck or spend time by the waterfalls. The cottage is perfect for a romantic getaway, writing or healing retreat.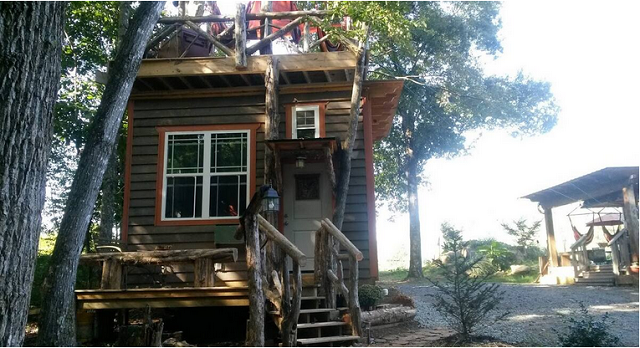 Suburban Dome Adventure – Come Glamp With Us!
This canvas dome is perfect for an adventurous and secluded experience. It is fully equipped and insulated and includes Wi-Fi, queen bed, and a bottle of wine to get you started. Although you are camping, the camp has everything you need and the area offers great adventure and a variety of activities.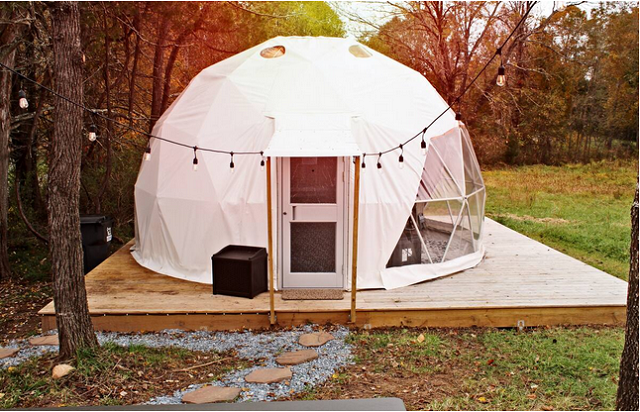 Cottage at Sunset Trail – Smith Mountain Lake
The Cottage at Sunset Trail provides spectacular views and sits next to Smith Mountain Lake where you can take advantage of the cedar dock for kayaking, fishing, swimming, or just relax. The water sunset views are a thing of wonder. Although it accommodates only 2 guests, the cottage is spacious and fitted with amazing modern amenities including a gas BBQ grill, fully equipped kitchen, and two kayaks.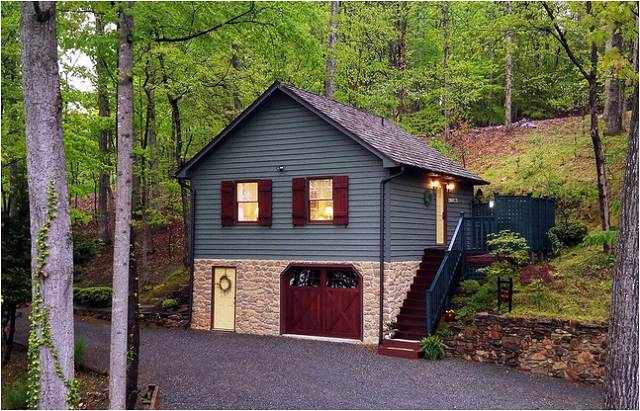 Tranquil Treehouse Cottage
This amazing cottage accommodates up to 3 guests with everything you need for the perfect romantic getaway. The cottage is nestled on a hillside with a private deck with sweeping views of the forest. Guests enjoy both indoor and outdoor showers as well as amazing amenities like Wi-Fi, full kitchen and king bed. The 5-star live-able art has been built to be both comfortable and private. Your only regret will be going home the next day.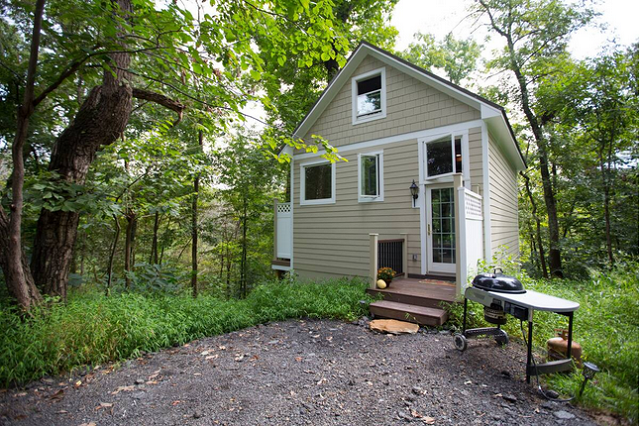 Trillium Treehouse
Enjoy a glamour camping experience in the trees at the Trillium Treehouse. The one-bedroom treehouse has a capacity of up to 4 guests and sits within 3 trees. The treehouse grows with the trees and sways gently in the wind. The 120-acre property has amazing hiking trails including one that meets up with the Appalachian Trail. You also get battery-powered lights, gas stove and heating in winter. A composting toilet is available. From here you can explore Shenandoah State Park, wineries, and the Appalachian Trail. This is the perfect place to disconnect from the digital world.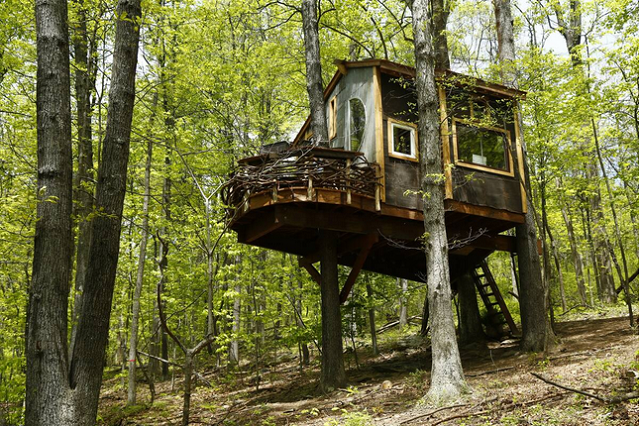 The Laughing King Retreat Cottage
This is a charming tiny farmhouse located steps away from the Chesapeake Bay on a USDA certified organic farm. You will have access to a private beach, private saltwater pool, and access to the bay for swimming, boating, fishing, paddleboarding, and more. The tiny house overlooks the Honeymoon Island. It is the perfect spot for a quiet, relaxing, and rejuvenating experience. You never have to leave the farmhouse throughout your stay. There is everything you need.
Trailside Treehouse in RVA ~ Glamp w prvt bath!
With a capacity of up to 8 guests, this treehouse in Richmond Virginia is perfect for families and groups. The authentic treehouse was built in 2014 and is devoted to the stuff of childhood dreams. You will have full and exclusive access to the treehouse, fire pit, and the basement of the host house which includes a full bathroom, television, massive bean bag, and a sofa bed. You also get kids and adult bikes.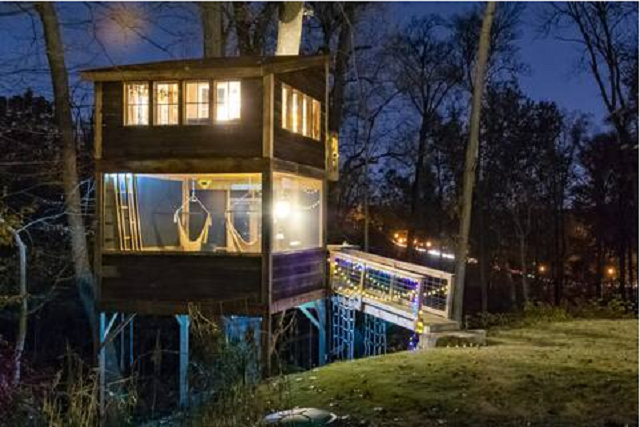 The Stone Cottage at Bluemont Vineyard
The Stone Cottage is located in the middle of Bluemont Vineyard and offers stunning valley views from the porch. There are more than 40 vineyards to visit as well as great hiking trails including the Appalachian Trail. You will love the spectacular sunrise views, high ceilings, and coziness of this secluded cottage. The cottage has an open floor plan and includes a kitchenette and a stone shower. A simple breakfast of fresh fruits, milk, tea, coffee, and locally made granola is offered. The cottage is perfect for couples.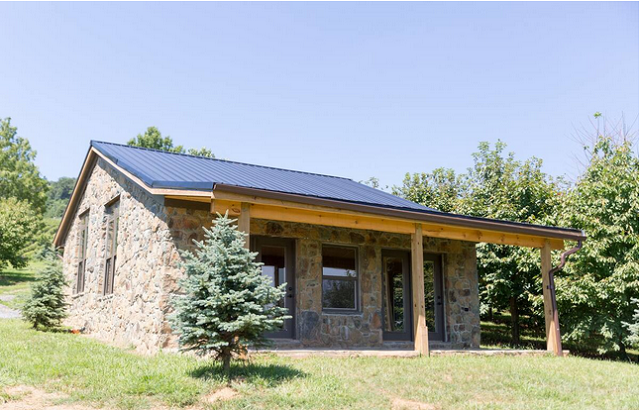 The Joshua Tree House
This is an amazing 400 square feet treehouse perfect for couples. It is nestled amongst pine trees and 100 yards to the river where you can canoe, kayak, swim or light a campfire. This private treehouse is just 8 miles from Harrisonburg and offers all the amenities you need for a comfortable stay. It is the perfect place to unwind.